From evolving design preferences to improving your home's market value, there are plenty of reasons to update your flooring. Whether you're looking to sell your house soon or plan to live there forever, it may be time for an upgrade. Discover five reasons to switch up your home's flooring.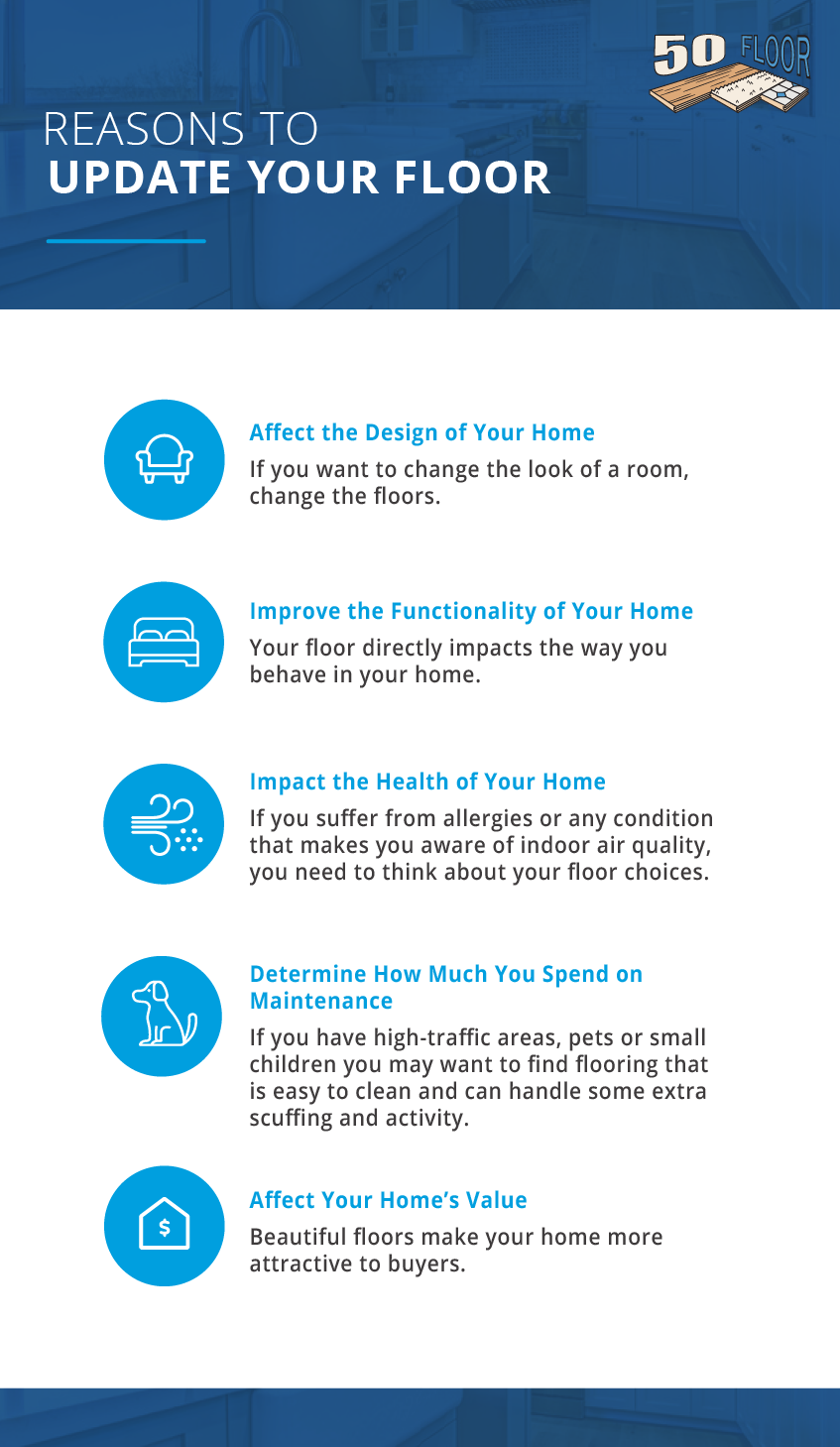 1. Improve the Design of Your Home
Changing your flooring is one way to change the whole look of a room. Whether your flooring belongs in another era or your tastes have evolved over time, you can update the flooring for a fresh new take. A revamped floor can make a room look brighter, bigger, more traditional, cozier, more retro or contemporary — the sky is the limit. Keep your furniture and architecture in mind when choosing a flooring style to make sure you've got a cohesive aesthetic.
2. Boost Your Home's Functionality
Do you spend a substantial amount of time and energy vacuuming, scrubbing and mopping? It may be time to consider an upgrade. A new, easy-to-clean floor can give you back valuable hours and peace of mind. You'll also want to think about how you use your space. A children's bedroom, art space and in-home office all have unique flooring needs. If your rooms have changed their purpose over time, consider updating your flooring to maximize the functionality.
3. Impact the Health of Your Home
If someone in your home suffers from health conditions like allergies or asthma, your flooring could be contributing to the problem. Old carpets can store dust and dirt that trigger allergies, particularly if you've got pets in the home. Installing new flooring can help clean up years of grime, get rid of allergens and give your home a fresh, breathable start.
4. Determine How Much You Spend on Maintenance
High-traffic areas of your home will track a lot more dirt as well as create more wear and tear. This is particularly true if your home includes pets or young children. If you spend time, effort and money on maintenance, upgrade your flooring to a style that's easy to clean and can handle plenty of activity.
In addition, consider that certain flooring options offer better insulation than others. This can help preserve your home's temperature, leading to lower utility bills over time.
5. Improve Your Home's Value
The better your flooring, the more attractive your home will be to buyers. Even if you're not planning on selling your home, there may come a day when you want to put it on the market. Instead of waiting until it's time to move out, upgrade your flooring now while you've still got time to enjoy the benefits for yourself. If you're looking to sell in the future, keep in mind that new flooring gives your home a fresh, bright and high-quality feel, leading to higher resale value.
Schedule an In-Home Appointment With 50 Floor
Are you thinking about revitalizing your home with brand new flooring? You've come to the right place. 50 Floor can bring an expert eye and installation experience to your project, helping you upgrade your home in style. We offer in-home consultations for your convenience, allowing you to see new flooring samples in your own home. Contact us today to schedule a consultation!