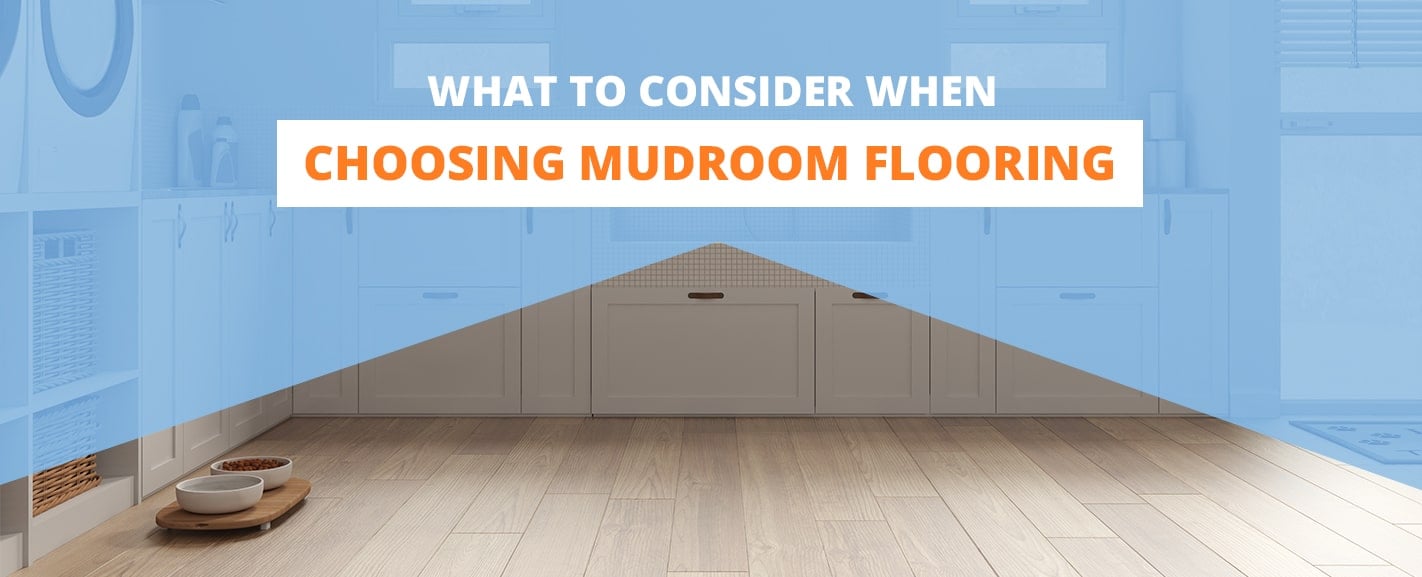 ---
Table of Contents
---
We all put time into choosing the right flooring for our kitchen, bedroom and living spaces, but few give much thought to the flooring in our mudroom. Although we don't spend much time in this area of the house, choosing the best flooring for your mudroom room is crucial. After all, it's the first thing guests see upon entering our homes and gets continual exposure to the water, sand and other elements we track in from outside. For these reasons, you should pick a flooring material that is attractive, long-lasting and durable.
In this guide, we will discuss several of the best floors for mudrooms and provide tips on picking the most suitable one for your home.
What to Consider When Choosing Mudroom Flooring
Mudrooms can — by their very nature — get rather dirty. When choosing a flooring option, you'll need to consider materials that can withstand the elements they regularly face. The material you choose should be easy to clean, wash, hose down or mop when needed. Here are three things to think about when choosing flooring for your mudroom design:
Floormats: Mats serve to soften transitions and can also provide a visual distinction in certain places. In front of your entry door, consider putting down a mat that can trap pollutants like dust, dirt and pollen before they make their way into your home. Rugs or mats placed at different stations in a room can act as landing spots. As mudrooms are places where people often wipe their muddy feet, homeowners tend to put cheap rugs there. However, a wool rug is the best option because it is resistant to bacteria, moisture and mold. It will last much longer than an inexpensive throwaway rug if cleaned regularly.
Easy to clean flooring: Mudroom floors with non-porous surfaces such as sealed wood or tile make cleaning much easier than most other options.
Moisture-resistant flooring: This area also gets wet frequently, so a non-porous, moisture-resistant material is preferable.
Schedule a Free In-Home Consultation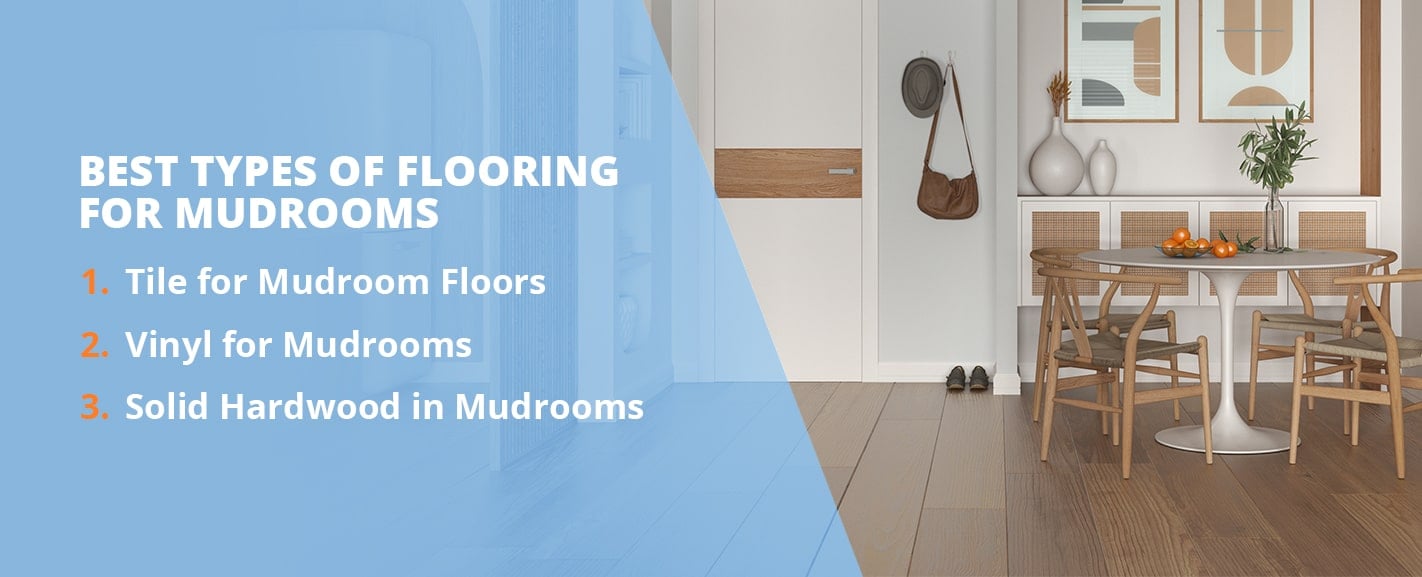 Best Types of Flooring for Mudrooms
When you're thinking of the best mudroom flooring you can install in your home, there are a few factors to consider first. Since this area gets a significant amount of foot traffic each day from those who leave and enter the home through this room, choosing a flooring type that is easy to clean and moisture-resistant is essential. Outside messes and debris are no match for some of the most durable flooring options that give your mudroom an extra shine.
It's also important to consider how the best mudroom flooring selections can support your lifestyle. Children, pets and others you love can easily track messes inside from playing outside. Luckily, there are many available mudroom flooring options, but we recommend one of the following three mudroom floor ideas.
Take Our Quiz to Find Your Flooring Style
1. Vinyl for Mudrooms
Vinyl is the most affordable mudroom flooring option and comes in various designs and patterns. Its affordability makes it a suitable choice for small areas like mudrooms, as it's easy to replace when necessary. However, if you're not planning to replace your mudroom's flooring, you may want to consider another option, as it is not as durable as other flooring materials.
Vinyl flooring is available in several styles for your mudroom floor.
Luxury vinyl plank: The flooring type looks and feels like wood and comes in plank-shaped tiles that fit together. Vinyl plank mimics many of the characteristics of authentic wood, including its color, textures and grain patterns. However, unlike genuine wood, luxury vinyl plank is resistant to stains, scratches, moisture and mildew, making it much more durable. It's also more slip-resistant than real wood flooring.
Luxury vinyl tile: Thanks to today's manufacturing techniques, luxury vinyl tile (LVT) can mimic the appearance of tiles — which includes slate and stone tiles — at a fraction of the cost. LVT also requires less maintenance, is easier to clean and is more resistant to scratching, water, chipping and other damage.

2. Tile for Mudroom Floors
Tile is a durable, beautiful and moisture-resistant flooring option, making it one of the best floors for mudrooms. Although tile has been a popular flooring material for millennia, modern technology offers more options in colors, effects and finishes than ever before.
Tile flooring refers to hard-surface flooring that consists of generally small, manufactured pieces of material. Hard-surface tile floors usually offer more structural support than softer materials like vinyl, which means they can cover tiny imperfections in the floor and don't require as smooth a subfloor as vinyl. Tiles can last for many years and tend to be low-maintenance, as you can easily clean them with a brush, mop or vacuum.
Tiles are available in many unique shapes and treatments, including stain, moisture, slip and scratch resistance. Tiles can mimic the appearance and consist of many natural materials.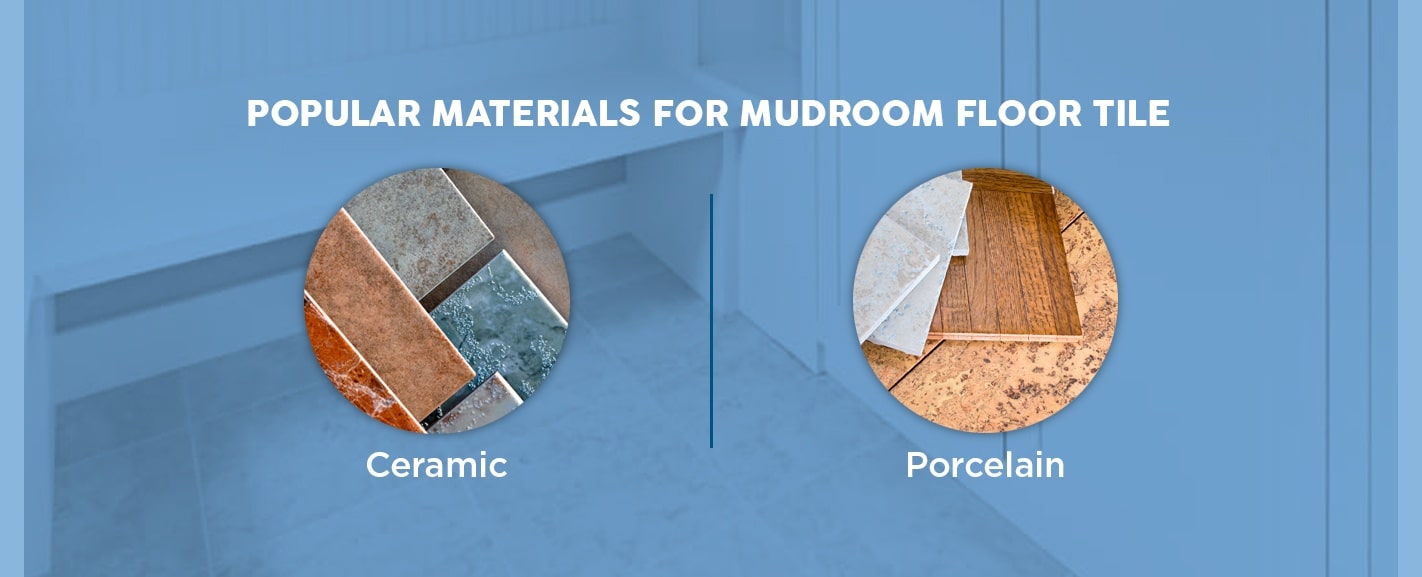 Two particularly popular materials for mudroom floor tile are the following.
Ceramic: Ceramic tile flooring consists of either clay or synthetic materials, treated with heat and covered with a protective finish or glaze. Modern ceramic tile flooring can mimic the appearance of wood, slate, stone and many other materials. It is also available in a wide array of colors. Ceramic floors are renowned for their durability and are suitable in areas with high traffic. Regardless of what you spill on them, you won't have to worry — ceramic tile flooring is waterproof and resistant to scuffs, dents, chips and stains. If you want your ceramic flooring to be exceptionally tough, you can opt for a finish that makes this already durable flooring even more resistant to the elements. Its non-porous nature and durability make ceramic tile one of the best materials for a mudroom. The only disadvantage to mudrooms with ceramic flooring is that when it becomes wet, there is a higher risk of slipping and falling. However, some tiles are available with a slip-resistant finish.
Porcelain: Making porcelain involves heating naturally occurring and synthetic materials at high temperatures until they harden. Porcelain tile flooring is even more durable and harder than ceramic flooring because it undergoes hotter curing, which makes it denser and more adaptable to a wider range of styles and designs. Porcelain tiles also absorb very little moisture, so if your mudroom will experience exposure to extreme heat and cold due to your climate, porcelain tile is a good choice. It is more durable and crack-resistant when compared to other flooring types. Porcelain tile is a long-lasting material, even when used frequently. It's also easy to clean and maintain and you'll never have to worry if you spill something on it, as it is water-resistant. Porcelain also doesn't retain pollen or dust mites, which makes it an ideal choice for those who suffer from allergies.
3. Solid Hardwood in Mudrooms
A hardwood floor is an affordable, long-lasting and beautiful option popular with many homeowners. Unlike laminate flooring or artificial materials designed to look as natural as possible, solid hardwood flooring is completely natural. It consists entirely of wood from both traditional and exotic species, including maple, red oak, cherry, walnut, bamboo and others. In addition to the wide selection of materials, natural wood flooring is available in many colors, finishes, styles and sizes.
Durable, elegant and stylish hardwood in your mudroom is an excellent flooring choice. It is a cost-effective option that boosts your home's value and also comes from a sustainable resource, is good for the air quality of your home and is easy to maintain with routine cleaning. Solid hardwood floors can last a lifetime and work well with any home design, whether it be rustic, traditional or contemporary.
When it comes to solid hardwood floors, you have lots of attractive, pre-finished hardwood floor options to beautify your mudroom. They come in many sizes, styles, colors and finishes. You can choose from a broad selection of dark, medium and light hardwood floors made from traditional and exotic materials. Here are some of the stylish options available:
Red oak
White oak
Walnut
Maple
Birch
Bamboo
Cherry
Brazilian Cherry
In addition to the finish and species, you can also choose the width and cut of your hardwood to give it the look you want, whether it be modern, exotic, rustic or traditional. Hardwood floors are exceptionally versatile.
If you have your heart set on choosing a hardwood floor for your mudroom, here are some tips for picking the right product.
Pay attention to the wood species: Look for a species of wood that is highly resistant to moisture and high traffic. Research Janka Wood hardness ratings and pick a species with a fairly good rating to minimize the number of dents, scratches and dings on your mudroom floor. Although many domestic hardwoods are reasonably durable, exotic species such as the Brazilian cherry have the highest Janka ratings.
Find out about the finish: Mudrooms require a high-quality, pre-finished hardwood floor. A factory finish won't only make the installation faster, but it will also be able to endure humidity and temperature conditions. Inquire about acrylic impregnation finishes and avoid oil-based finishes, which tend to fade more quickly. Also, ask about warranty coverage and follow all the manufacturer's directions on properly caring for your wood floor.
Consider the installation process: Buy a high-quality underlayment to support the flooring in your mudroom and provide comfort. Remember, wood flooring planks require installation on a level subfloor, which is especially critical in a mudroom. Investing in a good subfloor will help avoid puddles in the room's corners and make wiping up spills less of a hassle.
Consider purchasing a good-quality rug to deal with moisture: While you may be hesitant to cover up your wood floor's natural beauty, a good rug will reduce the maintenance you'll have to do and prolong the life span of your flooring. Pay close attention to the rug's backing and search for natural products that won't scratch or discolor the wood finish. Put the rug by the entrance door and designate a spot for boots and shoes with plastic mats or other creative solutions.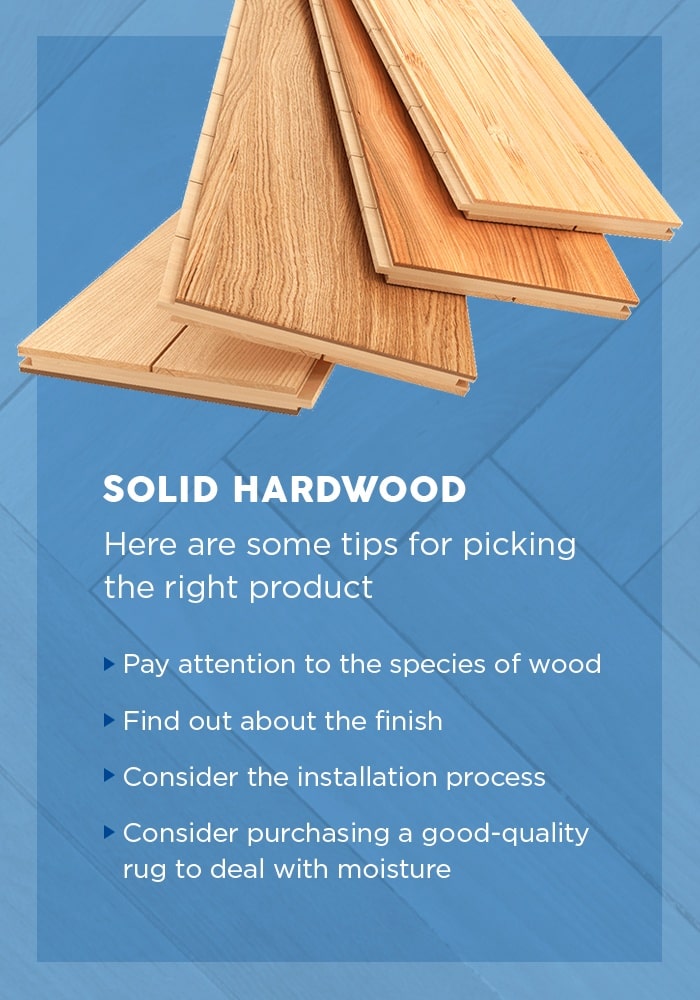 Types of Flooring to Avoid for Mudrooms
While you consider the best floors for mudrooms that provide style and durability for your mudroom, it is also essential to take note of floors that may not work as well in these rooms.
Carpet
Although this flooring is great for homes with children, carpet is not the best choice for mudrooms. Since these spaces connect your yard to the rest of your home, it is easy to track dirt, mud and other messes inside. Carpet fibers are soft and absorb these dirt particles with each step that you, your family and your guests take on these floors.
Pets also track lots of dirt and mud in their paws and fur. When they come back inside from a walk, playing or going to the bathroom, they can bring all types of dirt and bugs into the house. They also love to slide across the carpet to scratch their itches. This movement quickly spreads messes, and the fibers trap these particles deep into the floor.
Vacuuming and regular maintenance can help keep these floors clean with heavy foot traffic, but they will require more cleaning than tile, vinyl and hardwood.
Natural Stone
Stone floors can look beautiful in any area of the home. However, you would benefit more by installing hardwood, vinyl and tile in your mudroom. Natural stone is porous, meaning that any moisture or salt that enters the come can seep into the floor. The effects of this absorption may not be evident at first, but over time, too much water exposure can lead stone floors to fade, stain easier and grow mold.
Many homeowners choose to seal their natural stone floors to avoid these common moisture exposure issues, which you can choose too. However, choosing hardwood, tile and vinyl is the best route for your mudroom when you need a durable and easily cleanable floor without extra costs.
Mudroom Style Inspiration
Mudrooms have become a point of interest in many homes to highlight the family's gathering and storage space. Homeowners are adding aesthetic flooring colors and styles to make the room stand out and blend into other areas of the house.
Consider a few inspirational mudroom floor ideas that can turn this room into a beautiful space for you, your family and your guests to admire.
Colors
When choosing a color for your mudroom, you can pick from a few gorgeous darker tones. Dark flooring colors are excellent at hiding scuffs, spills and everyday messes. The best mudroom flooring shades that are stylish and don't show these signs of foot traffic include:
Black
Gray
Navy Blue
Dark brown
Ivy or emerald green
You can experiment with the furniture and wall colors in your mudroom to decide which dark colors best match your home's aesthetic.
Styles
Hardwood, vinyl and tile look great in several different flooring styles for mudrooms. You can choose to go with darker wood panels for a cozy ambiance or choose patterned floors that tie in more colors and shapes.
Square tiles and vinyl are great for creating a symmetrical and balanced floor for your mudroom that draws your attention to other furniture, decor and colors in the room. You can also go with marble, honeycomb, aster and geometric patterns for extra flair in these spaces. With these best flooring for mudroom options, the possibilities for aesthetic styles and colors are endless!

Schedule an Appointment With 50 Floor
50 Floor is a flooring company that boasts over four decades of combined experience. Our mission is simple: We strive to provide affordable, high-quality flooring and the best customer service experience possible.
Unlike our competitors, we come to you. Book a free appointment with us, and we'll come to your home, show you our vast selection of flooring options and answer any questions you may have. We'll even take care of your installation. We'll do everything we can so you can get the best flooring for your mudroom space or any other room of your home at a great price.
Some benefits of working with 50 Floor include the following.
Our flooring warranties: We work with manufacturing companies that offer comprehensive warranties for their products.
Our price-match guarantee: With our price-match guarantee, you'll have the peace of mind of knowing you're getting the lowest price possible on identical products installed by an insured, licensed professional. We always keep our overhead low, which allows us to pass on the savings to you. In some cases, our prices are an astounding 80% lower than our competitors.
One-year installation warranty: We don't only offer manufacturer warranties — we also have in-house guarantees to ensure your floor installation meets current standards. If any aspect of your flooring does not live up to our promises, we will come back and correct it.
Our premium customer service: Working with 50 Floor means working with seasoned professionals. We can answer any questions you may have, assess your needs and offer suggestions based on your budget and needs. Our goal is to help you find the perfect flooring for your home.
Our at-home appointments: With us, you won't have to drive across town to view your flooring options. Instead, we bring samples to your home — and all for free. We come at a time that works for you and enable you to browse our flooring selection in the comfort of your home. This step is convenient and allows you to view the flooring in the light of your home and compare it against your decor and furnishings. Our unparalleled service lets you get a perfect color match and a good idea of what the floor will look like once installed.
Timely, professional installation: At 50 Floor, we work with vetted, professional installers. We handle all the hassles, from moving your furniture to ensuring the room is clean when we leave, allowing you to enjoy your new floor as soon as possible.