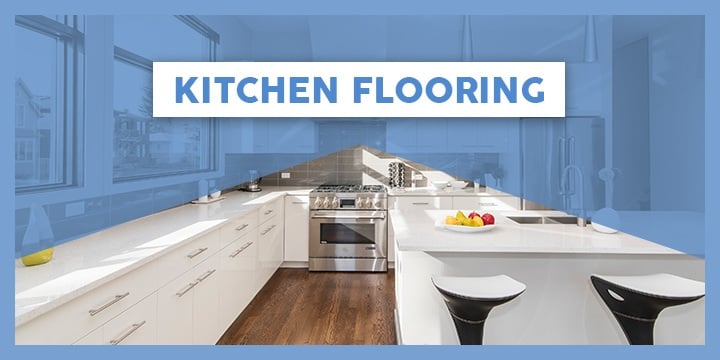 ---
Table of Contents
---
In many households, the kitchen is the most used room.
It's the room where your family prepares and eats meals. It's also where people tend to congregate at the end of a busy day and where things, such as new packages, mail and laundry, pass through on their way to other rooms in the house. At parties, you might notice that people tend to hang out in the kitchen, even when welcoming and comfortable seats are available in the living room or dining room.
Since your kitchen sees so much action, it's essential that the kitchen flooring you choose can withstand whatever life throws its way.
From sauce and soda spills to dirty paws and wet boots, the best flooring for kitchens should be durable, easy to clean and attractive. If you're remodeling your kitchen or building a new one from the ground up, here is your guide to ideal kitchen flooring options, which includes tips to help you choose the flooring that will work best for your home.
Schedule a Free In-Home Consultation
What to Consider When Choosing Kitchen Flooring
Although the kitchen is usually the central hub of the home, everyone uses theirs differently. Several factors can influence whether one type of flooring is better for your kitchen than another.
Here are seven things worth thinking about when choosing between types of kitchen floors for your home:
1. Your Lifestyle
Think about how you live your life. Do you have young children or pets tearing through the house, leaving a trail of mud and toys in their wake? If so, you'll want a kitchen floor that can take whatever your kids and animal companions throw its way — and still look good at the end of the day.
It's also worth thinking about what you will do in your kitchen.
Do you have cooking skills that put even Michelin-starred chefs to shame? On any given day, would someone find you in your kitchen, cooking a quick meal or trying out a new recipe?
Since the kitchen has transformed from a space purely for food preparation to an area for entertaining and coming together, it's worth considering whether people will hang out in your kitchen or eat their meals there. The more action your kitchen flooring sees, the more likely you want to choose a durable, easy-clean material for your kitchen renovation.
2. Your Home and Kitchen's Design
Take a few minutes and think about the design of your home, as that's another consideration when weighing kitchen flooring options. If your house has an open floor plan, then the flooring in your kitchen might flow through to the living room and dining area. In that case, you want to consider how the flooring will work in all those areas, rather than only in the kitchen.
With an open layout, it's usually ideal to use the same type of flooring in all the spaces of the home.
Choosing too many different types of flooring — such as carpet in the living area, hardwood in the dining area and luxury vinyl in the kitchen — will create a choppy, disjointed look. The beauty of an open floor plan is that it expands your home and makes it look bigger and more welcoming. Having mismatched floors will detract from the appeal of the open layout.
If your home doesn't feature an open floor plan, you have nearly limitless options for kitchen flooring ideas.
Take Our Quiz to Find Your Flooring Style
3. Your Kitchen's Lighting
If your kitchen is bathed in sunlight for much of the day, lucky you.
The amount of light in your kitchen can also influence the best type of kitchen flooring for it. For example, if the room gets a lot of sunlight, having a shiny, white tile floor might produce glare, which can make being in that area during the daytime uncomfortable. If you choose kitchen flooring with a darker color or matte finish, however, you can usually avoid glare and reflectivity.
On the other hand, if your kitchen is on the smaller side or has windows facing a direction that doesn't get much sunlight, you might prefer a lighter floor color. The light color will help reflect whatever sunlight your kitchen receives, making it look more open and brighter.
4. Your Kitchen's Uses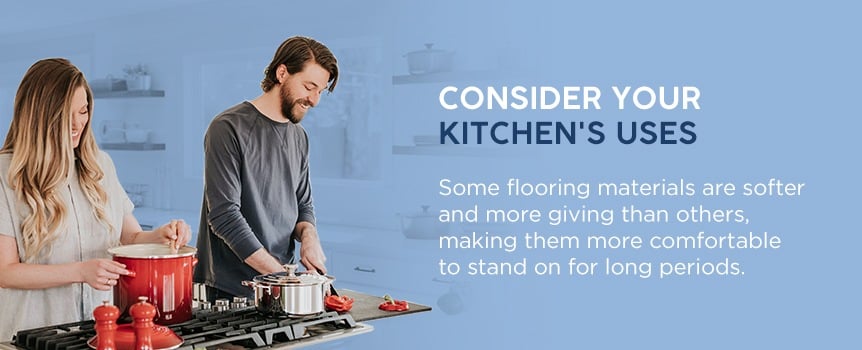 Everyone uses their kitchen in different ways.
For some people, it's a space to pour takeout food onto a plate or into a bowl. For others, the kitchen is where they put together culinary masterpieces. If you're on your feet for long stretches in the kitchen, you want to think about how the flooring affects your comfort.
Some flooring materials are softer and more giving than others, making them more comfortable to stand on for long periods.
Just think about the last time you visited a big box home improvement store with its concrete floors or strolled around a convention center with hard flooring. By the end of your shopping trip or visit, your feet were probably tired, and your legs might have felt achy. Concrete is particularly unforgiving, and luckily, isn't an option for kitchen flooring.
Some flooring options that look attractive, however, can also hurt your feet and legs. Hard tile, for example, has less give than luxury vinyl or hardwood flooring. Of course, if you decide that you love the look of tile, but spend a lot of time on your feet in the kitchen, you can make the flooring more comfortable by putting down a rug or cushioned pad where you usually stand or cook.
5. Your Kitchen Flooring's Cleaning and Care Needs
Ideally, your kitchen floor will be easy to care for and a snap to keep clean. You don't want to have to spend your evenings pretending you're Cinderella, scrubbing stains off the floor on your hands and knees.
For that reason, even if you don't plan on doing much cooking in the kitchen, it's a good idea to look for stain-resistant flooring options. It's also worth looking at the recommended cleaning methods for your new kitchen flooring. You want flooring you can clean with soap and water rather than requiring specialized cleaning products and complicated procedures.
Another thing to keep in mind is that some flooring materials are porous and require sealing when installed. The sealant makes the floor water-resistant and less of a hassle to clean. You might need to reseal the floor every year so that it continues to be water-resistant, though. Sealing, however, helps protect it from wear and tear.
No matter which kitchen flooring you choose for your home, make sure to research what it requires in the cleaning and care department.
6. Your Kitchen's Style
Your style preferences and the design of your kitchen will also influence your kitchen flooring options and ideas. One thing to consider is whether you want the floor to be the center of attention in your kitchen or a neutral backdrop, against which other style and design elements can "pop."
Another thing to consider is the overall look of your kitchen.
If you are going for a mid-century diner look, for example, a luxury vinyl tile floor might be a better match than hardwood. If your kitchen has a rustic or farmhouse style, however, a warm hardwood floor will look more at home.
7. Your Kitchen Flooring Budget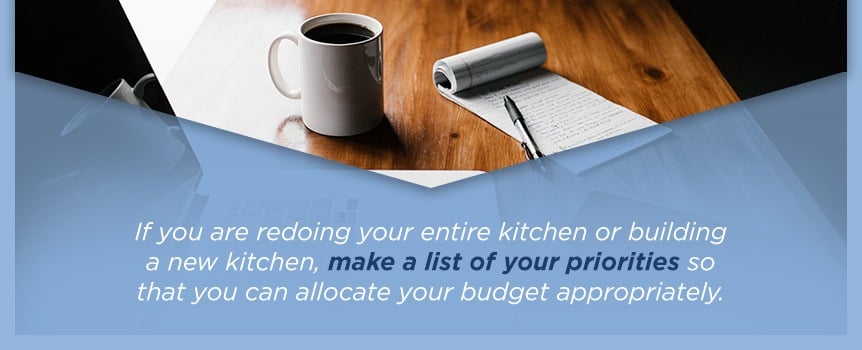 For many homeowners, price is a factor when choosing new kitchen flooring.
Some materials do cost more than others. It's up to you to decide what works with your budget and meets your needs. Luxury vinyl flooring, for example, tends to cost less than tile or hardwood, but some people don't like how it looks compared to other kitchen flooring options.
If you are redoing your entire kitchen or building a new kitchen, make a list of your priorities so that you can allocate your budget appropriately. You might find that you want to spend more on flooring than on cabinets and appliances or less on flooring and more on other kitchen gear.
Best Types of Flooring for Kitchens
Some types of flooring are better than others for kitchens.
For example, although carpet might be an excellent choice for the bedroom or living room, it's usually not a good flooring idea for the kitchen, as you don't want to spend your free time scrubbing spaghetti sauce out of carpeting. The best kitchen flooring choices are those that are not only easy to care for but also look great too.
So, what are some of the best floors for kitchens? Here are our top picks:

1. Luxury Vinyl
Luxury vinyl flooring has come a long way in recent years in terms of durability and style. Today's luxury vinyl plank (LVP) and luxury vinyl tile (LVT) flooring options can look as good as natural hardwood or conventional tile at a fraction of the cost. With a protective urethane wear layer, it's durable and can resist scratches, tears and other damage.
Several additional benefits of luxury vinyl flooring include:
Aesthetics: Luxury vinyl features an extensive selection of colors, patterns and textures to complement existing kitchen lighting and design schemes.
Waterproof: This flooring can hold up against messes, spills, leaks and other minor accidents for up to 72 hours, making it an excellent choice for busy kitchens.
Easy maintenance: Caring for luxury vinyl flooring is as easy as vacuuming, sweeping or using a damp mop.
Budget-friendly: Luxury vinyl is among the most cost-effective flooring options. Its smooth and fast installation offers even more savings.

2. Luxury Vinyl Tile
While it has the same layered construction as standard vinyl, luxury vinyl tile (LVT) is thicker, more durable and has more realistic designs. It's made for busy homes and the areas you're frequently in or walking through. You can install it as a practical alternative to hardwood or ceramic tile.
Because porcelain and ceramic contain heated and hardened clay, they are more susceptible to cracking and chipping than luxury vinyl tile. In addition, clay-hardened tile requires a complex installation process involving extensive labor and additional materials, making it a more expensive option.
LVT has become a popular choice for kitchens among today's homeowners for its cost-effectiveness, durability and low maintenance requirements. This preference is partly due to luxury vinyl tile being less likely to sustain damage from dropped items and high traffic than conventional porcelain or ceramic.
Besides providing significantly faster installation times, LVT requires no grouting materials or special tools for installation. Cutting and trimming LVT materials is also less messy since ceramic and porcelain tiles create excessive dust when workers cut them to size. Due to this material having more benefits than other options, 50 Floor offers LVT as its only tile flooring line.
Some of the other enhanced benefits LVT offers over conventional materials include:
Cost: Luxury vinyl tile costs significantly less than porcelain and ceramic.
Ease of installation: Installation professionals install LVT in significantly less time, offering increased cost savings and allowing homeowners to enjoy their floors faster.
Diversity: Luxury vinyl tile comes in a broader selection of patterns and colors, which is helpful when coordinating with your kitchen's existing decor.
Durability: Because of its technologically advanced design and structure, LVT can provide many decades of reliable and durable use.
3. Laminate
Laminate flooring looks like natural hardwood or tile but comes from synthetic materials. The construction of laminate flooring means it's water-resistant and can withstand a fair amount of wear and tear, making it an excellent option for pet owners and families with young children.
Take a look at a few of the benefits of using laminate for a kitchen floor:
Durability: Like luxury vinyl, laminate's synthetic construction will deliver many years of continuous use.
Diversity: It's available in various colors and styles to complement any decor, from imitation hardwood to imitation tile.
Cost savings: Laminate is priced lower than hardwood or tile and can generally be installed in a single day.
Easy care: Upkeep for laminate flooring involves simple sweeping, vacuuming or mopping.
4. Hardwood
Hardwood isn't probably the first option that comes to mind for kitchen flooring, as solid hardwood is usually susceptible to moisture damage.
If you like the look of hardwood flooring, though, or have an open floor plan and want to create a cohesive look in your living area and kitchen, engineered hardwood is a solid kitchen flooring idea. Engineered hardwood features a multi-ply construction, which helps it resist water and makes it less likely to get damaged by moisture.
Engineered hardwood offers many benefits in the kitchen, including:
Appearance: It creates a unified look when installed in an open layout.
Diversity: It offers access to different types of wood in various colors and finishes, including oak, maple, birch, cherry, walnut and more.
Easy care: It can be swept or vacuumed for easy cleaning. Hardwood is a lifetime product because you can sand or refinish solid hardwood as needed.
Extra protection: It includes moisture-resistant options to protect against spills and humidity.
Tips for Choosing Floors for Kitchens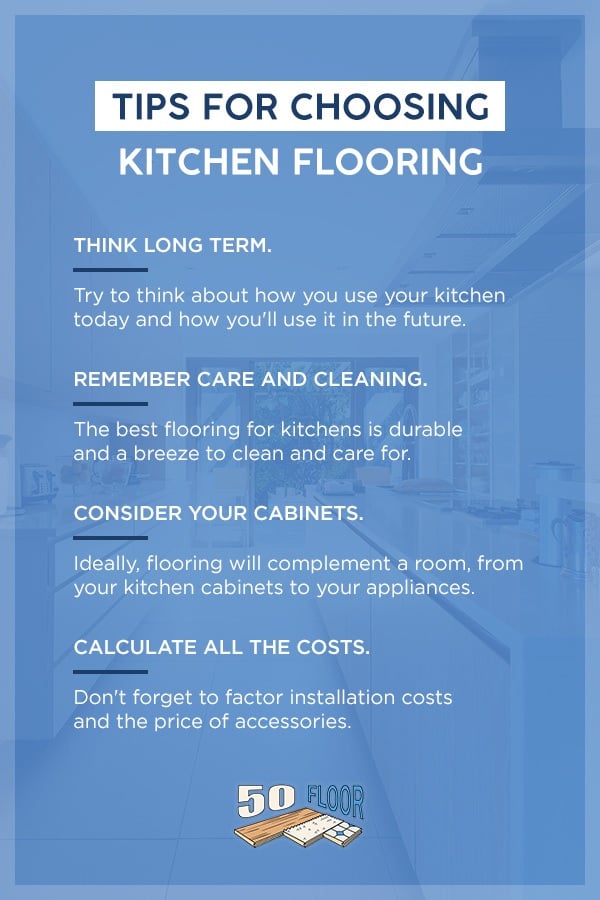 Do you still need some help finding the best flooring for your kitchen? Here are a few tips to keep in mind:
Think long term: Try to think about how you use your kitchen today and how you'll use it in the future. You want a floor that will work with you and meet your needs for years to come.
Remember care and cleaning: You don't want to choose kitchen flooring that dominates your time with its care. The best flooring for kitchens is durable and a breeze to clean and care for, which means you can spend more time in the kitchen cooking and chatting, instead of cleaning.
Consider your cabinets: Ideally, flooring will complement a room, from your kitchen cabinets to your appliances. It's usually better to stick to kitchen flooring ideas with a color or material that contrasts with your cabinetry some, rather than matching it exactly.
Calculate all the costs: When deciding whether a particular kitchen floor works with your budget, don't forget to factor in installation costs and accessories, such as underlayment or pads.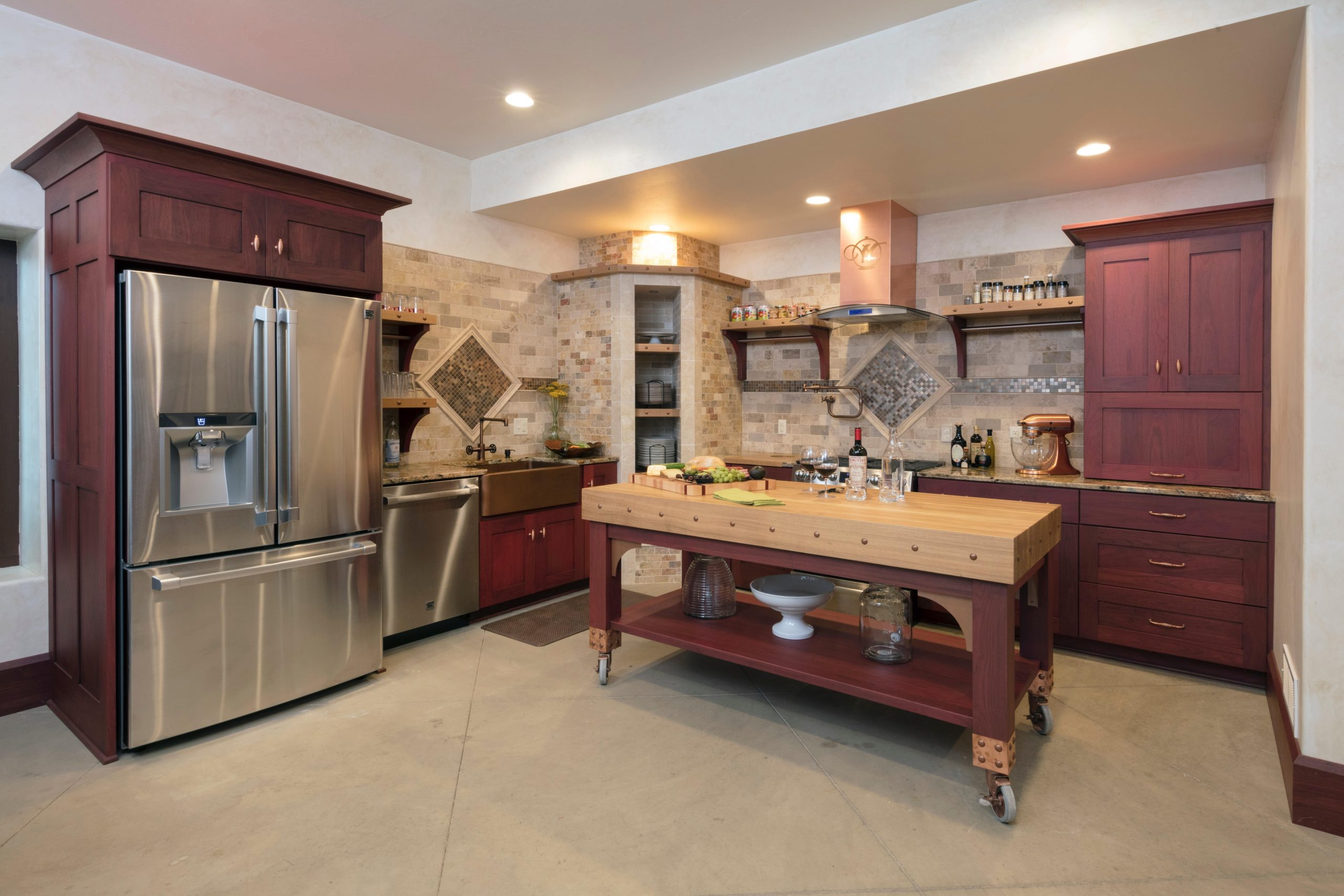 Schedule an Appointment With 50 Floor to Get New Kitchen Flooring
One of the best ways to choose the kitchen flooring that's right for you is to see it in your home before you install it. 50 Floor offers in-home appointments, during which we bring our floor samples to you. You can look through our kitchen flooring samples and see how each one will look in your home's lighting and against your home's other design elements.
We also offer installation from our installation professionals in as little as one day for most projects.
If you want new high-quality kitchen flooring, schedule an in-home shopping appointment today.