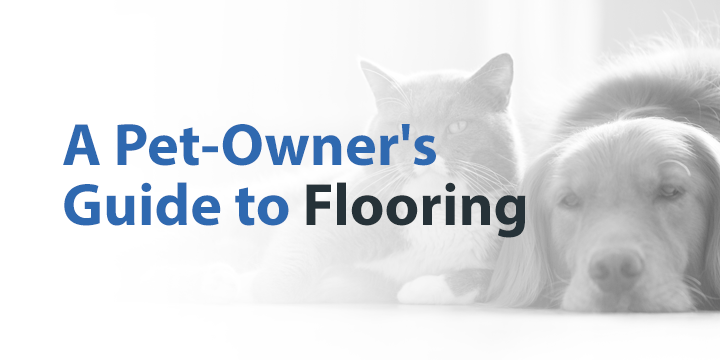 Let's be honest. We love our furry family members, but they are notoriously hard on our floors. Even after they're housebroken, they can put a lot of wear and tear on floors — no matter what they're covered with. Pets can track in dirt and leaves from outside, knock over their water bowls and find their way into your trash cans. Keeping up with their messes can seem like a never-ending job. So what's a pet owner to do?
Get smart.
Whether you're moving into a new home or updating your current digs, it's essential to select and maintain your floors so that they'll hold up to the antics of your pets. No one wants to spend their time at home obsessively cleaning carpets after a pet's accident or running around worrying that your dog's nails will scratch expensive hardwoods. Not only that but if you're going to spend that kind of money, you want to choose a product that's designed to hold up to the extra wear and tear that comes with a pet.
So, it's time to get busy and do your homework on the best flooring for pets. Or, better yet, let us do it for you.
Things to Consider When Purchasing Pet-Friendly Flooring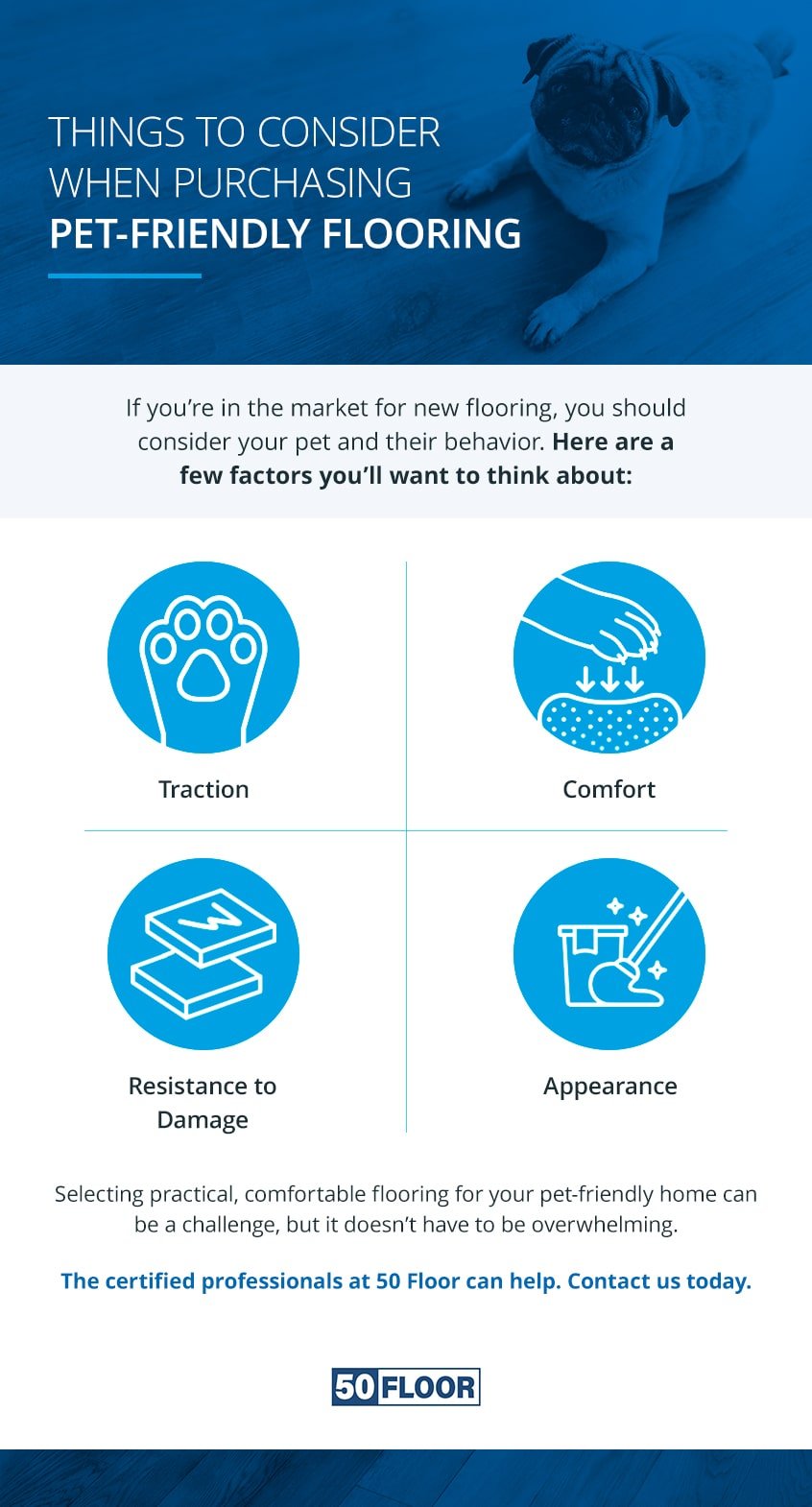 If you're in the market for new flooring, you must consider your pet and their behaviors before you select the material you want to use. Yes, traditional hardwood floors are gorgeous, but can they stand up to an exuberant pup or a kitty with a tendency to slip? Here are some factors you'll want to think about if you have a home with pets:
1. Traction
Floors constructed with materials like hardwood or laminate are going to have a smooth, almost slippery surface that can send your pooch flying when they scramble to beat you to the door. Traction is also a big deal if you're considering your feline friends since their paws aren't going to be able to get a good grip on a smooth surface. Not only that but if you continue the same material up your stairs, it can get dangerous for pets who frequently climb the stairs since they won't have much to grip when they're going up and down.
Ask yourself: Does my pet tend to struggle walking on particularly smooth surfaces?
2. Comfort
You're human. Most of the time you only touch the floor of your house when you walk from room-to-room. Pets, however, spend a lot of time on the floor, especially when they're sleeping. Consider how the harder materials like wood and tile may impact their sleep habits and whether you'll need to provide them with a softer alternative if you choose a hard flooring material. Even if you don't think they need a "cushy" spot for sleeping, consider whether or not they will have a hard time with a hard floor, especially tile, since they may feel colder and less comfortable than a "warmer" material.
Ask yourself: Where does my pet currently sleep, and how will my choice of flooring impact their comfortable snoozing spot?
3. Resistance to Damage
Dogs especially are a concern when it comes to the durability of flooring and preventing damage. Their nails can easily scratch some surfaces and, believe it or not, their weight can put extra strain on flooring as well. And, no matter how good your pet is at using the litter box or heading outside to do their business, everyone knows that you'll be faced with the occasional accident inside. Consider how the flooring you want will hold up to these accidents and the chemicals you'll use to clean them.
Ask yourself: Do my pet's size and bathroom habits place added wear and tear on my flooring?
4. Appearance
Pets leave hair and dirt and plenty of little "surprises" on your floors. When you're choosing the best one for your house, consider your pet and what you clean up from them. Does your dog shed a lot? Then you'll spend a lot of time sweeping a vinyl flooring. Does your cat drag in an occasional "present" in the form of a mouse? Then you may want to avoid carpet in areas they tend to leave their finds.
Ask yourself: How does my pet's behavior impact the appearance of my current flooring?
Schedule Your In-Home Consultation
For Your Consideration: Pros and Cons of Popular Flooring Types
Once you've considered your pet and their needs, it's time to evaluate your options. Just like every human is different, every pet is different. What they need in their home is going to be different. There is no one answer because pets and their people come in all different shapes, sizes and personalities. You may even know another pet parent who swears by the floors in their house. But consider what you know about your pet and pick the best solution for the both of you.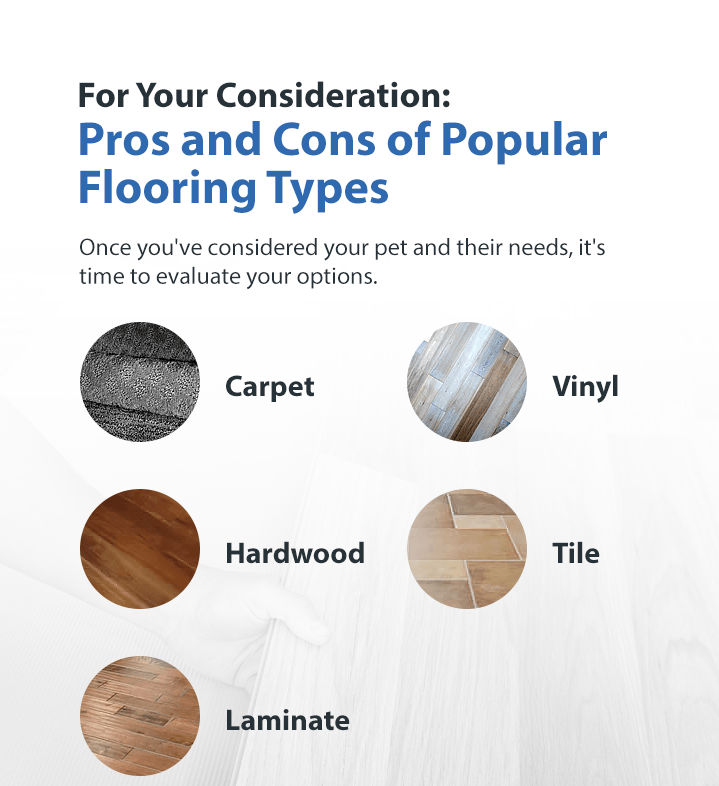 1. Carpet
Here are some of the benefits of carpet, whether you're considering wall-to-wall or a giant rug:
Provides a soft landing and sleeping space for pets
Available in many styles and colors
Offers good traction for cats, as well as clumsy dogs
Mutes the sound pets make as they move from room-to-room
Of course, plush carpet also has its downsides:
Becomes worn easily
Collects pet hair and odor
Hard to clean
Pets' nails can be easily snagged on carpet comprised of loops
If you want to give carpet a try, consider installing it in lower-traffic areas of your home, such as the bedrooms, or relying on area rugs rather than wall-to-wall carpet. This may provide your pet with a warm, soft place to nap without being subject to the constant wear and tear of their movements as they go in and out of the house. You can also consult with your flooring vendor to apply stain guarding materials to your carpet to protect against some of the worst offenders and make it easier to clean.
2. Hardwood

There are many advantages to traditional hardwood:
Easy to clean
Available in many colors and styles
If they're damaged, they can be repaired in sections — no need to tear up the whole thing
But there are a few disadvantages as well:
May be easily damaged by liquids or scratched by pet nails
Can be costly, depending on the type of wood you choose
Tend to be noisy when dogs walk across them
May trap stains and odors, especially if an accident is not detected immediately
If you've got your heart set on hardwood or engineered hardwood, then it's important to protect your investment by purchasing one of the "harder" hardwoods. Bamboo flooring is considered to be one of the best choices for pet owners because it has a reputation for being especially resistant to scratches and stains. Oak, mahogany, cherry, maple, hickory, or sycamore are also good options. Woods that tend to be softer, including pine, hemlock, larch, and fir, are ones you'll want to stay away from to avoid unnecessary damage from your pet.
3. Vinyl
Vinyl can be a great choice for a variety of reasons:
Provides great traction
Affordable
Comes in a variety of styles and colors to coordinate with any look and budget
Easy to clean
Scratch resistant
Muffles sound
Cuts down the level of allergens that escape into the air
It also has a few negatives:
Appearance dulls easily
Can absorb liquids and grow mildew or even start to lift away from the subfloor, especially because the ammonia in pet urine can soak into the material and degrade the glue used to hold it in place
When you first think of vinyl, you might think this won't work in a "nice" space. This is absolutely not true. One of the great things about vinyl is that it comes in many options designed to mimic natural materials. You can even select "luxury vinyl" that mimics the look of hardwood but gives you the peace of mind a pet owner needs in their flooring.
4. Tile
Tile is a popular choice in bathrooms and kitchens for many reasons:
Resists scratches, moisture and stains
Comes in a variety of styles and colors
Easy to clean
It's not without its downsides, though:
Does not provide good traction for pets — or humans
Cold, hard surface is not ideal for sleeping pets
Other ceramics also have similar pros and cons, but be careful to avoid tiles made of extremely porous materials because you'll have to re-seal them on a regular basis. Because tiles can be cold and hard, you'll need to factor in area rugs to your overall flooring costs. You'll also likely need to purchase a pet bed to provide your furry friend with a comfortable place to crash — not only is tile hard, but it can get cold in winter if you don't have radiant heat.
5. Laminate
There are many good reasons to consider this newer flooring option:
Resists water and liquid
Easy to clean
Hides scratches
But there are also reasons it may not be right for you:
Tends to be slippery
Doesn't last as long as hardwood
The ammonia in pet urine can soak into the laminate and wear away at the glue holding it down
Doesn't absorb sound well and can amplify the sound of a pet's nails on the floor
Because laminate floors tend to be slippery, you'll want to plan to incorporate area rugs into your room if this is the flooring you select. Also, make sure to pay careful attention to what kind of laminate you select. A high-gloss laminate will be even more slippery than other varieties.
Cleaning and Maintenance Tips for Pet Owners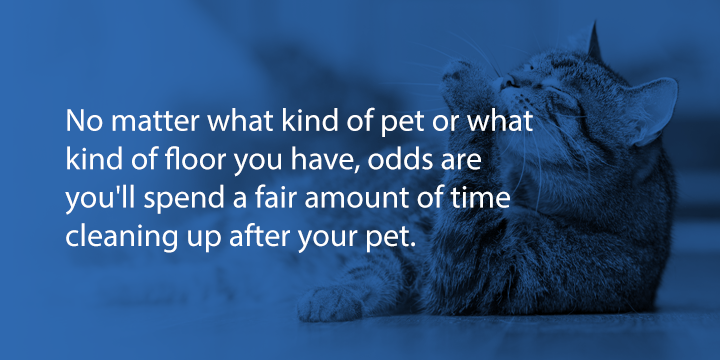 No matter what kind of pet or what kind of floor you have, odds are you'll spend a fair amount of time cleaning up after your pet. Everyone has their favorite methods and products to get the job done, but there are a few things to keep in mind to protect your floors from unfortunate accidents.
Place doormats at all entry points to your home. These will act as the first line of defense to collect any unwanted dirt or debris that might otherwise be tracked across your floors.
Keep your pet's nails clipped to prevent them from scratching your floors. This can also help cut down on the noise they make walking from room-to-room.
Place a waterproof mat underneath your pet's food and water dishes. Not only will this protect your floor from moisture, but it will also minimize the mess you have to clean up after mealtime.
Train your pet to play in a designated pet area that is defined by an area rug or playmat placed over your floors. This allows your pet space to play without you worrying about what their exuberance will do to your floors.
If you have hardwood floors, be sure to follow the manufacturer's recommendations for maintaining them to keep them strong and beautiful.
Keep reputable cleaning solutions on-hand to deal with unexpected accidents and messes. Make sure you know what kinds of cleaners are recommended for the flooring you have and use as directed to get the best clean possible.
Flooring and Four-Legged Friends
Selecting practical, comfortable flooring for your pet-friendly home can be a challenge, but it doesn't need to be overwhelming. After all, there are some great options out there and, with so much to choose from, there's sure to be one that fits your needs and budget. Once you've done your homework, you'll be ready to make the next step and call a professional to get the job done.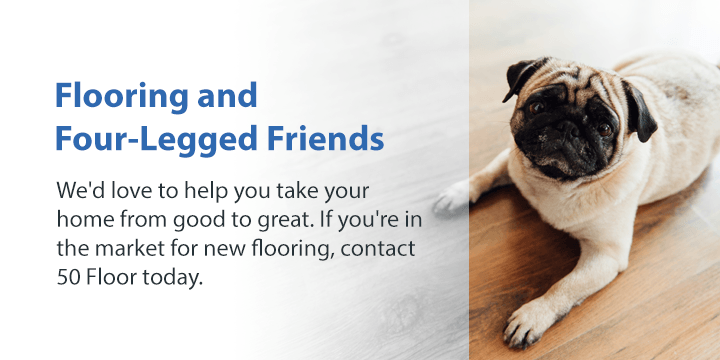 At 50 Floor, our goal is to walk you through the flooring process, from selecting your material and the "look" of your floor all the way through the installation process. Our certified professionals offer a combined 40 years of flooring experience that will leave you with amazing results — every single time. Not only will we size and order the flooring you choose, but when installation day comes, we'll take care of moving furniture and then putting everything back in place when the installation is complete. You don't have to lift a finger, but you'll get great results.
We'd love to help you take your home from good to great. If you're in the market for new flooring, contact 50 Floor today. With locations in Austin, Dallas/Ft. Worth, Nashville, the D.C. Metro/Richmond area, Raleigh/Durham, Charlotte, Atlanta, Orlando and Tampa, you're sure to find a 50 Floor location that's just a phone call away. You — and your furry friends — will be glad that you did.