Staining your hardwood flooring lets you match your floor's style and color to the rest of your home. Choosing from wood floor stain colors can also give you the chance to redefine your home's style or refresh your space, but what color should you pick? With so many variations to choose from, knowing the most common hardwood flooring stain colors will help you select the best option for your floors.
Most Popular Wood Floor Stain Colors
Hardwood flooring colors are typically natural and neutral, so your floors stay versatile for future style changes in other areas of your home. To maintain the natural look of hardwood floors, stain colors are often shades of brown that mimic different hardwood flooring materials. Select from these categories as you revamp your floors:
Brown Wood Floor Stain Colors
Among the most popular wood floor stain colors are shades that reflect nature. If you have a typical wood flooring material, such as oak, you can make high-end faux options or transform its style entirely with a stain. Consider these popular brown hardwood flooring stain colors for your home:
Mahogany: Mahogany has a deep red hue that mimics the high-end wood of the same name
Cherry: Like mahogany, cherry has a red hue, but contemporary cherry stains have more of a rich, warm brown look than a vibrant red tone.
Walnut: This deeper, classic brown shade is flexible for traditional to modern styles.
Dark Wood Floor Stain Colors
Dark hardwood stains are dramatic and can help camouflage the grain of your wood floor, which some homeowners prefer for its contemporary look. Common dark wood floor stain colors include:
Espresso. This brown color is so dark it's almost black. It's a popular choice because it adds a dramatic touch to your floors while maintaining its warmth.
Ebony. Ebony is an almost black color on the cooler side. If you don't like the warmth of espresso but don't want all-black flooring, ebony is a good compromise.
True black. Popular for sleek or industrial modern spaces, true black is a great option if brown neutrals aren't for you.
Light Wood Floor Stain Colors
Light wood flooring is either natural hardwood or stained to look natural. It shows less dirt and can last longer than darker varieties. If you want a cheery, bright space, consider these light hardwood floor stain colors:
Gray: A modern stain that makes it easy to avoid outdated yellow tones, gray stains can provide warm brown or striking black variations to the grain in your hardwood floors.
Pine: Pine comes in a handful of hues and shades, many providing a more traditional look to your floors. Try to choose a pine stain that's more of a neutral beige than gold.
Golden oak: This is a rich tan choice, but choose a more neutral stain than yellow for floors that are light and bright but not outdated.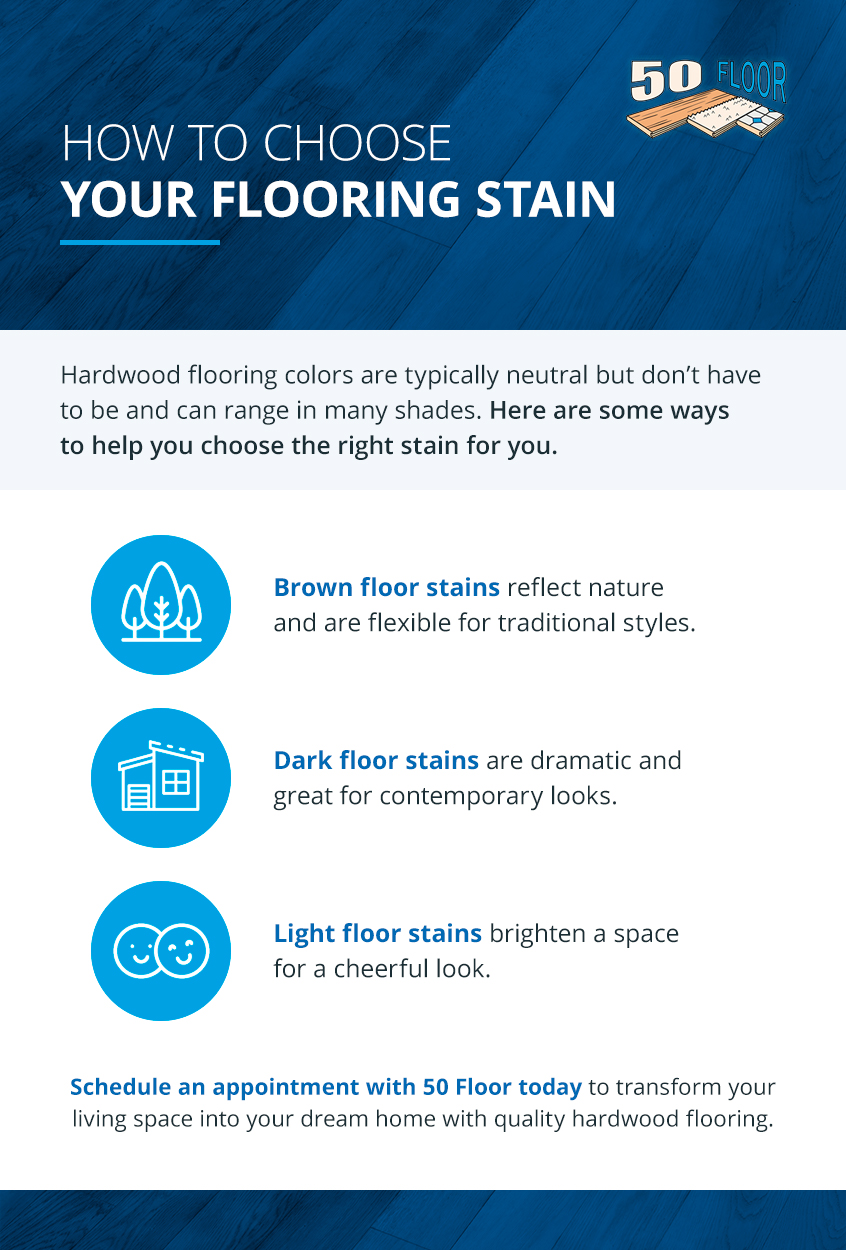 Get New Hardwood Flooring From 50 Floor
Sometimes, staining your hardwood floors isn't enough. If it's time for something new, revamp your space with flooring from 50 Floor. Our shop-at-home experience makes it easy to select hardwood floors that suit your home and style. An expert will guide you through your options and help you get the perfect flooring for your home, lifestyle and budget.
Schedule an appointment with 50 Floor today to transform your living space into your dream home with quality hardwood flooring.