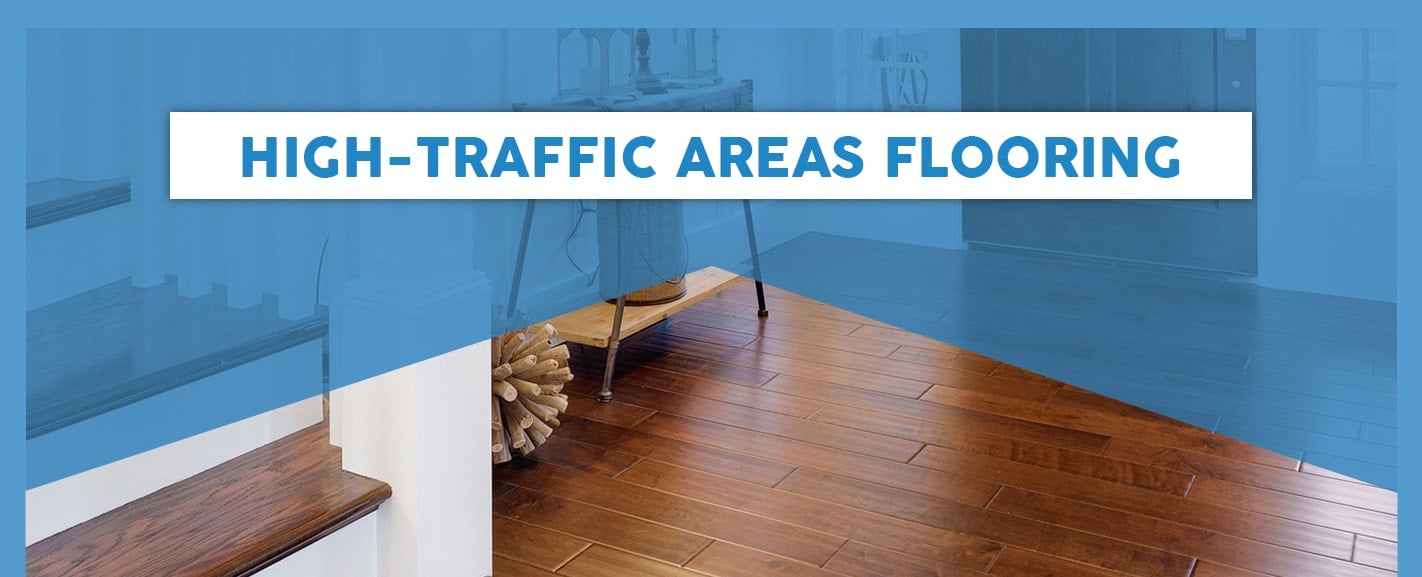 High-traffic areas in your home likely include entryways, hallways, bathrooms, the kitchen and the path that runs between the kitchen and living room. All of these areas, and possibly others as well, tend to experience a lot of foot traffic on a regular basis. All of that traffic will put your flooring to the test. It's best to choose durable and easy-to-clean flooring options for heavy-traffic areas in the home. Let's take a look at six great high-traffic flooring ideas to choose from.
1. Porcelain Tile
Tile is one of the best flooring options for high-traffic areas. Tile floors are exceptionally durable and typically require no maintenance other than routine cleaning. Tile is also water-resistant, so it's a great choice for mudrooms, bathrooms and kitchens. While both ceramic and porcelain are good heavy-traffic flooring options, porcelain tiles are the more durable of the two. This is because porcelain tiles are denser, making them more resistant to wear and tear. Porcelain tile is also able to withstand drastic temperature changes without cracking.
There are many tile designs to choose from. You can cover large sections of your home with neutral tiles, or you can choose to create an ornate tile design for a small high-traffic area, such as a foyer. Keep in mind that if you choose small tiles, you'll have more grout lines to clean.
2. Luxury Vinyl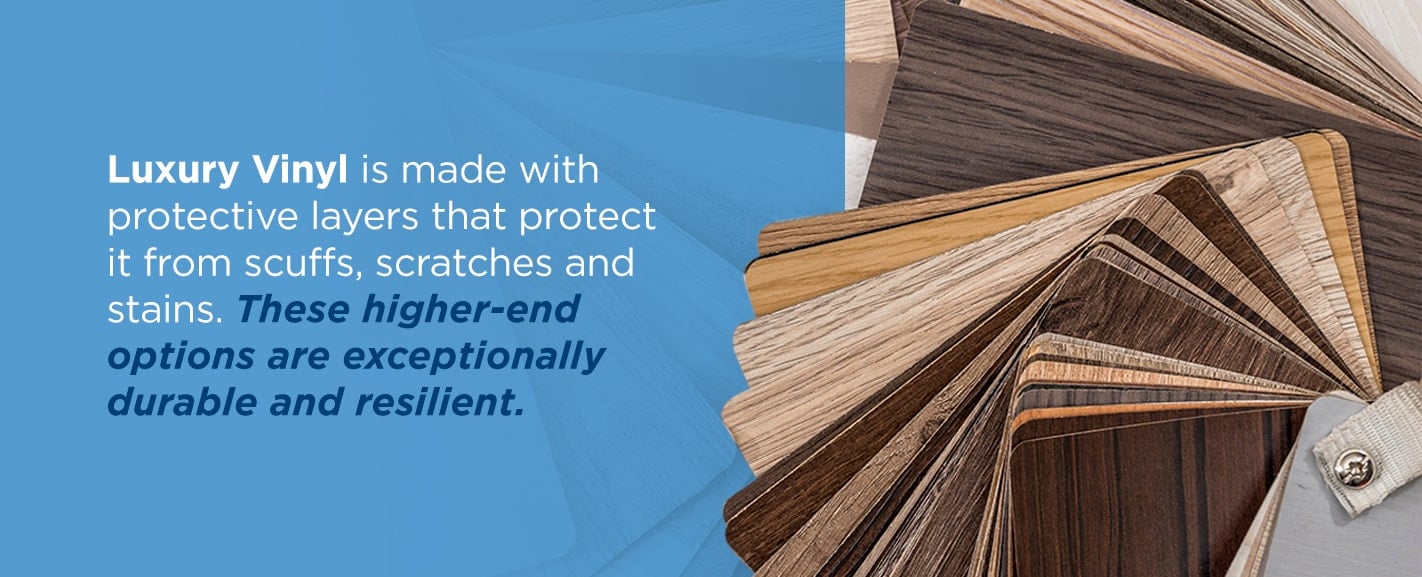 Vinyl flooring is another option to consider for high-traffic areas. Vinyl is made with protective layers that protect it from scuffs, scratches and stains. The best type of vinyl for high-traffic areas is luxury vinyl flooring, which comes in planks and tiles. These higher-end options are exceptionally durable and resilient. Luxury vinyl flooring comes with other benefits, as well. It's easy to clean, it's waterproof and — though it costs more than some other vinyl flooring — it's still an affordable flooring option compared to other flooring types, such as hardwood or tile.
Luxury vinyl flooring comes in a variety of style options that imitate other flooring types. Vinyl planks typically are made to look like wood or laminate flooring. Vinyl tiles are made to resemble the look of tile flooring, including slate and stone tiles in addition to porcelain and ceramic tiles.
3. Berber Carpet
People often skip over carpet when they're selecting a flooring material for a high-traffic area. This is because heavy foot traffic can leave carpet looking mashed down, dirty or even torn if something catches the weave and pulls it out. These can all be issues with carpet, but you'll mainly run into these issues with more plush carpets.
For a heavy-traffic area, you're better off to choose Berber carpeting. Berber carpets are prized for their ability to hold up to plenty of traffic. Today, Berber carpets come in more options than the traditional speckled look most people picture when they think of Berber carpet. Berber carpet is softer than options like tile or laminate, so you may want to consider it for areas where children play or where you want to enjoy more comfort.
4. Laminate
Laminate is an excellent option to consider for any high-traffic area. Laminate that mimics the appearance of hardwood floors is a versatile option that tends to look appropriate for any room, whether it's a bedroom, hallway, kitchen or bathroom. Plus, there are nearly endless colors and styles to choose from. Some options will closely match the look of stained hardwoods while others may resemble painted or color-washed wood. Some laminate even looks like other flooring types, such as stone or tile.
Laminate is durable because it has a protective layer on top. This actually makes it more durable than real hardwoods, which are more susceptible to dents and scratches. Keep in mind that laminate flooring comes in different quality levels. For high-traffic areas, you'll want to choose a high-quality laminate that can take all that wear and continue to look great for years to come.
5. Hardwood
In a Consumer Reports test that simulated the level of wear that occurs in high-traffic areas, prefinished solid hardwood and engineered wood floors received Good and Fair ratings. For comparison, some other types of flooring achieved Excellent ratings. Though they can last for generations, hardwood floors are likely to endure some level of damage along the way from common issues. Signs of wear like scratches can give a wood floor character, which may be a good thing in the eyes of some homeowners.
If you prefer a more pristine look, you'll want to make sure you choose a harder hardwood, like hickory. A positive aspect of solid wood floors is that you can always refinish them, making them look brand new. Keep in mind that engineered wood flooring only includes a thin layer of hardwood at the top, so in most cases, it cannot be refinished. The best engineered wood flooring for high-traffic areas would be one that features a thicker layer of wood so you can refinish it once during its lifetime.
6. Area Rug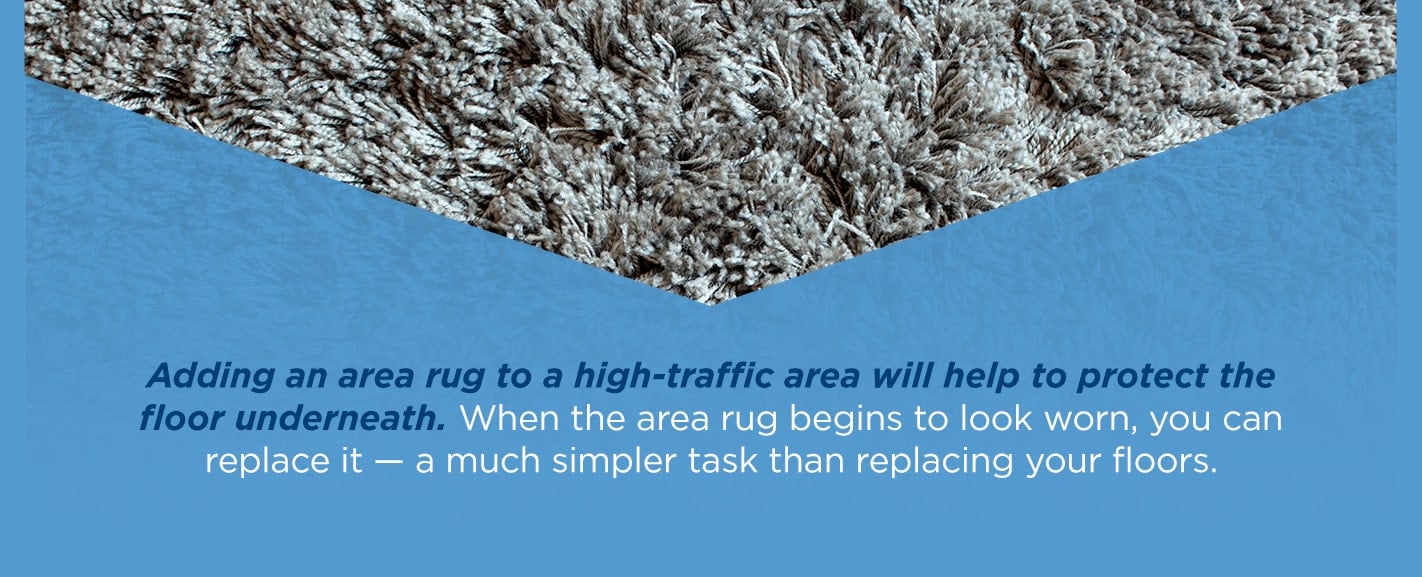 Maybe you already have flooring you love, but it's not durable enough for high-traffic areas, or you want to install hardwood floors throughout your home, but you're worried about them getting too worn in certain places. In these instances, especially for entryways, a great option to consider is area rugs. Adding an area rug to a high-traffic area will help to protect the floor underneath. When the area rug begins to look worn, you can replace it — a much simpler task than replacing your floors.
Area rugs also give you an opportunity to add more color and pattern that fits the decor of the space. You'll want to steer clear of light colors that will show dirt and wear, however. Area rugs come in a wide variety of shapes and sizes, so you can get a rug that fits perfectly in your entryway or hallway. To keep your area rug in place, use combination felt and rubber pads as these will be gentler on your floors than just rubber pads.
High-Traffic Flooring From 50 Floor
If you want to explore your flooring options for your home, including high-traffic areas, the experts at 50 Floor can help. We come to your home and look at different flooring options with you so you can choose the flooring you know will look great in your home and will offer the practical advantages you need. We can also help you choose high-traffic flooring that fits neatly into your budget. An appointment with 50 Floor is free, so schedule yours today!