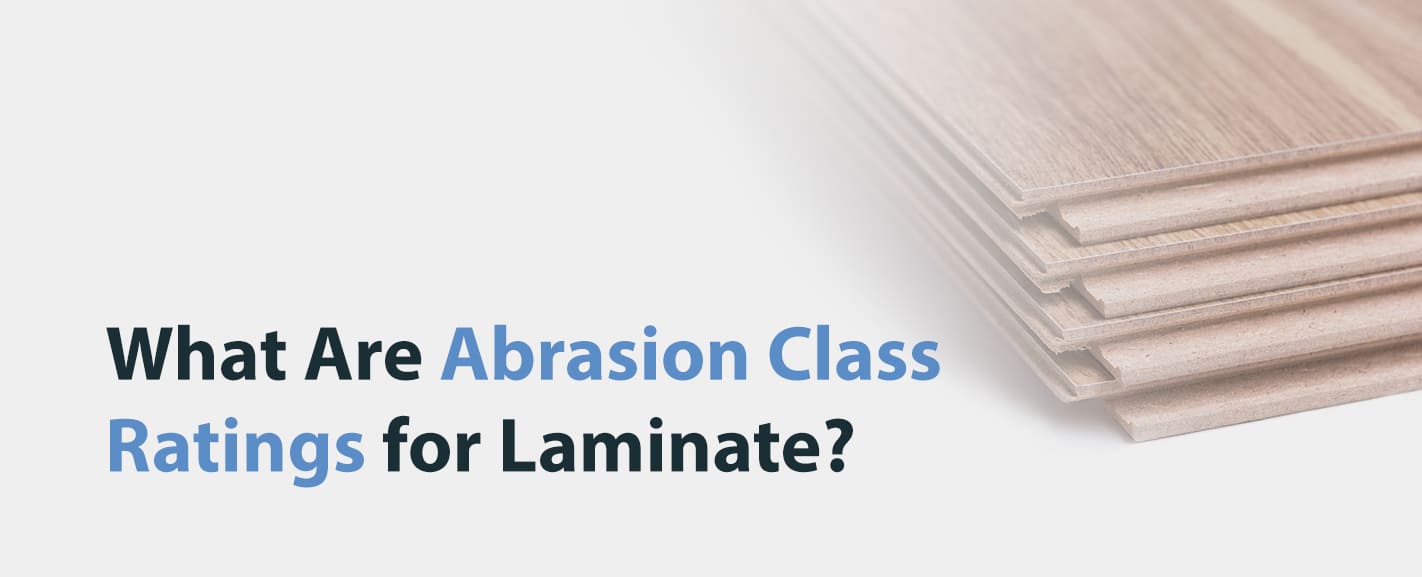 Your flooring withstands a lot during a day — drops, spills, furniture and light to heavy foot traffic. All laminate flooring is long-lasting and resistant to many types of damage, but some flooring is crafted to be more resilient than others to meet specific needs around a home or business. One way to determine whether your laminate flooring is tough enough for everyday use in your space is by noting its abrasion class rating. If you're building a new home or relaying floor in an existing area, you need to become familiar with laminate class ratings to make the best choice for your needs.
If you've never heard of laminate abrasion class ratings before, don't worry! We're going to review everything you need to know about AC ratings, including how to choose the best laminate AC rating for your room or building.
View Laminate Flooring Options
What Are Abrasion Class (AC) Ratings?
Abrasion class (ac) ratings are an industry-wide system of classifying laminate flooring by its durability. AC ratings are broken out into five different levels.
Laminate flooring is available in various styles, patterns, textures and colors, regardless of its AC rating. AC ratings are not meant to distinguish poor-quality flooring from high-quality flooring. Instead, they are an easy way to classify laminate flooring into different categories so you can make a sound investment for your space.
How Is Laminate Flooring Rated?
The top layer of laminate flooring is called the "wear layer." This is where the protective coating that keeps your floor free of moisture and stains is. Unbiased, third-party testers perform each AC rating wear test on this layer and classify laminate flooring into one of five categories. During the test, they use a variety of techniques and methods to intentionally wear down the protective coating on the wear layer and see how resistant and durable each piece of flooring is to determine the laminate rating.
What Are the Different Abrasion Class Ratings for Laminate Flooring?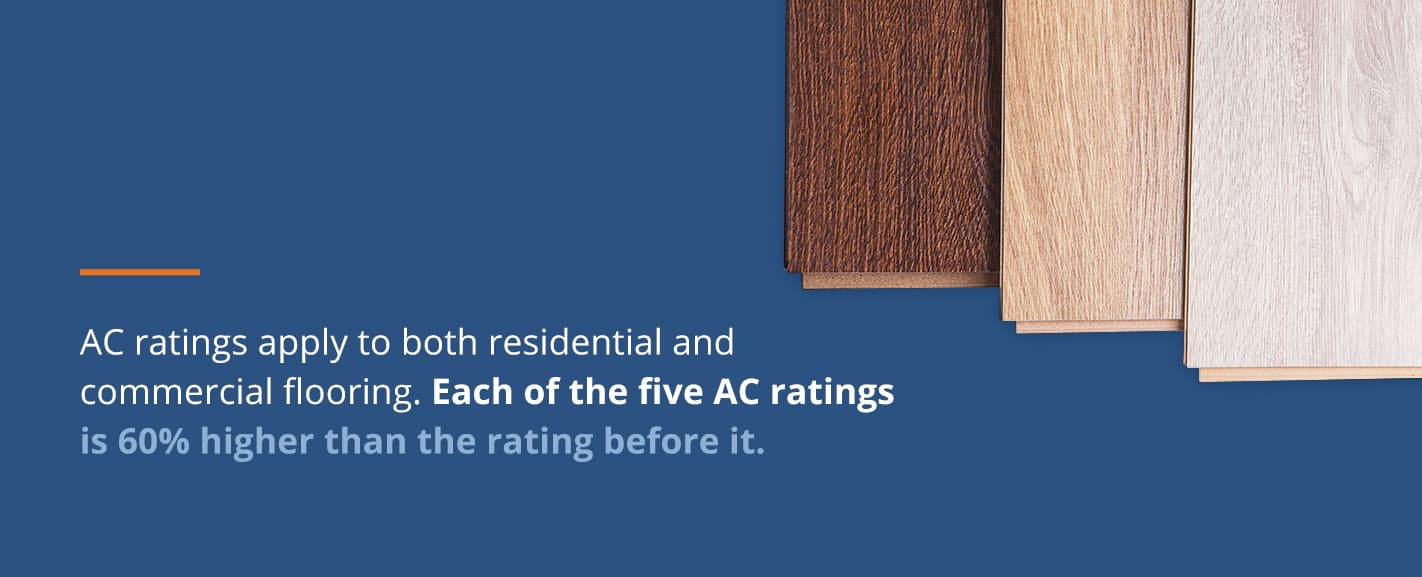 AC ratings apply to both residential and commercial flooring. Each of the five AC ratings is 60% higher than the rating before it. The five types of abrasion class ratings for laminate flooring are:
AC1: AC1 flooring is the lightest laminate class for moderate residential use. It is designed to withstand light foot traffic.
AC2: AC2 flooring is for general residential use. Use this in rooms that get moderate levels of foot traffic.
AC3: AC3 flooring is the most durable residential laminate and the lightest form of commercial laminate. Use this in residential spaces with a lot of daily wear and commercial spaces with light foot traffic.
AC4: AC4 is not intended for residential use. Instead, use this flooring in moderately busy areas of your commercial space.
AC5: AC5 is the most durable laminate flooring available and stands up to the busiest commercial areas.
Remember, you should only use an AC rating to determine the level of durability you need for your laminate flooring. It is not an indicator of overall quality or craftsmanship.
View Waterproof Laminate Flooring Options
How to Know Which Abrasion Class Rating Is Right for Your Flooring
As you choose the right laminate flooring for your home or business, consider how you use the space and your budget.
How Do You Use the Space?
Choose your rating by the type of space you're working with and what you use it for. You will likely need more than one type of laminate flooring for your home since each piece is rated according to foot traffic.
Residential spaces: If you're adding flooring to your home, consider your lifestyle. Do you do a lot of cooking in the kitchen? Do your children use the living room for playtime? AC1, AC2 and AC3 laminate floorings are for residential use. Use AC1 in places you do not frequent often, like a guest room, formal dining room or storage closet. You can use AC2 in more frequented areas, like bedrooms and your home office. AC3 is for those parts of your home where you spend the most time, like the kitchen, living room, staircase and hallways.
Commercial spaces: For commercial spaces, analyze what parts of your building are used most frequently. For example, do people spend all day walking around the space to shop or look at displays, or do guests sit in a waiting room? You can use AC3, AC4 and AC5 in your commercial space. AC3 flooring is suitable for less-used areas of your business, like closets or hotel rooms. AC4 is for sit-down offices, small shops and specialty stores. AC5 is for places that see a lot of foot traffic, like sales floors, shopping malls, public buildings and restaurants.
If you're still unsure which rating is best for your specific space, contact the flooring specialists at 50 Floor to help you make the best decision.
Consider Your Budget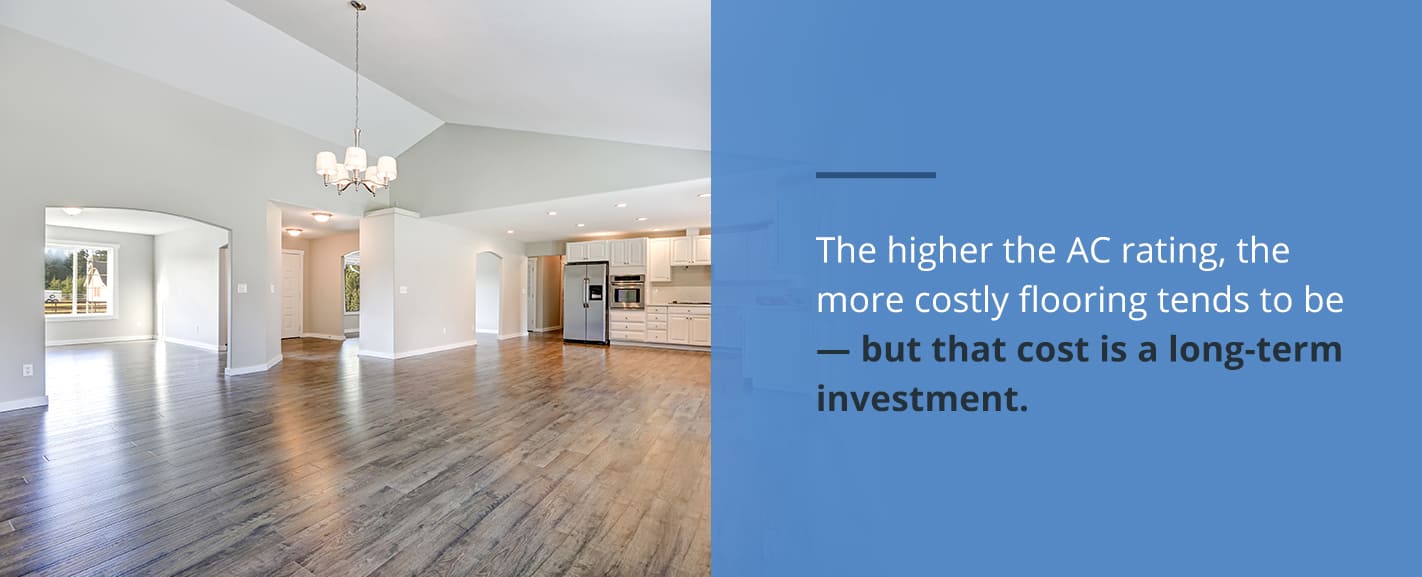 The higher the AC rating, the more costly flooring tends to be — but that cost is a long-term investment. You need the right type of flooring that looks good and lasts a long time without needing to be repaired or replaced. By choosing the right laminate class flooring, you will get the most value for your investment. Avoid installing a low-durability laminate flooring in a heavily trafficked area, or you might find yourself replacing it after a few years.
To make a cost-efficient decision, you should also avoid choosing a flooring with a higher laminate AC rating than you need. You wouldn't want to install AC3 laminate flooring in a barely-used guest room, for instance. Pick and choose your laminate flooring on a room-by-room basis.
Find the Laminate Flooring You Need at 50 Floor
50 Floor is a flooring company dedicated to making your experience as easy and stress-free as possible. When you shop with us, you enjoy the time-saving convenience of shopping from your own home. 50 Floor offers several kinds of flooring, including laminate, carpet, hardwood, vinyl and luxury vinyl tile. Each type is available in a variety of colors and styles to suit any interior design. While browsing, you can contact our experts with any questions to make the right choice for your space, or schedule an at-home appointment to see how the flooring looks in person. When you're finished, we'll even deliver and install the flooring for you!
Visit us online to shop our laminate flooring options and schedule your installation appointment today!