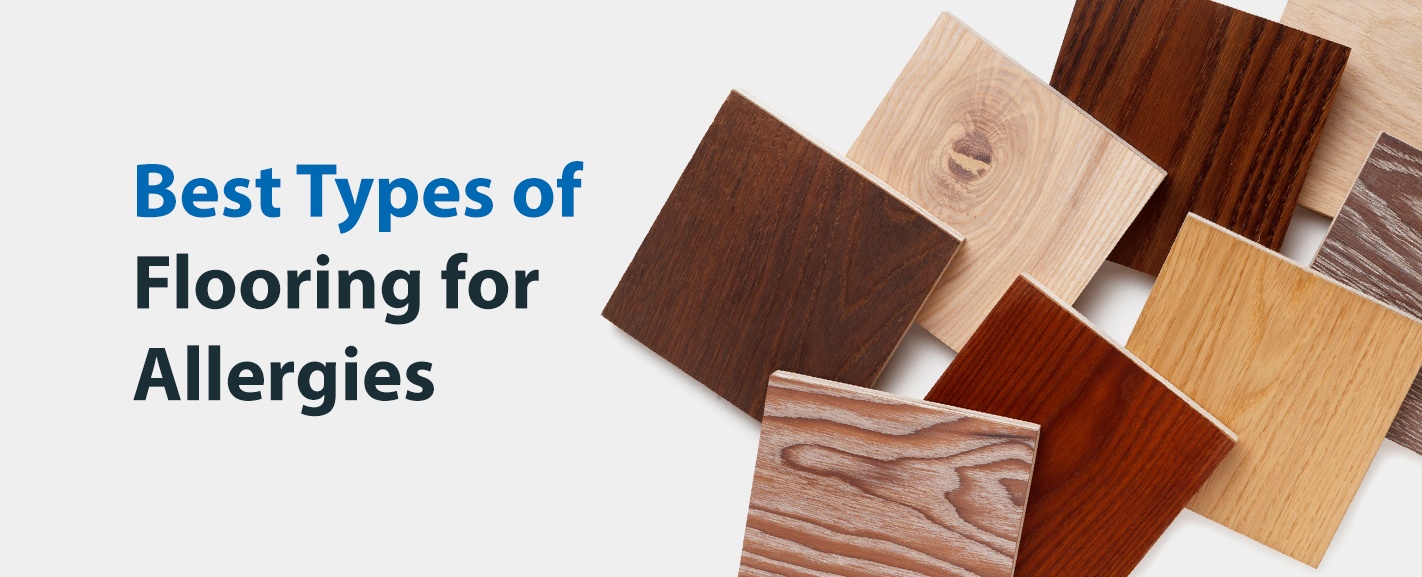 Allergies, along with asthma, is a common concern — in fact, it affects as much as 30 percent of adults and 40 percent of children in the United States. And although many allergens are found outdoors, dust, dander, mold and other allergy triggers found inside the home can cause problems, too. Pollen and other outdoor allergens can also be tracked in on shoes and pets, and volatile organic compounds (VOCs) are off-gassed from some types of paint, finishes and furnishings.
Making the right flooring choices can greatly improve the quality of your indoor air and reduce problems caused by allergens. In this guide, we'll discuss some tips for choosing the best type of flooring for allergy-sufferers.
Choosing Flooring When You Have Allergies
When you suffer from allergies, every purchasing decision in your home matters. Ensuring your choices don't contribute to the allergens in the air can make a world of difference to your overall health. Here are some tips for anyone with allergies:
Know your triggers: Keeping your allergies in check starts with understanding what your worst triggers are. For some, it's certain types of pollen or mold. For others, animal dander is the main culprit. Knowing what bothers you the most can help you make the best decisions to create a healthy environment in your home. This includes choosing flooring and furniture that is resistant to common allergens, and are easier to clean, so they don't trap allergens in.
Beware of VOCs: Volatile Organic Compounds can make allergies worse, and sadly, they are found in many common household items like paints and stains, flooring and furniture. Look for flooring and other home furnishings with no or lower VOC content for better indoor air quality.
Control pet hair: Pet dander is one of the most common allergens, so it's a good idea to keep pet hair under control. If you have pets at home, you know the hair builds up quickly, but you can help keep allergens at bay with more frequent cleaning. Make this job more convenient with flooring that's easier to clean.
Avoid thick carpeting: Carpet is notorious for trapping in dust, dirt and allergens, and this is worse in carpet with a thicker pile. If you're suffering from allergies, wall-to-wall carpet may not be the best choice. However, if you like the look or feel of carpeting, try area rugs — which are easier to clean and replace — over other types of flooring, or use carpeting with a lower pile to reduce the amount of dust and allergens that get trapped. Carpet is a common choice for bedrooms, but the best bedroom flooring for those with allergies includes lower pile carpet and easy-to-clean, cozy options like hardwood with washable area rugs.
Best Flooring for Allergies
In general, the safest flooring for those with allergies is something that won't trap dirt, dust and allergens. Choose low-VOC flooring with smooth surfaces that you can sweep or vacuum frequently. Here are our top picks for the best hypoallergenic flooring:
1. Tile Flooring
As one of the oldest flooring styles around, tile gives a classic look to a home. Tiles are most commonly made from ceramic or porcelain and come in an endless variety of shapes, sizes, colors and designs. Many tile flooring options are manufactured to be especially stain and scratch-resistant, and are incredibly durable and long-lasting. Tile flooring is low maintenance and easily cleaned with a vacuum, broom or mop. Its smooth surface and easy-to-clean nature make it a top choice for those with allergies.
2. Luxury Vinyl Flooring
Vinyl flooring has been a classic choice for homes for many years, and more recent developments mean there are more quality choices than ever before. Vinyl flooring is made from PVC and other synthetic materials, layered to make a durable, scratch-resistant, and slip-resistant surface that will last for years. Vinyl flooring is available in sheets, tiles or planks and can mimic the look and feel of other styles, like hardwood and ceramic tile, at a much lower cost. This option offers more moisture resistance and structural soundness than other types of flooring too.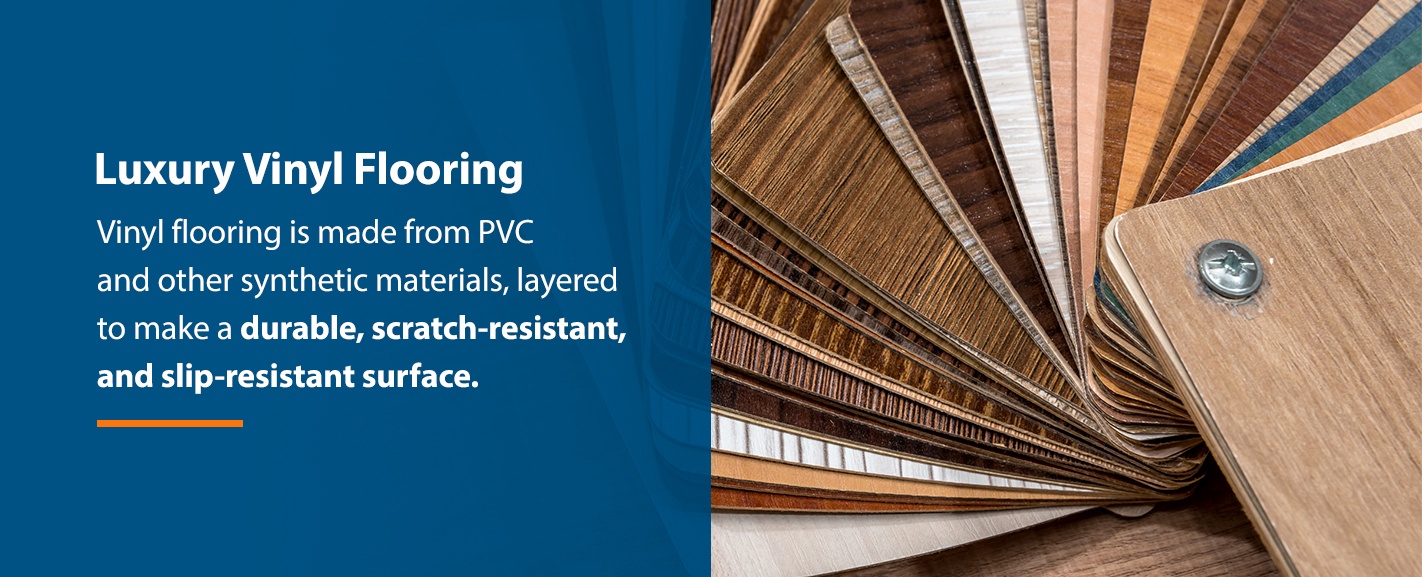 3. Laminate Flooring
An attractive and durable flooring choice, laminate is made from layers of composite materials to make an incredibly hard surface that can imitate the appearance of hardwood and other flooring options for a lower cost. Laminate flooring is engineered to be especially resistant to stains, scratches and general wear and tear. This type of flooring comes in a wide variety of styles and finishes and can be installed seamlessly to avoid any gaps where allergens can collect and build up. This low-maintenance and long-lasting flooring is a great choice for anyone with allergies.
4. Low-Pile Carpeting
Carpet remains a popular choice for many homeowners, but certain types can be problematic for those with allergies because the longer fibers can trap dust and allergens. However, if you enjoy the look and feel of carpeting in your home, a lower-pile choice can be a great compromise. Carpeted floors offer warmth and comfort to bare feet, as well as sound-dampening qualities. Low-pile, high-quality carpets can give the comfortable, cozy feel you want in your home. If you choose carpet, be sure to vacuum regularly, and consider the occasional professional cleaning to help keep allergens under control.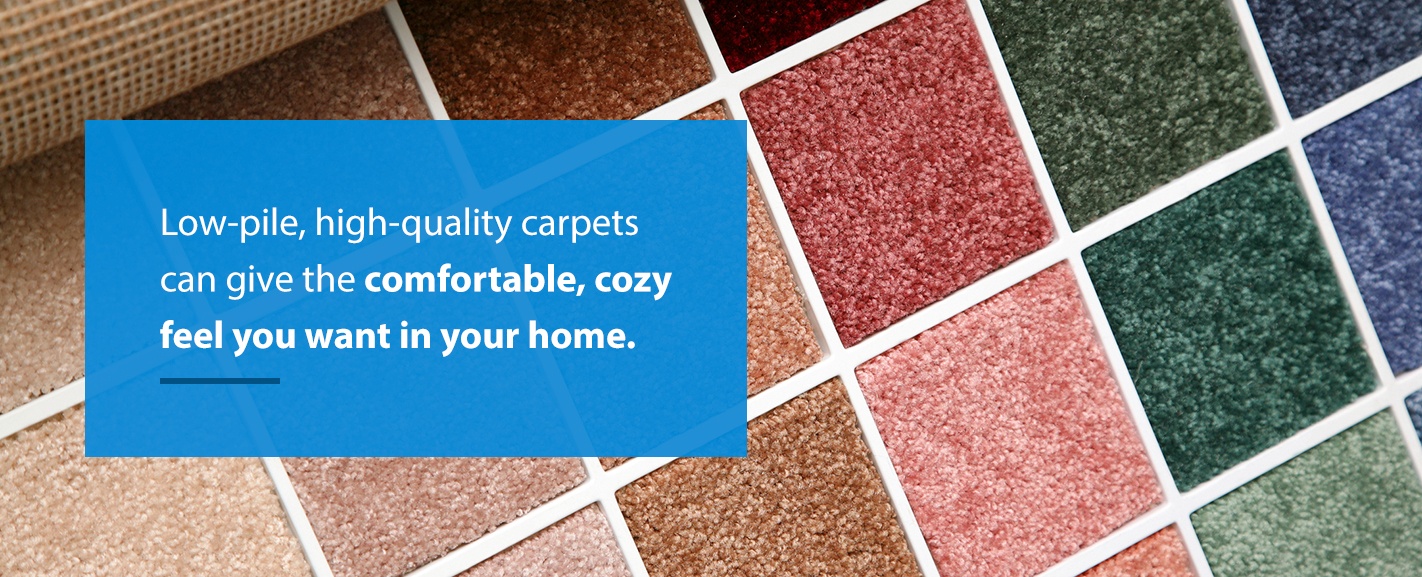 5. Hardwood Flooring
Hardwood floors are one of the most popular flooring choices for people with allergies. Wood floors add style and value to a home while minimizing dust, animal dander and other common allergens. Hardwood flooring is available in both solid hardwood and engineered hardwood, which is constructed of layers of wood compressed together for maximum durability. Both types of wood floors are high-quality, long-lasting and easy to keep clean, making them one of the best choices for anyone with allergies.
Consult the Experts at 50 Floor to Find the Best Flooring for Allergies
For the best selection of hypoallergenic flooring choices and personalized service, choose 50 Floor. We bring the samples to you, so you can shop from the comfort of your own home and choose the right flooring for your home. Then, we take care of all of the installation details, so the whole process is quick, easy and convenient.
If you're looking for the best flooring for allergy-sufferers, schedule an appointment with 50 Floor, and our consultants can help you pick the perfect flooring for your home.