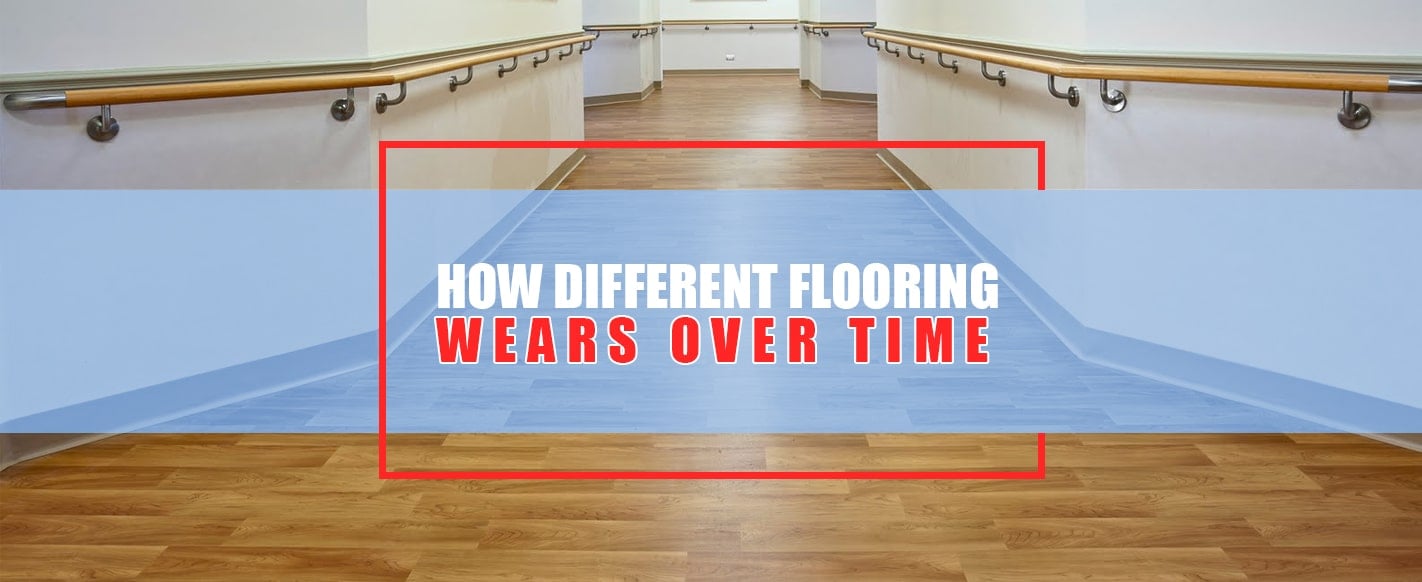 Remodeling a room in your home with new flooring can be a fun and effective way to instantly transform any space. Your options for flooring choices are nearly endless. You can select an elegant hardwood or choose a durable wood laminate that retains the look and feel of real wood. You can put down a plush new carpet or use vinyl flooring that adapts to any part of the home. With so many choices, it may be difficult to determine which is right for your room.
50 Floor understands how important it is to select the flooring option that fits the needs of a designated room. From bathrooms and kitchens to living rooms and dining areas, we know that the flooring in each room of your home is subject to various types of damage. As your flooring ages, it's crucial to learn the difference between normal wear and tear and serious deterioration. The experts at 50 Floor are here to help you identify common wear and tear your floors may incur over time.
What Is Normal Wear and Tear on Flooring?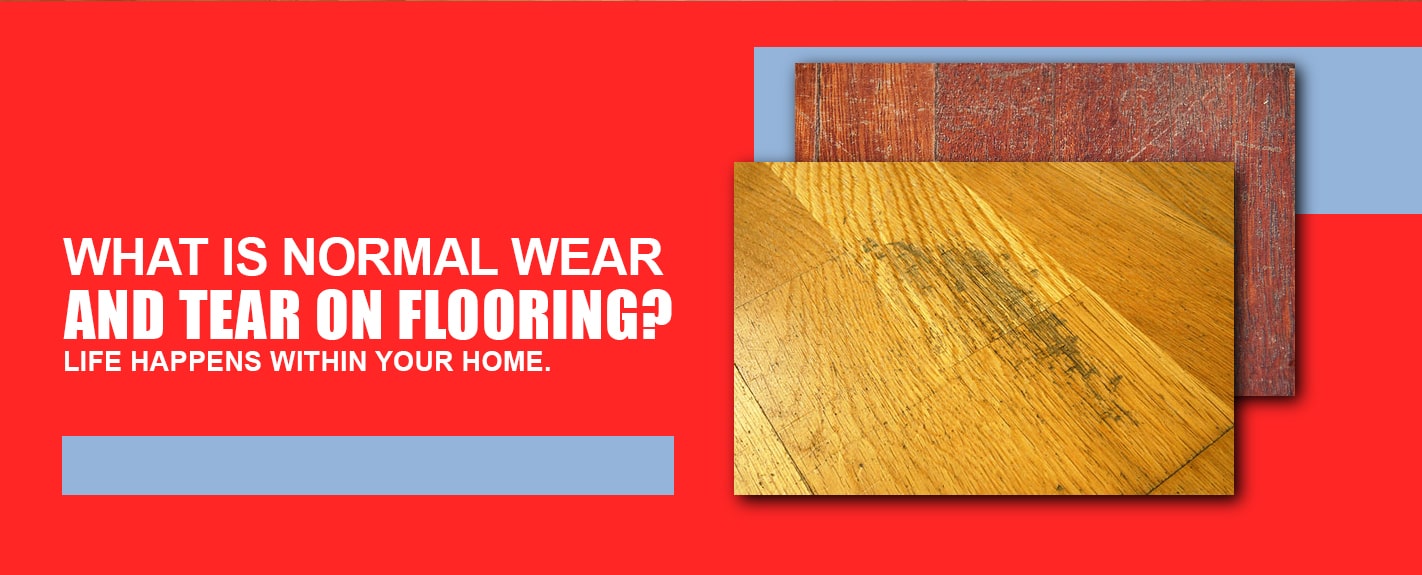 Life happens within your home. While many homeowners try to prevent damage as much as possible, nearly every floor of the house will experience normal wear and tear over the years. The flooring in your home is perhaps one of the areas most susceptible to wear and tear, especially in high traffic rooms like kitchens and bathrooms. Although any deterioration in your home is undesirable, there's a difference between normal wear and tear that you should expect and significant damage.
In a general sense, normal wear and tear can be defined as the deterioration that has resulted from the intended use of the object. This definition excludes damage that has occurred because of neglect, accidents, abuse or carelessness. The flooring in your home will naturally show its age over the course of its lifespan just by being walked on. For example, a carpet may fade, and bathroom tiles may become loose over time. Though this deterioration is normal, it may become an eyesore in your home.
Normal Wear and Tear on Tile
Tile is an exceptional flooring for many reasons, one of which being its durability. The two largest factors that will influence the condition of your floor are the quality and age of the tiles. Most debris and liquid won't cause damage to the surface, and any stains that may set in can be easily removed with a designated tile cleaner. Small scratches or cracking may also occur on the tile or near the grout and can be considered normal for older or lower-quality tile.
Because tile is such a durable flooring material, higher-quality or newer tile shouldn't show a great amount of wear and tear in the early years. Older tiles may show cracking, but large scratches and cracks are typically the results of accidental damage. They may crack under heavy weight or from impact because the substrate underneath has cracked or because the tile was improperly installed.
Normal Wear and Tear on Laminate
Laminate flooring combines durability with affordability and is a popular substitute for finished hardwood. Like other types of flooring, laminate floors can show their age through normal wear and tear. The surface may become scuffed and scratched from excessive foot traffic or furniture. Water damage could also cause small patches of mold to form or the laminate to warp or buckle. The flooring may also peak due to changes in climate and its inability to expand or contract adequately.
Common wear and tear on laminate flooring is similar to other flooring types — the amount of use the surface sees increases the opportunity for scuffs, scratches and other signs of age to appear. However, your laminate shouldn't crack, break or warp from normal use. These damages are typically attributed to accidents, maintenance neglect, poor installation or significant amounts of water collecting beneath the floor.
One example of maintenance neglect is an improper cleaning routine. When mopping, it's best to either dry mop or dust mop rather than mopping with water, since using too much water can cause irreversible damage if it seeps between the flooring planks. Using the wrong flooring cleaner can also damage laminate flooring. These cleaners can actually leave behind residue and dull the surface.
This is an especially common mistake made in high traffic areas, as dirt and grime can also dull the finish. An individual may mistakenly use an incorrect or heavy amount of floor cleaner in an attempt to polish it, even though they're actually contributing to the dulling. Using cleaners containing soap, oils or harsh chemicals is not recommended. Instead, cleaning with specially formulated laminate cleaners or homemade cleaners using minimal amounts of water, white vinegar and rubbing alcohol is a better option to retain a bright shine.
Normal Wear and Tear on Vinyl
Although vinyl flooring is a durable surface, it's susceptible to normal wear and tear. Vinyl flooring may begin to wear thin over time, especially in high-traffic areas. Normal wear and tear can cause vinyl to rip, creating minor or moderate-sized tears. Vinyl flooring may also become discolored over time due to yellowing from chemicals, bottom-up staining resulting from deep stains and discoloration from long-term sun exposure.
Though scuffs and light scratches may also show up over time, significant vinyl damage should not occur from normal wear and tear. Large rips with long and jagged edges from tearing, holes and burns are more significant damages that usually result from accidents or neglect.
Normal Wear and Tear on Carpet
Carpeting is a fantastic flooring choice that many homeowners love. It can absorb hot and cold air as well as sound, giving you added insulation year-round. Recognizing the differences between normal wear and tear and excessive damage to the carpet can be difficult. While a stain may blend into the coloring of a vinyl floor, some carpets can't hide their blemishes well.
Most carpets will show signs of wear from matting due to excessive foot traffic or impressions left from furniture. Carpet fibers will also begin to lose their texture and tuft after a decade of use. The padding under the carpet may also wrinkle, start to smell, become uneven or make a crinkling sound as it ages. Excessive damages not attributed to normal wear and tear would include carpet burns, significant staining that can't be removed and large tears.
Normal Wear and Tear on Hardwood
The telltale signs of normal wear and tear on hardwood floors are similar to that of carpet — expect hardwood flooring to show signs of aging. High-traffic areas will begin to look worn over time and may feature scuffs or light scratches. Some minimal staining may occur as well if a liquid that hits the surface isn't quickly cleaned up. Small cracks or splits may also appear on the surface of the wood over the years, along with the potential for slight cupping due to moisture imbalances.
The signs of excessive damage on hardwood floors are similar to those of carpet as well. Large stains and heavy moisture damage shouldn't be common if the floor is properly cared for. Gaps in the planks, warping, buckling and large cracks or splits in the wood should not occur under normal circumstances. Because wood can absorb moisture faster than other surfaces, large stains can also become apparent if responsible cleaning practices aren't performed.
What Type of Flooring Is Most Durable?
When choosing new flooring for your home, you'll need to consider both fashion and function. Everyone wants a beautiful looking floor, and each type of flooring option has inherent benefits that make it a desirable choice. However, if durability against normal wear and tear is your chief concern, you'll need to compare the strength of each option. While flooring variations are available using quality materials that protect the surface, some flooring materials may not have a level of durability that's suitable for every room.
Tile Is the Most Durable Flooring Option
There are plenty of options when it comes to tile flooring, making it a popular choice that can meet the needs of nearly every room in your home. With so many styles, sizes and colors available, your design possibilities are endless. There's another key reason why tile is so cherished too — its strength. It's an extremely durable flooring surface that will provide your home with a long-lasting solution.
Of course, tile in the kitchen or bathroom may come into contact with substances that could stain it. Similar to other surfaces in your home, you should exercise some caution before attempting to remove a stain by first testing the cleaner on a small patch to ensure it won't cause additional damage. Here are a few other minimal maintenance tips that will help you keep the tile in great shape:
Regular sweeping and vacuuming will help collect debris and dust.
Light mopping can remove most substances that come in contact with the tile.
Using appropriate cleaners can take care of stains that may be setting in.
Hardwood Is a Solid Choice as Well
Hardwood flooring is a preferred flooring option for homeowners and homebuyers alike. This classic surface is one of the country's favorite flooring types. The diverse texture and coloring of wood can lend a room a sophisticated elegance or fill it with a humbled charm.
If you're like many homeowners, you take pride in your solid hardwood flooring. Keep in mind that this elegant surface will require responsible and consistent upkeep to retain its beauty. Proper maintenance routines are key to preserving the finish and the wood itself. Use these tips to keep your hardwood floors looking classy and clean:
Sweep or vacuum floors regularly to help minimize the amount of dirt and debris that can collect on them.
Wipe up all spills immediately to prevent the substance from eating away at the floor's top coat of polish.
Use cleaners specifically designed for hardwood flooring to remove stains without scratching or damaging the surface.
Laminate Is a Worthy Substitute for Hardwood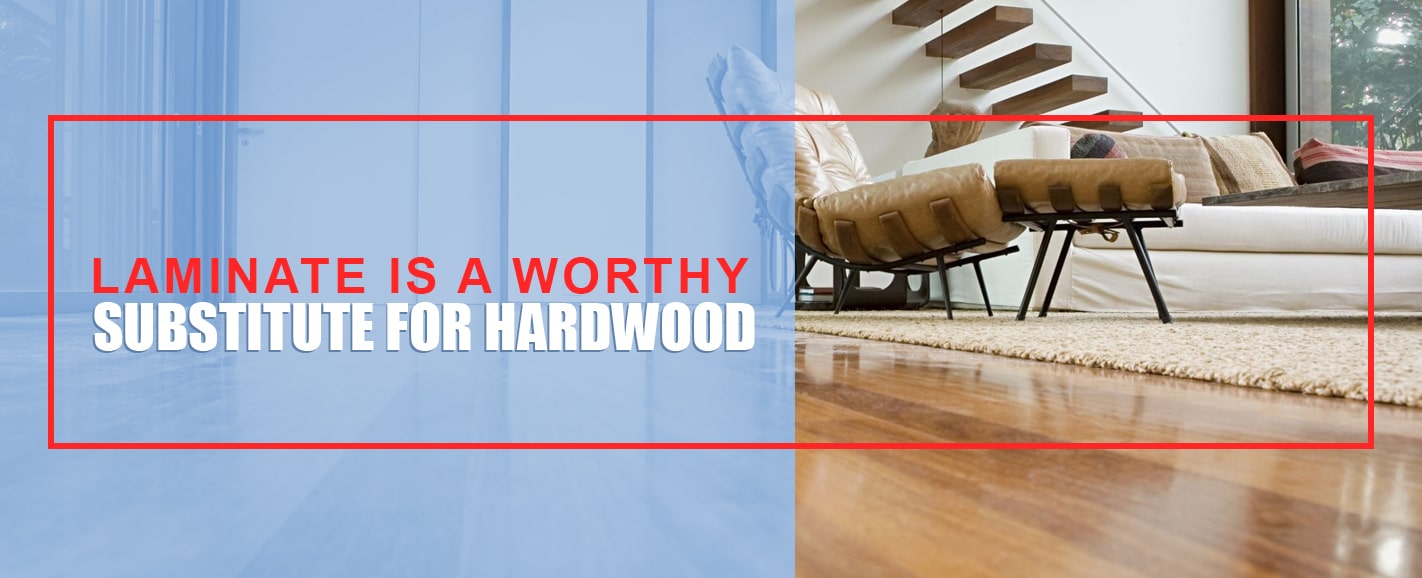 The top layer of laminate is durable and can withstand scratches, dents and stains associated with normal wear and tear. This feature makes it an attractive option in areas of high traffic and rooms that tend to get messy. When cared for consistently, laminate flooring can last for years, but it's not impervious to damage. Liquid spills left unattended can also cause the flooring to stain or develop damage from moisture.
Laminate flooring is relatively easy to maintain, but without consistent care, there's a chance for more damage to develop. If you have laminate flooring in your home that resembles the look of real wood, you'll want to make sure your floor looks presentable. To minimize the prevalence of wear and tear marks, as well as help prevent excessive damage, we've got some general cleaning advice:
Regular sweeping, dusting or vacuuming will help remove all debris from the area.
If you need to mop a spot, be sure to limit your water use and dry the area quickly to prevent moisture damage.
Always use special stain removers intended for laminate flooring if you need help ridding the surface of a blemish.
Vinyl Provides Durability and Aesthetic Appeal
When choosing an economical flooring option, remember that vinyl presents homeowners with an affordable solution. This durable flooring material is available in a number of stylish designs that can truly transform a room in unimaginable ways. The thickness of each layer of vinyl will directly impact its durability and ability to withstand moisture damage, scuffs and scratches.
Vinyl flooring can be easy to care for if the right cleaning routines are kept. Many vinyl floors have a stain-resistant layer that provides added protection. Since vinyl flooring is nearly impervious to water, these areas can handle coming into frequent contact with liquids. Keeping a light cleaning schedule with the following tips will help ensure the vinyl stays intact:
Vacuum or sweep the area frequently to minimize debris.
Use a mop to easily wipe up spills.
Occasionally strip and polish your vinyl if it doesn't have a clear wear layer to protect the surface from stains.
Treat Carpet With Care
There's nothing quite like the warm feel of a soft carpet. This flooring material is gentle, making it a perfect option for bare feet and for young ones to play safely on. The textures and colors available can not only add to the aesthetic of the room, but certain designs can also help hide small soil stains and vacuum marks. Carpets made from materials like wool fibers can even resist staining and are easy to maintain. This material can last for years without needing to be replaced.
However, we suggest that you always treat your carpeted floors with care. Along with normal wear and tear, accidents will happen, but unlike tile or hardwood flooring, keeping your carpet in pristine condition isn't as simple as wiping up a spill. The following flooring advice should help keep your carpet looking and feeling great:
Always blot stains, don't rub them. Rubbing the stain causes the particles to spread, but blotting a stain from the outside into the center can soak it up.
Use specific cleaners intended to treat specific stains like wine, blood or grease.
Deep clean the carpet regularly to keep it looking fresh and new.
Tips for Deciding Which Flooring Is Best for the Rooms in Your Home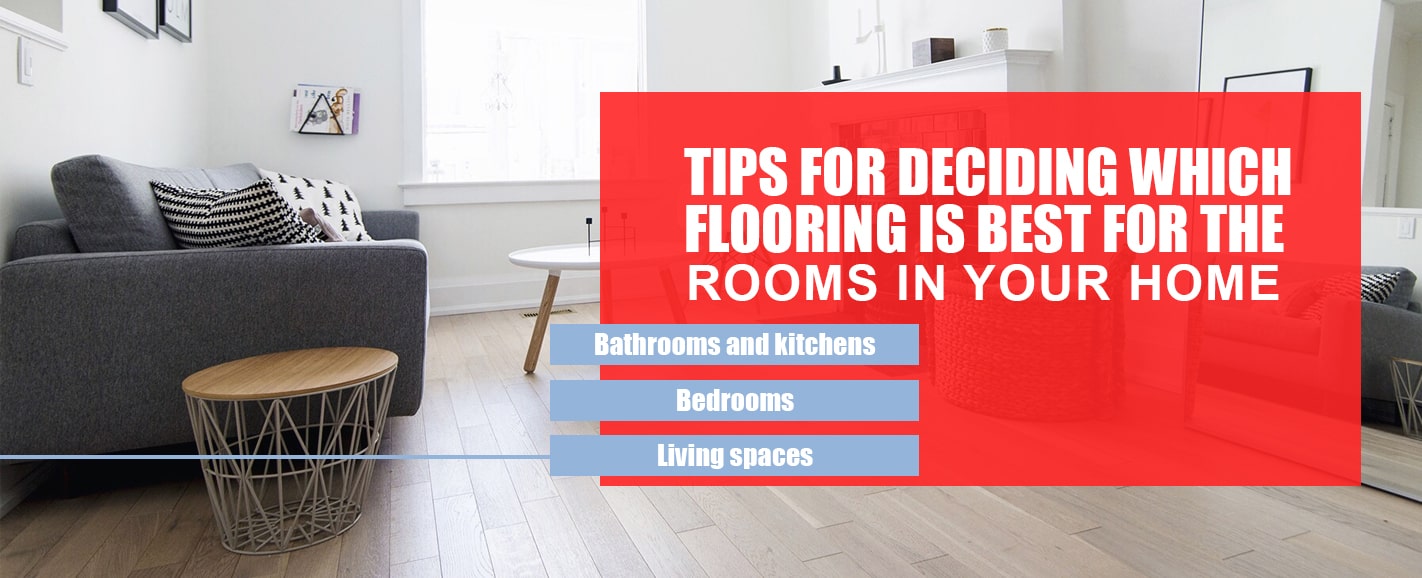 Tile, hardwood, vinyl, laminate and carpet — each of these options is available in a variety of colors, designs and styles that possess plenty of additional benefits. When choosing a flooring material, it's best to first have an idea of which material will perform best in a designated room. For instance, the cushion and warmth of a carpet is ideal for a room of leisure, while a durable tile flooring material is better suited for spaces that are high-traffic parts of the home. Consider the following rooms:
Bathrooms and kitchens: Without a doubt, the best flooring choice for kitchens and bathrooms is tile. Ceramic and porcelain tile flooring deliver the crisp presentation and enduring quality that many homeowners love. Porcelain tile flooring is a popular choice because of its exceptional waterproof features. Ceramics that are certified as porcelain have a water absorption rate of at most 0.5 percent, which can even resist small pools of standing water. If you're looking for a stylish option that's reliable and durable, porcelain and ceramic materials are best.
Bedrooms: If you're searching for a great flooring solution for your bedroom that isn't tile or carpet, we suggest using laminate. Laminate flooring can help you achieve the appearance of a hardwood floor at a significantly lower cost. This choice allows you to get a durable flooring material that can be designed to your specifications.
Living spaces: Flooring such as tile, hardwood and vinyl are all great options that can improve the aesthetic and functionality of your home. However, those who desire a different level of comfort in their living areas should look to carpeting. Carpet has a style of its own that can make a room feel inviting, cozy and casual. It can also dampen sound and even help regulate the room temperature.
Basements: Are you looking for a flooring option that will finish your basement with a reliable material? Look to vinyl for a great solution. Vinyl can endure even the worst moisture conditions within your basement. Whether the room is a playroom for the kids or a getaway for the adults, this stain-resistant material is low-maintenance, comfortable to walk on and resilient in the face of damage from normal wear and tear.
Everywhere else: Your unique style and personality transform your house into a warm and welcoming home. From arts and crafts studios to playrooms, man caves and more, the rooms you've reserved for dedicated activities require a flooring material that can withstand the normal wear and tear of life. Let 50 Floor help you select the flooring that's perfect for every room in your house. With an impressive selection of quality hardwood, laminate, carpet, vinyl and tile flooring at incredibly low prices, we're ready to help you find the perfect new floor.
Quality Flooring by 50 Floor
For over 15 years, the flooring experts at 50 Floor have been providing the best service, installation and advice to homeowners throughout the country. Our decades of combined experience, fantastic selection of name brand flooring products and unbeatable prices enable us to provide you with a durable floor for every space in your home. We offer price-matching guarantees and warranties on our products and installation to ensure our customers are getting the best value for their budget.
Contact 50 Floor and transform your home with new flooring today.