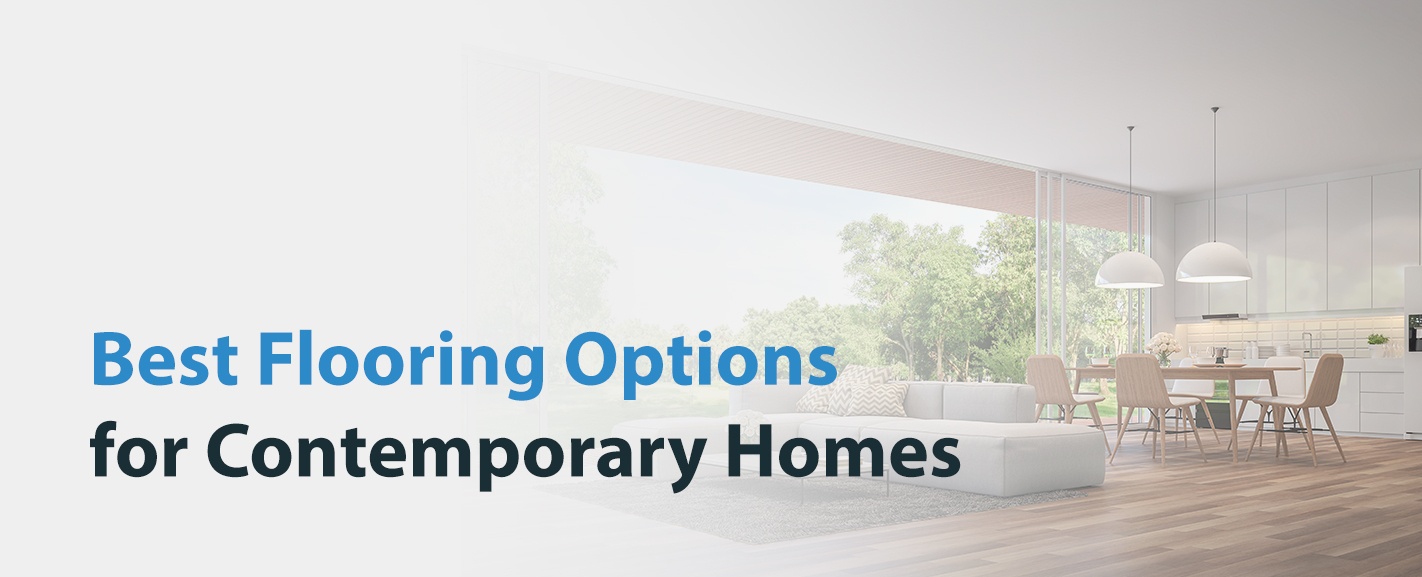 Many homeowners today wonder how they can update their homes to incorporate a more modern style. Contemporary interior design reflects the moment's most up-to-date image, often honoring the best styles of the past by putting a refreshing, new spin on them.
When updating your home to be more in-line with a contemporary style, one of the best places to start is with your flooring. Contemporary homes have flooring that matches the clean lines this style is known for. Choosing the right modern home flooring for your contemporary home doesn't have to be difficult. You just need to start by knowing the principles of contemporary design and what elements to incorporate, as well as which ones to avoid.
Elements of Modern or Contemporary Home Styles
Like fashion trends, interior design styles come and go with the times. What was once modern is now considered retro, and what was once avant-garde is now referred to as classic. But what happens when you like a bit of what each design period has to offer? Contemporary design is a way to expertly blend old with new, merging different styles in one "of the moment" look.
In contemporary style, designers put their own creative spin on interiors. They may bring in the clean lines of mid-century modern furniture and contrast them with the elegant details of traditional pieces. Or, designers might pair architectural art-deco accents with pieces that are more futuristic.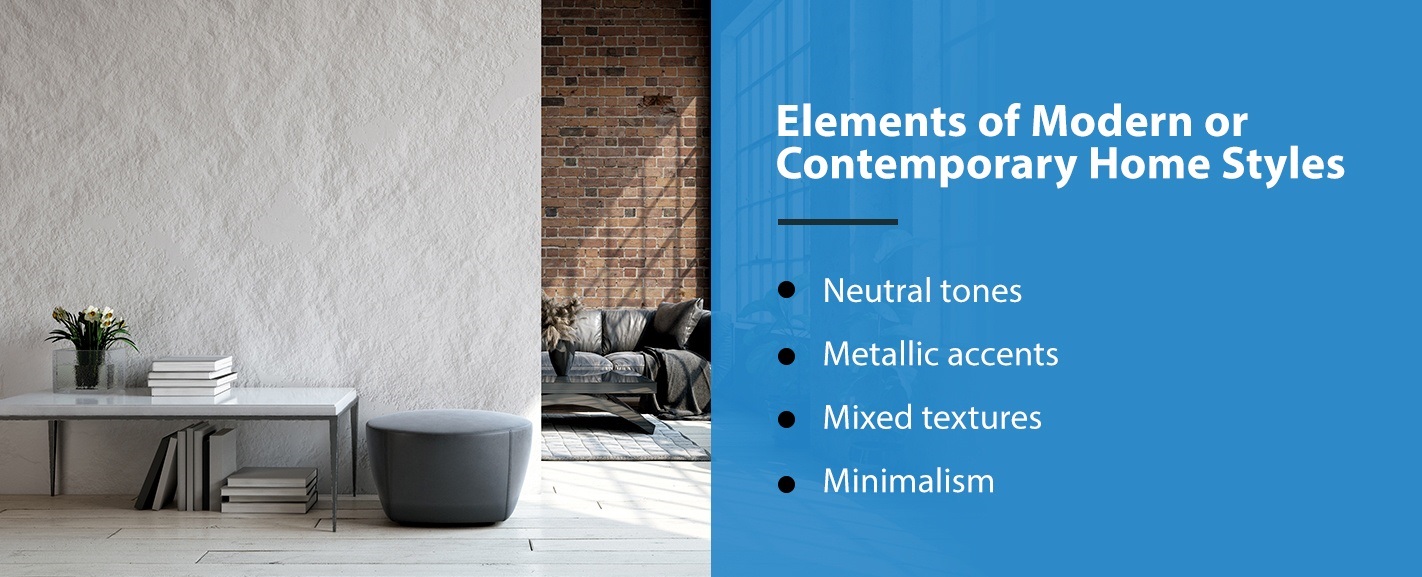 Though contemporary styles are constantly evolving with the moment, there are some key elements that today's modern interiors have:
Neutral tones: One of the main features of contemporary design is the neutral palette used as the base for a room's color scheme. Tone-on-tone is popular today, with designers often working multiple shades of browns, beiges, taupes or greys together. Dispersed through a contemporary home are pops of color in the form of accents, like throw rugs, pillows, lamps or artwork.

Metallic accents: Wood furniture is being swapped for metallics in chrome, silver, gold and rose gold finishes. Today's contemporary homes often use metallic accents in side and end tables as well as in picture frames. You'll also see the strategic use of metal light fixtures that add both form and function.

Mixed textures: Because contemporary homes are heavy on the neutral tones, it's important to prevent the room from looking too dull. To offset the simplicity, contemporary homes aren't afraid to heavily use and mix textures, whether it's a silk throw pillow on a microfiber sofa or a woven basket on a wool rug. Though mixing textures is encouraged, contemporary styles always tie opposing fabrics together by matching or complementing color tones.

Minimalism: Less is more in a contemporary home. Modern designers make expert use of white space, allowing the distance between items to create a clean and simple vibe. Avoid overcrowding rooms with too many items or bulky furniture. Limiting bold patterns is also key to achieving the contemporary look.
Best Flooring Types to Match Contemporary or Modern Home Styles
Whether you're designing a new home or remodeling an existing one, achieving today's modern, contemporary look can be challenging with outdated flooring. Given how much relative space flooring consumes in any given room, it's an essential design element to get right to ensure a cohesive style overall.
Many designers start by selecting their flooring first and using it as the anchor for the entire home. Your choice in flooring guides your paint selection, furniture color and decor tones and textures. How flooring is laid even determines how pieces will be positioned in the room and whether they flow with or against the lines in the floor.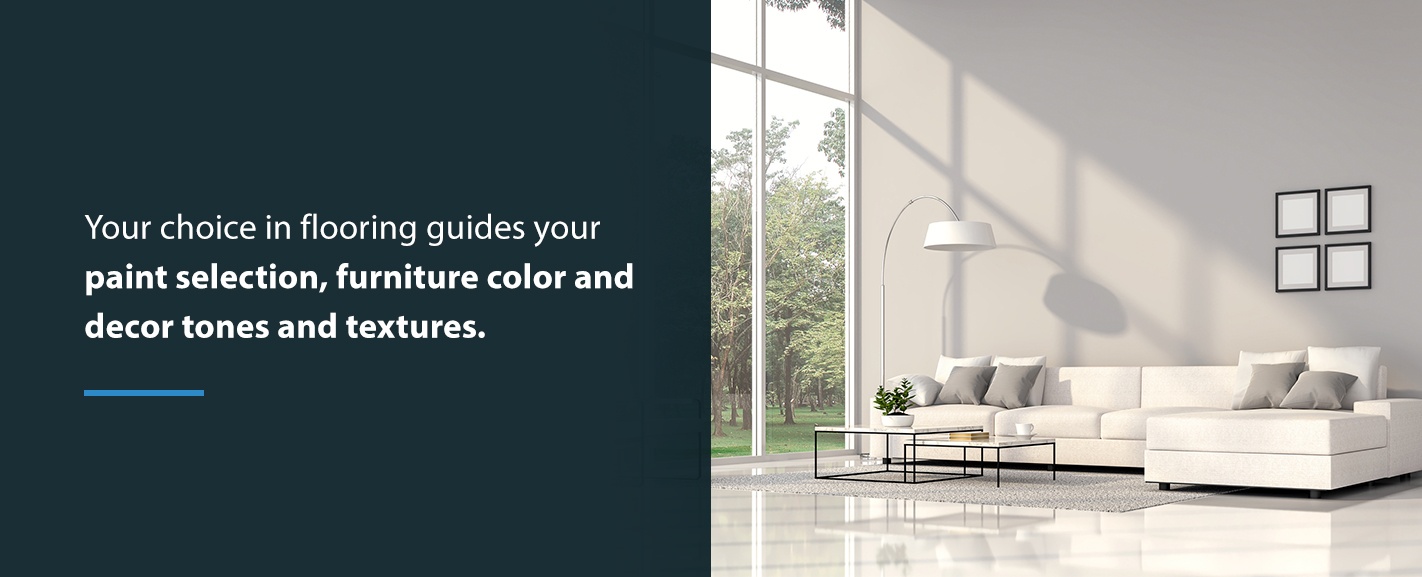 To create the ideal modern-looking home of your dreams, consider these contemporary flooring options:
Redoing your home's flooring instantly brings the design up-to-date, with a smooth, sleek style that's elegant and modern. With the right colors and textures, you can take any flooring material and turn it into a contemporary look for your bedroom, bathroom, kitchen or living room.
Choose 50 Floor for Contemporary & Modern Flooring Options
Though modern, contemporary styles follow certain guidelines, it's ultimately up to each homeowner how the look will come together. When updating your home to a modern look, start with contemporary flooring options that will achieve the sophisticated, yet clean aesthetic you're going for.
Contemporary-style lovers have many options when it comes to flooring, with virtually any material providing you the elegant, clean style that's associated with modern homes. From natural tile and hardwood to versatile laminate and vinyl to classic carpet, 50 Floor has the best flooring options for contemporary homes.
We'll help you choose high-quality, affordable flooring that will instantly modernize your home. Contact us today to schedule an appointment for a free in-home consultation.