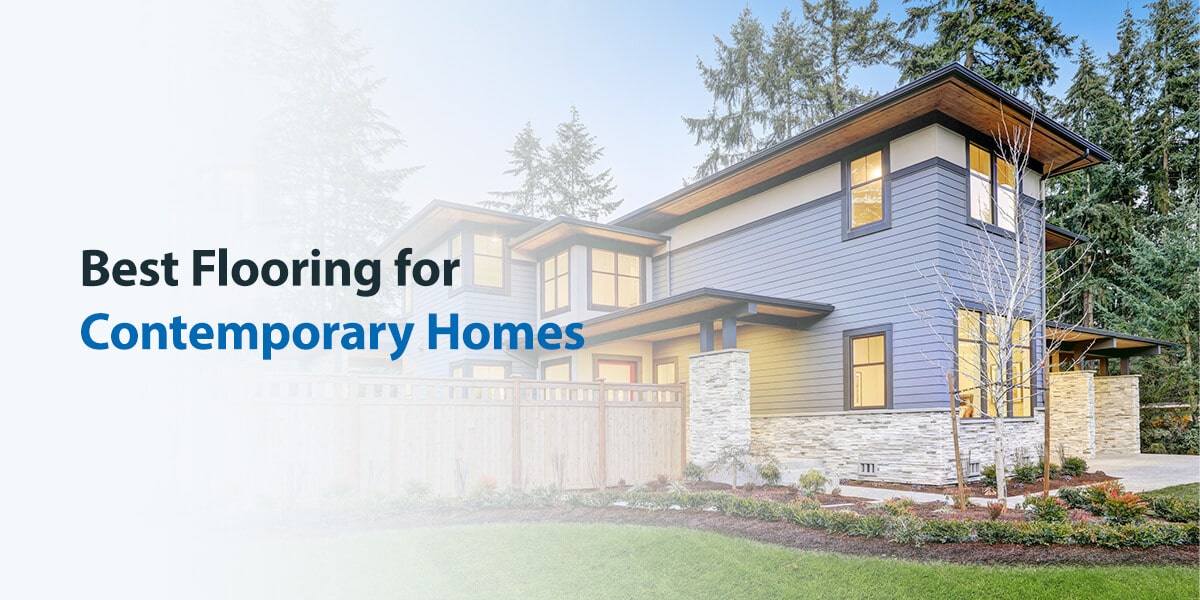 Many homeowners today wonder how they can update their homes to incorporate a more modern style. Contemporary interior design reflects the moment's most up-to-date image, often honoring the best styles of the past by putting a refreshing new spin on them.
When updating your home to be more in line with a contemporary style, your flooring is one of the best places to start. When choosing the right flooring for your contemporary home, it's important to understand the principles of contemporary design and what elements to incorporate. This guide should help you get started!
What Is a Contemporary-Style House?
It's often easy to confuse contemporary and modern interior design styles, as they share multiple similarities. However, what mainly sets the contemporary style apart from modern is that it's constantly evolving. Modern refers to inspirations from a particular period — for instance, mid-century modern derives from the '50s and '60s. Meanwhile, contemporary design takes inspiration from multiple eras and styles for a more versatile space.
Contemporary-style homes emphasize simplicity, much like modern design styles. Clean lines, reflective materials and a large, open layout are key components of this style. You'll also find warm neutrals — like beiges, grays and whites — colorful artwork, textured fabric and wall moldings for added depth and contrast.
Take Our Quiz to Find Your Flooring Style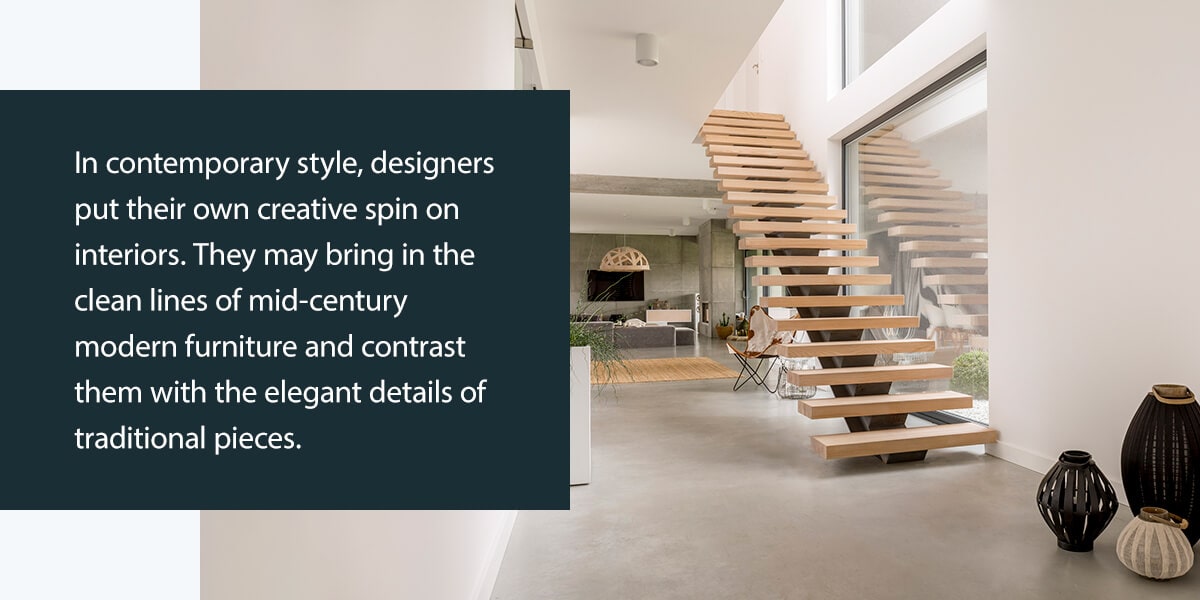 Features to Expect in a Contemporary-Style House
Like fashion trends, interior design styles come and go with the times. What was once modern is now considered retro and what was once avant-garde is now referred to as classic. But what if you like a bit of what each design period has to offer? Contemporary design is a way to blend old with new, merging different styles in one "of the moment" look.
In contemporary style, designers put their own creative spin on interiors. They may bring in the clean lines of mid-century modern furniture and contrast them with the elegant details of traditional pieces. Alternatively, designers might pair architectural art-deco accents with pieces that are more futuristic.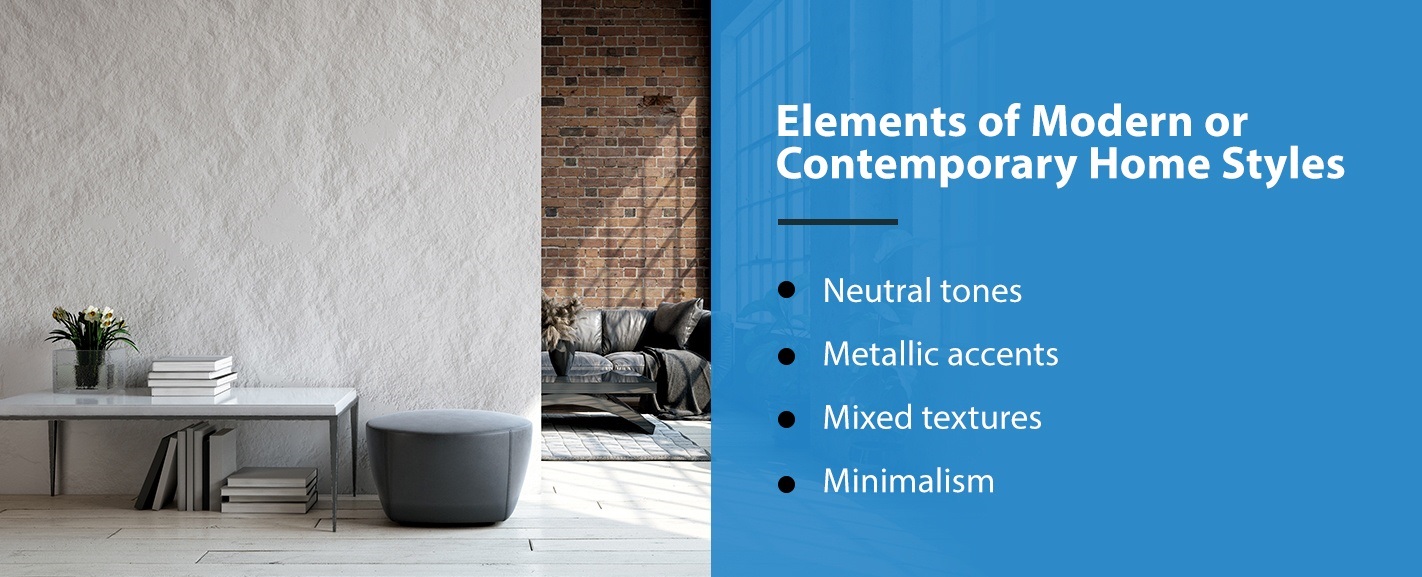 Though contemporary styles are constantly evolving with the moment, below are some key elements that most of these interiors have:
Neutral tones: One of the main features of contemporary design is the neutral palette used as the base for a room's color scheme. Tone-on-tone is popular today, with designers often working with multiple shades of browns, beiges, taupes or grays together. Pops of color disperse throughout a contemporary home in the form of accents, like throw rugs, pillows, lamps or artwork.
Metallic accents: Wood furniture is often swapped for metallics in chrome, silver, gold and rose gold finishes. Today's contemporary homes often use metallic accents for side and end tables as well as in picture frames. You'll also see the strategic use of metal light fixtures that add both form and function.
Crisp lines and simple shapes: Some contemporary interiors feature geometric, angular shapes while others have softer and curvier shapes. Regardless, the space should feature strong and crisp lines. High ceilings, large and bare windows, exposed tabletops and furniture legs and bold color blocks can all help create strong lines in contemporary-style spaces.
Organic accents: Organic elements like a bowl of fruit, a potted plant or a colorful flower arrangement in a vase can help soften clean lines, adding pops of color and greenery to your space.
Mixed textures: Because contemporary homes are heavy on neutral tones, it's important to prevent the room from looking too dull. Contemporary homes can use and mix textures to offset the simplicity, whether it's a silk throw pillow on a microfiber sofa or a woven basket on a wool rug. Though mixing textures is encouraged, contemporary styles always tie opposing fabrics together by matching or complementing color tones.
Minimalism: Less is more in a contemporary home. Modern designers make expert use of white space, allowing the distance between items to create a clean and simple vibe. Avoid overcrowding rooms with too many items or bulky furniture. Limiting bold patterns is also key to achieving a contemporary look.
Best Flooring Types to Match Contemporary or Modern Home Styles
Whether you're designing a new home or remodeling an existing one, achieving today's contemporary look can be challenging with outdated flooring. Given how much relative space flooring consumes in any given room, it's an essential design element to ensure a cohesive style overall.
Many designers start by selecting the flooring and using it as the anchor for the entire home. Your choice of flooring guides your paint selection, furniture color and decor tones and textures. How flooring is laid determines how pieces will be positioned in the room and whether they flow with or against the lines in the floor.
Consider the modern flooring ideas below to create the contemporary-looking home of your dreams.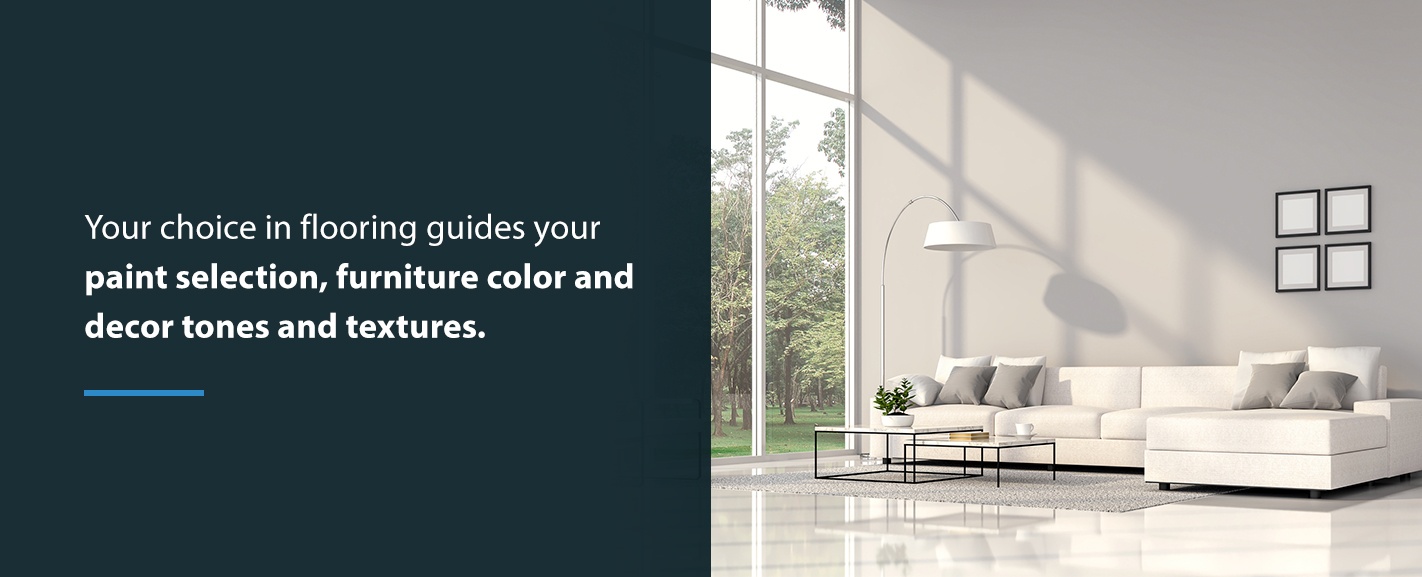 Hardwood
A timeless modern flooring option for any design style, hardwood flooring is an all-natural material that instantly adds warmth. Contemporary wood floors are a natural choice, as they encourage a neutral palette built around rich browns and pale beiges. Hardwood is also a versatile flooring option, naturally evolving with any future update you may make to your home's interior design style.
Multiple factors play into your hardwood flooring decision. You'll first need to decide between the two main types — solid and engineered hardwood flooring:
Solid: Solid hardwood contains solid wood planks coated with a protective layer, usually either aluminum oxide, ceramic or an acrylic substance. Its thick cut allows it to be sanded and refinished several times over its life span. This longevity makes solid hardwood an appealing choice for homeowners.
Engineered: Engineered hardwood is constructed by bonding layers of wood with adhesives under high heat and pressure. Its manufacturing process makes it more durable and moisture- and humidity-resistant than its solid wood counterpart. However, you can only sand and refinish it a few times over its life span, meaning it usually doesn't last as long as solid hardwood.
You'll also need to choose a wood species that matches the aesthetic of your space. For instance, maple hardwood provides a clean, sleek look for contemporary flooring with its subtle grain patterns and creamy blonde hue. The light complexion can add an open, airy feel to your home. Ash hardwood is another light and attractive option. With its subtle patterns and straight, orderly grains, it can complement contemporary homes and many other interior styles beautifully.
To maintain the shiny and sleek aesthetic of a contemporary-style space, it's important to choose a hardwood stain color carefully. Because light colors create a larger, airier and more open feel for interior spaces, we recommend choosing a lighter stain for a contemporary-style home. A light gray stain can suit cooler color preferences, while tan or beige are great for a warmer, oakier appearance.
View Hardwood Flooring Options
Laminate
Today's laminate flooring allows you to achieve the look of wood, tile or ceramic flooring but with an unparalleled level of durability and longevity. Laminate is one of the best modern house flooring options, as it allows you to achieve an authentic, stylish look at a fraction of the price.
Additionally, it's easy to install and maintain. If you opt for laminate wood, for instance, your flooring contractor can help you choose a style that imitates your preferred wood species and color for a contemporary-style space.
View Laminate Flooring Options
Vinyl
Vinyl flooring has evolved tremendously over the years, now representing one of the most popular flooring options for contemporary homes. Able to mimic natural materials, vinyl flooring comes in a range of wood- or stone-like designs, giving you the modern texture you want.
Vinyl flooring can also help you achieve the gray tile or concrete look that's popular in today's contemporary kitchens and bathrooms. Additionally, it's an affordable and durable option for family homes.
Luxury Vinyl
Due to its thicker nature, luxury vinyl typically has stronger sound-blocking abilities and more underfoot comfort than standard vinyl flooring, especially with foam or cork padding layers.
Luxury vinyl plank flooring allows you to achieve the look of true hardwood with additional color options and a softer feel. There's a wider range of colors available, making it easy to match the look of your contemporary home. While lighter hues like tan, white and light gray are popular choices for contemporary flooring and an open feel, you can mix it up with a darker tone like charcoal, dark brown or black if that's your preference.
Carpet
Warm up your contemporary-style home with modern carpeting. Carpet is always desirable in living spaces and bedrooms, but it doesn't mean you have to sacrifice contemporary aesthetics.
While plush or shag carpeting — also known as high pile carpet — tends to suit cozy and rustic interiors, low pile carpets like Berber or sisal provide a minimalist look that's much more modern. Carpet also gives you an array of neutral color options to inspire your contemporary pallet.
Tile
Tile flooring hits several contemporary style criteria. Both porcelain or ceramic tiles come in a range of neutral tones, including sophisticated slate grays, refined ivories and rich browns. Designed to resemble natural minerals, tile also gives flooring a distinct texture. Whether choosing a wood or stone look, tile naturally adds dimension to any room.
Shop 50 Floor for Your Contemporary-Style Flooring
Though contemporary styles follow certain guidelines, it's ultimately up to each homeowner to decide how the look will come together. When updating your home to a modern look, start with contemporary flooring options that will achieve the sophisticated yet clean aesthetic you're going for.
A skilled flooring specialist with an eye for design can guide you in the decision-making process. That's where we come in! From natural tile and hardwood to versatile laminate and vinyl to classic carpet, 50 Floor has the best flooring options for contemporary homes.
We'll help you choose high-quality and affordable contemporary flooring that will instantly modernize your home. Contact us today to schedule an appointment for a free in-home consultation.