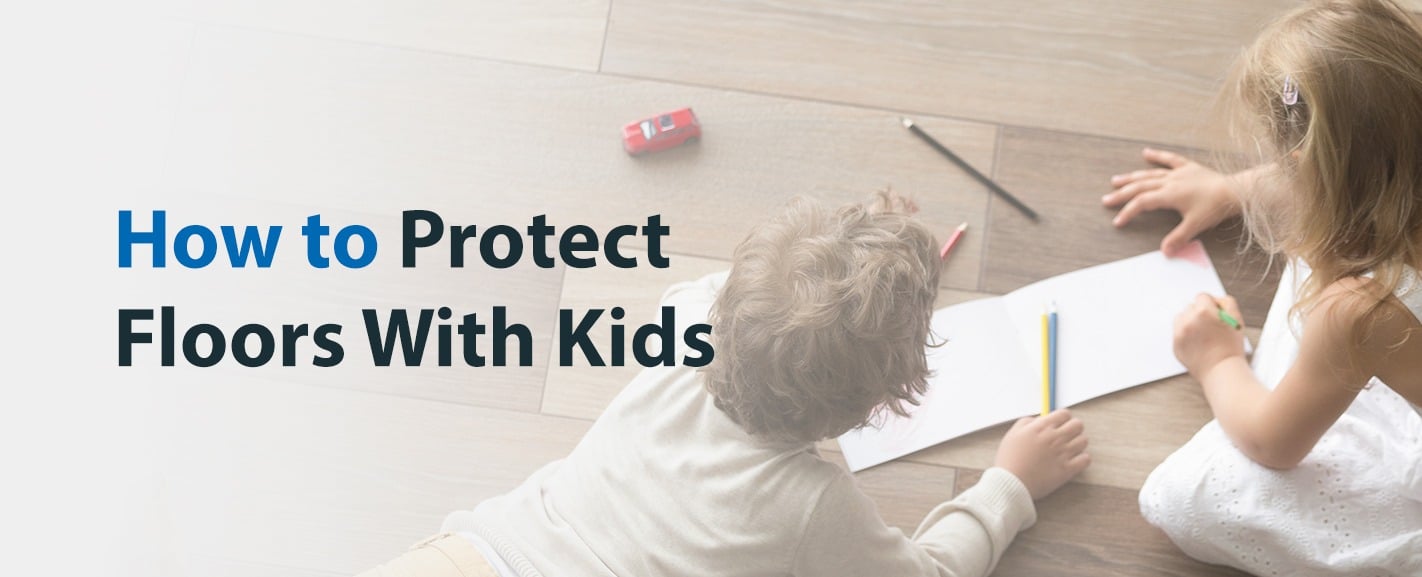 Kids are great at many things: making you smile, creating stunning works of art and inventing imaginary worlds. Unfortunately, one thing your kids are not great at is protecting your floors. It might seem like your bundles of joy are making only minor messes, but all the stains, scratches and bumps add up. Before you know it, you might find yourself needing a whole new floor.
Raising kids is hard enough without worrying about your floors. Whether you have carpeting, hardwood, laminate or vinyl, keeping your floors clean and looking new can be a challenge. With all the energy, dirt and toys your kids bring through your house, it can seem impossible to protect floors with kids.
Luckily, there are a few changes you can make to minimize the damage.
Why Get Childproof Flooring?
Kids are inherently destructive — especially when it comes to floors. There's no end to the damage they cause, whether it's spilling orange juice on the carpet or dropping a heavy toy on the hardwood. With all the stressors of wrangling kids, why waste energy worrying about your floors?
The number one reason to childproof your flooring is safety. If you don't protect your flooring, it can become damaged and neglected quicker than you realize. When ignored, splinters can appear in hardwood flooring and cause damage to you or your children's bare feet. The best way to protect hardwood floors and prevent this is to maintain the protective finish.
Another reason to get childproof flooring is to protect your investment. If you're a homeowner, you're fully responsible for any damage your home accumulates while you're living there. Without childproofing, you'll find yourself replacing the floors sooner than you'd need to if they were protected.
Even if you don't change the damaged floors before you sell, the cost will still come out of the decreased value of your home. To protect both your family and investment, childproofing your floors is an essential part of owning a home.
How Do I Protect My Floors From My Kids?
Some floors are more resilient than others when it comes to kids — carpeting won't scratch like hardwood can, while hardwood won't stain like carpeting will. The "perfect" floor will vary from home to home. Budget, preferred activities and children's ages are all factors in deciding what the "perfect" floor is for your family.
But what if you already have a perfectly good floor and don't want to make any drastic changes? Here are a few simple ways to protect your floors:
1. No Street Shoes in the House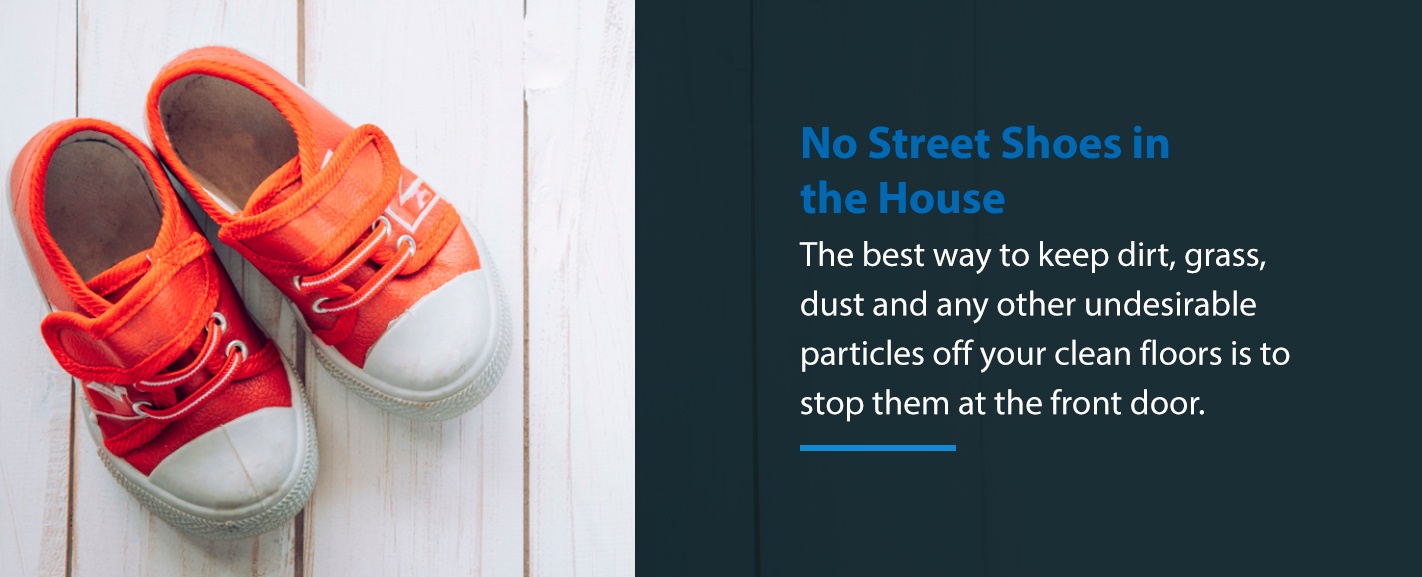 It's the oldest trick in the book: no shoes in the house. It's not just a silly rule your parents used to make you follow. The best way to keep dirt, grass, dust and any other undesirable particles off your clean floors is to stop them at the front door. Whether you've got carpet, hardwood, vinyl or laminate, dirt and grease will eventually seep into your floors if you don't clean it in time.
Doesn't it make more sense to stop the dirt at the door rather than clean it up later?
To encourage your kids, set up designated cubbies for their shoes and keep slippers nearby for them to wear indoors — this is especially handy for keeping your feet warm in the winter.
Still not convinced?
A 2017 study found that 24.6 percent of shoes carry Clostridium difficile, a bacteria that can cause diarrhea, fever and kidney failure, among other things. Suddenly your parents' rule doesn't seem so silly.
2. Cover High-Traffic Areas
Even if you stop most of the dirt and grime at the door, your floors can still be beaten up by constant traffic. The more your family grows, and the bigger your children get, the more you'll have to worry about long-term wear.
To prevent bumps and dents over time, cover the areas of your home that get the most traffic with:
Rugs:

For hardwood, vinyl and laminate floors, rugs can be a stylish and functional way to preserve high-traffic areas. They protect your floors from both your family and your heavy furniture and are easy to clean. This type of protection is perfect for your living room, dining room or bedroom.
Doormats:

These mats protect the most walked-on areas of your home: your doorways. On either side of your door, mats can also catch any residual dirt that makes it through the threshold.
Runners:

A great way to protect your hallways is with runners. While most people only think to put rugs in the main rooms, hallways need just as much protection as any other room in the house.
Carpet tiles:

This alternative to wall-to-wall carpeting is a great way to protect your hardwood, vinyl or laminate floors. Best of all, carpet tiles don't require the cost or commitment of traditional carpeting.
Tip: Avoid using anything with rubber padding on the bottom. Rubber can damage hardwood, vinyl or laminate flooring.
3. Protect It From Furniture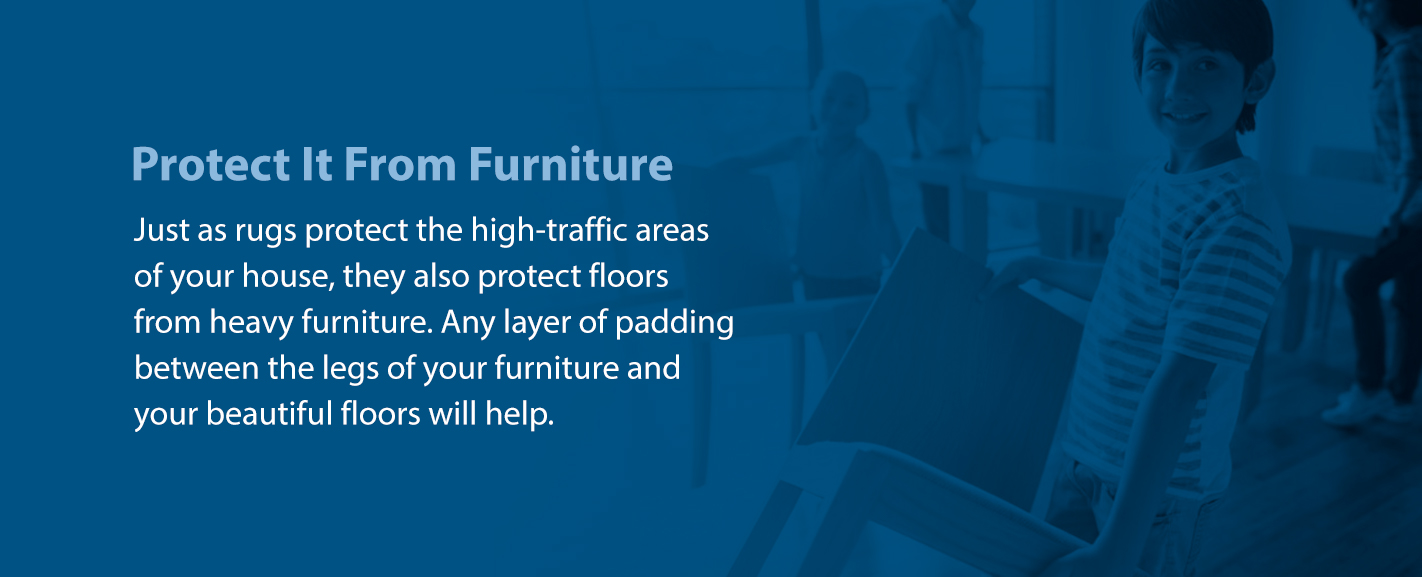 Kids love to move furniture around. Whether they're steadying themselves while they walk or jumping from chair to chair to escape the lava, kids can do a lot of damage with furniture. Luckily, there are a few things you can do to minimize the destruction.
For hardwood, vinyl or laminate floors, rugs are a great way to decrease damage from furniture. Just as rugs protect the high-traffic areas of your house, they also protect floors from heavy furniture. Thick or thin, any layer of padding between the legs of your furniture and your beautiful floors will help.
However, rugs aren't practical if you already have carpeting. To protect your carpets from furniture marks, use furniture coasters. A high concentration of weight causes your furniture to leave those unsightly marks, so furniture coasters will spread out the weight. It's also a good idea to move your furniture around occasionally, so it doesn't stay in the same place long enough to cause marks.
Similarly, chair booties are a good option for hard floors. The booties make it easier to move furniture around, and they don't leave any scuffs or dents on your floors.
Tip: Be sure to make sure your furniture coasters and chair booties are secure. They could be a dangerous choking hazard for children if they fall off.
4. Keep It Clean
With any flooring, the best way to make it last is to keep it clean. Each type of flooring has a different recommended routine, so the key is to figure out what's best for your floor.
For hardwood floors:
Use a broom or hardwood floor mop for daily cleaning
Use a hardwood vacuum weekly
When mopping, don't use too much water — standing water can damage hardwood
Clean with a recommended wood cleaner monthly
Tip: Know what type of wood your floor is — it will affect how you clean it.
For carpets:
For spot treatments, blot instead of rub
Vacuum weekly, with particular attention to high-traffic areas
Get it professionally cleaned 1-2 times per year
For vinyl and laminate floors:
Vacuum or sweep to remove any larger particles
Use the manufacturer's recommended cleaning solution to mop and let dry
Tip: If you don't have the recommended cleaning solution for your vinyl floors, combine a gallon of warm water, 1/4 cup of white vinegar, some all-purpose cleaner and a small amount of dish soap.
What Is the Best Flooring for Kids?
Running a household with kids is already difficult without worrying about your floors causing injury or taking on damage. Unfortunately, there is no one right answer because each family is different. The best flooring for children is whatever flooring is best for your children. Here are a few great options to consider:
1. Carpeting
If your primary concern is injury prevention, carpet is the best option for you. It provides the most padding and will cushion your children is they fall. However, they require the most attention when it comes to maintenance and cleaning.
If your children are particularly messy, you'll spend a lot of time trying to remove tough stains from your beautiful carpet. For this reason, we recommend getting a dark-colored carpet. This will hide most stains and won't show the dirt as quickly.
The four best types of carpet for children are:
2. Hardwood Plus Rugs
The best hardwood floors for kids are whatever works best for your family. However, hardwood alone isn't the best option if you're worried about your children falling and hurting themselves.
Luckily, there's no need to install wall-to-wall carpeting in your home — you can just put out several area rugs. Placed strategically, they can protect your hardwood floors from your children and vice versa.
While there are many variations, there isn't one best wood flooring for kids. As long as you've got a significant portion of your floors covered — especially the areas your kids frequent — there's no need to worry.
Hardwood floors and area rugs are easy to clean. Rugs can be removed, interchanged and washed with ease. Hardwood floors are easy to clean with just a broom and a mop — no need for high powered vacuums or professional cleaners. However, you should use a cleaner meant for hardwood floors, and you may need to refinish the floor after years of use. Traditional carpeting can also be cleaned, too — you will just need a carpet cleaner.
If you're worried about your kids destroying a beautiful area rug or your hardwood, rubber foam interlocking tiles are a fun, safe way to pad the floors in your child's playroom room or bedroom. The best type of kids flooring is something on which they can play, jump and make messes.
3. Laminate
Laminate floors are a durable, stain-resistant option for any busy family home. Laminate is made of synthetic composites and can look like several different surfaces, including wood, stone and tile.
It's incredibly durable and one of the most affordable flooring options. It's easy to clean because it doesn't require high-powered vacuums or specialty cleaners. However, you can't refinish it like hardwood, so it'll need to be replaced approximately every ten years.
While laminate is not as hard as hardwood, it's a good idea to put out area rugs over your laminate floors as well so you can still protect your floor from foot traffic patterns and the daily wear and tear from the kids.
4. Vinyl
The most significant benefit of vinyl flooring is that it's completely waterproof. While most people install it in rooms where water-resistance is beneficial, like kitchens and bathrooms, you can install it in any room of the house. If you find yourself cleaning up endless spills, there's no need to worry if you have vinyl flooring.
Vinyl comes in planks, tiles and sheets, as well as a wide range of colors and styles, so you'll be sure to find the perfect look for your home.
Vinyl is softer than both hardwood and laminate, so there's less of a need for added rugs and padding. While it's an extremely durable material, it's not immune to dents and scratches. If you want to maintain the look of your vinyl, take precautions to limit the movement of heavy furniture.
Find the Best Flooring for Your Family
The best flooring for kids differs from family to family. If you're looking for padding when your child falls, carpeting is probably best for you. If you're a busy parent and don't have a lot of time to clean, maybe hardwood is right for you. If you're looking to cover a large space, maybe consider some vinyl flooring. The perfect flooring depends on the needs of you and your family.
If you're like most parents, it's hard to find time to get to the flooring store, pick out a style and hope it looks good in your home. The flooring options never look the same in the store as they look in your home. Why should you be expected to decide without seeing it in your home first?
Luckily, with 50 Floor, you don't have to. We offer a shop at home experience, complete with a trained flooring expert. We'll bring a wide array of flooring options to your home and help you make an informed decision. No more guessing what a floor will look like in your home — we'll show you exactly how it will look in your light and decor.
Schedule your free in-home consultation now!