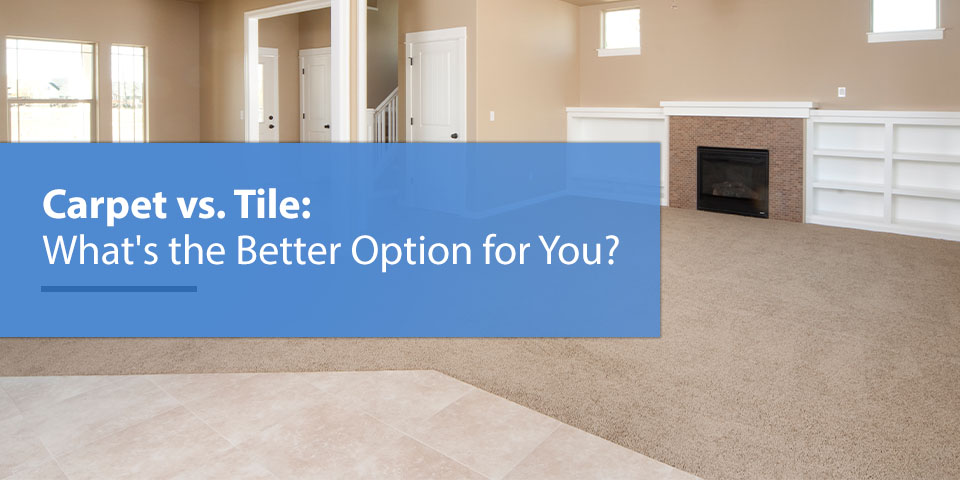 Are you looking to upgrade your home's flooring? You'll find various styles on your hunt for the best home flooring at 50 Floor, from hardwood to vinyl. But what about carpet and tile? These are arguably the two most popular flooring options — any home you walk into will likely have either in at least one of the rooms. Both carpet and tile come in numerous styles, making them wonderful options for many types of homeowners.
50 Floor is a trusted flooring company that gives you a unique shop-at-home experience. We bring the flooring samples to your home, so you can see which options look best with your home's lighting and colors. Choose from numerous high-quality flooring materials, including carpet, tile and many other types, for a durable, attractive floor that can last for years to come.
Read on to discover the biggest differences between carpets and tiled flooring, which one you should pick for your home and how 50 Floor can make the installation process a breeze.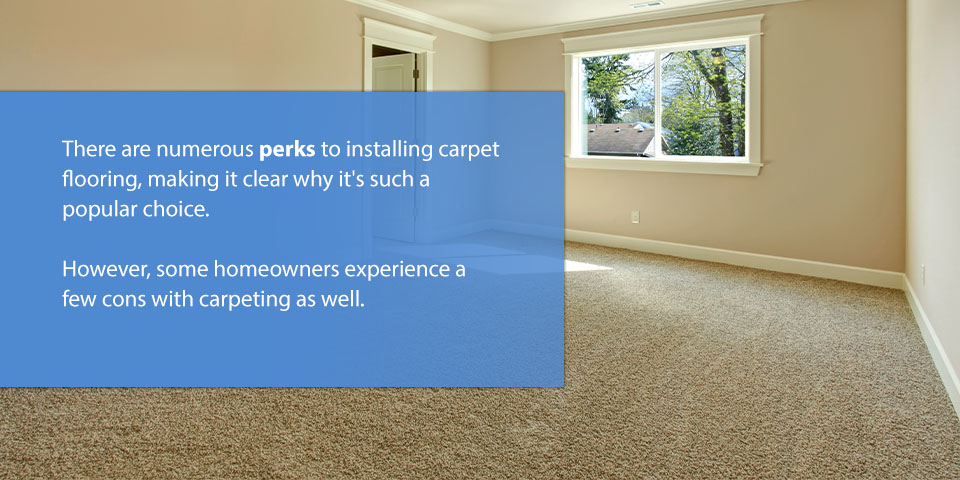 Pros and Cons of Carpet Flooring
This flooring material has been around for decades and continues to be a homeowner favorite. You can choose between various styles of carpeting to complement your space, from cut pile to frieze carpeting. Typically, carpeting looks great in hallways, living rooms, dens, playrooms, bedrooms, basements, offices and closets. That said, you're only really limited to your imagination. You can add carpet to any room you think would be a good fit for the material.
There are numerous perks to installing carpet flooring, making it clear why it's such a popular choice. However, some homeowners experience a few cons with carpeting as well. Below, you'll find several of the primary pros and cons of carpeting to narrow down your decision.
1. Pro: Adds Insulation
By installing carpeting, you add another layer of insulation to your home, especially when you use thick padding underneath. If you live in a colder climate, carpet can prevent warm air from escaping through the floor. While carpeting can't act as insulation by itself, you can aid your current insulation with carpeting to keep your home warm toasty. What's better than padding across a push, warm carpet in the winter?
2. Con: Traps Allergens and Other Debris
If you or anyone in your family has allergic reactions to dander, dust, mold or similar airborne allergens, you may want to avoid carpeting. The carpet's fibers can trap specific triggers. Though you can vacuum your carpeting to keep it clean, you may find yourself having to vacuum often, especially when one of your family members has asthma. Remember to think about your family's health needs when deciding where to install carpeting in your house.
3. Pro: Improves Noise Control
Another benefit of carpeting is that it helps block out sound. Since carpeting is thick, you can enjoy added noise control when you install it. Often, musicians who have home studios use strips of carpeting on the walls of their studios to muffle the noise. If you have a multilevel house, carpeting can drown out the noise of people walking around or using the stairs. 
For noise reduction, try installing carpet in your kids' playroom, your basement or any other noisy spaces.
4. Con: Gets Dirty Easily
Unlike hardwood flooring, carpeting is generally susceptible to stains. There are many tricks to remove stains from carpeting, but you typically have to be proactive to remove them completely. If you have pets or young children, you may want to use carpeting only in areas where you don't think they'll make much of a mess. Be sure to practice proper flooring maintenance to ensure your carpet stays soft and clean.
5. Pro: Increases Safety
Because carpeting is soft and thick, your home becomes a little safer when you install it. If you trip and fall on carpet, you can soften your impact when you hit the floor. For families with young children or older adults, fall safety is key. While carpeting won't keep you completely protected from injury, it'll feel much better than a harder surface. Consider placing carpet in your living areas to make the space a bit safer.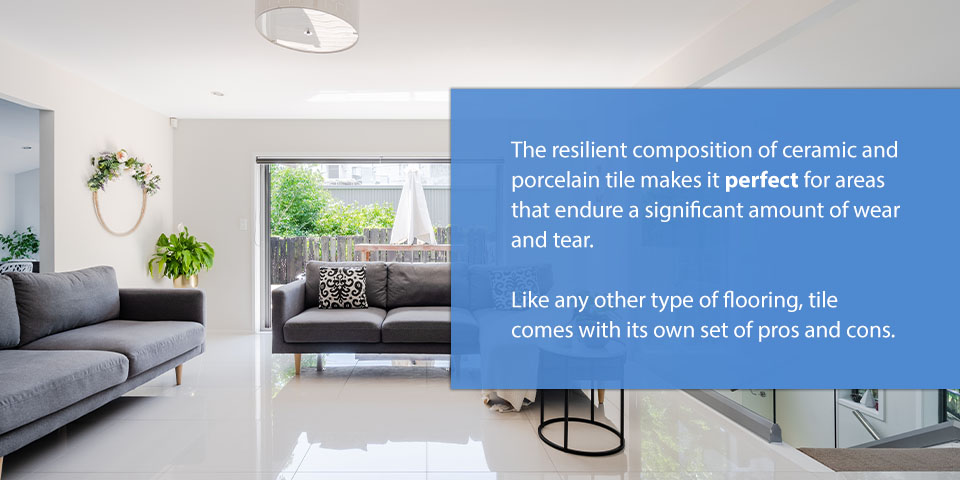 Pros and Cons of Tile Flooring
Adding tiled flooring to your home is essential in places like bathrooms, laundry rooms, entryways and kitchens. The resilient composition of ceramic and porcelain tile makes it perfect for areas that endure a significant amount of wear and tear. Additionally, tiled flooring can come in multiple colors, shapes and patterns, allowing you to create the perfect design for your space.
Like any other type of flooring, tile comes with its own set of pros and cons. Ultimately, you may find that tile works better in some areas of your home than others. Here are a few perks and disadvantages of tile flooring.
1. Pro: Provides Moisture Resistance
One of tile's most significant pros is that it's moisture resistant. That's why homeowners install tile in places where moisture can collect, such as the bathroom. Placing hardwood or carpet in areas where you use water to wash your hands or rinse off outdoor items can lead to mold and other moisture issues. The same idea applies to entryways, as tile will hold up against wet, dirty shoes and other outside gear.
Likewise, tile typically holds up well amid temperature changes. If you're located in an area that experiences all seasons, you may have extremely warm or cold temperatures throughout the year. Thanks to the composition of tile, you can trust it not to crack or warp when it goes from 35 degrees Fahrenheit to 60 degrees Fahrenheit in a single day in the fall.
2. Con: Becomes Slippery and Cold
If you spill liquid on tile flooring and forget to clean it up, you're creating a slippery surface that may cause someone to fall. A similar situation can happen when tracking water, mud and other outdoor debris into your entryways. Additionally, interior tile flooring doesn't retain heat. Those in colder climates may feel uncomfortable walking on tile floors without socks or shoes, which can be an inconvenience.
Fortunately, lying a rug over tiled flooring can make it warmer — and you can always set a floor mat near your front door to collect any moisture you bring in from the outdoors.
3. Pro: Makes Cleaning and Maintenance Easy
Similar to other hard surfaces, you can clean and maintain your tile floors easily. If your child accidentally dumps juice all over the kitchen floor, you just need a wet paper towel to clean up the mess. Even solid debris, like crumbs, are simple to clean up with a vacuum or broom. For busy families that don't want to spend time taking care of tough stains, tile is the way to go.
Note that even though tile makes cleaning a breeze, you should always check your warranty before using cleaners that may damage the surface. Additionally, you have to maintain the tile's grout. The product that lines each tile is what keeps out moisture and other debris, ensuring your floors stay in excellent condition. Replacing your grout as needed is essential.
4. Con: Has a High Weight
In some situations, tile may be too heavy to install. If you're planning on putting down tile on the second or third floor of your home, it's always smart to consult a professional beforehand. This way, you can determine whether your home is structurally sound enough to support it — especially when picking heavier stone lounge tiles, which can weigh up to 6 or 7 pounds each. Opting for lighter ceramic tiles may be necessary in some cases.
5. Pro: Creates a Classic Look
Since tile has been a staple flooring style for decades, you can almost guarantee that your tile selection will offer a timeless look. Aside from certain unique colors or patterns, various tiling selections can complement your home. Choosing a classic tone and shape, like a white hexagon tile, will look good no matter how you decorate the space.
As a result, professionally installed tile is often a selling point for homebuyers. Although tile likely won't make or break a home sale, you can expect prospective homebuyers to appreciate well-laid, sealed tile in your kitchen or bathroom. If you live in an older home that has carpet in the dining room or bathrooms, you may want to update it to tile before putting your home on the market.
How Carpet and Tile Compare
Overall, the differences between carpets and tiled flooring are distinct. There are numerous applications for both flooring styles, and each one comes with its own set of pros and cons. Plus, you can be creative with each material — numerous home carpeting and tiling ideas are available, including ways to make your home look high-end. How can you decide between either carpet or tile?
Here's a quick overview of how carpet and tile compare to sum it all up:
Carpet: 

This type of flooring is soft, comfortable and safe, making it a perfect addition to living rooms, bedrooms and other hang-out spots in your home. Deciding to install carpet can also help reduce noise, so it's great for areas where your kids play. Note that you'll need to actively vacuum your carpet to keep it free of allergens and other debris, and spot cleaning may be required to save it from staining.

Tile: 

If you're in need of a durable, easy-to-maintain flooring option, tile should be your go-to pick. This flooring is ideal for places that get high traffic, like entryways, and rooms prone to messes, like bathrooms. The right style of tile can create an upgraded look, as well. However, homeowners in colder climates may find that tile is too chilly on their feet — and it may not work in areas that aren't structurally sound.
As you can see, carpet and tile are effective options in numerous situations. The final decision comes down to your personal preferences.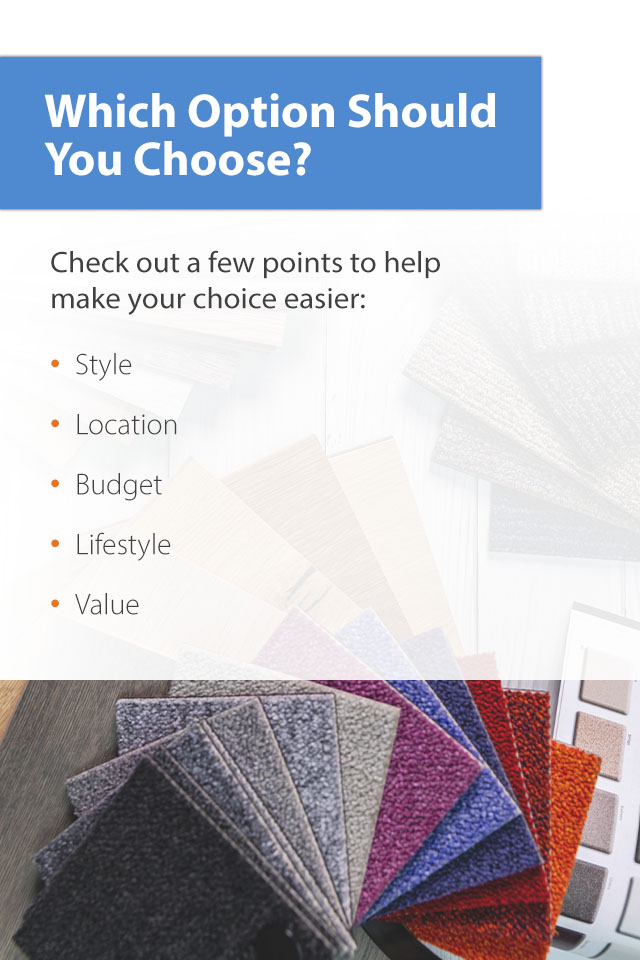 Which Option Should You Choose?
Ultimately, your decision depends on your vision for your home. Both carpeting and tile serve unique purposes. If you're interested in a low-maintenance, strong type of flooring for your bathroom, tile will be your best bet. Alternatively, you'll likely prefer carpeting for your bedroom because it's soft and cozy. In the end, it's up to you!
Check out a few points to help make your choice easier:
Style: 

What kind of interior design goals do you want to achieve? Consider your home's current aesthetic and whether you want to change it. A patterned tile can create an eye-catching pop if you want to add a unique look to your laundry room . On the other hand, neutral carpeting is an excellent addition to a home office. Fortunately, numerous styles of each flooring exist to match your desired design.

Location: 

Consider where you're installing your new flooring. Usually, it's not best to put carpeting in a kitchen or bathroom, as it can absorb water and other liquids, leading to mold and mildew. Be sure you're choosing the most 

practical type of flooring

 for your project so your family can enjoy it for years to come.

Budget: 

Of course, your budget will also guide which flooring style you choose. Generally, it'll cost more to tile your entire first floor than to carpet your upstairs hallway. Gauge your budget while working with professional installers to ensure you make an economical decision.

Lifestyle: 

Is your household small or large? A household made up of two adults, three kids under 5 and two dogs will need more durable flooring than an older adult who just moved into their own space. Think about your lifestyle so you can pick the right flooring material for your needs.

Value: 

Are you planning to sell your home eventually? Selecting flooring that brings value to your home could make a difference in how much money you get from selling it. Keep in mind that nontraditional, out-of-the-box designs — like hot pink carpeting — may not be a great selling point.
The bright side is that you can choose both. If you're planning on doing a substantial remodel, choosing stylish, high-end carpeting and tiling gives you the best of both worlds. Consider putting new tile in your kitchen and bathrooms and new carpet in your bedrooms. This way, you can enjoy the perks each flooring style has to offer.
Contact 50 Floor for Top-Grade Flooring Options Today
No matter what you decide, 50 Floor is here to help you outfit your home with stunning, durable flooring. With decades of experience, our team has the skills to help you choose the best flooring for your home. First, we'll present different flooring options to you during a free in-home consultation. After you've chosen your flooring material, we'll take care of the rest, leaving you with your dream floors.
Aside from different styles of carpet and tile, 50 Floor offers hardwood, laminate and vinyl flooring, so you can pick whatever type of flooring suits your family and home best. Are you ready to get started? Schedule a free in-home consultation with us today!