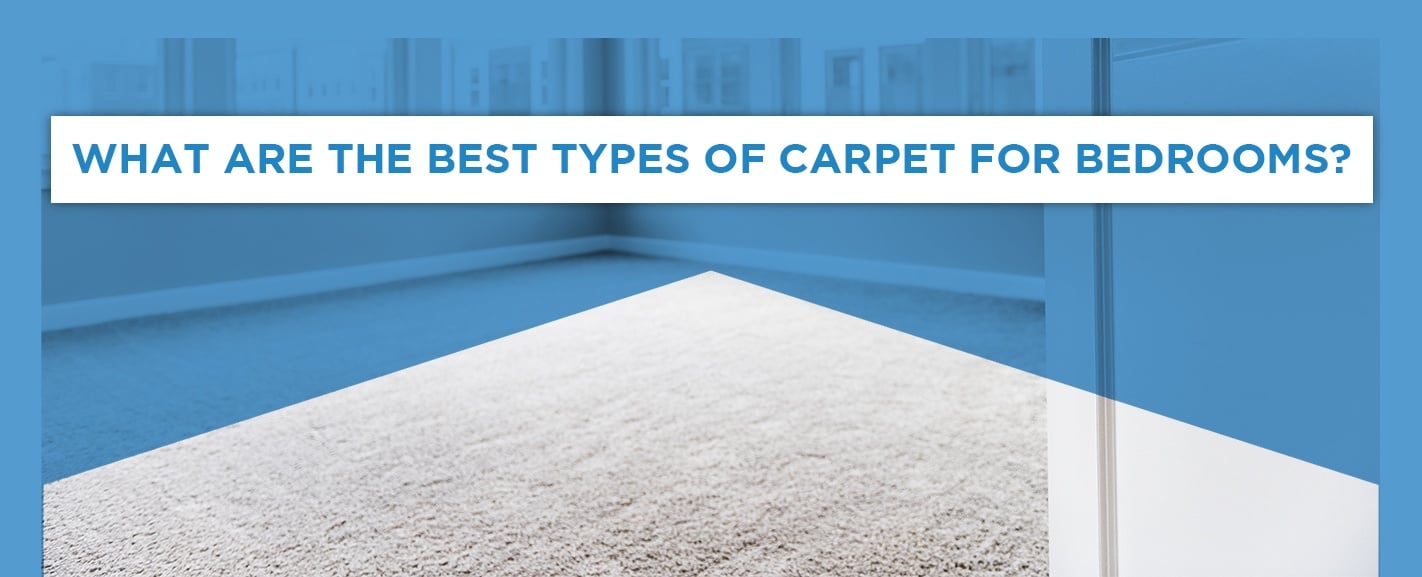 Choosing carpeting for your bedroom is a critical design consideration. After all, we spend so much of our time in this room, and it's where we start and end our days. The right carpet can really take the bedroom's design up to the next level while adding comfort, warmth and luxury to the experience of the room.
If you want to know how to select carpet for your bedroom, this is the guide for you. We'll go over everything you need to know about choosing carpet for your bedroom and which styles are best.
What to Consider When Choosing Carpet for a Bedroom
Carpet is a popular flooring choice for bedrooms, but there are many different carpeting styles and types to pick from. There are a few important considerations you should think about before you choose your next bedroom carpeting:
Style:

 

If your bedroom has a specific style, you'll want to choose carpeting that fits in well with your existing design. Whether you have a more traditional feel with the rest of your bedroom decor or more modern tastes, the carpeting's look should match. If the bedroom is a more eclectic mix of styles, you'll have a wider variety of carpet types that may fit in well.
Color:

 

Related to the carpet's style is its color. Again, this consideration will depend on the rest of your room. You might choose a sophisticated neutral color for an adult's bedroom or something more colorful in a kid's room. Consider prioritizing a timeless color that can work with bedroom style changes over the years.
Comfort:

 

Most carpets provide superior comfort underfoot compared with most other types of flooring. Carpets, in general, also add warmth to a room, both physically and visually. When you're stepping out of bed in the morning to a cool room, nothing beats a cozy, comfy carpet right there to greet your bare feet. Carpets come in a range of thicknesses, densities and piles, which can affect how plush and comfy they feel.
Fiber and material:

 

Modern carpets include various materials, from natural fibers to synthetics. Wool, polyester and nylon are all common carpet fiber materials, and each can vary widely in cost and comfort levels. Knowing a little about each of these options before you shop can help inform your choices. Wool and polyester may feel the softest, but nylon is less expensive. Sisal has a modern look but isn't as plush as other fibers. The fiber patterns — like loops, cut pile, shag and others — will also affect the look and comfort level.
Costs:

 

All of the different carpet choices come with different price tags, too, so you should have a budget in mind before shopping around and know what you want. The materials used, pile, density, pattern, manufacturer and other factors can all affect the overall cost. But the highest quality carpet is often less expensive than other flooring options like hardwood.
Eco-friendliness:

 

Many people value environmentally friendly products for their homes, carpets included. Buying carpeting that is more eco-friendly is great for the planet. The added benefit for you is cleaner air quality in your home, which is especially important in bedrooms where we spend so much of our time.
Best Types of Carpet to Consider for Bedrooms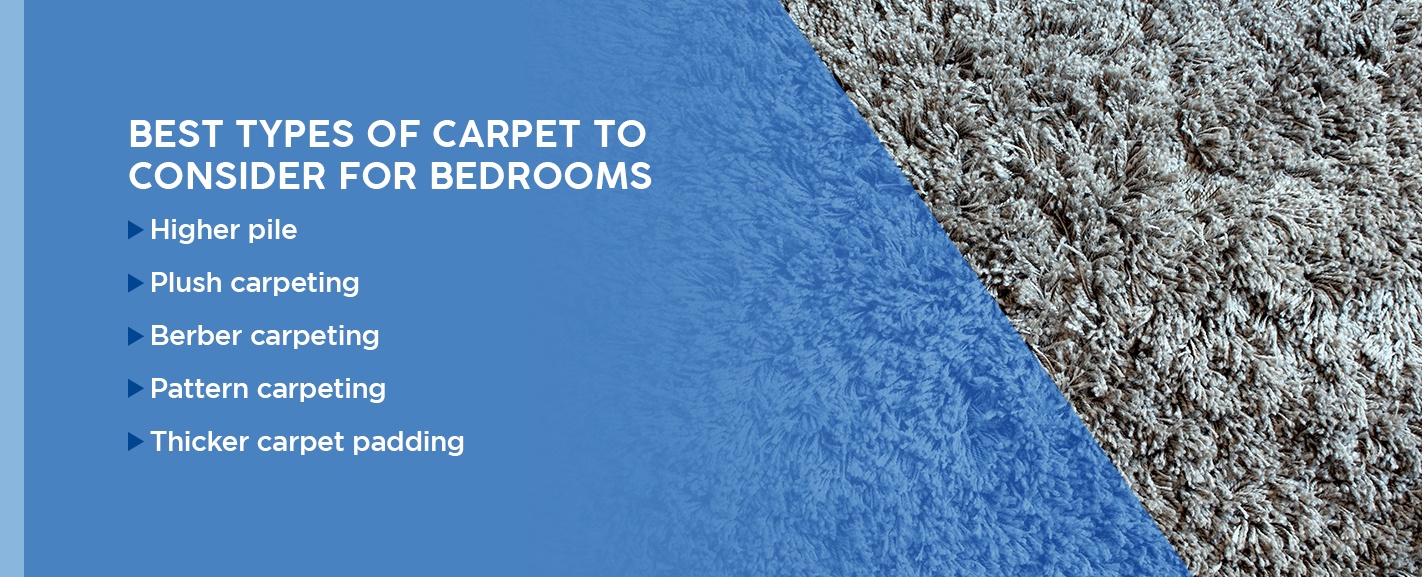 For many other rooms of the house that see far more foot traffic, you may want to go with carpets that are more durable and stain-resistant. In the bedrooms, comfort is key, and it's the soft qualities along with warmth and aesthetics that are essential deciding factors.
If you expect a lot of kid and pet traffic through the bedroom, you may want to choose more carefully. But for many bedrooms, truly anything goes, and it can be more about your style and comfort. Here are some of your options for the best carpet for bedrooms:
Higher pile:

 

Most carpets are labeled as low pile, medium pile or high pile, and this refers to the height of the carpet fibers, not counting the backing. Carpets with lower piles are better for high-traffic areas. If you want to add a touch of comfort and luxury to a bedroom, as well as sound-dampening qualities, high pile carpet is the way to go. These carpets offer the ultimate in softness and warmth underfoot.
Plush carpeting:

 

Plush refers to the fiber construction and style of the carpet.

 

Plush carpeting

 

is also called texture carpeting and often uses two tones of fibers in a twisted, cut pile construction. This style is great at hiding dirt and feels soft and comfortable. It's a common choice for bedrooms as well as family rooms and dens. It's important to note that this type of carpet may show indentations from furniture or footprints more easily.
Berber carpeting:

 

While not as plush as texture carpets, Berber or loop carpeting is a good quality carpet for bedrooms. With

 

Berber carpeting, the fibers are not cut, making a looped texture. It is still quite soft but is more relaxed and not quite as plush as texture and high pile carpeting. It's a suitable choice for children's bedrooms or in homes with pets, as it is slightly more durable and stands up well to heavier traffic.
Pattern carpeting:

 

With this type of carpet, a combination of texture and loop or Berber fibers are used to give the appearance of a pattern cut into the carpet. While not quite as plush and soft as texture flooring,

 

pattern carpeting

 

is a nice carpet for bedrooms, as it adds visual interest and a sense of sophistication.
Thicker carpet padding:

 

While not technically a type of carpet on its own, the padding is a key consideration when installing carpet. A thicker carpet padding adds even more cushion and comfort to a carpet but doesn't work with all carpet types or situations, such as high-traffic areas. But the bedroom is an ideal place to add in a thicker carpet padding.
Shop Bedroom Carpeting With 50 Floor
If you're ready to add some new carpeting to your bedroom, 50 Floor has the best options for your home. We even come to you so you can browse our selections for the best bedroom carpet right from the comfort of your own home.
Our knowledgeable staff provides expert guidance. And you can see the carpet samples in your home's lighting alongside your other decor elements so you'll know your choice will match your style. Schedule your appointment today for a free in-home consultation and get started finding the perfect bedroom carpet for you!