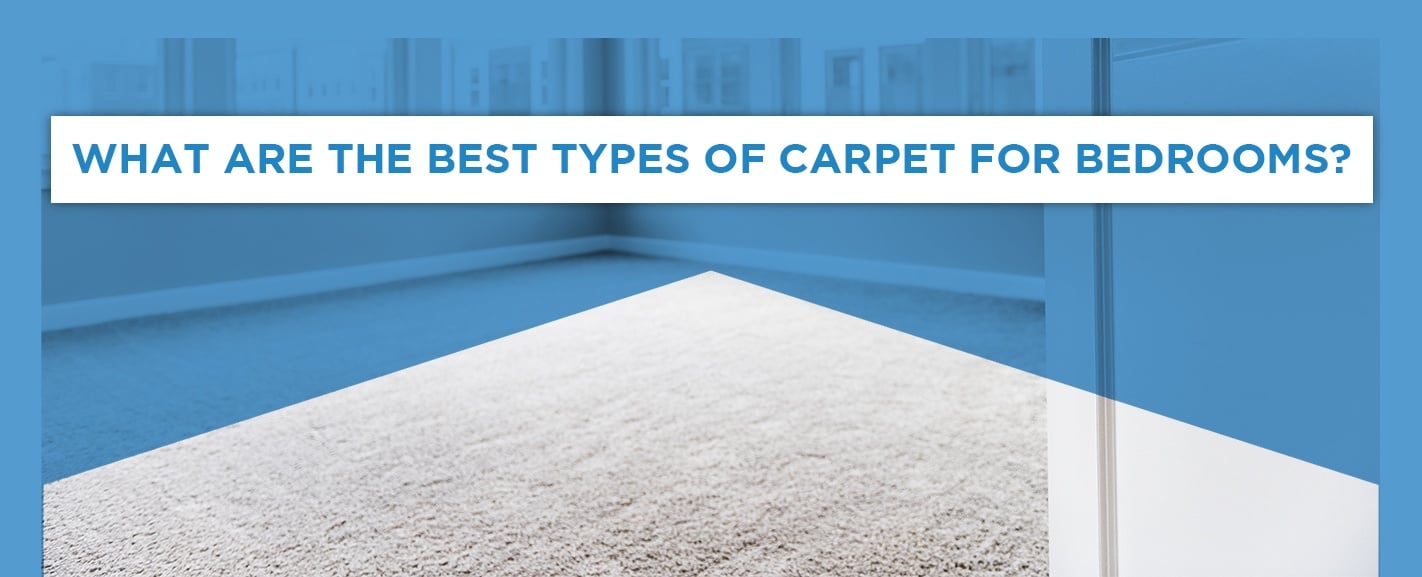 Choosing flooring options for your bedroom is a critical design consideration. After all, we spend so much of our time in this room, and it's where we start and end our days. The right carpet can really take the bedroom's design up to the next level while adding comfort, warmth, and luxury to the experience of the room.
If you want to know how to select a carpet for your bedroom, this is the guide for you. We'll go over everything you need to know about choosing carpet for your bedroom and which styles are best.
Advantages of Having Carpet in Bedrooms
A bedroom should have a cozy environment for you to sleep and relax. After all, this is the room in which you'll start your day and get your routine going. Having carpet as your bedroom flooring has various advantages compared to other flooring types.
1. Warmth
Bedroom carpets may keep your space warmer during the winter months. Forget about putting your feet down on hard surfaces and enjoy sinking them into plush bedroom carpeting for a more luxurious first step in your morning routine. Carpet can also provide insulation, keeping your room during chilly mornings and cold winter days. If you put underpadding beneath the carpet, you can obtain even warmer temperatures inside.
Additionally, carpeting offers a cozy ambiance with warm colors and tones, so you can bring additional warmth into your room while amplifying your decor. Colors like orange, red, and yellow can evoke a sense of inner warmth and blend well with many other color combinations, keeping you warm and your room beautiful.
2. Noise Absorption
Carpets for bedrooms do an excellent job of dampening footsteps and vibrations. This sound absorption can help you sleep through the night, especially if your spouse gets up before you.
You can also prevent disruptions for anyone in the space below your bedroom. Dropping items and moving furniture won't be a concern in your room, giving everyone in your home a rest from noise pollution.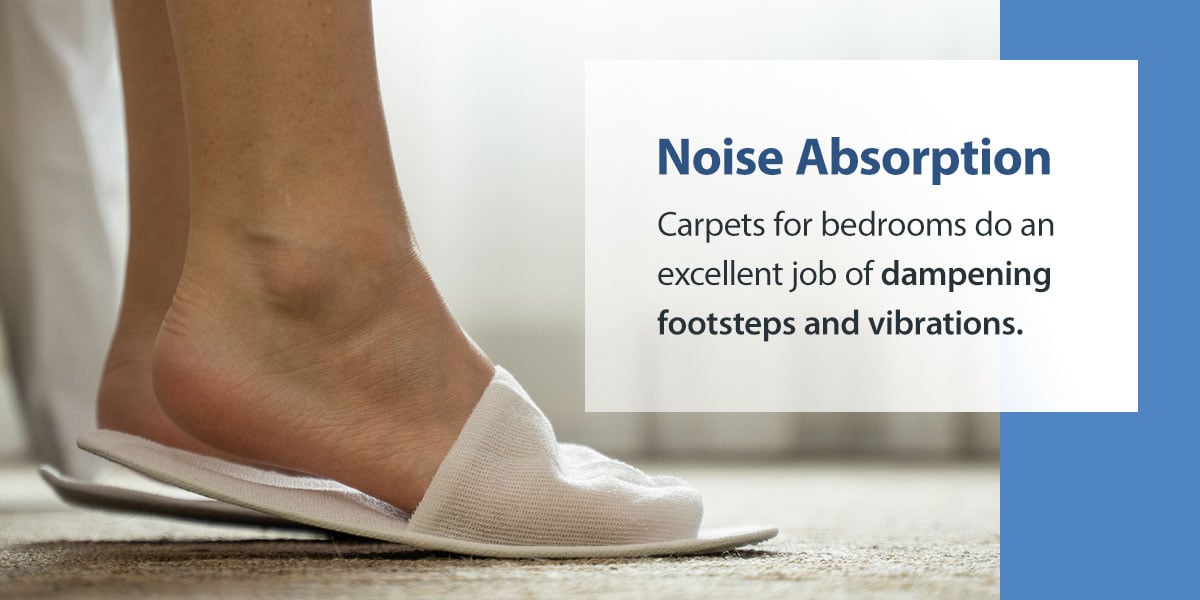 3. Affordability
Bedroom carpet flooring is economical because the material has a long lifespan with proper care. Increase your comfort levels with an investment that suits your needs.
Families with children enjoy carpets in bedrooms because the kids can play on the floor with minimal discomfort. They can also make small messes and resort to easy cleaning for a spotless room at the end of every day.
You can treat many carpet types to make them more resistant to stains and find carpets less prone to static or fading, so you can maintain your carpet's beautiful colors for as long as possible.
4. Traction
Consider placing carpet in a bedroom to reduce fall risks. Bedroom carpets cushion your footsteps and can minimize the chances of injury. This material is a great flooring type for seniors. This flooring type can reduce the chances of falling and provide a soft landing pad if you slip. Carpet is also easier on your feet, knees, back, and ankles than other floor types by absorbing shock, helping you stay on your feet longer.

Drawbacks to Bedroom Carpets
Carpets are an excellent flooring option for most homeowners, but we recommend considering routine care requirements before installation. Compared to hardwood, vinyl, tile, or laminate floors, carpets require more frequent vacuuming to keep them clear of dirt.
You may also have to shampoo carpets placed in high-traffic areas. Bedroom carpets can stain, so you might be better off with a hard flooring type if you live with children or pets. Additionally, carpets hold moisture, so consider a bedroom's layout before committing to a carpet style. Carpet may not be the best choice for your room if you have a shower, tub, or sink nearby.
What to Consider When Choosing Carpet for a Bedroom
Carpet is a popular flooring choice for bedrooms, but there are many different carpeting styles and types to pick from. There are a few important carpet options to consider when choosing your next bedroom flooring:
Style
Style should always be a priority for home projects. If you settle on inexpensive options to save a few dollars, you might need to update your carpet sooner, costing you time and money in the long run. You want your home to feel comfortable and welcoming, so be sure to reflect your lifestyle, taste, and preferences with your carpet.
If your bedroom has a specific style, you'll want to choose carpeting that fits in well with your existing design. Whether you have a more traditional feel with the rest of your bedroom decor or more modern tastes, the carpeting's look should match. If the bedroom is a more eclectic mix of styles, you'll have a wider variety of carpet types that may fit in well.
Color
Related to the carpet's style is its color. Again, this consideration will depend on the rest of your room. You might choose a sophisticated neutral color for an adult's bedroom or something more colorful in a kid's room.
Consider prioritizing a timeless color that can work with bedroom style changes over the years. Tans and grays complement virtually any color pattern you might incorporate. You likely want to avoid buying a white, cream, or beige carpet, as these colors can make stains and imperfections highly noticeable. Meanwhile, bold colors can add dimension to your space, so consider rich reds, greens, or blues if you want to add visual interest to your bedroom.
Comfort
Most carpets provide superior comfort underfoot compared with most other types of flooring. Carpets, in general, also add warmth to a room, both physically and visually. When you're stepping out of bed in the morning to a cool room, nothing beats a cozy, comfy carpet right there to greet your bare feet.
Carpets come in a range of thicknesses, densities, and piles, which can affect how plush and comfy they feel. You'll want to focus on the texture when carpet shopping. The right texture will be comfortable to step on and enhance your room's appearance. For a fluffy feel, opt for the Saxony carpet pile. These fibers are long and loose, while others, like velvet pile, are short and dense.
Fiber and Material
Modern carpets include various materials, from natural fibers to synthetics. Wool, polyester, and nylon are all common carpet fiber materials, and each can vary widely in cost and comfort levels. Knowing a little about each of these options before you shop can help inform your choices.
Wool and polyester may feel the softest, but nylon is less expensive. Polyester is hypoallergenic, making it a desirable option for many homeowners who experience symptoms throughout the year. However, polyester carpets present shedding and pilling problems. Sisal has a modern look but isn't as plush as other fibers. The fiber patterns — like loops, cut pile, shag, and others — also affect the look and comfort level.
Wool is one of the best bedroom carpets, but the natural fibers make it one of the most expensive. Consider using this option in smaller rooms and opting for less-expensive, synthetic options for larger areas to reach a budget-friendly total.
Costs
All of the different carpet choices come with different price tags, too, so you should have a budget in mind before shopping around and knowing what you want. The materials used, pile, density, pattern, manufacturer, and other factors can all affect the overall cost. But the highest quality carpet is often less expensive than other flooring options like hardwood.
Set a budget before beginning your carpet search, so you can determine which options make the most sense for your wallet.
Eco-Friendliness
Many people value environmentally friendly products for their homes, carpets included. Buying carpeting that is more eco-friendly is great for the planet. The added benefit for you is the cleaner air quality in your home, which is especially important in bedrooms where we spend so much of our time.
Natural, renewable carpet fibers are typically the most environmentally friendly. These carpets require minimal pesticides or fertilizers and use biodegradable materials. Organic cotton, bamboo, seagrass, organic wool, and jute are excellent options for a green home that supports your home and the environment.
Best Carpet Types for Bedrooms

For many other rooms of the house that see far more foot traffic, you may want to go with carpets that are more durable and stain-resistant. In the bedrooms, comfort is key, and it's the soft qualities along with warmth and aesthetics that are essential deciding factors.
If you expect a lot of kid and pet traffic through the bedroom, you may want to choose more carefully. For many bedrooms, truly anything goes, and it can be more about your style and comfort. Here are some of your options for the best carpet for bedrooms:
Higher Pile
Most carpets are labeled as low pile, medium pile, or high pile, and this refers to the height of the carpet fibers, not counting the backing. Carpets with lower piles are better for high-traffic areas. If you want to add a touch of comfort and luxury to a bedroom, as well as sound-dampening qualities, high pile carpet is the way to go. These carpets offer the ultimate in softness and warmth underfoot.
High-pile carpets are especially great in children's bedrooms as it's more comfortable to sit and lay on, allowing your child to play to their heart's content. These carpets tend to be more expensive and require more maintenance, but they're often worth it for the additional warmth and comfort.
Plush Carpeting
Plush refers to the fiber construction and style of the carpet. Plush carpeting is also called texture carpeting and often uses two tones of fibers in a twisted, cut pile construction. This style is great at hiding dirt and feels soft and comfortable. It's a common choice for bedrooms as well as family rooms and dens.
It's important to note that this type of carpet may show indentations from furniture or footprints more easily. However, this carpet can be gentler on your feet and create an inviting home. It provides a comfortable feeling and evokes a sense of coziness that can help you unwind at the end of the day.
Berber Carpeting
While not as plush as texture carpets, Berber or loop carpeting is a good quality carpet for bedrooms. With Berber carpeting, the fibers are not cut, making a looped texture. It is still quite soft but is more relaxed and not quite as plush as texture and high pile carpeting.
Berber also tends to be less expensive than other carpet options, with the benefit of being easier to clean. Simple Berber is the most budget-friendly, while complex patterns and designs will raise the total. It's a suitable choice for children's bedrooms or in homes with pets, as it is slightly more durable and stands up well to heavier traffic.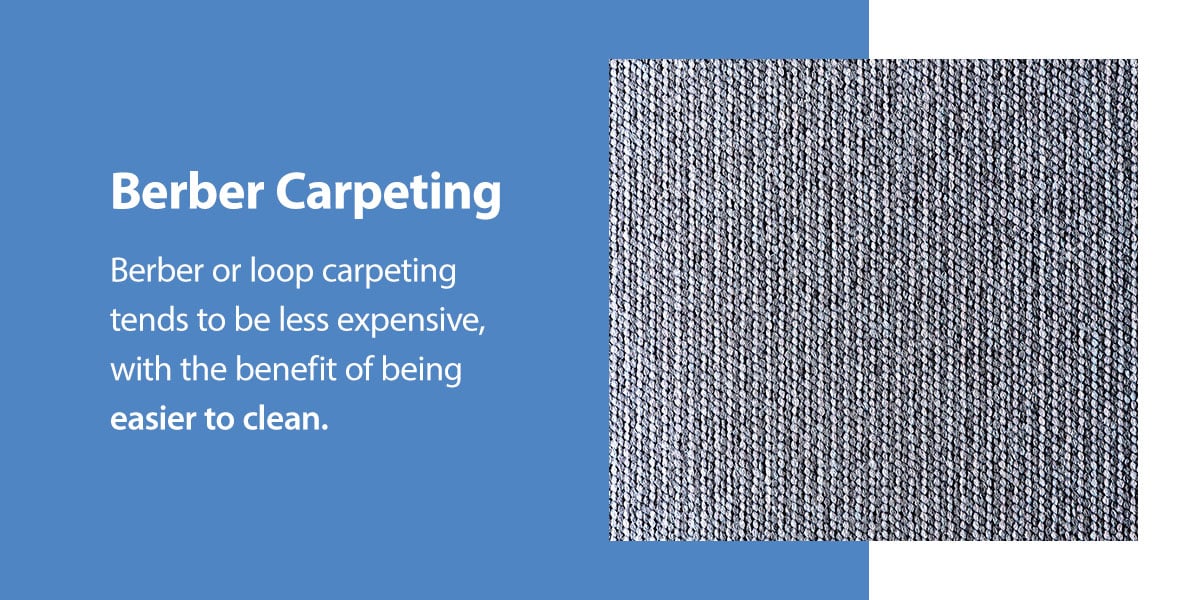 Pattern Carpeting
With this type of carpet, a combination of texture and loop or Berber fibers are used to give the appearance of a pattern cut into the carpet. While not quite as plush and soft as texture flooring, pattern carpeting is a nice carpet for bedrooms, as it adds visual interest and a sense of sophistication.
Some patterns can elongate a room, creating an illusion of more space. They can also mask stains, making them an excellent choice for high-traffic areas and children's bedrooms. Many patterns will complement your contemporary decor and traditional furniture, giving you many opportunities for changes.
Thicker Carpet Padding
While not technically a type of carpet on its own, padding is a key consideration when installing carpet. A thicker carpet padding adds even more cushion and comfort to a carpet but doesn't work with all carpet types or situations, such as high-traffic areas. But the bedroom is an ideal place to add thicker carpet padding.
Adding this padding can increase your comfort by creating a softer area to walk on. It can act as insulation and help reduce sound more than carpet without padding. It can also help minimize the everyday wear and tear your carpet will face, allowing you to keep a fresher carpet for longer.
Best Types of Bedroom Carpets for Kids vs. Adults
Consider how much use bedroom carpets will get. If you're installing new flooring in a room for young children, choose something highly durable over a carpet type that prioritizes comfort and style. We suggest placing Berber-style carpets in rooms prone to spills, as the materials are slow to absorb liquids. These carpets give you time to clean up messes easily and reduce staining.
Adults have more flexibility based on personal priorities and needs. Your selection will mostly depend on your lifestyle and how you use your space. If improving your master bedroom's aesthetic is your top priority, you might go with a long-lasting carpet type like pattern carpeting. Those who want a soft feeling underfoot might opt for plush carpeting or a similar variety.
Get Bedroom Carpet Installation Today With 50 Floor
If you're ready to add some new carpeting to your bedroom, 50 Floor has the best options for your home. We even come to you so you can browse our selections for the best bedroom carpet right from the comfort of your own home.
Our knowledgeable staff provides expert guidance. You can see the carpet samples in your home's lighting alongside your other decor elements so you'll know your choice will match your style. Schedule your appointment today for a free in-home consultation and get started finding the perfect bedroom carpet for you!