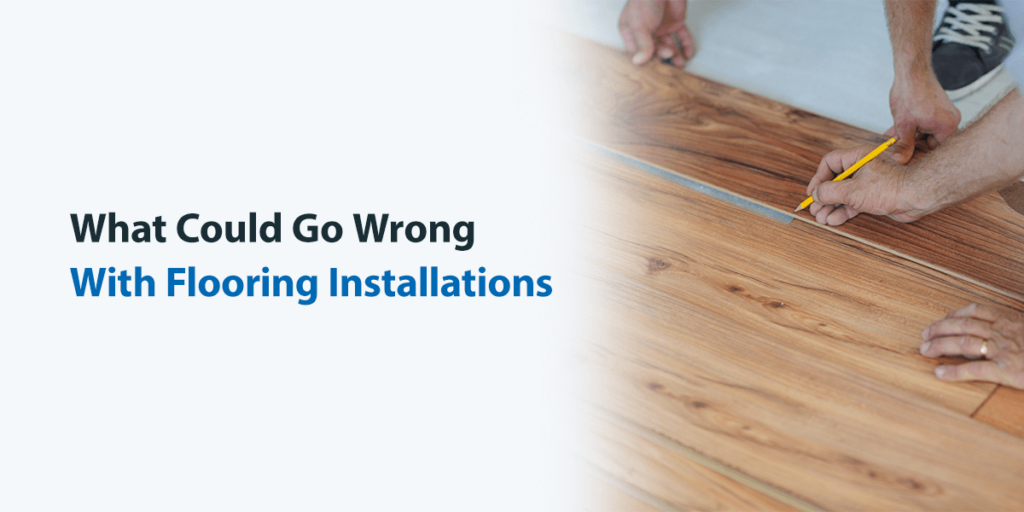 If new flooring is on your to-do list, the excitement of installing visually pleasing flooring options can make the whole process a fun journey for everyone in your home. While you pick out your favorite floor panels, tiles or sheets, it's essential to acknowledge that problems with flooring installation are possible. Luckily, a trusted team by your side and knowing how to fix these occurrences can make solving these problems quick and easy.
Why Can Problems Occur During Installation?
Flooring problems can be challenging to spot without getting to the subfloors first. While you can take all the necessary steps to ensure the floor installation goes smoothly, most problems with flooring installation occur after it's started.
During the installation process, the team of installers must remove the old flooring to place your new floors on the existing subfloor. If your subfloor is damaged, installing your floors will take longer because the team will need to assess the type of damage and order new subfloors.
The subfloor is typically where any damage or uneven layers will appear that indicate flooring problems. Without ripping up the top layer of flooring, you may not know there are any issues before choosing a date to install your new selection. However, you can do some work beforehand to see whether your flooring is prepared for installation.
The most common problems that occur during installation include the following flooring issues:
1. Floor Flatness
While your current floorboards might look flat at first glance, they might be uneven underneath. In other words, just because you can't see obvious dips or irregularities in your flooring doesn't mean it isn't uneven below. Therefore, ensuring your floor and subfloor are flat is key to ensuring your new flooring is installed without problems.
An uneven floor can cause a rift in the installation process where the installers might need extra time to ensure your floors have a flat subfloor for your new floors to set. Floors that have higher spots may require grinding, and floors that have dips may require a filler in order to meet the required flatness of the flooring manufacturer.
2. Moisture
Sometimes, excess moisture under the floorboards can hide in areas you can't see, which means you can't alert your installers beforehand unless you have the right tools to test moisture. The good news is that installers will look for moisture damage during installation, so you don't necessarily have to let them know.
If the installers tear up the existing floor and notice moisture in the subfloor, you'll need to order new subfloors and ensure all of the moisture is thoroughly removed from the space. The damage could cause warping or buckling in your new floors, so replacing the subfloors is the next step before installing your new floors.
3. Floor Height
In some cases, the height of your existing flooring might not match the new flooring. This height difference can be more noticeable when one room transitions into the other, as one floor is obviously higher than its counterpart.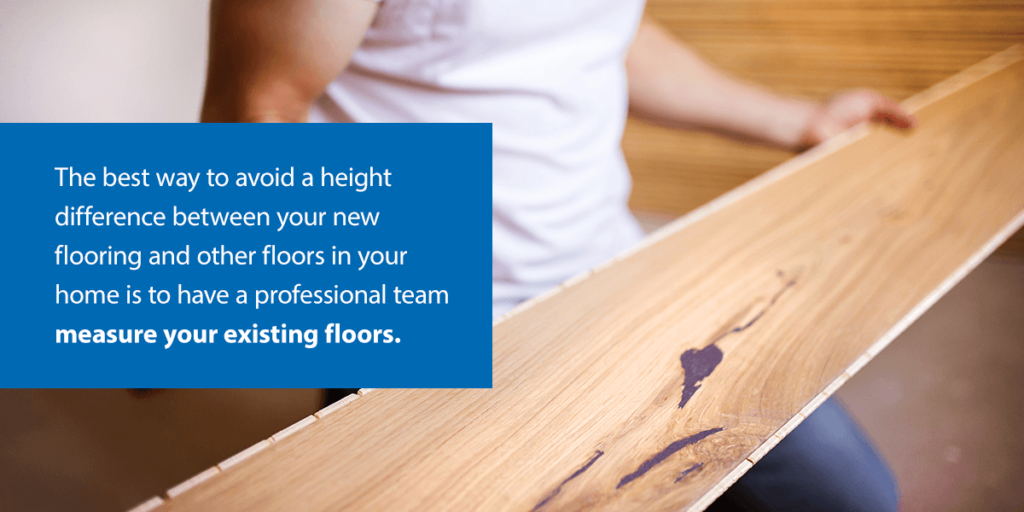 The best way to avoid a height difference between your new flooring and other floors in your home is to have a professional team measure your existing floors. The heights should be as close as possible to create a seamless transition. If they can estimate how tall your other floors are, they can tell whether your new floor selection will be the correct height.
If your new floors are smaller in height, the installation team can add a cement-based patch that combines with the height of the new flooring to match the other rooms in your home. If the new floors are taller than your existing flooring, you can rely on the convenience of room transitions to hide the height difference. This option is simple and allows you to enjoy your new floors without replacing your existing ones in other rooms.
How 50 Floor Handles Installation Challenges
When you work with 50 Floor for your new floor installation, running into flooring problems isn't an issue for our team. Because moisture and other flooring mistakes are only observable after tearing up the old floor, we understand you can only notify us after installing your new floors. Our team can assess the damage to the subfloor and work with you to find the next best steps for your flooring.
The next part of the installation is holding off on your new floors until the installation team can resolve the flooring problems. If moisture is the issue, you can expect the installation process to take a bit longer as our team works to absorb it and create a dry area to lay down the flooring. The same is true for correcting subfloor unevenness.
However, a little bit of waiting time goes a long way to ensure you can properly enjoy your new flooring and make the most out of your investment without running into further problems down the line.
50 Floor Supports You Throughout the Installation Process
At 50 Floor, we make our installation process as easy as possible for you and everyone else in your household. From finding the perfect flooring for your home to installing it with precision, we're with you every step of the way to ensure you get the flooring you envisioned for your home.
You can enjoy your new favorite flooring options from 50 Floor with our quick shopping at-home option and installation. Our free in-home consultation also lets you see your top choices in your living spaces to help your vision come to life.
If you need help figuring out where to start, make your shopping experience easier with our Flooring Buying Guide, which lets you prioritize costs, durability, style, comfort and protection in your new floors.
Ready to bring your dream interior to life with new flooring? Schedule your free in-home appointment today.