50 Floor is the go-to flooring installer for many homeowners throughout the country. When you shop with us, you'll find the highest-quality hardwood, laminate, carpet, luxury vinyl and tile on the market. Different sizes, patterns and hues provide ways to achieve any classic, chic or modern aesthetic you prefer.
We're proud to offer easy and convenient shopping for the best experience possible. With affordable prices you can't get anywhere else and top-notch installation services, we're hard to beat. Discover these superior benefits of 50 Floor versus competitors in the industry.
50 Floor vs. Other Flooring Installers
Compared to competing installers, 50 Floor offers the following advantages:
Full-service installation: Many flooring retailers sell products and don't offer installation services. After you buy a product from us, you won't need to spend time researching available subcontractors in your area — our experienced team takes care of everything from start to finish.
Streamlined schedules: We will assess your subflooring to determine how to make the material you choose look and feel the most ideal. The other processes our installers complete for you include old floor removal, moving heavy furniture, adding padding, new floor installation, trimming and cleanup. Having all of these jobs handled by our experts offers a streamlined process over needing to hire different professionals for each task.
One-day installations: Vetted, professional installers at 50 Floor offer high-quality services with fast timelines so you can enjoy your finished space sooner. Most of our carpet, luxury vinyl and laminate projects can be completed in 24 hours. Other projects involving complex requirements or large areas, such as hardwood and tile applications, could take more than one day to complete.
Proper techniques: When you invest in your dream floors, you'll want them to last. A good installation is essential to having the surfaces maintain their appearance over time. At 50 Floor, our licensed and trained experts install your new flooring using the correct equipment and techniques. We stay up to date with innovations in the industry, so we can always provide top-quality services.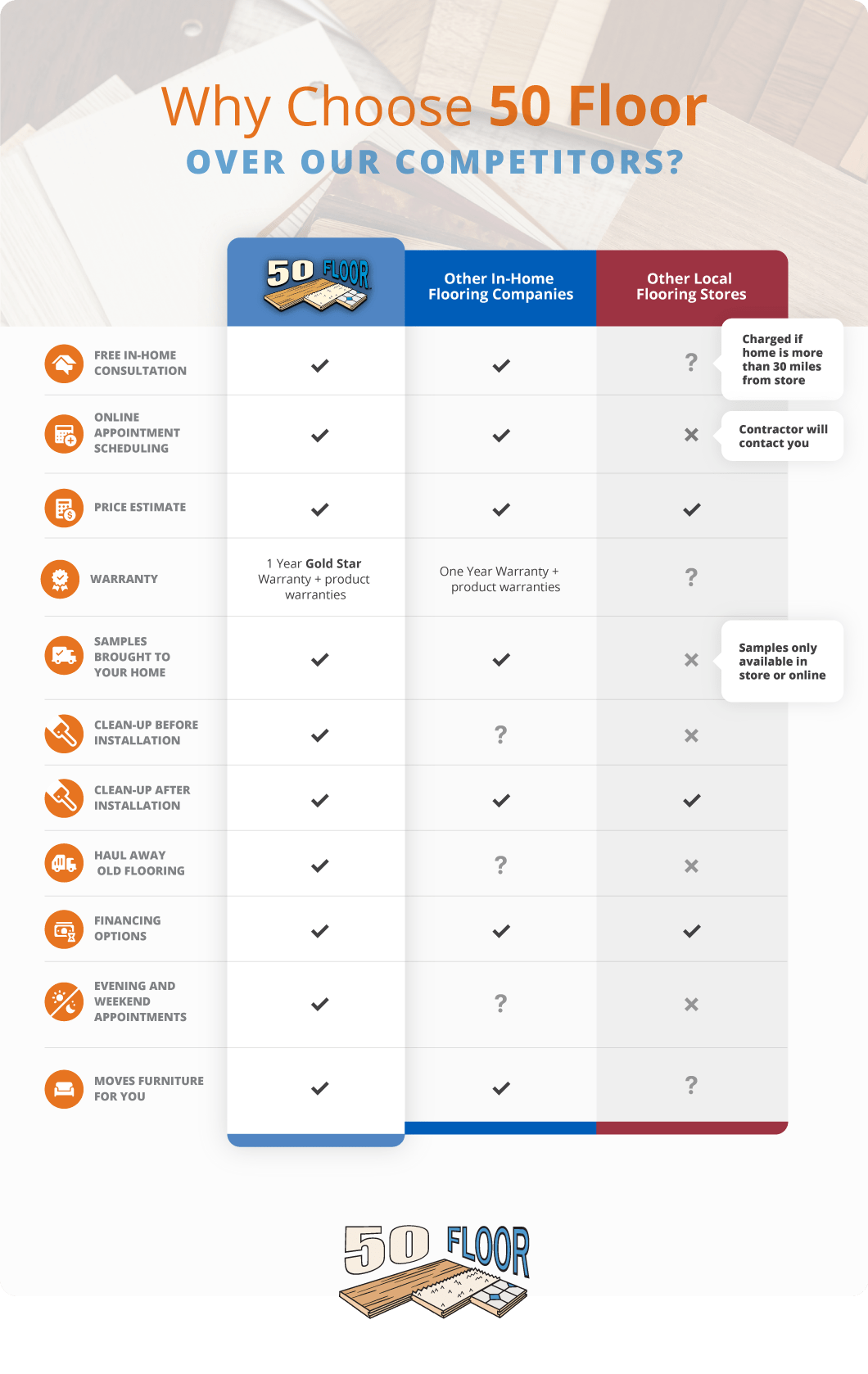 50 Floor vs. Big-Box Retailers
Shopping at 50 Floor offers a better customer experience with these benefits:
Efficient shopping: Not needing to drive to a traditional retailer and browse thousands of flooring options can save you time. We offer an efficient way to shop from the comfort of your home. Our flooring experts can bring quality samples to you for a free in-home consultation.
Personalized approaches: During a scheduled appointment, our professionals gain an understanding of your design preferences, lifestyle and budget. After learning how we can fulfill your expectations, our experts provide detailed advice and tailored recommendations. Seeing how samples look with your wall paint, lighting, decorations and furniture makes it easier to find the perfect flooring for your project.
Floor protection: Many of our products include protective features such as waterproofing or water resistance, scratch resistance and fade resistance. Our flooring experts can answer your questions and help you find durable, robust options to suit various areas of your home. We do have a Gold Star Warranty and product warranties available as well, plus valuable information about easy cleaning and maintenance steps you should follow to keep your flooring looking pristine.
Price match guarantee: At 50 Floor, we're committed to helping you reach your design goals. When you shop with us, you can be confident that you'll always get the best price on the market. Our price matching applies to verified products from the same manufacturer, and they must be installed by an insured and licensed installer using the same, professionally recognized techniques we do. We also offer many benefits other local and in-home flooring companies do not, including competitive price estimates and flexible financing options.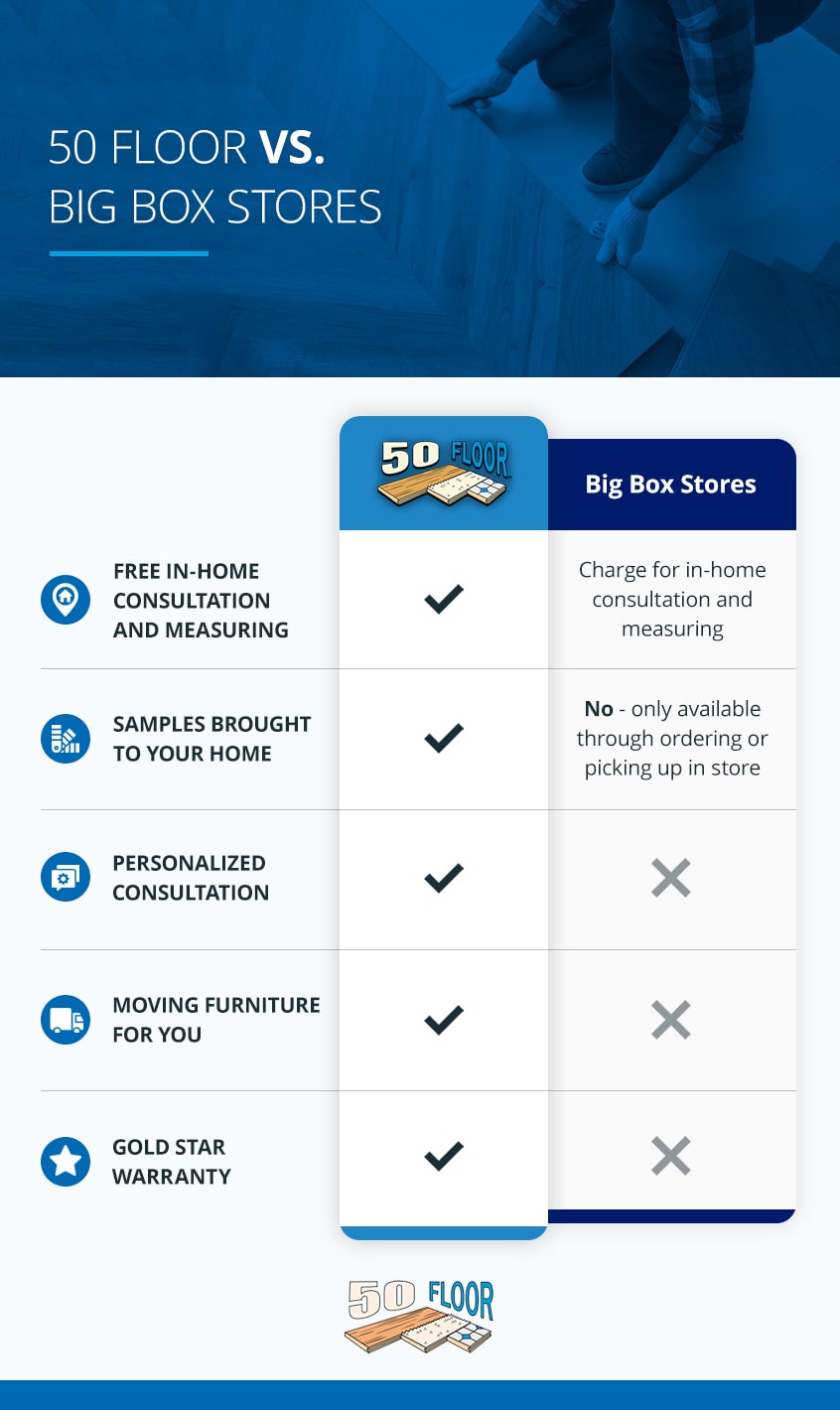 Schedule an Appointment With 50 Floor Today
Scheduling is an important factor when planning to get new floors. Instead of making you visit in person or speak with a representative over the phone, we offer a simple, straightforward way to book your appointments online. For your convenience, our user-friendly experience on our website only takes a few seconds. Our availability sets us apart from others as well — in addition to the standard hours of operation many installers follow, we offer appointments during evenings and weekends.
To begin your floor project and weigh 50 Floor versus the competition for yourself, set up a free consultation today!