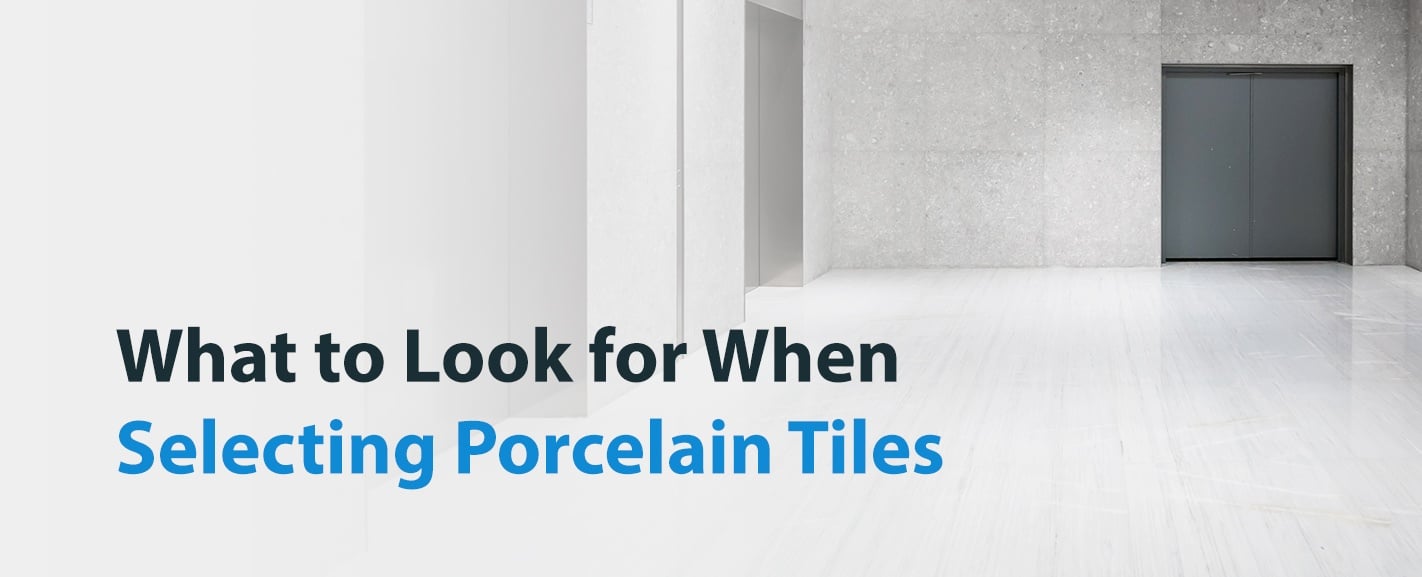 If you want to renovate the flooring in your kitchen, bathroom or entryway, consider upgrading to porcelain tiles. This material is highly durable and can withstand high-traffic areas with little maintenance. Use this guide to discover how to choose porcelain tile for your home.
What Is Porcelain Tile?
Homeowners and architects have been using porcelain tiles for thousands of years because of their beauty and durability. Porcelain floor tiles contain synthetic and naturally-occurring materials that manufacturers meld together at very high heat. This material is harder and more long-lasting than ceramic flooring and can accommodate a variety of designs. Porcelain flooring can resist changes from extreme temperatures because of its creation in high heat.
Benefits of Porcelain Tiles
Due to its moisture and slip resistance, porcelain is a practical material for bathroom flooring. It can also enhance the aesthetic of the rest of your house with its elegant appearance. Check out the benefits of porcelain tile to find out how it can improve the design of your home.
1. Long-Lasting and Durable
Porcelain tiles can keep their luxurious shine even if you have pets or you like to entertain. Since they last up to half a century in your living space, you would only need to replace the flooring once in a lifetime.
Manufacturers fire them at higher temperatures, so porcelain tiles are dense and resistant to water penetration. They also don't create toxic fumes or burn when they come into contact with fire. While some materials tend to fade in direct sunlight, porcelain tiles maintain their color for years, even after exposure to UV rays.
2. Easy to Maintain
Porcelain floor tiles don't hold moisture, so you can easily wipe up spills without worrying about stains or mildew. To maintain this material, you can spot clean liquids with a damp rag and regularly sweep the floor to prevent debris buildup. Mop with a mild detergent and warm water if the tiles ever get sticky. For tough stains, apply some vinegar and use a soft-bristled brush to scrub the area.
3. Effective in High-Traffic Areas
If you like to host parties or have a large family, porcelain floor tiles will maintain their appearance even after excessive wear and tear. Since they're slip-resistant, they are ideal for bathrooms and other areas that are prone to moisture buildup. You and your guests will be safe walking on your porcelain tile floor, whether you install it in the kitchen or the entryway.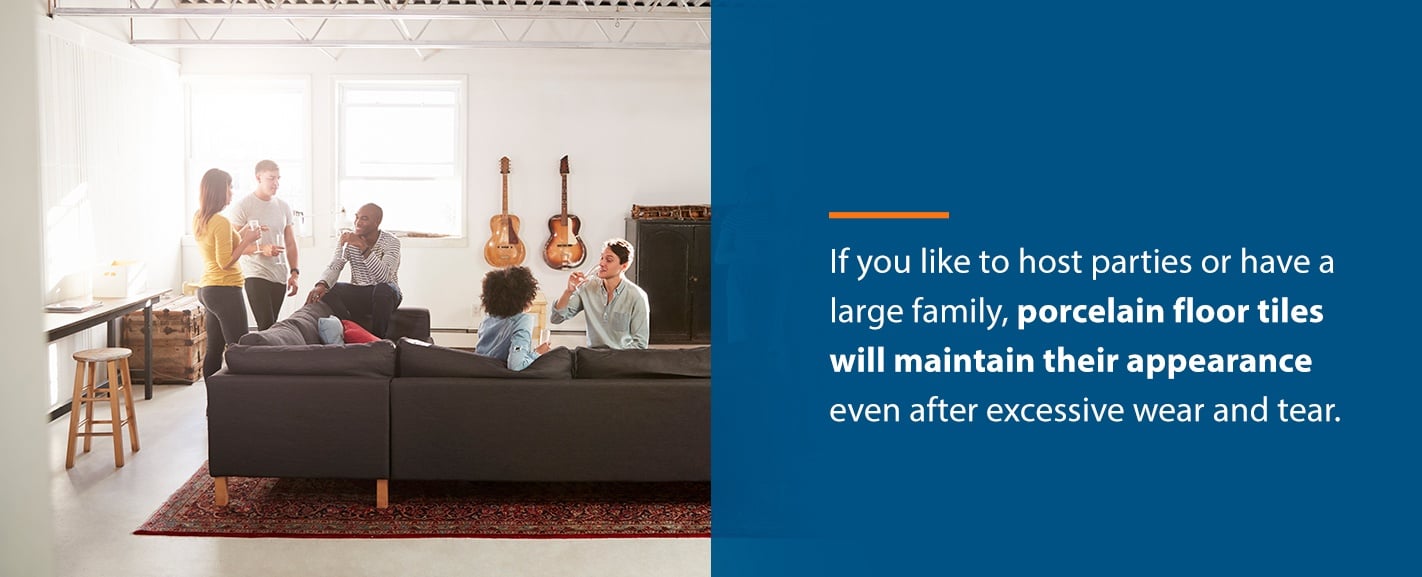 4. More Hygienic
Porcelain tile flooring has a water absorption rate of about 0.5% so that it can withstand small pools of water. Since it doesn't tend to hold onto debris or moisture, it doesn't collect germs as quickly as other materials. You can also clean porcelain tiles with household chemicals to remove any grime that might've formed on them.
5. Versatile Design
Porcelain tiles have natural beauty from the high-quality components that make up this luxury product. These tiles are available in various color and shape options, and the material can also mimic the look of stone or wood to accommodate your style preferences.
Consider a neutral tone if you change the decor often or use vibrant colors to affect your living space's mood. Lighter tiles open up a small room, and darker tiles make your living space feel cozy and warm. Light tiles also reveal dirt, while dark tiles hide it.
Things to Consider When Choosing Porcelain Tiles
Porcelain tile adds value to your house because of its versatility and durability. If you decide to use porcelain for your floors, consider what to look for when buying porcelain tiles before you place your order.
1. Grade
Porcelain tile is versatile, useful as both flooring and wall material. If you're selecting porcelain tiles for your floors, you need a higher grade of porcelain to accommodate people walking on it and furniture. The Porcelain Enamel Institute (PEI) rating comprises numbers ranging from 1 to 5, with Grade 1 being the least durable and Grade 5 being the toughest.
For your porcelain floors, you would need at least a Grade 2 tile to maintain the look of your living space. Depending on the number of people you get in your living space, you would get a higher grade to accommodate the traffic.
2. Type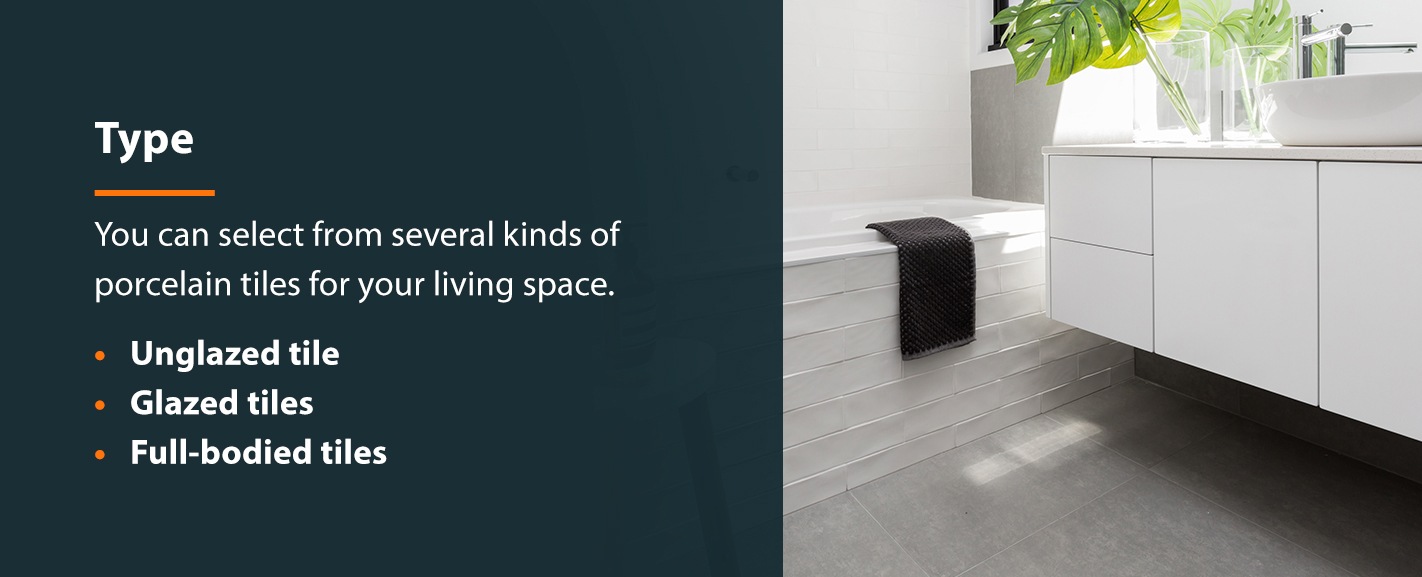 You can select from several kinds of porcelain tiles for your living space. Check out the qualities of each type to find the best porcelain tile for your intended part of the house:
Unglazed tile: Made from molded dry clay, this porcelain tile gives your floors a slightly textured matte finish and a more rustic look, while also providing slip resistance. You would need to seal them after you install them to prevent stain absorption.
Glazed tiles: To make these tiles, manufacturers fire them, coat them with liquid glass and fire them again. The porcelain tile finish of glazed tiles is more versatile and you can digitally print a pattern on them, but they work better as a wall tile than a floor tile.
Full-bodied tiles: This type of porcelain tile features two layers of clay, and the colors and patterns run through the material. As the most durable type of porcelain tile, full-bodied is ideal for high-traffic areas.
3. Design
When selecting porcelain flooring, you're in control of how the color, size and shape to complement the aesthetic and function of your home. Manufacturers often use computer-generated patterns, so some of the panels will have the same design on them. If you want a natural look throughout your flooring, make sure any tiles with the same pattern aren't next to each other.
4. Cost and Value
Consider your budget when choosing porcelain tile flooring. Having a professional install your tiles will be more expensive, but their expertise and knowledge are often worth the cost. Even if porcelain tile costs more than other options, think about the value of this high-quality material. Porcelain tiles will provide you with benefits while you're living in the house, and you'll get more resale value when you sell your home.
5. Installation
Since porcelain tiles are hard, they require a particular saw to create the cut. To provide a sturdy foundation for this hard yet brittle material, you need a cement backer board. You also need to ensure proper adhesion under and behind your porcelain tiles to keep them from shifting. Follow the manufacturer's instructions for the adhesive's set time for maximum effectiveness.
6. Maintenance
While porcelain tiles are easy to maintain, you should take care of them properly so that they last a long time. Avoid using ammonia or bleach because these harsh chemicals could discolor or stain your floors. You should also avoid abrasive brushes or steel wool when cleaning out stains.
To care for the visible grout around the tiles, make sure you seal it after it has cured and set to prevent grime. If you forget to seal the grout, use vinegar, baking soda and a soft-bristled toothbrush to clean the grout, rinsing with warm water.
Schedule an Appointment With 50 Floor to Install Porcelain Tiles
At 50 Floor, we have a wide selection of porcelain tiles to complement your bathroom or kitchen design. If you're near one of our warehouse locations, fill out a form to schedule an appointment. One of our flooring experts will come to your home and guide you through choosing porcelain tiles so you can feel confident that your selection will look great in your room.