You may not spend a lot of time thinking about the flooring in your home — until it's time to pick something new. When you're building a new home, you're in charge of choosing the flooring for every room of the house. The possibilities are endless, but endless possibilities can sometimes make it difficult to narrow down your options. Don't get bogged down in unlimited possibilities. By considering what's most important to you, you can narrow your choices down to the perfect flooring for your new home.
How to Choose Flooring for a New Home Build
What you choose for your new home's flooring impacts the look of each room and its functionality. When selecting new flooring, consider multiple factors before making a final decision.
1. What's Your Lifestyle?
Take a few minutes to think about your family's day-to-day routine. Do you have young children who spend a lot of time playing on the floor? Do you have several pets who track in dirt, mud and debris every time they're outside? Do you frequently entertain? Answering these questions can help you determine what kind of flooring will serve your lifestyle well.
If you have pets who track in a lot of debris, hardwood floors might not stand up well to the constant traffic and scrubbing. If you have children who play on the floor or spill a lot, you might be in the market for a vinyl that gives you the beauty of hardwood without the maintenance requirements.
2. What's Your Decor?
If you're like many of our customers, you've probably got an idea in your head of what you want your room to look like. Think about the color scheme you've chosen as well as the furniture you plan to incorporate into the room. Then look at flooring to complement those elements. Various shades of hardwood or luxury vinyl tile (LVT) can really make or break the visual appeal of a room, so choosing flooring that complements your decor is key.
Take Our Quiz to Find Your Flooring Style
3. What's Your Budget?
For most people, a new flooring purchase often comes down to cost. Before you buy the first flooring you find, set up a budget. Be sure to factor in the costs of the flooring itself, installation and additional materials, such as underlayment. You'll also want to factor in baseboards, stain or any other materials you'll need to finish the walls around the flooring once it's installed.
Best Flooring Types to Consider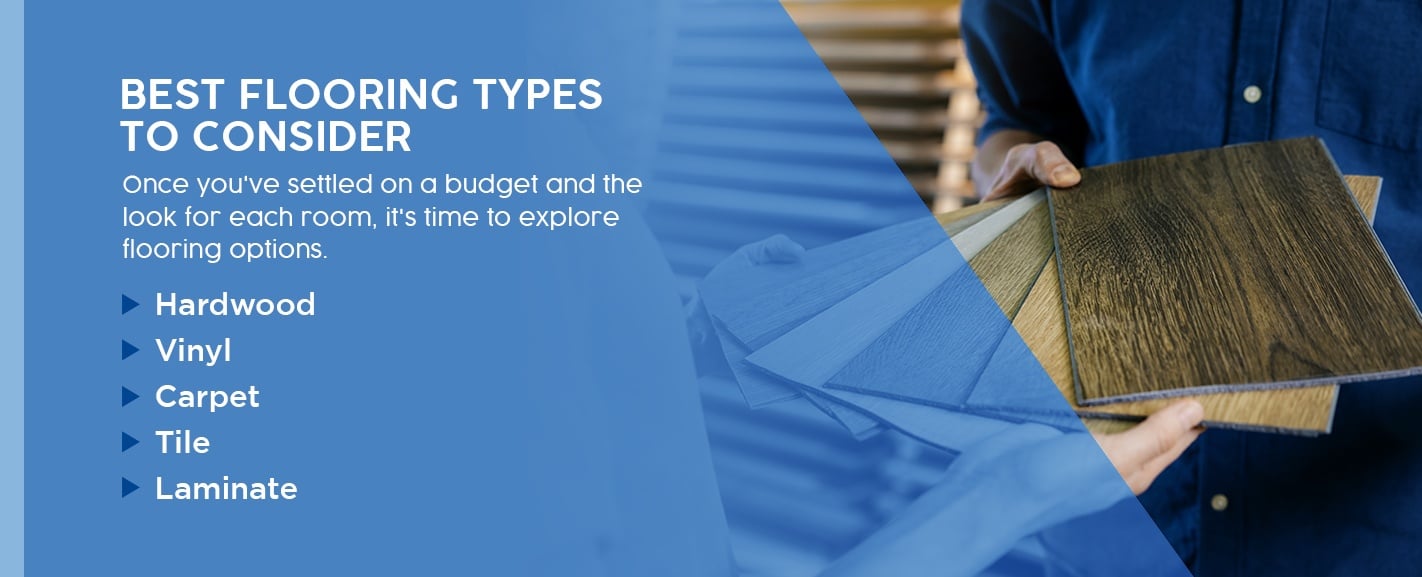 When you're selecting flooring for a new house build, you've got a clean slate to work with. You don't have to pull up or cover over someone else's flooring choices. You can choose exactly what you want. Remember — the flooring you pick now will play a huge role in the aesthetic appeal of your home for years to come. It will also determine the amount of time you spend cleaning and maintaining your floors.
Once you've settled on a budget and the look for each room, it's time to explore flooring options.
1. Hardwood
Hardwood floors are incredibly popular for their elegant, natural look. Hardwood comes in a wide variety of shades and widths, making it possible to achieve a lot of different looks with this flooring. And, with proper care and maintenance, these floors can provide beauty to any home for decades.
If you have your heart set on the look of hardwood floors but your budget can't accommodate them, you can also consider engineered hardwood flooring. Engineered hardwood is manufactured from several thinner layers of wood that have been pressed together. Because of its thickness, engineered hardwood is incredibly durable and less susceptible to water damage, but it's also less expensive than traditional hardwood.
Because it's a natural material, hardwood flooring can have a higher price than other options, especially if you use it in several rooms in a large house. It's also prone to scratches and water damage if an appliance or sink leaks nearby. When you purchase hardwood flooring, consider putting it in rooms that aren't near a water source and don't get a lot of direct foot traffic from children or pets.
2. Vinyl
Vinyl flooring is available in planks or tiles. Many vinyl plank options are designed to mimic the look of natural wood, while vinyl tiles mimic the look of stone or tile. Vinyl is one of the most popular flooring options out there right now because it is beautiful, affordable and easy to install. This flooring option also comes in a wide variety of colors and thicknesses. Although most vinyl is water-resistant, there are some waterproof options on the market that are well-suited for bathroom or kitchen floors.
3. Carpet
Carpeting is ideal if you want to design a room to be cozy and warm. Carpet is available in a wide variety of colors and textures, and it's beloved for its ability to create a relaxing, comfortable space for reading, watching television or sleeping. Carpets provide a soft spot for children to play, and they muffle sounds from the rooms they're in.
Carpet does require regular maintenance to keep it clean and in good shape. Regular vacuuming to remove dust, dander and pet hair is a must for any carpet. You'll also need to factor in the cost of periodic steam cleanings to remove dirt that's been ground deep into the fibers. Carpet can stain easily, so it's important to pick a color that won't easily show dirt and stains.
4. Tile
Tile most commonly comes in ceramic or porcelain. These materials are relatively easy to maintain, and the wide variety of tile colors and designs means the flooring can complement various decor styles. A tile floor is a great option in areas prone to moisture where hardwood flooring might not work well. Tile does tend to stay cool to the touch, especially in winter, so this flooring often requires a nice area rug to keep toes warm when it's cooler in the house.
5. Laminate
Today's laminate flooring is a photographic image that's been transferred onto a combination of several layers of materials designed to create a strong, water-resistant, long-lasting floor. This process means laminate comes in various colors and designs, making it a popular option for customers looking for beautiful flooring at budget-friendly prices. But this affordable option doesn't compromise on quality. Laminate flooring offers a long-lasting, low-maintenance option for just about any homeowner.
Turn to 50 Floor for All Your Flooring Questions
If you're in the market for flooring for a new build or your existing home, you may have questions about your options. Let 50 Floor help! Our experts will guide you every step of the way based on your unique situation, allowing you to choose the perfect flooring you'll enjoy for years to come. Contact us today to learn more.