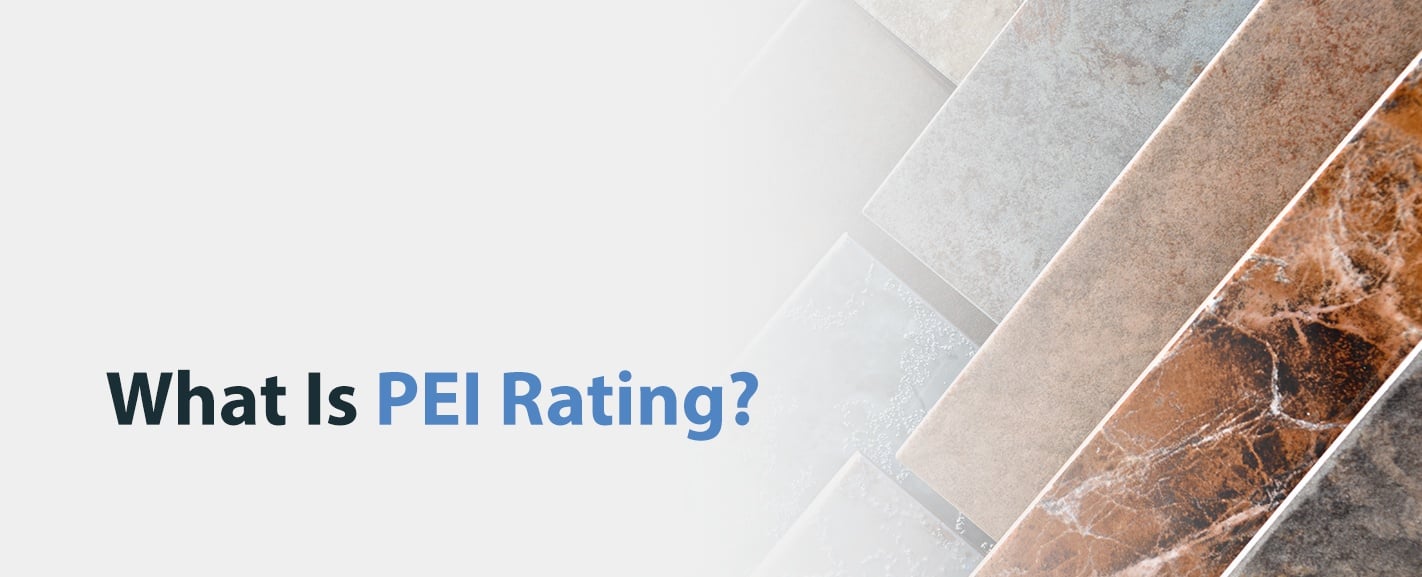 If you want to invest in ceramic or porcelain tiles as decorative material in your living space, you need to choose a product with the appropriate Porcelain Enamel Institute (PEI) rating. This evaluation is essential for figuring out the durability of a tile, so you know where and how to use it. This guide will help you determine what PEI ratings are so that you can find the best flooring for your kitchen, bathroom, living room or hallway.
What Is PEI Rating for Tile?
PEI ratings indicate the endurance and hardness of any enamel-coated porcelain or ceramic tile, depending on the foot traffic in a living area. Most of the time, you'll find the classification of your desired product on the package or spec sheet. If you work with a professional flooring company, we'll have that information for you.
How Is Tile Rated?
Porcelain or ceramic tile rates on a PEI scale of 0 to 5 to indicate its resistance to debris and moisture. You can use the PEI rating of a tile to find out if it can work where you want to install it. Flooring in rooms that experience heavy foot traffic, such as kitchens and bathrooms, should have higher tile strength ratings and be thicker and sturdier against abrasion than tiles you might use to enhance the aesthetic of your walls.
PEI Rating Scale for Tiles
Consider the different tile PEI ratings to help you find the flooring material that would best fit your application:
PEI 0: Glazed tiles with a PEI rating of 0 are unsuitable for floors. Instead, you could use these tiles to decorate your walls.
PEI 1: Tiles in this group are appropriate for rooms where people tend to walk with soft footwear or bare feet, such as a residential bathroom or bedrooms that don't have direct access to the outside. You could also use them for residential walls, especially in the shower.
PEI 2: This type of tile is practical in areas where you'll find general residential traffic, where people walk on surfaces with regular footwear and minimal friction, like the bathroom, bedroom or a guest room.
PEI 3: These tiles are efficient for all residential and light commercial spaces, like bathroom floors, offices, countertops, reception areas, interior walls and boutiques.
PEI 4: Tiles in this group can accommodate regular traffic and are appropriate for institutional and commercial use, such as corridors, restaurants, hospital lobbies and hotels. You may also lay tile with a PEI rating of 4 in your hallways and rooms connected to the outside.
PEI 5: This category of tiles is for areas with heavy traffic, moisture and abrasive dirt, especially where both performance and safety are concerns. This flooring could be functional in swimming pools, shopping malls, building entrances and public buildings.
How to Know Which PEI Rating Is Right for Your Tile Flooring
You should review the PEI rating for your tile flooring because it'll help you choose the right tile. The material you want to use might be visually appealing, but if it's not durable, it could develop cracks and scratches, and you'll have to replace it with a sturdy tile. To determine which grade or PEI rating is suitable for your tile flooring, consider where you're going to install it and your budget.
What Room Is Getting New Tile?
You would need the appropriate grade for your tile based on the durability required for the room where you'll be placing it. A tile with a PEI rating of 0 or 1 will break if you use it in the hallway, while one with a strength classification of 5 would be too heavy to put on the walls. Use the respective PEI ratings of tile for each part of the house:
Bathroom: The flooring in your bathroom should be moisture- and slip-resistant. Porcelain or ceramic tile with a high PEI rating of 2 or 3 will withstand stains, scuffs and scratches that are common in this busy area of the house.
Hallways: The tile you choose to install in the hall should be able to withstand debris that people could track into the house. Porcelain or ceramic flooring materials with a PEI rating of 3 or 4 will provide the durability needed for this area with moderate foot traffic.
Entryway: Even if your guests and family members take off their shoes when they come into the house, they'll leave them by the front door, so the entryway material should be sturdy. Thicker tiles with a PEI rating or 4 or 5 may also be easier to clean because they're not sensitive to abrasive materials.
Living room: You need a flooring material for the living room that's resistant to debris buildup, especially if this room connects to an exterior part of the house. Ceramic or porcelain tile with a PEI rating of 3 or 4 will withstand moderate foot traffic, even if you or your guests decide to leave their shoes on in the house. You don't need to invest in a thick, heavy tile for the living room, but one with a moderate rating should do nicely.
Kitchen: In the cooking and dining area, install a moisture-resistant material that can withstand food and beverage spills, along with the dirt and debris you and your guests might track in from the backyard. Since you'll have more activity in the kitchen than in the bathroom, you need a material with a PEI rating of 4 or 5 to withstand heavy foot traffic, especially if you want to leave your shoes on in the house.
What Is Your Budget for Tile?
Even though the cost of your tile depends on various factors, flooring materials with a higher PEI rating tend to be more expensive. If you're trying to stay on budget, consult a local flooring company. We can provide various options for you to accommodate your financial needs.
If you need a thick tile for the room in your house, installing the appropriate flooring will be worth it. You'll have to replace your floors if you try to cut corners and buy a cheaper, less durable material for busy traffic areas. Pay the upfront cost of the right tile for your house's crowded rooms to save money in the future.
Schedule an Appointment With 50 Floor
If you live near one of our service areas, during our appointment, we'll bring tile samples to your house, so you can see how they feel and look in the room where you're thinking of installing tile. We also offer warranties on select products so you can save money on materials in the long run. Schedule an appointment with us to get started on your next flooring project, or call 1-800-50-FLOOR for more information.