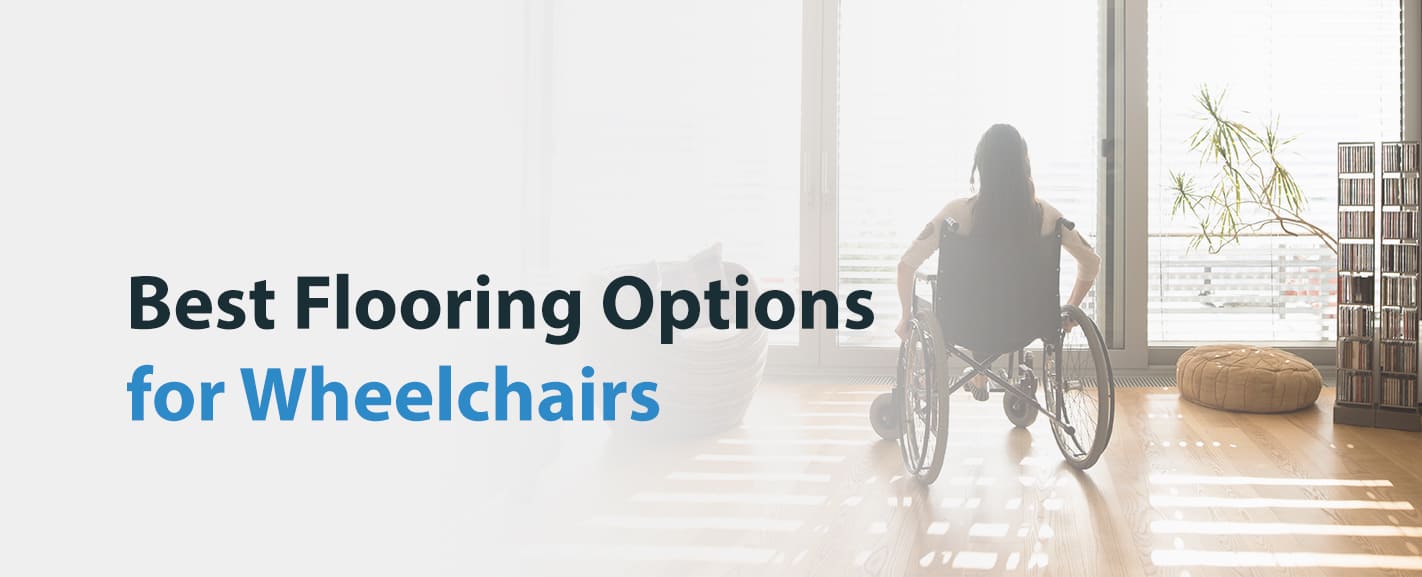 You'll find plenty of flooring guides out there, but if you or a family member is a wheelchair user, you may have some concerns that aren't addressed in general flooring guides. So, how can you choose the best wheelchair flooring for your home? In this guide, we'll discuss some key factors to keep in mind and several wheelchair-friendly flooring options you can choose from.
Flooring Factors to Consider for Wheelchair Use
There are five important factors to consider when you're choosing the best surface for wheelchairs:
Friction: The level of friction flooring types offer is important for wheelchair use and general safety, as well. The best flooring for wheelchairs and walkers is slip-resistant, which means you need some friction but not so much friction that it is difficult for a wheelchair user to move across the floor. For bathroom floors, especially, you should consider how slippery the floor may be when it's wet.
Texture: The level of friction on the floor isn't the only important aspect of your floor's feel. The texture can make a big difference for wheelchair users. This issue mainly comes into play with carpet, where higher piles can cause a problem. Tiles and other flooring types that include raised and recessed portions can also cause a problem. Smoother floor surfaces are easier for wheelchair users.
Durability: Any good flooring should be able to hold up to wear, particularly in high traffic areas, but that's especially important for wheelchair users. Wheelchairs can place a lot of pressure on a floor. You don't want to worry about your wheelchair leaving dents, scratches or scuff marks on your floor. You need a durable surface that is easy to clean and will continue looking great for years to come.
Uniformity: Uniformity is also a concern for wheelchair users. Most people may not notice transition pieces in between rooms, but these can be an obstacle for wheelchair users. Avoiding transition boards is best if possible, so you want to choose a flooring type you can use throughout your home rather than choosing different materials for different rooms. If you need transition boards, make them as level as possible.
Aesthetic: No matter who you are or how you get around, aesthetic remains an important part of choosing your flooring. Of course, you want to make sure you choose a functional option that will work for you, but you also want to choose flooring that matches your style preferences and the design in your home. There are plenty of great flooring options for wheelchair users, so you can choose an option with an appearance you love.
Best Types of Flooring for Wheelchairs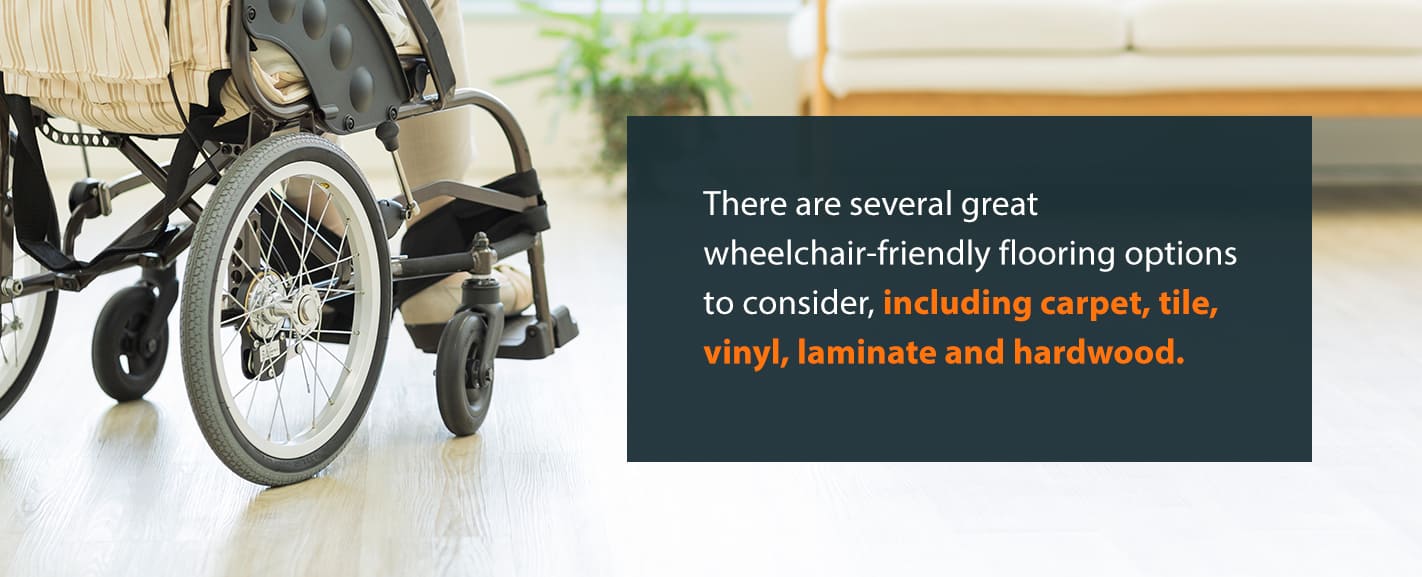 There are several great wheelchair-friendly flooring options to consider, including carpet, tile, vinyl, laminate and hardwood.
Low-Pile Carpeting for Wheelchair Users
Carpeting isn't always the best option for wheelchair users because it can take more effort to move across a carpeted floor than a smoother surface. That said, if you like the warmth and comfort of carpet, you can choose wheelchair-accessible carpet. To achieve the right level of durability and a tight weave, some wheelchair users choose commercial carpeting for their homes. Commercial carpet may not be as soft, but it offers some practical advantages over residential carpets.
The Americans with Disabilities Act (ADA) specifies that carpet should have a pile height of one-half an inch or shorter and must have firm backing or no backing. Make sure the carpet is tightly secured to the subfloor, so no wrinkles or bubbles are able to form. If you have area rugs in your home, make sure they are secured underneath, so they won't move or bunch up under a moving wheelchair.
Small, Slip-Resistant Tile
Floor tiles are durable and come in a wide variety of styles to choose from. For wheelchair use, you want to choose smaller tiles since these will handle the weight of a wheelchair better without the risk of cracking as you may have with larger tiles. Smaller tiles also create more friction. If your tiles are too tiny, however, you'll have lots of grout lines that can get scuffed and can make cleaning the floor more of a chore.
A 2-inch tile is an ideal size to go with for most wheelchair-accessible homes. You also want to make sure you choose a slip-resistant tile. You can quickly rule out any tile that has a glossy finish. Instead, opt for tiles with more of a matte appearance.
Quality Vinyl Flooring for Wheelchairs
Vinyl is an affordable flooring choice and comes in a wide range of patterns and designs. Vinyl is also water-resistant, which makes it a good choice for areas like bathrooms and kitchens. Vinyl comes in either sheets or tiles. The important distinction to pay attention to for wheelchair users is the quality of the vinyl. While vinyl can be durable and hold up to wheelchair use, higher quality vinyl will do a much better job and last longer.
Vinyl is constructed with various layers, including a backing and protective layer over the design you see. Quality vinyl should have thicker protective layers, making the floor more durable.
Durable Laminate
Laminate flooring is made to look like wood flooring in most cases, but it's more affordable than real hardwood floors. Laminate is also prized for its resistance to wear and tear. This makes laminate a great option to consider for wheelchair users. As laminate becomes more popular, there are more options to choose from than ever before, and many options today look far more like the "real thing" than laminates of decades gone by.
If you decide to install laminate flooring in your home, choose a quality option with a protective layer that offers exceptional durability. This way, you can capitalize on the benefits of laminate and get an option that looks more authentic and attractive.
Hard, Matte Hardwood
Hardwood floors look attractive in any home. The downside with hardwood floors is that real wood can scratch more easily than the manufactured materials. Despite the name "hardwood," some hardwoods are softer than others. To get a floor that will resist scratches and dents from wheelchairs, you need to choose a species of wood that is harder, such as hickory or maple.
You should also opt for more of a matte finish rather than a highly polished surface since this offers more slip-resistance while still being smooth enough for a wheelchair to easily glide across the floor.
View Hardwood Flooring Options
Wheelchair-Friendly Flooring From 50 Floor
When you partner with 50 Floor for your flooring needs, you'll get personalized help from our experts who will come to your home to discuss options. We can help you choose the flooring option that will make your home wheelchair-friendly and look beautiful. We can offer a wide variety of flooring options to suit your needs, taste and budget.
To get started, schedule an appointment with 50 Floor today.