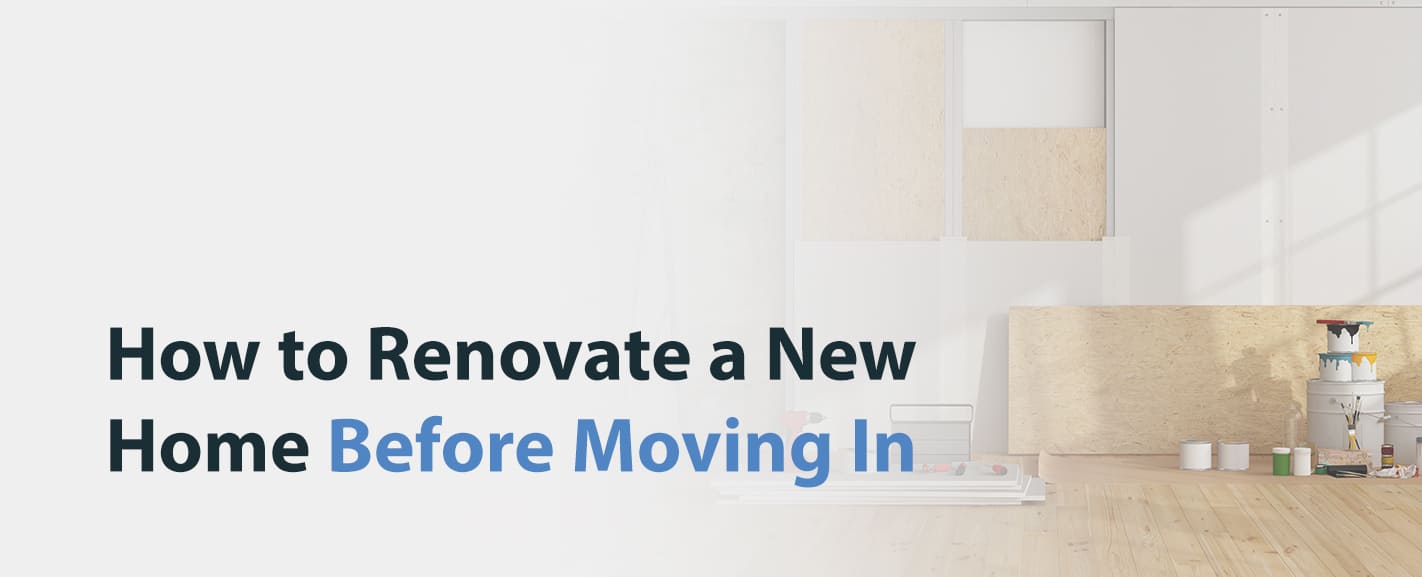 You've been handed the keys to your new home, and it's time to celebrate! It may not be time to move in yet, though, if you're planning to renovate your new home. If you've purchased a fixer-upper or a property that needs a few changes to become your dream home, we're here to explain how to renovate a new house and things to do before moving into your new home.
A Quick Guide to New Home Renovation
A new home renovation can be fairly simple or extremely complicated, depending on what projects you plan to take on. Transforming a dilapidated historical home is a much larger undertaking, for instance, than making some minor cosmetic upgrades to a recently-built home.
1
. Create a Budget
Most home renovations and remodels range from $18,408 to $75,954. That's an extraordinarily wide range, and some renovations will fall below or exceed that range. Figure out how much you can afford to spend on your renovations and determine whether you should take out a loan to cover these costs. Keep in mind that renovations are likely to increase your home's resale value, so you can enjoy a great return on your investment.
2. Address Necessary Repairs or Updates First
Especially if you're working with a tight budget, you should carefully prioritize which home improvements are most important for you to complete. Start with necessary upgrades such as repairing or replacing your roof, plumbing, HVAC or any other key components of your home that are unsafe or not functioning properly. These fixes are the bare minimum you need to complete before moving in.
3. Find Ways to Include Your Personal Style
In addition to necessary upgrades, you should also find ways to put your personal touch on your home's design. Just because something in your new home is functional doesn't mean you shouldn't change it. Choose wallpapers or paint, flooring, kitchen cabinets and other materials you like rather than settling for something that feels generic, dated or simply doesn't match your personal style.
4. Hire the Right Professionals
You may be able to save money by taking a do-it-yourself approach to some of your projects. However, most homeowners will need to hire professionals to turn their renovation dream into reality. Know which projects you should entrust to the professionals, and then do your research to find local pros with a reputation for quality work. Leave as much as you can to the professionals so you can focus on other logistics involved with moving.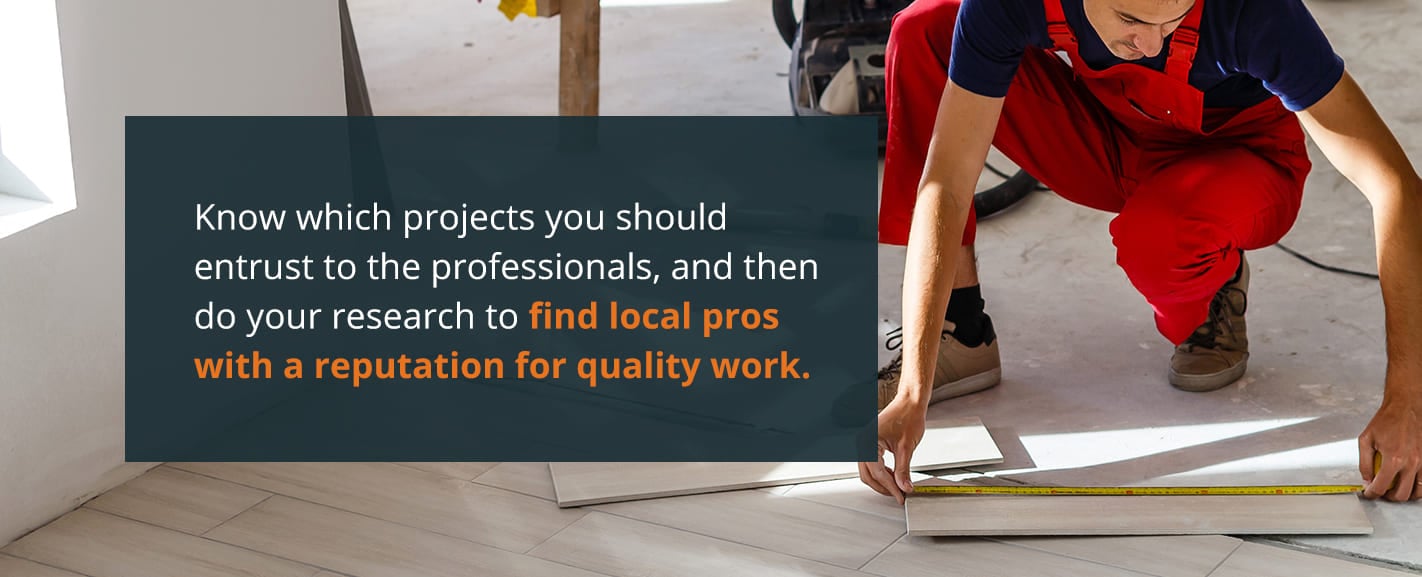 5. Don't Move in Prematurely
It can be tempting to move into your new home as soon as possible, but if you're doing renovations, wait until these renovations are complete before you move in. This can pose a problem if your lease has ended or you have sold your previous home. In these instances, see if you can make arrangements for temporary housing and storage for your belongings while your new home is under construction. Having your new home unoccupied during your renovations will be more convenient for both you and your contractors.
Home Improvements to Make Before Moving In
You can do more minor home improvements after you move into a home. For example, you may choose to change light fixtures or create an accent wall down the road. However, some renovations are better completed before you move in. Let's look at some key things to do before move-in day so you can enjoy your dream home.
1. Putting Up or Removing Walls
Open floor plans have gained popularity over the years, especially with younger generations. If you've been dreaming of an open floor plan in your home, but you bought a home with a more traditional floorplan, you may want to take down non-load-bearing walls to open up the space. In some cases, you may want to add walls in a more open home to create an office or another separate space. Adding and removing walls is a major renovation you should complete before moving into your home.
2. Painting Interior Walls
In many cases, homes for sale have been recently painted inside. However, even if your new home has a fresh coat of paint on the walls, that doesn't mean it will be in a color you love or one that suits your decor. If your walls need refreshing or you want to change the color, it's best to take care of this before you move in. An empty home is easier to paint since you don't have to work around or cover up furniture and other objects.
3. Kitchen Upgrades
When it comes to home renovations, kitchens are one of the focal points for most homeowners. If you're dissatisfied with the kitchen in your new home and your budget allows, you should renovate your kitchen before you move in. Kitchen renovations can include painting cabinets or replacing them altogether, replacing countertops, adding backsplashes, upgrading appliances or removing and installing islands. The biggest kitchen renovation projects may involve knocking down walls to expand the kitchen or reorienting the layout of your kitchen.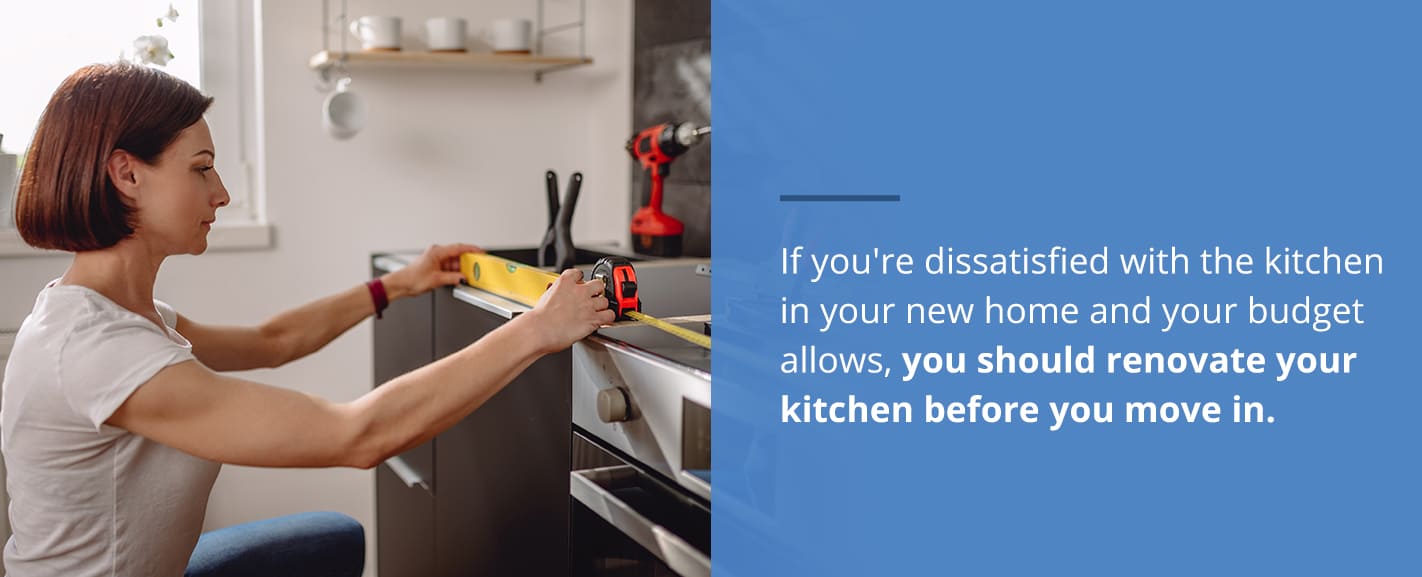 4. Bathroom Remodels
In addition to kitchens, bathrooms are also popular rooms for homeowners to remodel. You may want to replace a bathtub with a walk-in shower, incorporate some modern bathroom design trends or even borrow space from an adjacent room or closet to expand your bathroom. If you want to make changes to your new home's bathrooms, you should have these renovations taken care of before you move in. This way, you can enjoy your beautiful new bathroom from Day One.
5. Sanding Walls and Ceilings
Many older homes have textured drywall on the walls and ceilings that looks dated. Therefore, many modern homebuyers choose to have their popcorn or brush-stomped ceilings, for example, smoothed out. This can be a messy job that is easier to do in an empty house, so make sure you complete this upgrade before you move in. Keep in mind that drywall textures that were applied before 1980 may contain asbestos. If that's the case, it is generally easier to cover over the old drywall texture rather than sanding it down.
6. Putting In New Flooring
Finally, one of the most important home improvements you should consider completing before you move in is replacing your home's flooring. It is difficult to overestimate the impact your flooring has on the overall function and look of your home's interior. The right flooring can even make a room appear larger. That's why you should never settle for flooring you don't love just because that's what the builders or previous homeowners chose. Make sure you install your new flooring while your house is still empty since this greatly simplifies installation.
Flooring for Your New Home From 50 Floor
If you want to install new flooring in your home, trust the experts at 50 Floor to help. We'll come to you to discuss and look over options and answer your questions so you can settle on the ideal flooring for every room of your new home. Whether you've been dreaming of beautiful hardwoods, luxurious carpet, durable and attractive laminate or any other flooring option, 50 Floor can make your dream a reality. Schedule an appointment with us today.