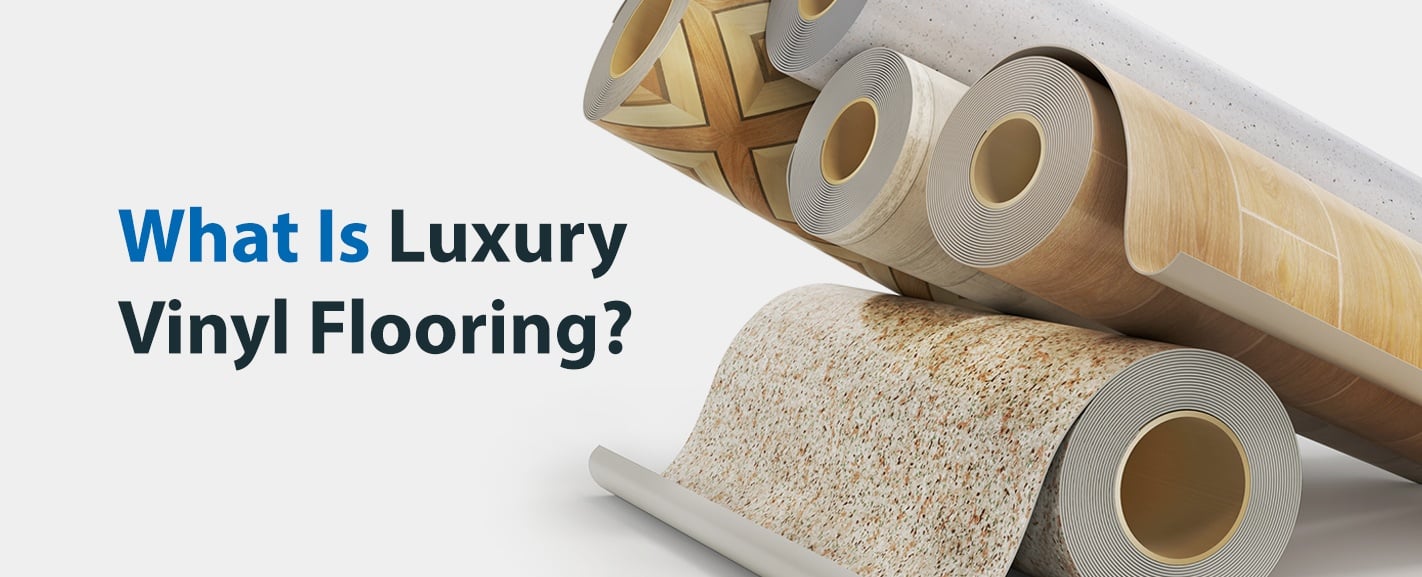 Table of Contents
---
When you're looking for new flooring, you may feel caught between functionality and design. Some of the most functional flooring types offer "life proof" durability with resistance to mold, mildew, moisture, scratches and more. The flooring designs you love may offer elegant charm and add value to your home — but with a price tag and maintenance needs you'd like to avoid. Fortunately, luxury vinyl offers a solution to this flooring dichotomy.
Like standard vinyl, luxury vinyl has the durability and water resistance to stand up to some of the most demanding areas in your home. Like ceramic and porcelain tile or hardwood flooring, luxury vinyl has a stunning appearance that can instantly upgrade your home's interior.
What Is Luxury Vinyl?
Luxury vinyl is a flooring material that maximizes vinyl's potential through advanced technology. Vinyl flooring offers resistance to some of the most common flooring concerns, including:
Water
Stains
Mildew
Rips
Tears
Gouges
Scuffs
Scratches
Luxury vinyl builds upon these benefits to create flooring that is even more versatile. To achieve this, manufacturers begin with vinyl flooring and three-dimensional imaging technology. The imaging technology transfers a photo of natural material — in either tile or hardwood patterns — to the vinyl surface.
The photo-realistic vinyl is then embossed with a corresponding material texture. Luxury vinyl with a hardwood appearance is embossed to emulate the look and feel of natural wood grain. Luxury vinyl with a tile appearance is embossed with a smooth texture and beveled edges.
As a final step, the luxury vinyl is coated with urethane to protect its surface, increase its durability and resist a variety of stains. This process produces vinyl materials that are approximately one-eighth of an inch thick and cut in a variety of sizes and shapes. The types of luxury vinyl flooring you may consider fall into two general categories.
Types of Luxury Vinyl Flooring
Luxury vinyl flooring offers a variety of designs to complement any home. It also comes in two cut types that allow homeowners to emulate popular flooring options. These types include luxury vinyl tile and luxury vinyl planks.
Luxury Vinyl Tile (LVT)
Tile flooring presents a luxurious appearance with undeniable waterproof benefits. High-end showers, bathrooms, kitchens and pools often use tiles for their aesthetic and functional qualities. Even though the look of ceramic or porcelain tile may fit your home, the material and installation costs may exceed the budget you've set for your flooring.
LVT flooring can make the best of both worlds. Because of its vinyl construction, LVT is more affordable than tile and imitates the look of a variety of tile types. The beveled edge on most LVT contributes to an especially authentic tile look.
One advantage of LVT is that it can be installed with or without grout. A grout LVT installation emulates tile flooring to a tee at a lower price. An LVT installation without grout captures the essence of your tile choice with the most affordable installation price. Whatever you prefer, LVT has the versatility to adapt and shine as a quality flooring option.
Some of the performance advantages LVT offers compared to tile include:
Easier to clean
Less required maintenance
Increased water resistance
Increased resistance to wear like scratches and chips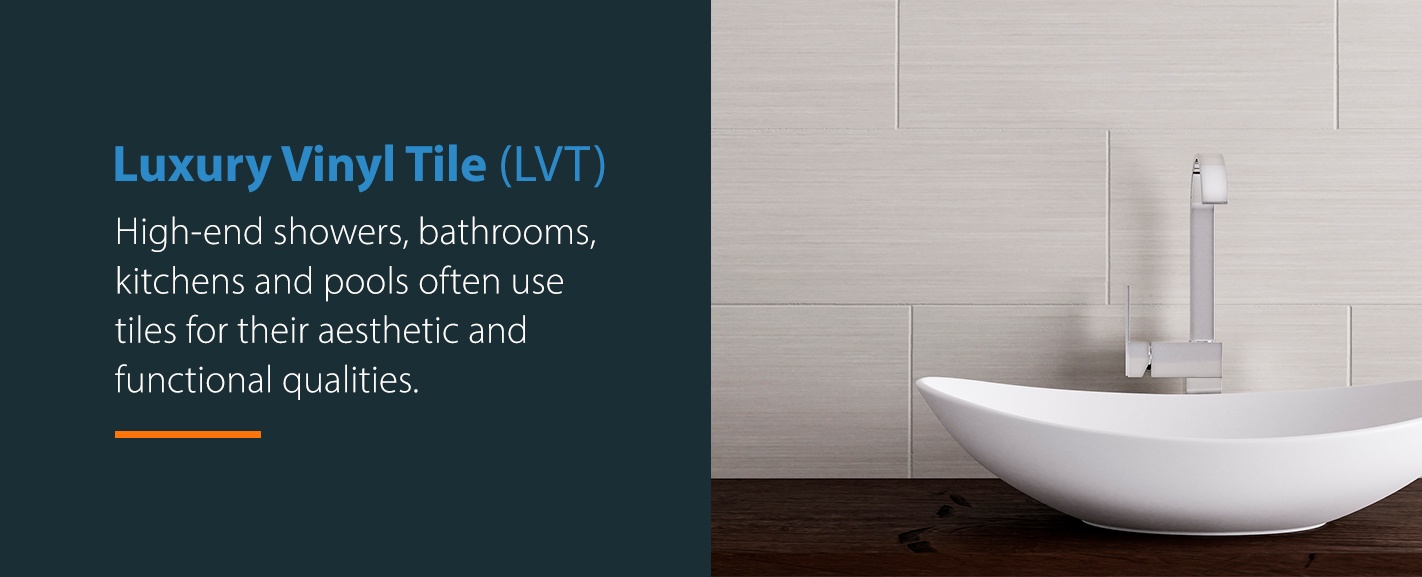 Luxury Vinyl Planks (LVP)
Hardwood flooring adds value to your home with its elegance and natural beauty. Wooden floors communicate a level of craftsmanship and sophistication that many homeowners love. While these traits are desirable, natural wood is not always suited for high-water areas.
LVP flooring can combine the appearance of natural wood with the water-resistance necessary for every room of your home. In addition to imitating the look of beautiful woods like oak and cherry, LVP flooring comes in plank sizes ranging from three to four feet long. This enables you to install LVP with a classic hardwood flooring pattern for maximum authenticity.
Some of the performance advantages LVP flooring offers compared to hardwood include:
Increased resistance to wear like scratches and stains
Increased resistance to water damage
Increased slip resistance
Benefits of Luxury Vinyl Flooring
The right type of flooring for your home should optimize benefits and convenience. As you weigh the advantages of each type of flooring, consider what luxury vinyl flooring can offer:
Affordability: Though the cost will vary depending on the specific type and brand you select, luxury vinyl products are more affordable than their hardwood or tile counterparts. For example, the average cost for luxury vinyl materials and installation ranges from $3 to $11. This is well below the average hardwood or tile installation costs, which are $6 to $22 and $7 to $20 respectively.
Realistic appearance: Luxury vinyl uses two forms of realism to ensure a close resemblance to wood or tile. First, 3D imaging technology uses real material photos to create an accurate representation of wood or tile. In addition to these measures, embossed designs emulate the texture of wood grain or tile.
Durability: Luxury vinyl incorporates several layers to build a thoroughly protected and durable flooring material. These sections include protective, backing and top design layers that give luxury vinyl its unique qualities. This includes moisture resistance, wear resistance, stain resistance and more.
Versatility: It's no coincidence that you can achieve an array of looks with luxury vinyl. There are a variety of luxury vinyl styles and colors available to help fulfill your vision. In addition, you can install LVT with or without grout to balance the appearance and budget you desire. Whether you have kids, pets or high traffic areas, luxury vinyl combines the benefits of stunning appearance and durability for truly versatile flooring.
Easy maintenance: One of the biggest advantages of luxury vinyl is its easy maintenance. According to the World Floor Covering Association (WFCA), regular vacuuming helps vinyl stay clean and dust-free. The WFCA recommends homeowners wipe up dirt with clean, warm water and wipe up any spills as soon as possible. If necessary, you can use an ounce of liquid detergent in a gallon of water to rinse and clean the floor. Beyond this simple maintenance, you can sit back and know that your luxury vinyl is built to withstand the toughest elements.
For a low-cost, high performance and gorgeous flooring option, luxury vinyl is a standout choice. Don't settle for flooring that only satisfies your appearance or function needs. Talk to a flooring expert about luxury vinyl options that can transform your home.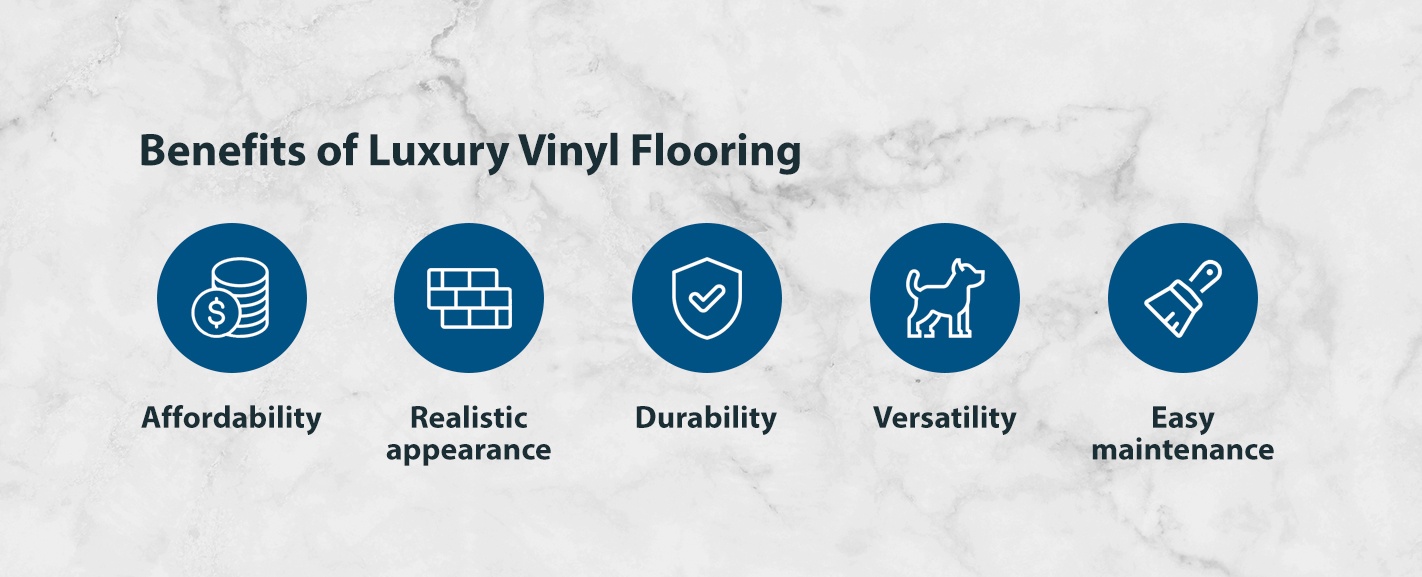 Find the Best Luxury Vinyl Flooring at 50 Floor
At 50 Floor, we carry a wide selection of high-quality luxury vinyl tiles and planks. Like luxury vinyl, we work to maximize convenience and quality so you can find the best flooring possible. When you schedule a free consultation appointment with us, we'll bring samples directly to your home. This enables you to browse and select your favorite designs in your home's lighting and with your decor to visualize what may work best.
As you walk through the flooring selection process, our experts will offer their knowledge, advice and guidance at every step. With our competitive pricing and quality products, you can get an incredible deal on the luxury vinyl flooring you love. To start your flooring selection process, schedule a free consultation today!