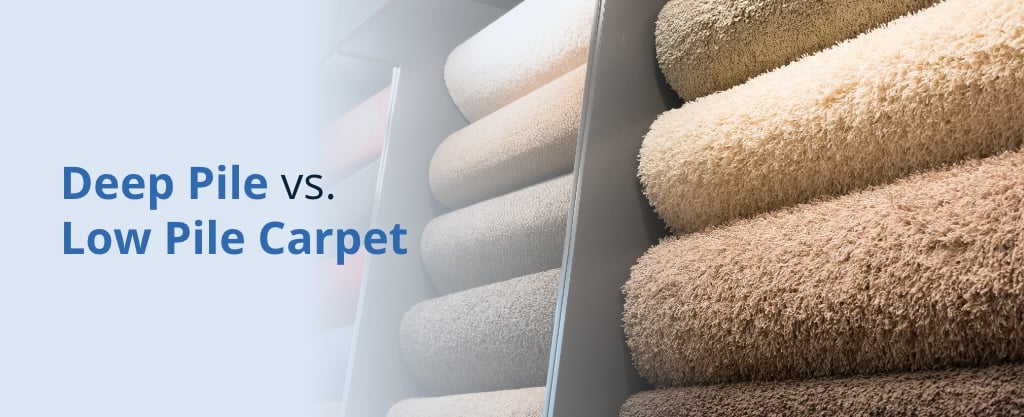 Carpet offers cozy, warm flooring that can tie together the décor of your home. Carpeting also offers a safe, comfortable floor for your kids to play on.
Carpet pile refers to the loops of fabric within a carpet. Low pile carpets have tight loops of fabric and shorter fibers, while deep pile carpets, also known as high pile carpets, have longer, taller fibers. Use this guide to determine which type of carpet will work best for your home.
What Is Low Pile Carpet?
Low pile carpets feature tight loops of fabric and shorter fibers. The shorter fibers of low pile carpets are flat and dense and give the carpet a smoother surface.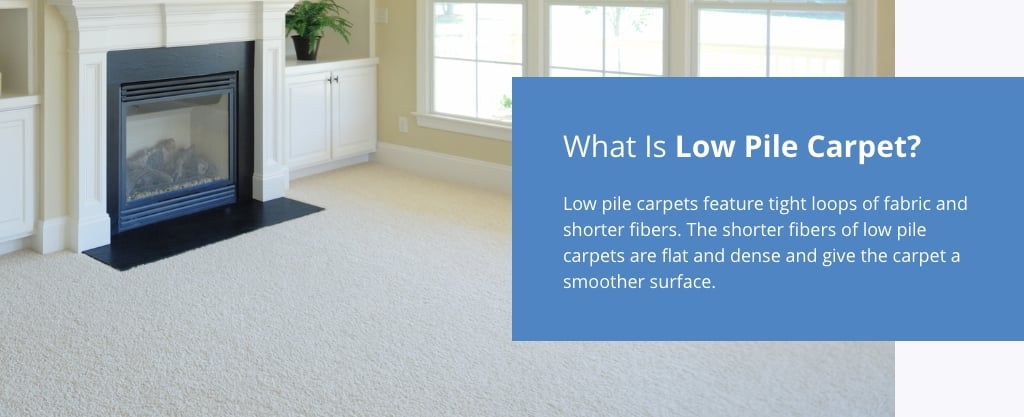 You should use low pile carpet in areas of the home with heavy traffic. Homeowners buy this type of carpet more for its function than for its design. Low pile flooring will be efficient in any room in your home because it's:
Easy to clean: Low pile carpets are easier to maintain over time and most can be cleaned with a vacuum and can withstand heavy foot traffic. They don't hold onto debris like high pile carpets do.
Convenient: You can also easily move furniture over low pile carpeting. Low pile carpets have shorter fibers, so they don't get caught on furniture like hard pile carpets can. Hard furniture could crush the fibers of a high pile carpet. While low pile carpets can also dent, it's less noticeable.
Less expensive: Low pile options are often less expensive per square foot than high pile carpets. Shorter fiber carpets — such as nylon, polyester and olefin — are budget-friendly low pile options.
Low pile carpet has less warmth, comfort and coziness compared to high pile carpet. It's also likely to flatten over time. If you want a carpet that you can sink your feet into, you should consider a deep pile carpet.
What Is Deep Pile or High Pile Carpet?
Deep pile, or high pile, carpets have long, tall fibers. Higher fibers often generate the best long-term performance. These long fibers give the carpet a plush appearance and texture.
You could use high pile carpet in low traffic areas. Deep pile carpeting has a luxurious appearance that will enhance the aesthetic of any room. Homeowners install deep pile carpet in their home because this type of carpet is:
Warm and comfortable: A high pile carpet is the type of carpet you could put in a room for relaxing. It's also pleasant for your bare feet as you walk across your living room or bedroom. High pile carpets add an extra cushion for you to walk and sit on.
Attractive: Deep pile carpet evokes images of sitting on the floor and spending time with your family. When you look at pictures, you notice the carpet almost right away. Low pile carpet tends to fade into the background.
Great for insulation: Since the fibers are longer, they can hold heat better than low pile carpeting. If your guests or family members like to sit on the floor, they will be more snug on your deep pile carpet.
Keep in mind that deep pile carpet is difficult to clean. They also dent when you place furniture on top of them. If you'd rather have a carpet that's easy to maintain, install a carpet with low piles.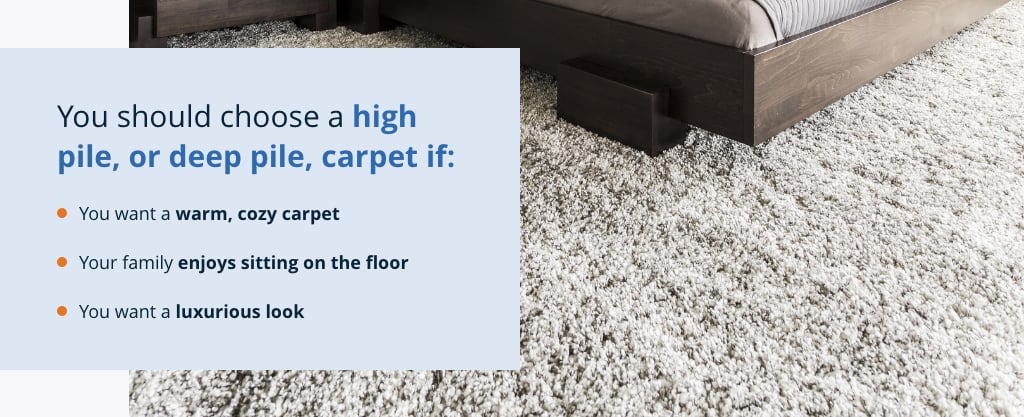 How to Know Which Type of Carpet Is Right for You
If you're looking for a new carpet, consider whether low pile or high pile carpet is a better investment for you and your family. Do you want a comfortable carpet or a functional one?
You should choose a low pile carpet if:
Someone in your family has allergies or respiratory issues: Carpets act as filters to remove allergens from the air. High pile carpets trap more dirt and debris than low pile carpets. Since low pile carpets trap less dirt, they'll hold fewer allergens. When you walk over your carpet, you won't release as many allergens into the air. Low pile carpets are also easier to clean with a vacuum.
You want to spend less time cleaning your carpet: If you want to spend less time cleaning your home, a low pile carpet is easier to maintain. Most vacuums are more compatible with a low pile carpets.
You need to move furniture: Low pile options are better for high-traffic areas in the home. Furniture, like chairs and tables, moves easier on low pile flooring. The shorter fibers of low pile carpet produce a smoother surface. Low pile carpets are also easier for kids to play on, and they provide a softer cushion in case your children fall while they play.
You should choose a high pile, or deep pile, carpet if:
You want a warm, cozy carpet: High pile carpet is more comfortable than a carpet with low piles. Your bare feet will be warmer as you walk across your carpet. High pile carpets also provide a cozy start to your morning. When you first wake up in your bedroom, you can roll out of bed and plant your feet on a comfortable floor.
Your family enjoys sitting on the floor: Since deep pile carpet is pleasant on your feet, it provides the cushion you need to sit on the floor. You could sit on the carpet beside a couch, love seat or recliner. Carpets are better for low-traffic areas, such as offices, guest rooms or bonus rooms.
You want a luxurious look: High pile carpet gives a room a more luxurious appearance. They don't flatten over time, so they will maintain their high-quality look. A natural-colored plush carpet would make your carpet look even more sophisticated.
Schedule an Appointment With 50 Floor to Install a New Carpet
Whether you want a low pile or high pile carpet, we can install it for you. When you schedule an appointment with us, we will send you floor samples, so you could find the best type of flooring for your home. We specialize in carpet installation and maintenance, plus we also offer a one-year guarantee on top of the manufacturer's warranty.
If you're ready to invest in new carpet, schedule an appointment with our professionals at 50 Floor. Call us at 877-50-FLOOR for more information.