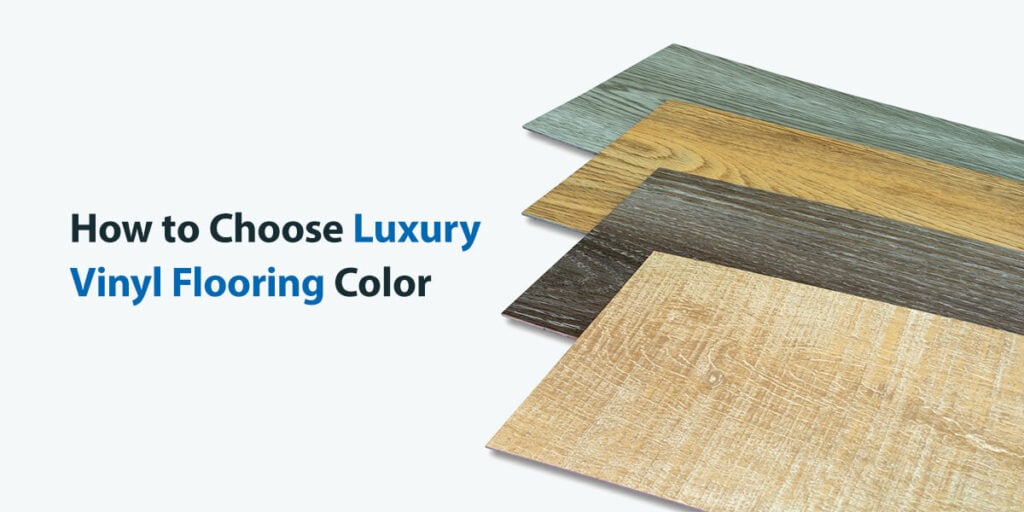 Luxury vinyl flooring has become a stylish staple in many households worldwide. With a wide selection of appearances, materials and styles to choose from, you can create any aesthetic you desire with luxury vinyl flooring (LVF).
LVF comes in a broad array of colors, and choosing the right one for your home can take some preplanning and observation of your current living spaces. Take a look at the following factors and inspirations to determine how to choose the right color for vinyl flooring.
Before choosing a color for your LVF, consider a few aspects of the interior of your home that can impact the style you want to create. Color is fascinating because it can change the aesthetic and layout of any room depending on where you place it. The following few factors can influence the color you choose for your LVF.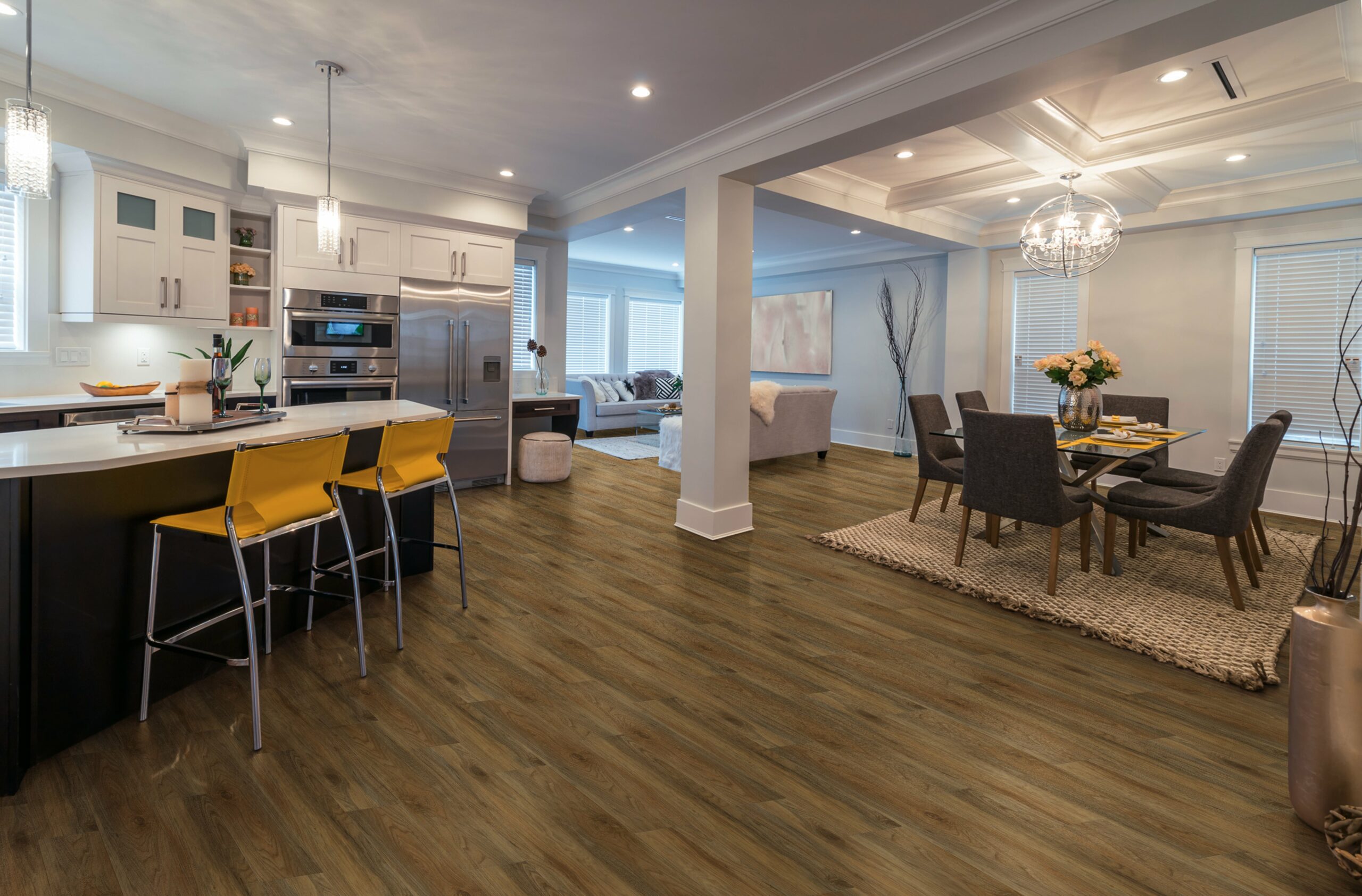 1. Size of the Room
Colors are an excellent tool for maximizing the space in your home. With a simple hint of your favorite shade, you can turn your small living areas into a larger, comfier space to entertain guests, go about your daily routine and decorate any way you desire. You can also make big rooms more inviting with confident color choices.
If you want to add the illusion of a larger space for your bathroom, hallways or entryway, choose a lighter color for your vinyl flooring. White, yellow, light gray, beige and pastel colors can make any room feel more spacious. Light colors draw your attention to the various focal points around the room, such as furniture, decorations and appliances, so the space feels larger than it is.
Darker colors like black, brown and deep grays can pull the room together. Rich, dark floors capture your attention first, while the other objects in the room come second. While the room may not appear smaller with these colors, they help to make the space cozier when furniture and various features in your bedroom, living room and kitchen come together.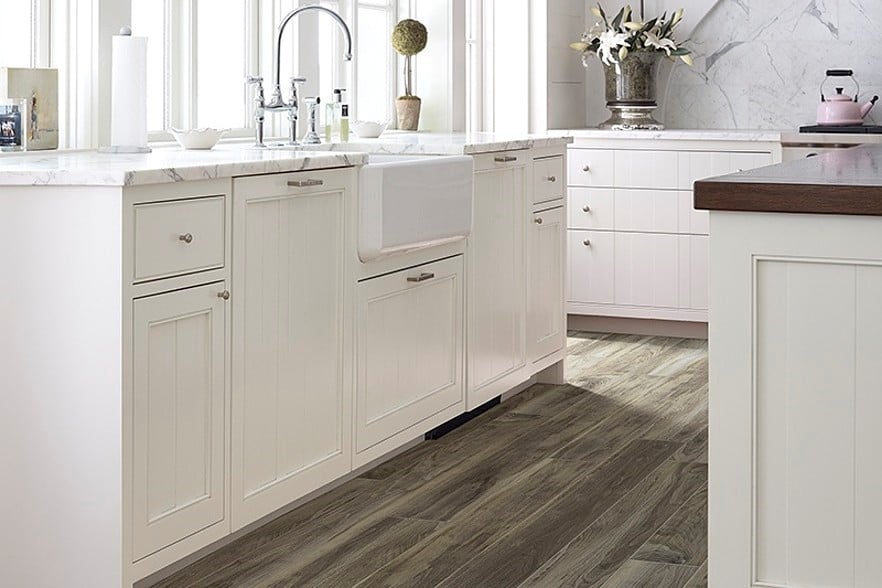 2. Type of Room
You can use the color of your LVF to make scratches and scuffs easy to hide. Floors that experience high foot traffic — such as kitchens, living rooms and hallways — may show signs of wear when you wear shoes around the house or have a pet whose claws make marks on the floor. Luckily, dark colors such as black, gray, blue and green are great at camouflaging these incidences so you can enjoy a clean-looking floor as much as possible.
You can also use lighter colors to accentuate the sunlight that enters your windows. Pastels, beige and other light-toned hues reflect the sun's rays to give your living spaces that extra glow. These colors are perfect for sunrooms, dining rooms and other areas you use to relax. Keep in mind if you want LVT in your sunroom, the room must have some form of climate control since LVT reacts to high heat.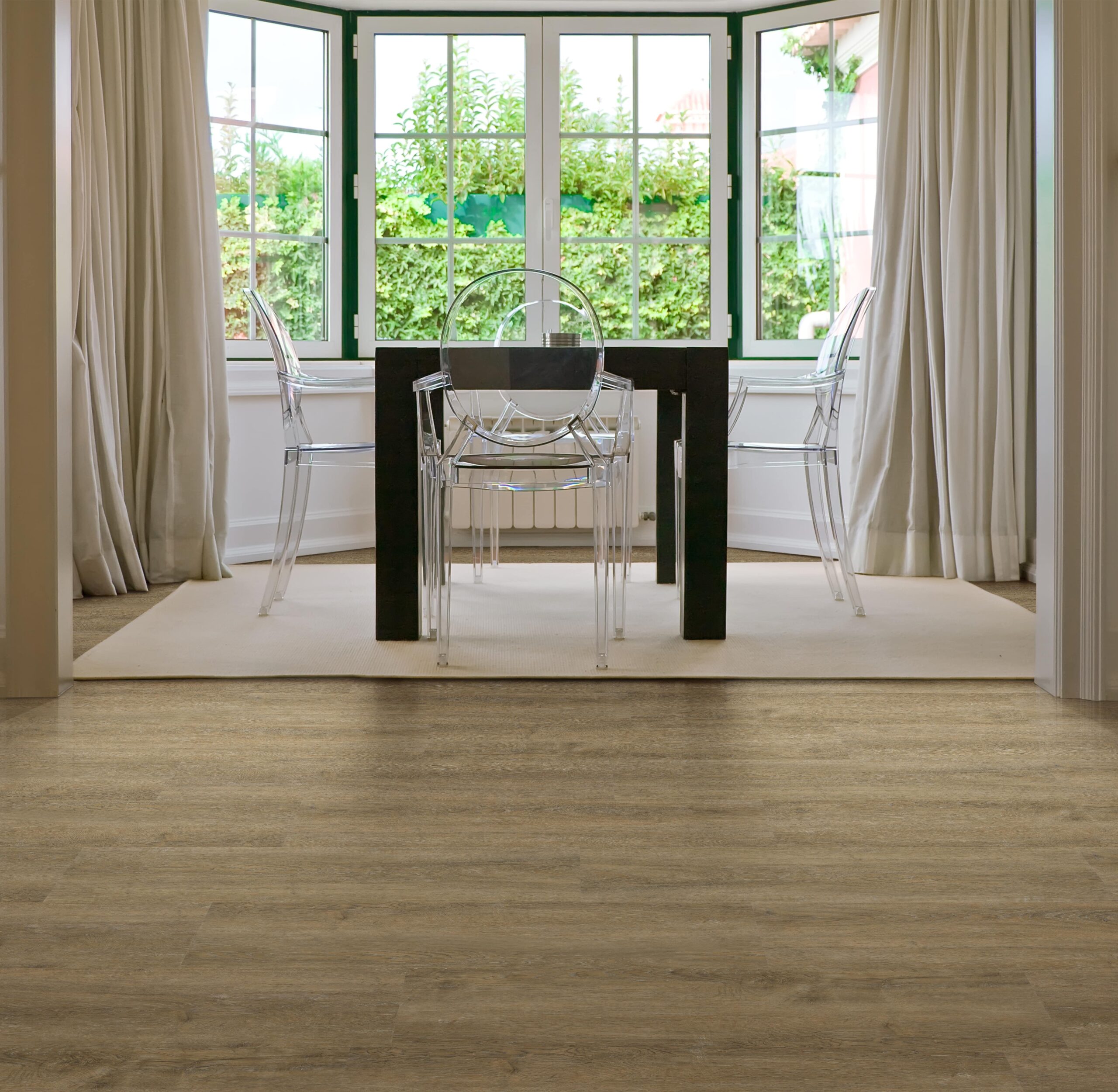 3. Lighting
The lighting in your living spaces can significantly impact the appearance of the color you choose for your vinyl flooring. The easiest way to tie in coordinating colors that highlight your living spaces is to match the tone of the lighting to your floor.
White lighting pairs best with floors that use cool tones such as grays, blues, greens and purple. Yellow lighting goes perfectly with flooring with warm tones such as reds, yellows, oranges, browns and beige.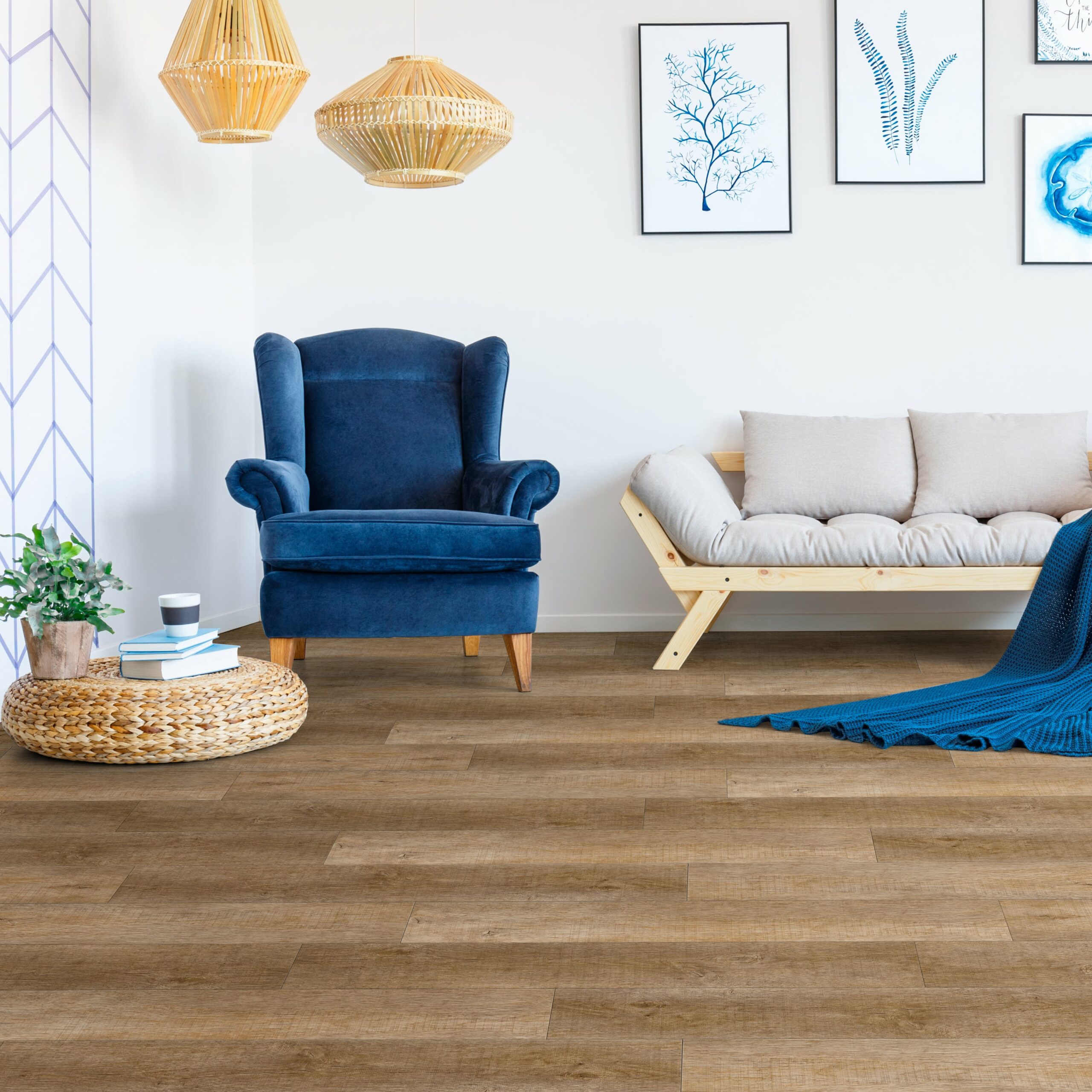 4. Wall Colors
Similar to the lighting and color tones rule, you can also coordinate the same type of hues to your walls and vinyl flooring. In a room with yellow lighting, add warm tones to the floor and walls to match a similar visual aesthetic. You can do the same with white lighting and cool tones.
You can also take it a step further to create a better-coordinated living space. Many homeowners choose to make the wall or the floor more colorful than the other. This design choice highlights one accent color over the other so the room can stand out without burying the interior under a pile of similar hues.
If you have a favorite color, you can implement that into your surrounding walls or have a singular accent wall. Then, the vinyl flooring could use white, gray, brown or brown — depending on the tones in the room — to make the colors on the wall stand out. You can do the same by making the floor more vibrant and the walls a subtle, neutral color.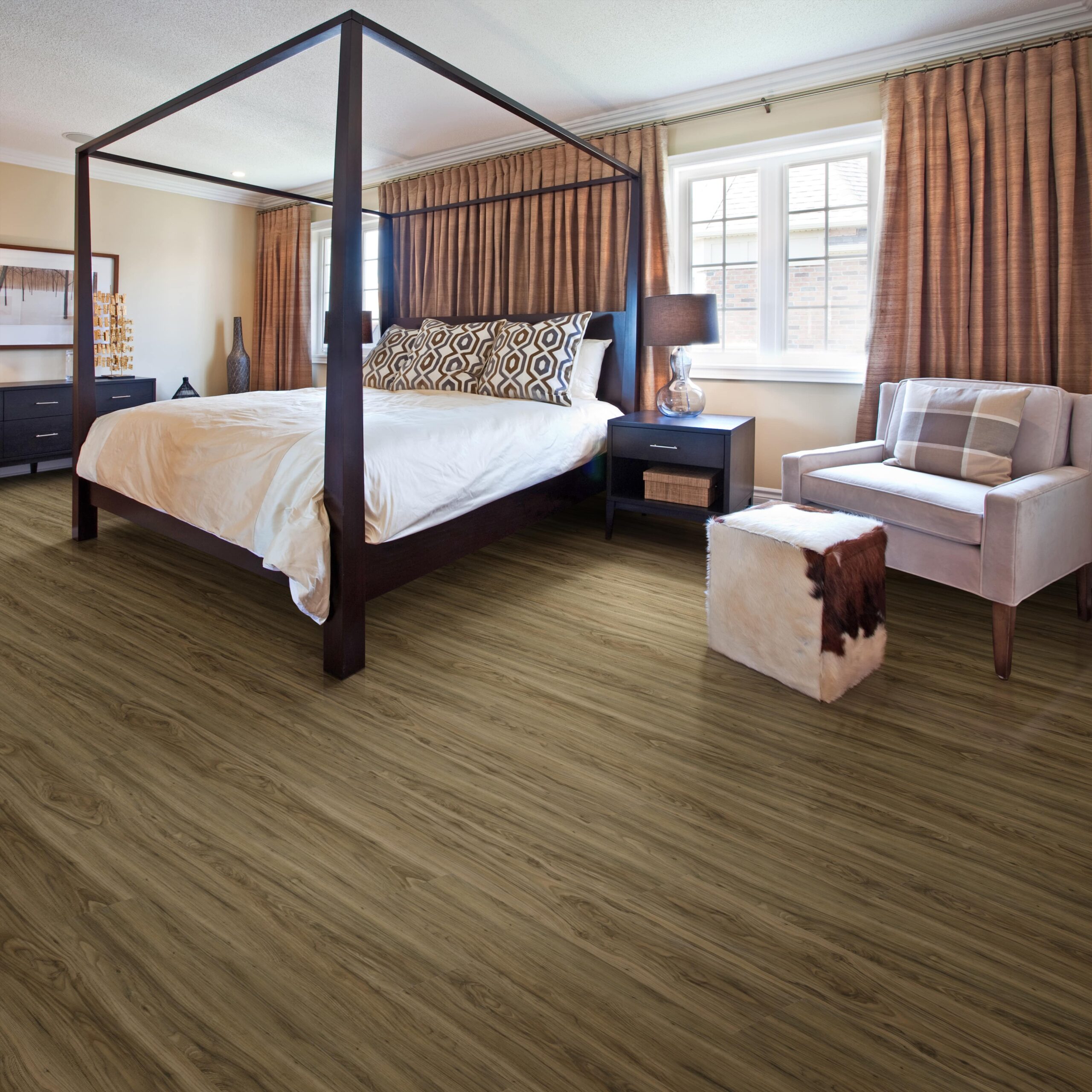 5. Furniture and Decor
You can quickly pinpoint the aesthetic of a home by the decorations and furniture in each room. You can highlight the visually pleasing style in your living spaces by using colors that match these objects.
Most furniture and decor have a particular gold or silver color scheme that they follow to tie the whole room together. You can coordinate your floors with these hints of color accents you notice in these objects. Gold-toned furniture and decor go well with vibrant hues and warm tones, while silver tones go well with rich, bold and cool tones.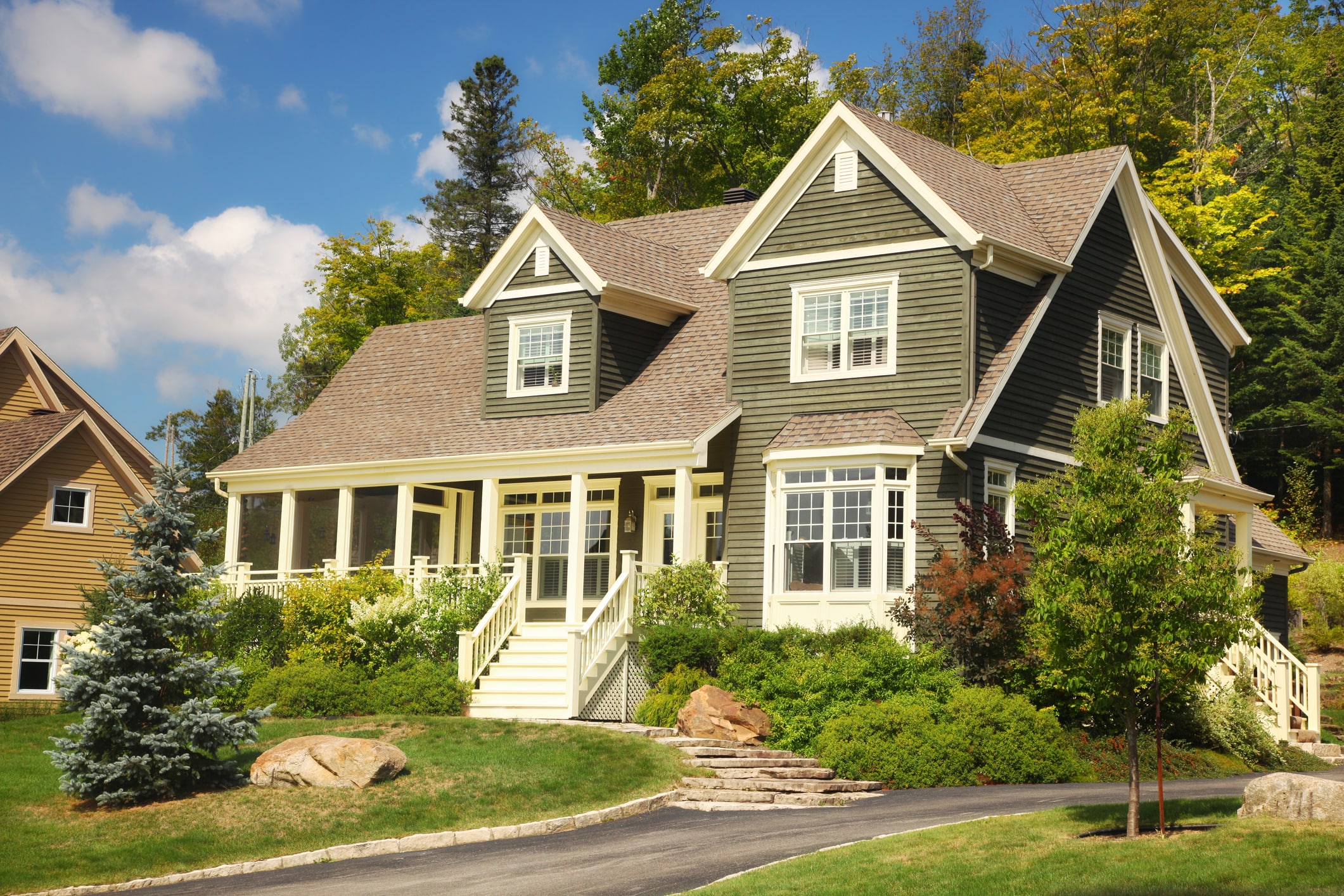 6. House Style
With the variety of styles that LVF comes in, including planks, tiles and sheets, any house style can benefit from choosing these versatile flooring options. You can also select unlimited colors to fit your aesthetic.
Whether you have a modern, colonial, victorian or other unique house style, you can easily create a consistent chic layout by using the same exterior colors of your home in the interior. You can create a color palette based on your front door, window shutters, railings and siding to use in your living space. This simple step goes a long way when you can replicate a beautiful transition from your outdoor property to your indoor living areas.
Different colors highlight specific living spaces better than others! How to choose vinyl flooring colors can depend on the rooms you plan to install the planks, tiles or sheets in and the aesthetic you want to incorporate into your living spaces.
If you're looking for a bit of inspiration to make choosing a color easier, take a look at the following common colors of vinyl plank flooring.
Gray
Light and dark gray vinyl flooring colors are becoming more popular in modern-style homes and aesthetics. Luxury vinyl planks work perfectly with shades of gray to accentuate marble countertops in your kitchen, neutral colors in living rooms and bedrooms and accentuate pastels in nurseries.
The shape of luxury vinyl planks mimics wood panels to create a cozy ambiance in these spaces. You can also use luxury vinyl tiles to create realistic gray stone floors in your entryway, basement or hallways.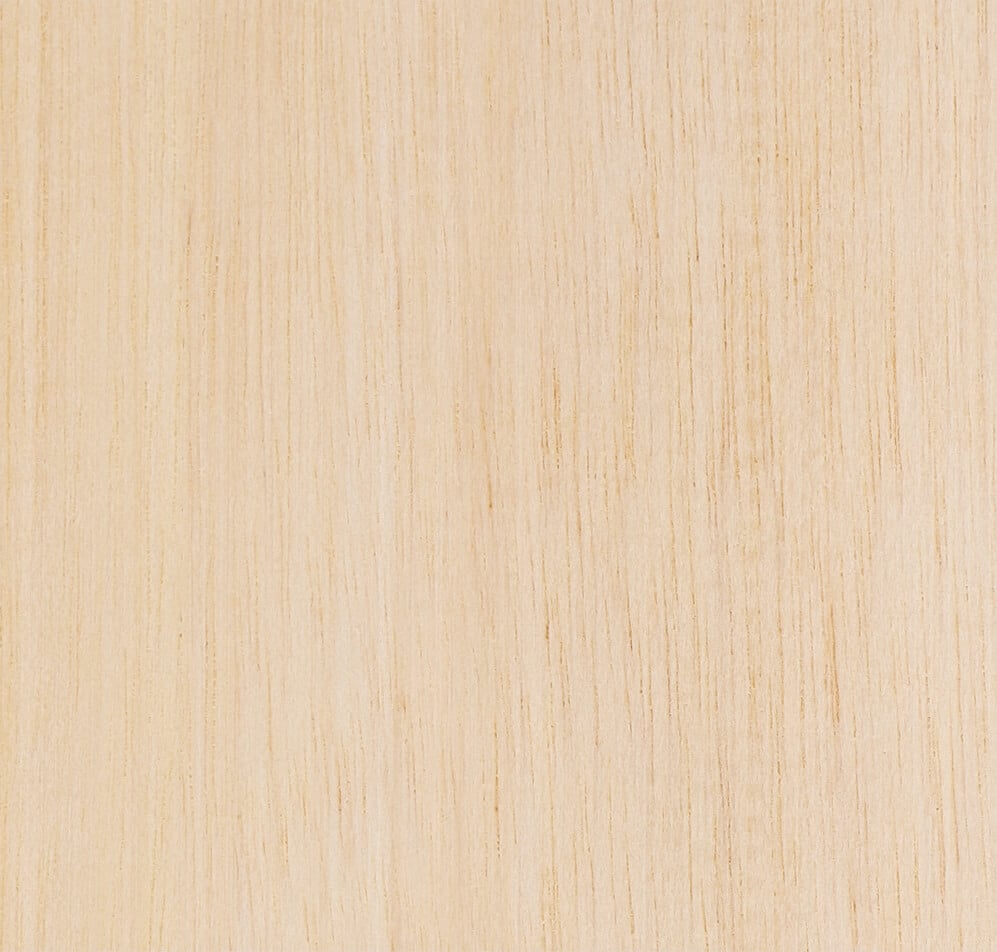 White
White vinyl flooring can work in virtually any living space. However, you can make styling white easier by placing this color in smaller rooms to highlight other furniture, decorations and lighting.
You can choose luxury vinyl tiles for your bathrooms, kitchens and other living areas to create glossy, stylish flooring. These vinyl tiles are waterproof, so you don't have to worry about moisture in the air from showers and cooking. If you're looking for an elegant finish to your living spaces, you can also choose vinyl tiles that resemble white marble. With this option, you can have any wall color or lighting you desire with fancy floors that can withstand moisture for their entire life span.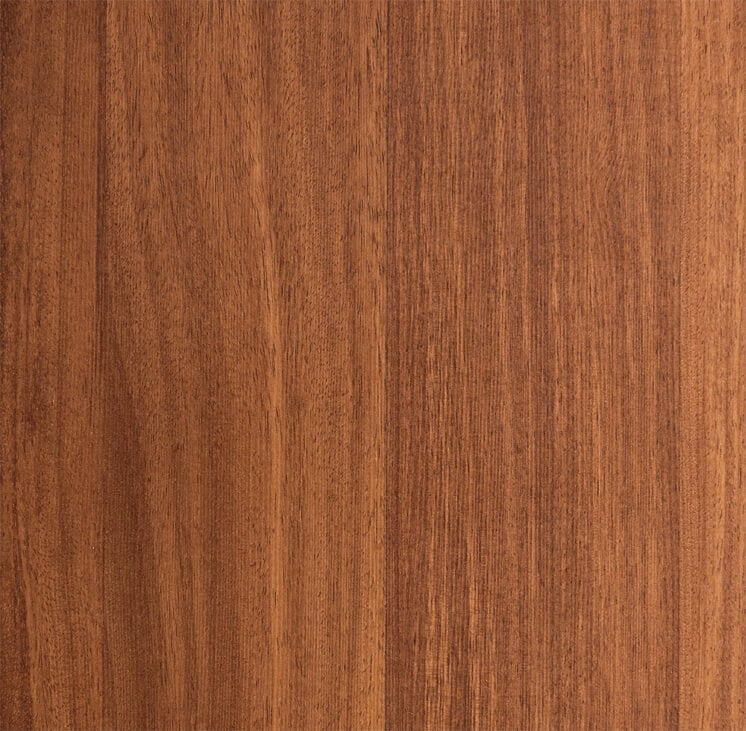 Brown
If you want to create a classy and cozy ambiance in your house, brown LVF is your go-to floor color. Nothing expresses the feeling of a welcoming home quite like vinyl resembling light or dark brown wood. You can place this flooring option in your living room or bedroom to highlight a fireplace, wood-accented furniture or vintage decorations.
You can also install vinyl with brown decorative patterns for your kitchen to match warm and dark tones in your cabinetry and appliances.
Choose the Right Luxury Vinyl Floor Color With 50 Floor
Add some color, definition and timeless style to your home with vinyl flooring from 50 Floor! With our unique shop-at-home experience, we can bring a wide selection of LFVs to your home so you can sample different colors and materials before making a final decision.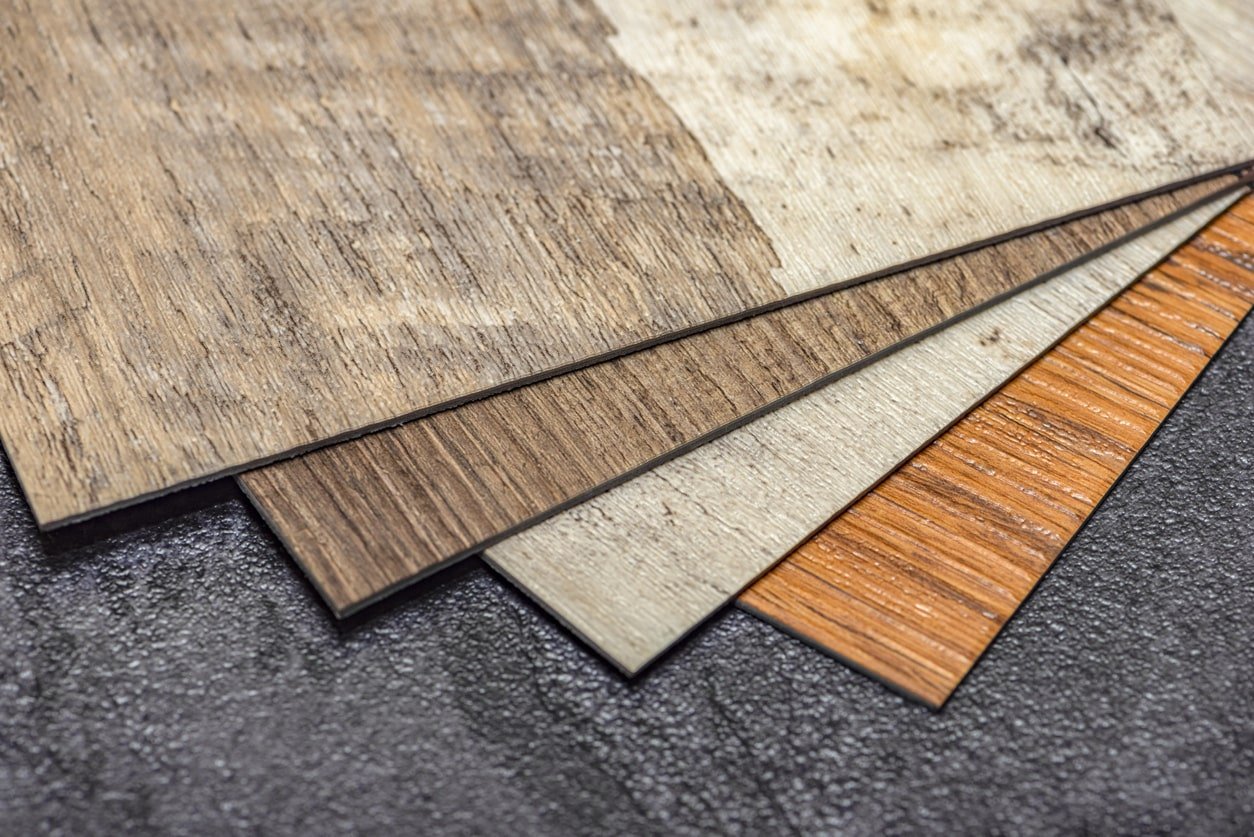 REVIEWS
Hear From Our HAPPY CUSTOMERS