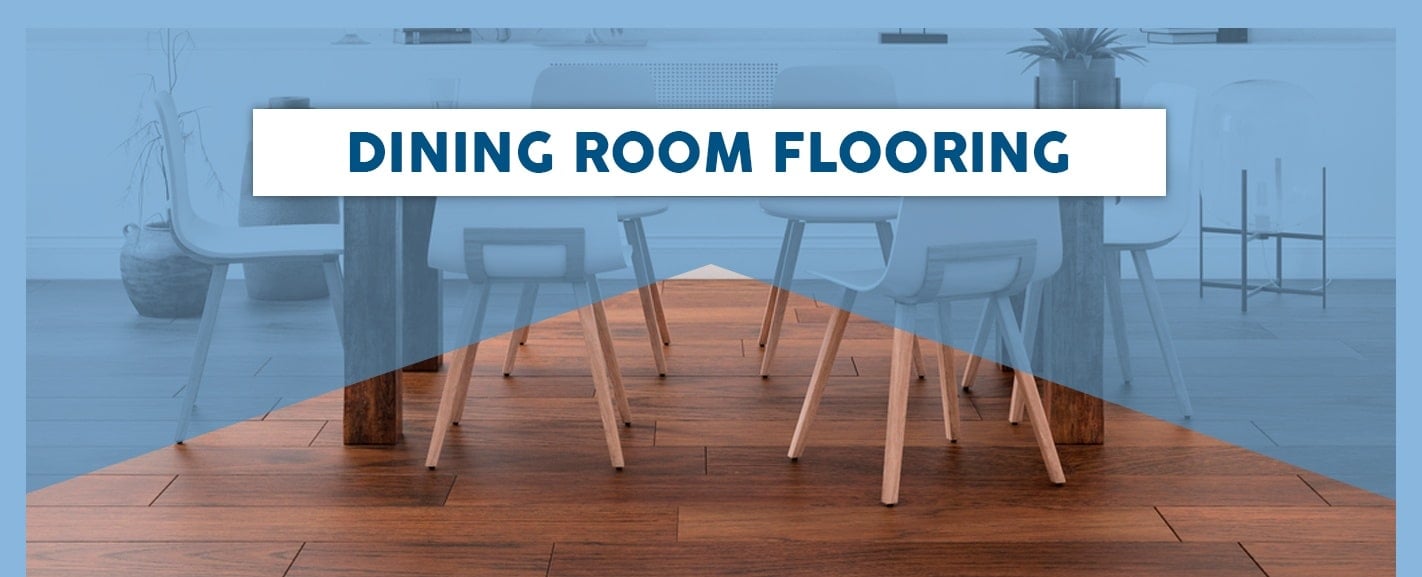 ---
Table of Contents
---
When picking out the best flooring material for your dining room, you'll want to consider several factors, including your budget, the look you want to create and the amount of wear and tear you anticipate. In this guide, we'll guide you through the most popular dining room flooring options and offer tips on how to choose the best one for your home.

What to Consider When Choosing Dining Room Flooring
When reviewing dining room floor ideas, there are a few factors you should keep in mind.
Durability: Updating your dining room's flooring is a significant investment you probably don't want to repeat anytime soon. For this reason, look for flooring materials that last.
Required cleaning: If you prefer a clean dining room with minimal upkeep, pick a flooring material that won't get dirty quickly. Laminates and tiles are great low-maintenance choices.
Style: When shopping for your flooring, make sure your choices don't clash with your dining room's decor or the style of its furnishings. For example, if your furniture is more modern-looking, tile or carpet are good options.
Price: Flooring pricing is per square foot, and the costs can add up quickly, so don't forget to make an estimate of the cost and shop for your flooring accordingly. Carpet tends to be one of the more affordable options, although the plusher and more durable it is, the higher its price will be. Ceramic and tile are typically pricier than carpet. Tile requires very little maintenance, and replacing it is usually not necessary unless cracks form. Laminate and wood flooring can be pricey, but costs have dropped over the years.
Your lifestyle: The most critical factor in choosing your flooring materials is how you and your family live and use your home. If you have kids and pets who are frequently in your dining room, laying down plush carpet is probably not the best idea. Areas with heavy traffic should instead have resilient flooring such as wood, ceramic tile or vinyl flooring. If the traffic in your dining room is minimal, on the other hand, and you enjoy softness under your feet, you may want to consider carpet or hardwood with rugs on top.
Your comfort: One of the purposes of a home is to provide you with a place to relax, and the comfort level of your flooring material will significantly influence this. If you pick flooring material that is hard to walk on or that gets too cold in the winter, it will decrease the comfort level of your home overall. Make sure you understand how comfortable your choice in flooring is before you buy it.
The climate of your region: The climate has a significant impact on the flooring of your house. Changes in the weather can make your flooring hot or cold accordingly. If you live in a region with a warm climate, pick flooring that will feel cooler to your feet, such as tiles. If you live somewhere cold, however, carpeting from wall to wall may be a wiser choice.
Keeping the above factors in mind, the type of flooring you decide on will be well-suited to your needs, budget and style.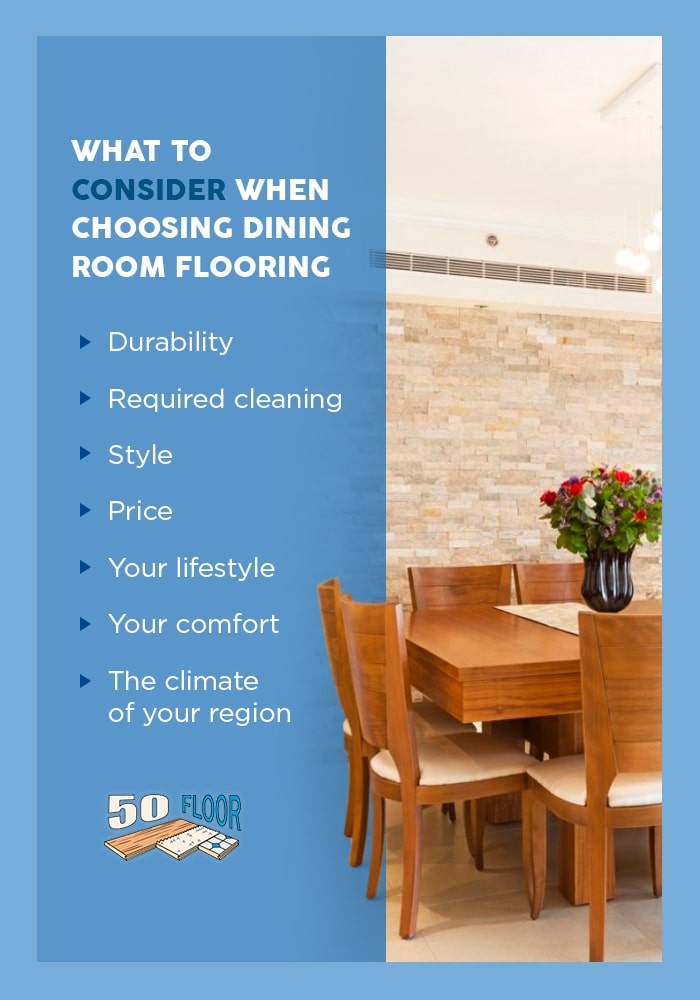 Schedule a Free In-Home Consultation
Dining Room Flooring Options
Dining flooring comes in many different colors, styles and materials. Here are some of the most popular dining room flooring options.
1. Vinyl
Vinyl plank and vinyl tile flooring offer performance and style at an affordable cost. Vinyl offers visuals that mimic authentic wood or tile, which work well with both formal and informal dining rooms. Because cleaning is easy, it's also a practical choice in busy eating areas.
Vinyl floor manufacturers use tinted PVC chips or other synthetic materials, which they process into solid sheets and can then further cut into tiles. In the majority of cases, vinyl floors consist of multiple layers, which include a backing layer, top design layer and two protective layers. These layers help protect the floor from mildew, tears, rips, stains, scratches, gouges and other types of damage. High-quality vinyl with thicker layers will mean a tougher, more durable floor.
2. Carpet
Carpet can also be an elegant choice for a dining room, and some manufacturers of wall-to-wall carpeting make their brands moisture- and stain-resistant. That means you can host a dinner party without having to worry about ruining your carpet.
Carpet can add texture and warmth to your dining room floor. The colors are practically unlimited, and you'll never need to worry about your feet touching a cold floor. It makes it comfortable to walk barefoot through your dining room and softens the impact of footfalls. Furthermore, it provides your floors with natural traction. If there are small children in your home who like playing on the floor, carpet offers a soft, comfortable surface to do so. When shopping for carpet, make sure to look for ones with added protection against stains.
Some of the advantages of installing carpet in your dining room include the following.
Softness: Carpet provides a cushioned, soft surface, and your family and guests may love sinking their feet into it.
Insulation and sound dampening: The thick nature of carpet makes it an excellent choice for insulating a room and keeping noise from traveling to the floors below.
Flexibility: Carpet comes in an immense range of colors and styles, from cut pile to low pile. It can also be either patterned or solid colors. Keep in mind, however, that certain carpet types and designs are more effective at hiding stains and dirt than others.
Easy cleaning: You can easily remove debris and dirt by vacuuming. You can also steam-clean or deep-clean your carpeting yourself or hire a professional to do it.
Affordability: Carpet comes at a wide range of price points, with some styles being quite economical. Regardless of your budget, you will likely find a carpet type that works for you.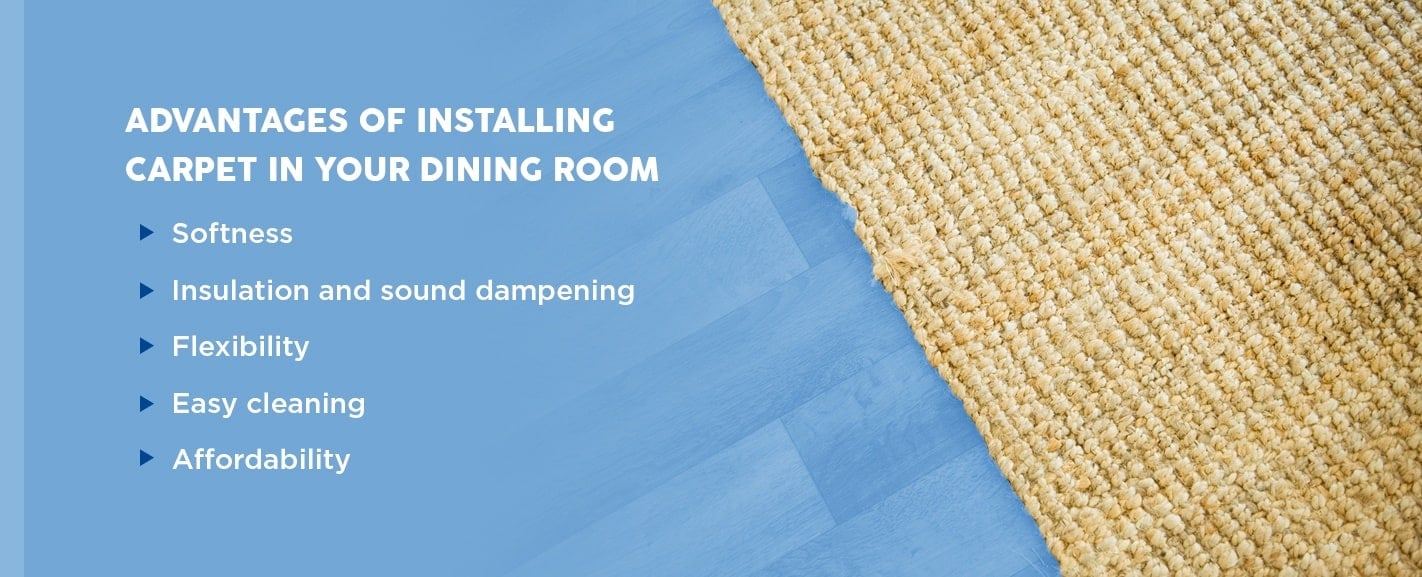 Carpet may also have a few disadvantages for some homeowners, including the following.
Stain removal: In most cases, if you spill something in your carpeted dining room, you'll need to act fast to prevent the stain from setting. There are also cases in which, even if you work quickly, it may not help. However, if you're concerned about stains, you can pick a pattern or style that is great at hiding them.
Allergen trap: If you suffer from allergies, you may want to steer clear of carpet, especially if you plan to spend lots of time in your dining room. Allergens such as pollen and dander can get easily caught in the fibers of the carpet.
Take Our Quiz to Find Your Flooring Style
3. Laminate
Laminate floors, loved for their exceptional durability and resistance to stains, are synthetic composites consisting of four layers fused together to form a durable surface. Their design mimics the appearance of tile, wood and various other flooring materials and are more resistant to fading, moisture and wear and tear. The four layers are as follows.
Back layer: This layer includes melamine reinforcement and provides structural stability and moisture resistance.
Fiberboard core: The fiberboard core provides stability reinforcement, as well as impact resistance. It also has an edge-sealing treatment, which provides further durability and stability.
Decorative layer: This component is laminate flooring's signature layer and provides the flooring with its beauty and iconic look. It includes a detailed, in-depth photo to give the flooring the appearance of tile, wood, ceramic or other material.
Wear layer: The uppermost layer consists of melamine and aluminum oxide, which create a transparent, durable finish that provides exceptional resistance to moisture, wear, fading and staining.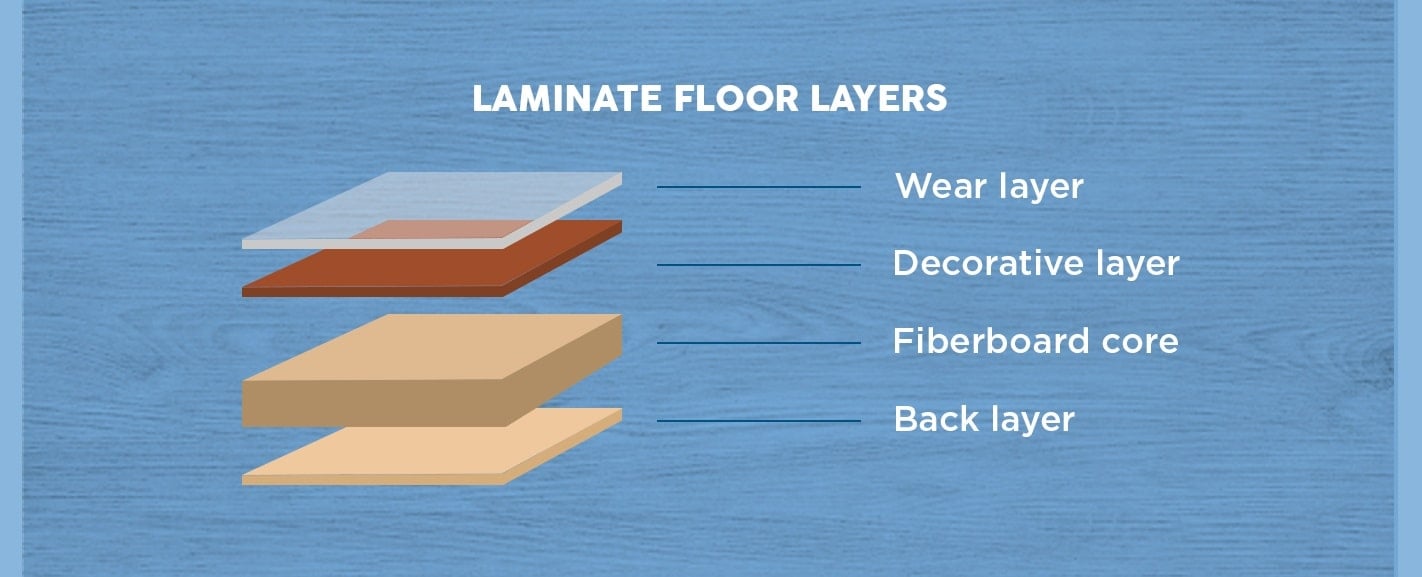 One of the most significant advantages of laminate flooring in your dining room is that it has the appearance of authentic wood, without drawbacks such as required maintenance, wear and tear issues and high price. No matter which style you pick, your laminate floor will be extremely durable and stain-resistant, seamlessly fit together without leaving gaps and allow you to reassemble it if you need to.
4. Tile
Tile is a type of flooring that consists of small manufactured pieces of hard material. Hard-surface tile floors often generally offer more structural support than softer materials like vinyl, covering tiny imperfections and not requiring as smooth of a surface as vinyl. Tiles can be very long-lasting, generally require little maintenance and are easy to clean with a mop, brush or vacuum.
Tile offers many options, giving you no shortage of tile dining room flooring ideas. They can come in unique shapes and can have stain-, moisture, slip- and scratch-resistant treatments. They can mimic the look of various natural materials and are sometimes made from them.
Two particularly popular tile flooring types are as follows.
Ceramic: Ceramic tile, made either from clay or synthetic materials, typically gets treated with heat and covered in a protective finish or glaze. Modern ceramic tile can mimic natural materials such as stone, wood and slate and is available in a rainbow of colors. This type of flooring is exceptionally durable and a good choice for dining rooms with high traffic. It doesn't matter what you happen to spill on them — you won't have to worry. Not only are ceramic tiles waterproof, but they're also resistant to scuffs, chips, dents and stains. To make your tiles even more durable, you can add additional finishes. Some tiles are available with slip-resistant finishes to keep you and your family safer.
Porcelain: The process of making porcelain involves heating synthetic and natural materials at intensely high temperatures until they harden. Porcelain tile flooring, which gets heated at higher temperatures than ceramic, is denser and more adaptable to a range of styles and designs. Porcelain also absorbs very little moisture, meaning that, if your dining room experiences temperature extremes, it will be more resistant to cracking than other flooring types. Porcelain tiles are a long-lasting investment, even if used in high-traffic areas. Maintenance and cleaning are easy, and its resistance to water means you won't need to worry about spills. What's more, it doesn't retain pollen, mites, dust or other allergens, making it an ideal option for people with allergies. This advantage also makes porcelain tile flooring a popular choice for households with kids or pets.
5. Hardwood
Hardwood floors offer a timeless, elegant appearance and are an excellent choice for traditional dining rooms. They're available in different grains, wood types and stains, which means it will not be difficult to find the perfect look for your dining room. Also, if you want to update the appearance of your hardwood floor, you can refinish it. Although hardwood is one of the more expensive options, it will serve to set the room apart as a formal space and may also boost the value of your home.
Unlike artificial materials designed to closely resemble natural materials, hardwood flooring is an all-natural material made from both traditional and exotic materials like maple, red oak, cherry, walnut, bamboo and many others.
Not only are hardwood floors beautiful, but they are also from a sustainable resource. They're excellent for the air quality in your home and require little maintenance other than regular cleaning. They can last a lifetime, meaning you'll probably never have to replace them. And while they work best with traditional decors, they can work well with a variety of home designs, including contemporary and rustic.
Here are some other reasons to consider hardwood floors in your dining room.
Flexibility: Hardwood floors come in a wide array of colors and types.
Attractiveness: Many people consider hardwood to be a visually appealing flooring choice.
Warmth: Although it is not physically warm like carpet, hardwood has a way of making a room feel warm and inviting — which you can enhance further by adding a rug to the room.
Home value: Hardwood floors are highly popular with home buyers, and will likely be so for many years to come. Updating your dining room with hardwood might boost the resale value of your home when it comes time to put it on the market.
Durability: Hardwood has a reputation for its exceptional durability, which means it can withstand wear and tear.
Low maintenance: Although you may need to buy a special cleaner for your hardwood floor, caring for it is usually easy, as you can sweep or vacuum it.
Hardwood floors are not without their drawbacks, however.
Hard surface: Although hardwoods are visually appealing, some people may find them less welcoming. Those with children may also be concerned that their kids will fall and hit their heads while playing.
No insulation: Hardwood surfaces don't have the insulation other flooring types have, which may be a problem if your dining room is on the second floor. Chances are, the people below will hear every movement made on the floor above them.
Potentially expensive: Hardwood does tend to be costlier than other flooring types.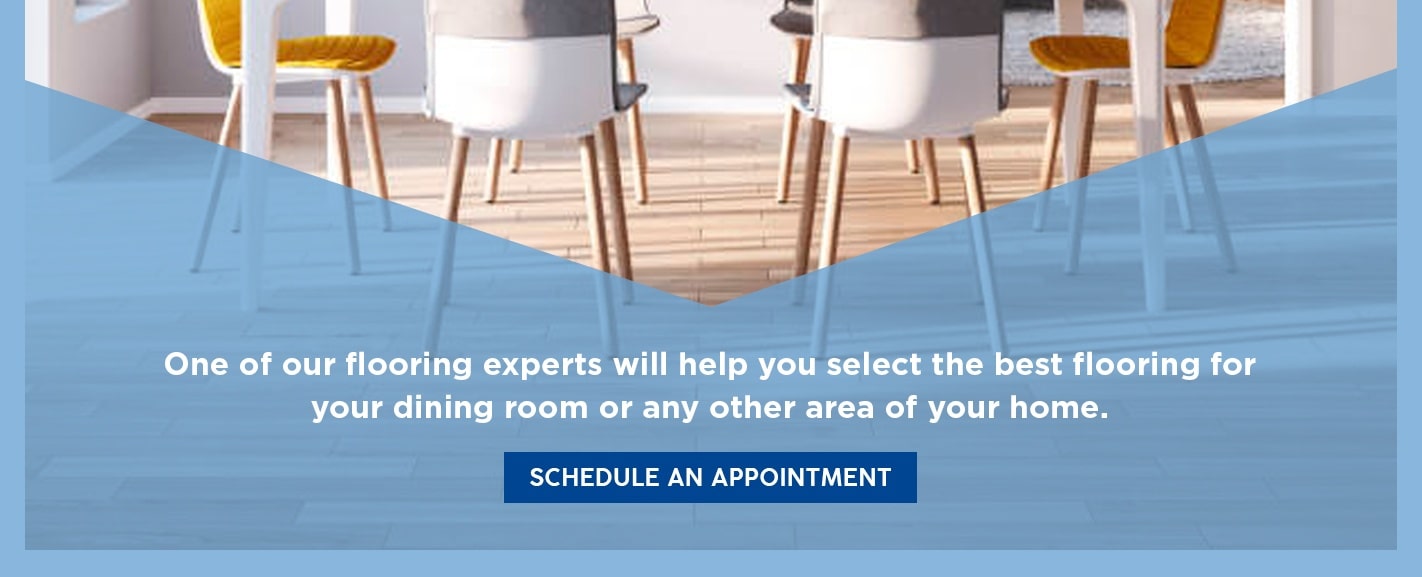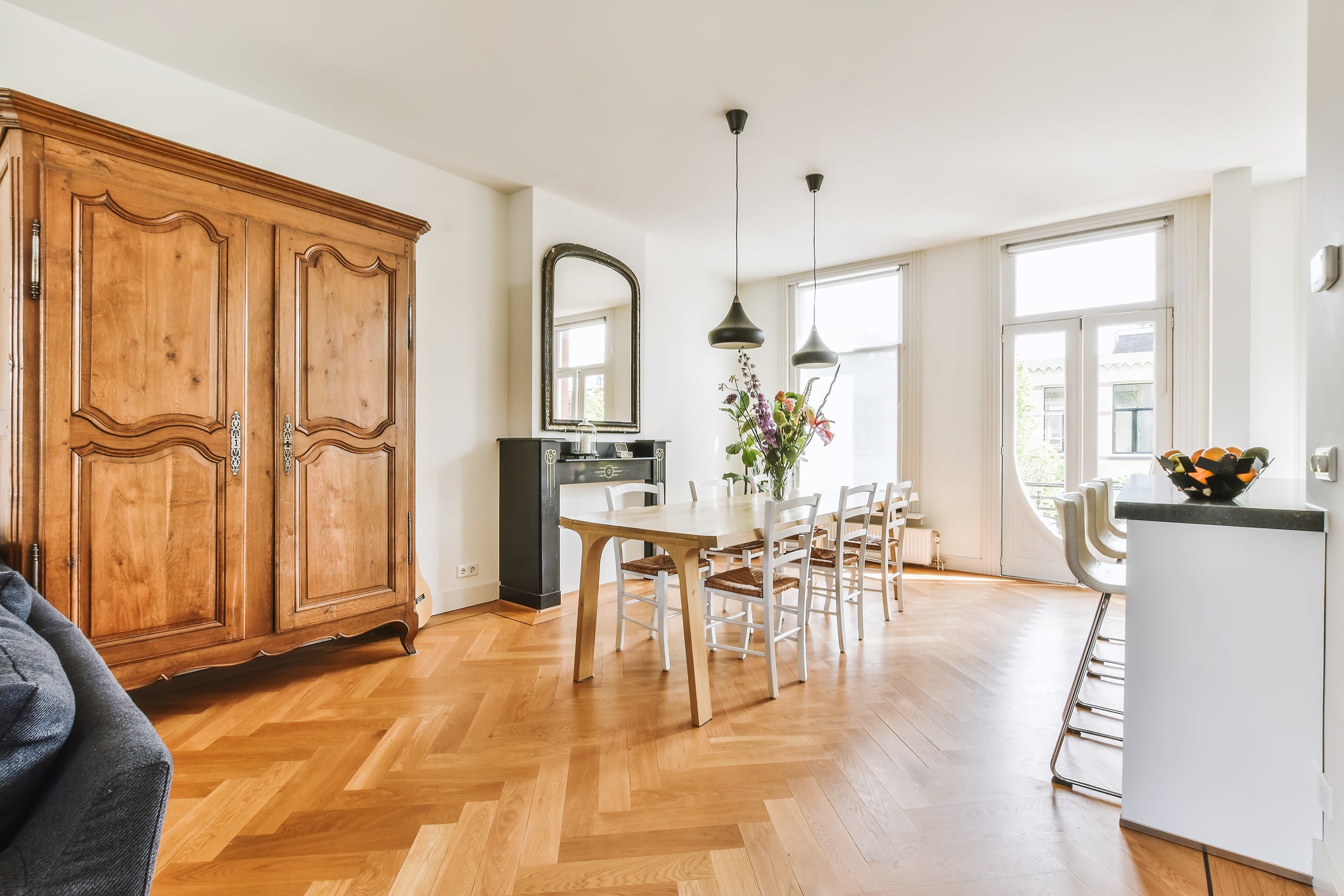 Schedule an Appointment With 50 Floor
Have you decided to redo your dining room floors? Schedule an appointment with 50 Floor to find dining room flooring today. We'll come to your house and show you our vast selection of flooring samples. Then, one of our flooring experts will help you select the best flooring for your dining room or any other area of your home. Once you've found an option you love, we'll handle everything else — including the installation.
Fill out our online form to schedule an appointment today.