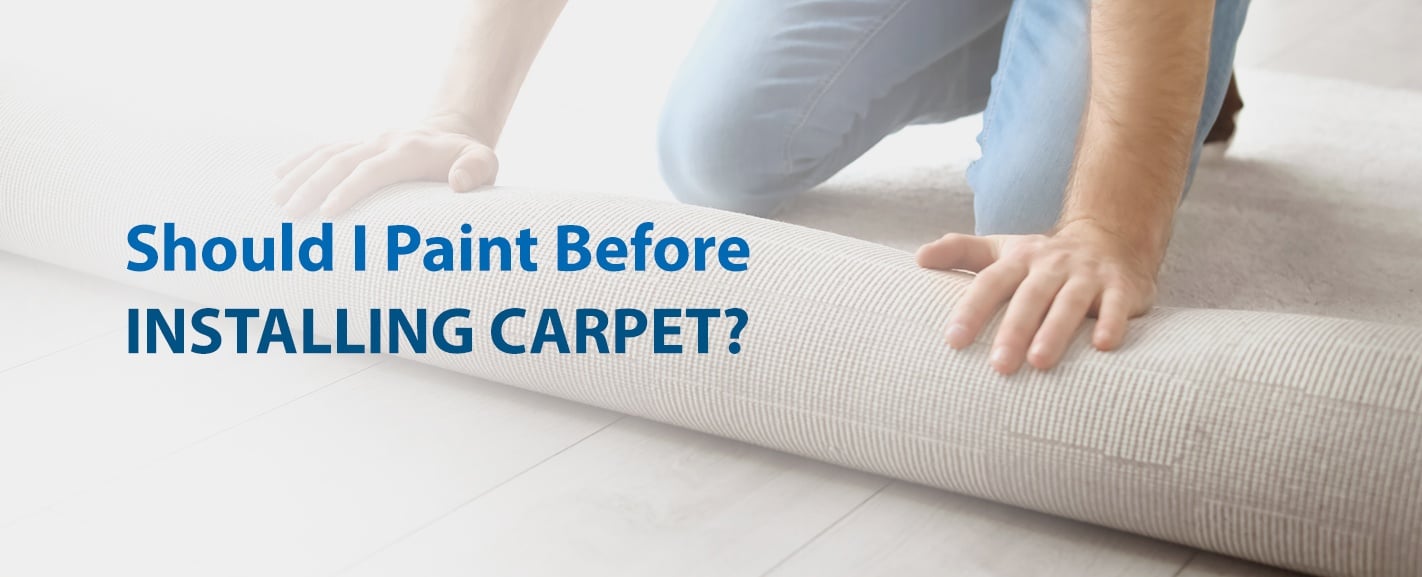 Painting and installing carpet are straightforward home improvement projects that can transform the look and feel of your home. According to the National Association of Realtors' Remodeling Impact Report, 73% of homeowners reported a greater desire to spend time at home after repainting a room. And in addition to carpet's beauty and warmth, it absorbs approximately 25% of the sound directed at it. The combination of a fresh coat of paint and new carpeting can make any room more pleasant and peaceful.
Whether you're remodeling, trying to sell your home or ready for a change, you want your efforts to add enjoyment and desirability to each room. When installing carpet and painting within a close timeframe, it's natural to consider whether to paint or carpet first. There are advantages and disadvantages to each order, so your decision will likely depend on what is most convenient for you. For anyone wondering, "Should I install carpet or paint first?" keep the following benefits and risks in mind as you schedule your home projects.
Reasons to Paint First
Among the list of common home improvement projects, revitalizing your walls with a coat of paint is one of the simplest. You can suit up and tackle the painting yourself, or hire a professional contractor for the job. Whichever you prefer, there are a few benefits to painting rooms before you have carpet installed.
1. Stress-Free Painting
You edge with painter's tape, cover furniture and protect your floors to ensure your paint stays on the walls where it belongs. While you're shuffling ladders, rearranging dropcloths and tiptoeing around furniture, spills can happen. It may be a small drip that you catch and wipe up quickly. Or, you may knock over a paint can and watch in horror as the liquid glugs onto your carpet.
Despite our best efforts, accidents happen. When you paint before you install carpet, you can relax and enjoy the process. Though you'll probably still cover the floor with cloths and paint with precision, you can rest assured knowing accidents won't stick around long.
2. Easy Retouching
In the thick of painting, your primary concerns are covering the walls and getting the job done. When you finish and return to see how the paint is drying, you may notice a few areas that need an extra coat or a touch-up. Addressing these areas is as simple as pulling out your paint can and brush.
Unlike paint retouching, fixing stains on a new carpet is not as straightforward. If you spill paint on your new carpet, you may need to have that section deep-cleaned or removed altogether. Painting first allows simple touch-ups, whereas carpet "touch-ups" may be more timely and costly.
Flooring and Carpet Installation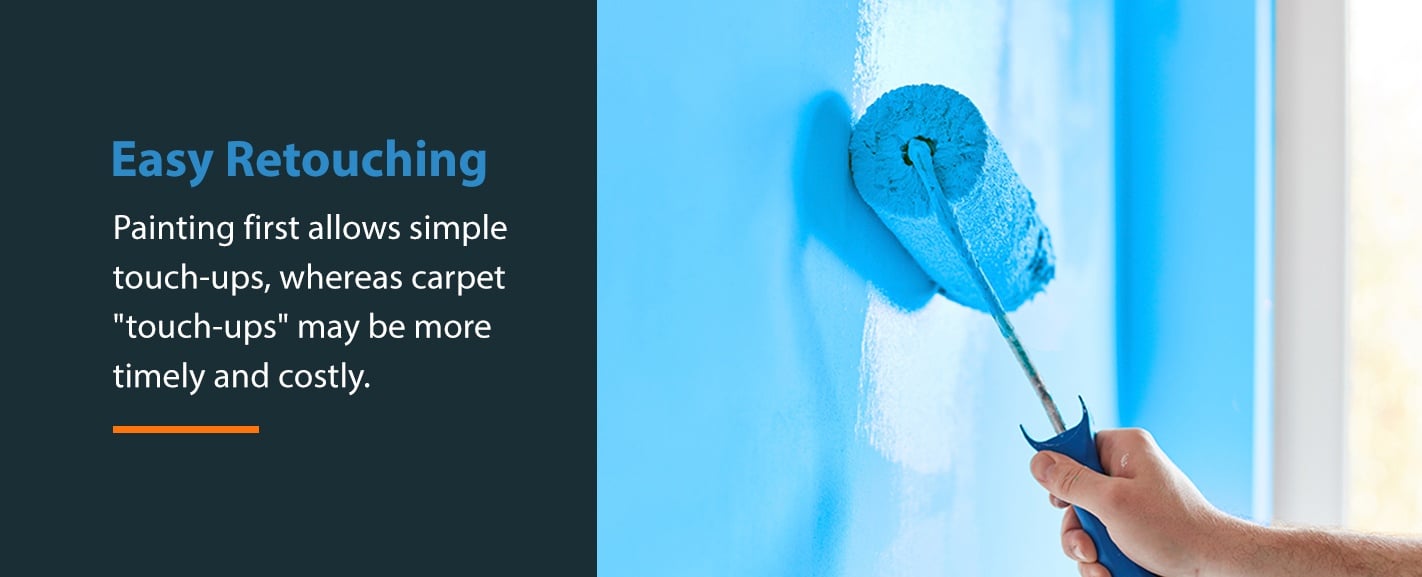 3. Minimized Equipment Crowding
Whether you're hiring professional painters or DIY painting, you'll need a fair amount of equipment in your home. Paint cans, brushes, rollers, ladders, tape and paint trays can quickly crowd a room and make it difficult to maneuver. Because you can't pause life to complete home projects, you'll likely be trying to complete your daily routines around the equipment and setup necessary for the project at hand.
Even though painting supplies take up space, they are easily transportable and storable. Compared to large rolls of carpet and carpet installation tools, paint supplies are a little more convenient. When you choose to paint before you install carpet, you can bring the paint supplies in and out of your home to keep rooms as clutter-free as possible.
4. Increased Odor Control
If you've ever walked into a freshly painted room, you've likely noticed a distinct smell. Both carpet and paint emit volatile organic compounds (VOCs), which stem from chemicals used in their production. VOCs are relatively common and are associated with other building materials such as varnishes, finishes, caulks, sealants and adhesives. Even new furniture and new vehicles may emit VOCs.
Without proper ventilation, VOCs can cause respiratory irritation. Choosing low-VOC paints and carpets and encouraging airflow can help minimize strong odors during your projects. You'll want to ensure you keep the project sites ventilated with fans and windows — especially if you or anyone in your household is sensitive to air quality.
Painting before you install carpet allows you to develop a ventilation game plan, as well as assess whether you need to take extra precautions to prepare for your carpet.
Reasons to Install Flooring First
When considering whether you'll install carpet first or paint first, there are a few advantages to doing the carpet first. Consider these items as you work with your carpeting contractor and plan your projects.
1. Avoid Paint Nicks and Dings
Carpeting professionals will do their best to install your flooring with the utmost precision and care. While they move large carpet rolls and operate metal tools like knee kickers, wall trimmers and carpet rollers, accidents may happen. Just like paint spills, no amount of preparation and caution can completely prevent accidental wall nicks or dings.
If you install your carpet before you paint, you can easily cover up any new or existing cosmetic imperfections in one go. If your wall gets nicked and you've already painted it, you'll have to bring the paint cans back out and touch up the color.
2. Baseboard Height Exposure
If your project site has painted baseboard trim, you may benefit from installing carpet before you paint. Carpet styles each have different pile heights — that is, the height of the carpet fiber tufts. If you're switching from a higher pile height to a lower one, you may discover a strip of unpainted baseboard trim.
Installing carpet first allows you to survey the baseboard trim and evaluate if you may need to touch up or repaint it while you paint the room. Rather than making this discovery after you've put your paint cans away, it may be worthwhile to see the carpet in action first.
3. Paint Color Certainty
Choosing the right paint color can be agonizing. Slight color variations can make a significant impact on a room's ambiance, so the pressure to pick the right shade is immense. The way your new carpeting looks with your new paint color is also crucial. The two elements should blend and work together to achieve the right aesthetic for your home.
When you install carpeting first, you can paint swatches on your walls and judge how well they match the carpet. You could repaint the room if you discover the color you picked doesn't match the carpet. But who wants to go through the painting process twice? To compare paint colors with the carpet and be ultra-certain of your color choice, you may want to install your carpet first.
How to Paint and Protect a Room With Carpet
If you decide to install flooring first, it's essential to protect your new carpet from drips and spills. Lay material over your carpet and secure it with painter's tape for an extra seal.
Here are a few common protective material types to use.
Plastic sheeting: Rolls of thin plastic sheeting are relatively inexpensive at hardware stores. You can cut convenient sheet strips to fit your painting space and dispose of them when you finish. However, you need to tape down plastic sheeting to remain in place and create an effective seal. The material may also be slippery underneath ladders.
Old sheets: Whether you recycle old bedsheets or purchase an inexpensive set, cloth sheets make pliable, reusable painting materials. The cloth texture won't slip as much underneath ladders, and you can double layer them for extra thickness. Sheets can protect carpeting from small drips, but you'll want to clean larger spills immediately.
Canvas dropcloths: Canvas material is thicker and heavier, so it will stay in place while you paint. It can handle bigger paint spills than sheets, but you'll still want to clean spilled paint when you spot it. Though canvas dropcloths are more expensive to purchase, they are durable and reusable.
To protect your new carpet, ensure you've fully covered the floor and take your time with painting. Your patience and care will be worth it when you reveal clean carpets that match your beautifully painted walls!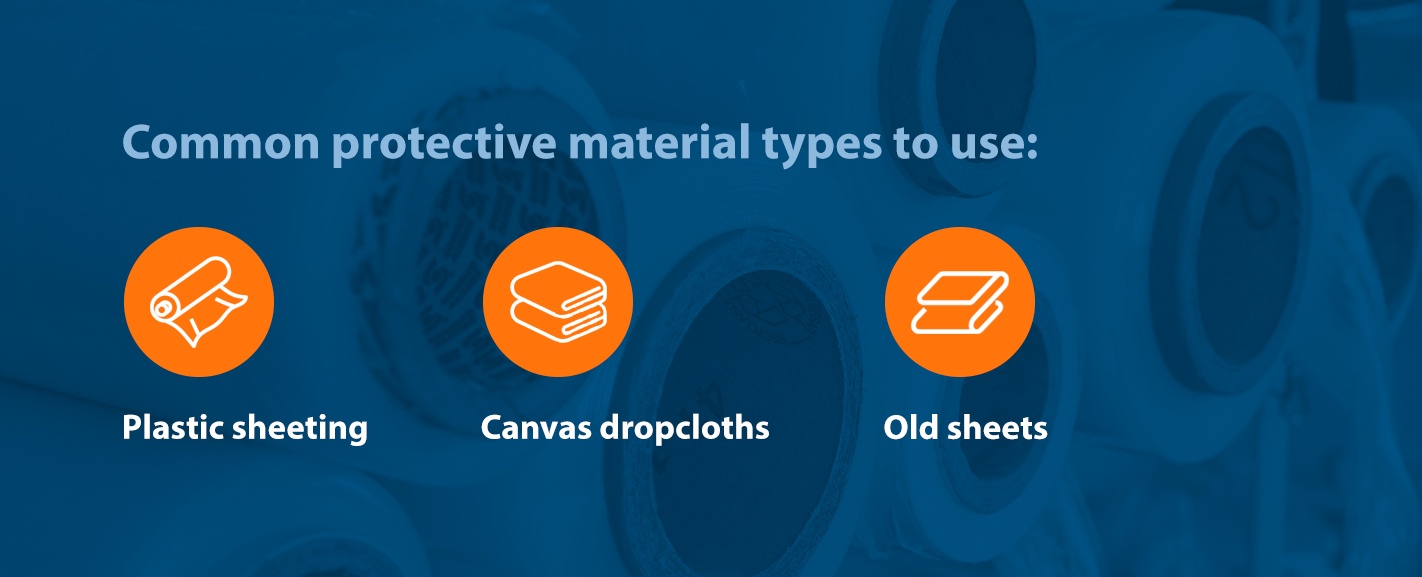 Find the Perfect Carpet for Your Project at 50 Floor
Selecting new carpeting is no small task. With all the styles, textures and colors available, it can be helpful to get advice from the experts. At 50 Floor, we have a wide variety of carpet options and knowledgeable staff who can guide you through the selection process. With our free in-home consultation, you can browse different carpet samples and see them in your lighting and living space.
To kickstart your next project with carpeting you'll love, schedule an appointment with 50 Floor today!