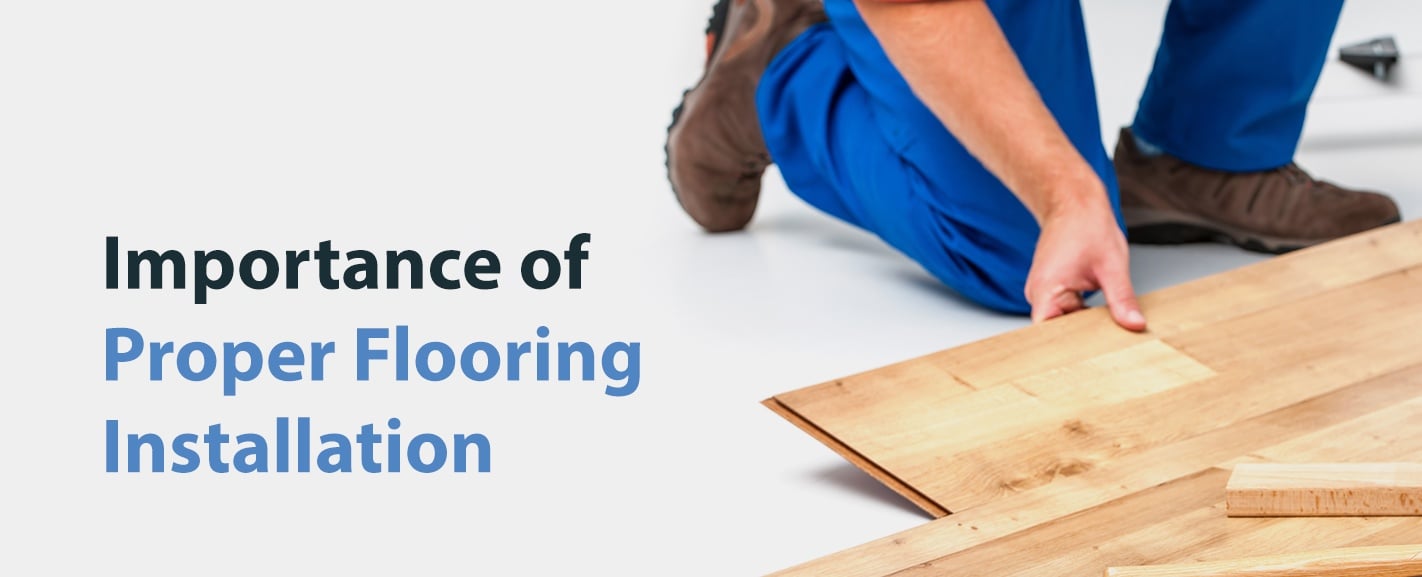 Flooring is one of the most important elements in your home, for both practical and appearance purposes. A new floor can completely revamp a home and increase its desirability. If you're looking to put your home on the market, floor replacement is one of the most lucrative investments. Even if you plan to stay in your home, replacing your floors can improve your home's livability and increase its value.
However, before you jump in, it's important to note that proper flooring installation is everything. Errors in installation can be more detrimental than you might think. That's why bringing in a professional installation service can make such a difference. Learn more about the importance of proper flooring installation.
Six Reasons It's Important to Install Floors Correctly
Putting down a new floor is a complicated process — professional know-how is necessary during every step. It's a good idea to hire an expert. When you use a professional flooring installation service, you save yourself from hassle in both the short term and long term. Here are six reasons it's important to have your floors installed correctly.
1. The State of the Subflooring Makes All of the Difference
In some instances, you can put new flooring on top of old material. That's not always the case, however. You'll need a professional eye to inspect your subflooring and make sure it's safe. If you lay new flooring on top of damaged subflooring, you may run into serious issues and shorten your new flooring's lifespan. A professional will need to check your subflooring, which may be cracked, sagging or loose.
What Is Subflooring?
You might know that subflooring lays under your floors, but what is subflooring, exactly? A subfloor can be wood planks, plywood, wafer board or oriented strand board. It's a vital part of a structure's soundness — it holds up your walls and withstands more weight and wear than perhaps any other part of a home.
Undamaged subflooring is necessary before you can lay new flooring. Otherwise, long-term issues can arise. Before placing your new floor, you'll need a professional to inspect your subfloor, checking for any issues. While repairs to subflooring can be expensive upfront, its sturdiness can save you immense service costs down the road.
2. The Laying Direction Matters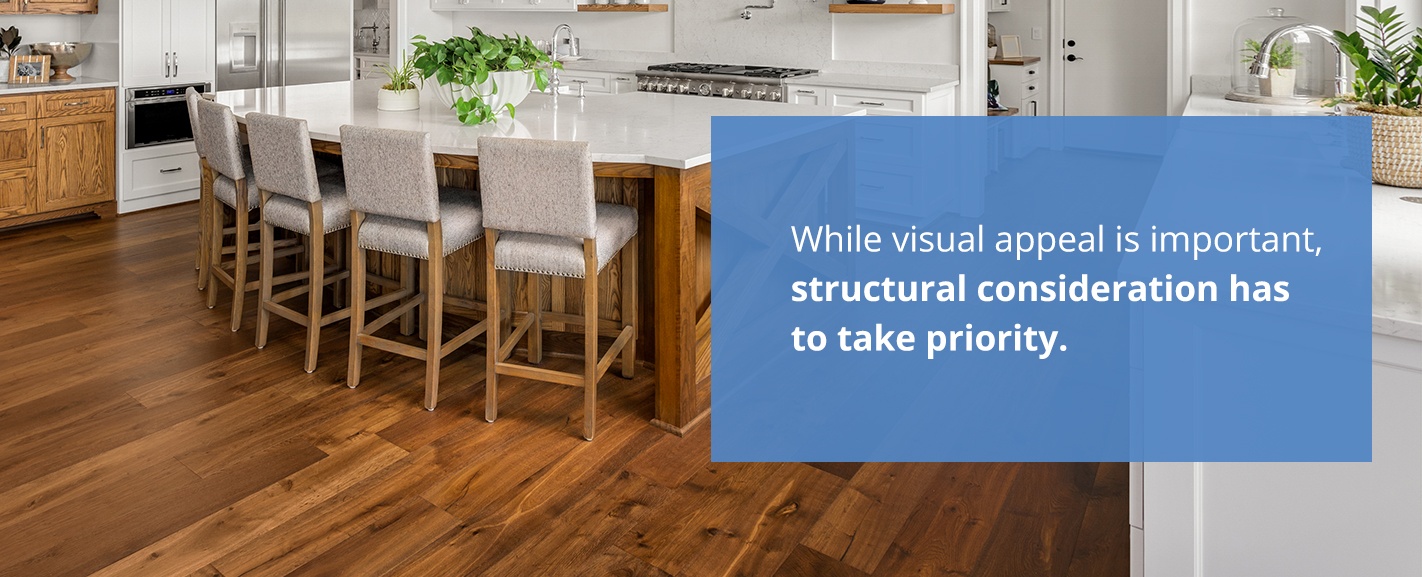 Plank flooring requires proper laying direction. You might want planks to lay a certain way for your desired aesthetic, but improper direction can cause issues. While visual appeal is important, structural consideration has to take priority. In most cases, planks should be perpendicular to the floor joists for best stability.
With authoritative guidance, you may be able to divert from a traditional laying pattern. For instance, you may be able to lay floor planks in a diagonal or herringbone pattern. If you hope to lay your floors a special way, you'll need to ask a professional for advice.
3. Irregularities Need to Be Accommodated
Every home has its quirks, and each flooring project is unique. Small intricacies can make big differences. Rooms can be abnormal shapes. Molding can vary. Walls might not be straight, leaving awkward gaps. Doors need space underneath to swing. All of these factors need to be accommodated during flooring installation.
Every irregularity in your home is important when it comes to flooring. If you miss one of these factors, you might end up having to rethink and redo huge sections of flooring or entire flooring projects. To avoid that possibility, you'll need an expert pair of eyes before you lay a single plank. If you're undertaking a multifaceted remodel project, a professional can help you decide when to install floors — before or after you install cabinets, for instance.
Schedule a Free In-Home Consultation
4. Old Flooring Must Have Proper Disposal
Some leftover pieces of your old flooring can go out with the garbage. With that said, entire floors require special disposal. Some materials, such as laminate, release harmful chemicals if incinerated. For that reason, you may need to transport flooring to a landfill yourself or hire a removal service. You might also be able to recycle some materials. Proper disposal of old flooring is important for safety and environmental purposes. Ask an expert or hire a service.
5. Speed and Efficiency Are Homeowner Priorities
While do-it-yourself projects can help you cultivate a new skill, your home's flooring might not be the best site for experimentation. A lack of proper machinery will slow you down, as will correcting those inevitable mistakes, big or small. When it comes to your home's renovation, speed and efficiency are important elements of any project.
During a new floor installation, large sections of your home become uninhabitable. You may have to stay in a hotel or someone else's house. The last thing you'd want is to get far along with your flooring project only to realize you have to rip it up and restart.
The best way to avoid this is to hire a professional. A professional flooring installation service can ensure a quick and efficient process from start to finish. That way, you can get back home as soon as possible.
6. Proper Installation Means Less Repair and Replacement
When you do something right the first time, you'll have a long-lasting, durable result. As months and years go by, you'll thank yourself for investing in professional installation for your floors. While maintenance is always necessary, your floors will be less likely to require repair and replacement. A job well done is a job done once. Save yourself money, time and stress by contacting a professional for floor replacement.
Schedule Professional Floor Installation With 50 Floor
When it comes to remodeling projects, new floors make a huge difference in the appearance, livability and worth of a home. Almost all home projects require a certain level of expertise, but flooring installation can make or break your home's structural soundness. Improper installation can lead to subfloor damage, instability, poor ventilation and expensive repair costs down the road. New floors can only increase the value of a home if they're installed with professional expertise. Otherwise, they can do more harm than good.
If you're looking to replace your floors, 50 Floor can help you do it right. In addition to hassle-free professional installation services, we provide a shop-from-home experience like no other. An expert will bring an array of samples to your home so you can see flooring options in your light and with your furniture. Once you've made your choice, we'll guide you through the entire floor installation process. To learn more, schedule an appointment with 50 Floor today.