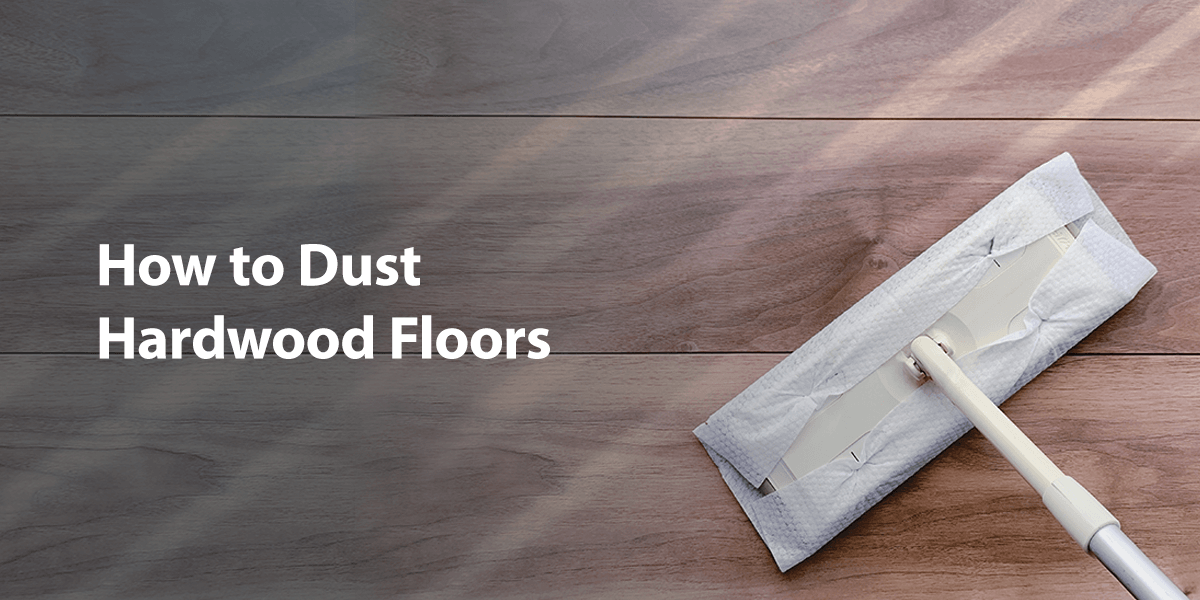 Dust is made up of tiny particles of matter, including pollution, dirt and other materials. In many cases, it is distributed through the air, and you may also bring dust into your home on your clothing or shoes.
Many homeowners choose hard surface floors such as wood because such flooring is easier to keep clean. If you have beautiful hardwood floors from 50 Floor, you will still want to dust them to keep them looking their best.
Why It Is Important to Keep Wood Floors Free of Dust
Dust Is Unsightly
Wooden floors often have a glossy sealer finish that reflects light and stops dust from permeating the floor's fibers. However, the finish also means dust and dander are easy to see on the surface of the floor. Dust leaves a film over your flooring and can sometimes even cause stains. It can dull the finish and make your wood floors look less than their best.
Dust Can Damage Your Floors
Although tiny, dust particles can be sharp and solid enough to cause tiny scratches on your wood finish. Here are some of the ways dust can damage your floors:
Scratches: Dust particles can get caught under feet and slide over the varnish, causing dents and scratches.
Dulls the sealer: Continuous grinding of dust can damage the protective coat on top of your floor, making it look dull.
Discolors the floor: Heavy foot traffic can slowly break down the dust and cause small cracks in the sealer. The result is blotchy discoloration.
Allows moisture damage: Moisture can penetrate the wood if the dust grinds down the sealer.
Dust Can Make It Hard to Breathe
For people with respiratory problems or allergies, dusty floors can be dangerous to health.
Dusting your floors regularly keeps them looking their best and ensures everyone in your home is comfortable.
Tools Needed to Dust Wood Floors
Fortunately, dusting your wood floors is simple. There are several tools that can help you keep your wooden floors dust free.
Cleaning Hardwood Floors With a Broom
Brooms are a go-to for cleaning floors. Here are some advantages of using a broom:
They are economical: Brooms do not break down or require upkeep. They also don't need electricity and are very affordable.
They are sustainable: As mentioned above, brooms don't use electricity, making them the greener option. They also don't include parts that must be thrown away or replaced, like bags.
Larger items won't damage them: Vacuums and other motor-powered cleaning tools can pick up small debris and dust, but larger items like coins, pebbles and children's toys can damage them. Brooms won't get damaged by these types of items.
No noise: Brooms have no motor and therefore make no noise.
The disadvantage of brooms is that they can be tough to use in corners. The bristles have a tendency to push dirt further into corners if not controlled. Brooms with soft bristles work better for these spaces.
Cleaning Hardwood Floors With a Microfiber Cloth or Mop
Microfiber materials are soft and designed to attract dust and lock it in the cloth. Here are some advantages of using them:
Durable: Microfibers are made from durable materials that reduce the need for replacement.
No chemicals: If you use a microfiber mop, you don't need to use chemicals. The hairs and texture are enough to collect the dust. You can dampen the cloth for stubborn areas.
Sustainable: Microfiber cloth tops can just be popped into the washer and used over and over again.
Be careful about how much water you use with your mop or microfiber dusters. Added water or moisture could warp your hardwood floors with prolonged use. Always wipe up and dry the hardware floor if excessive water has been spilled.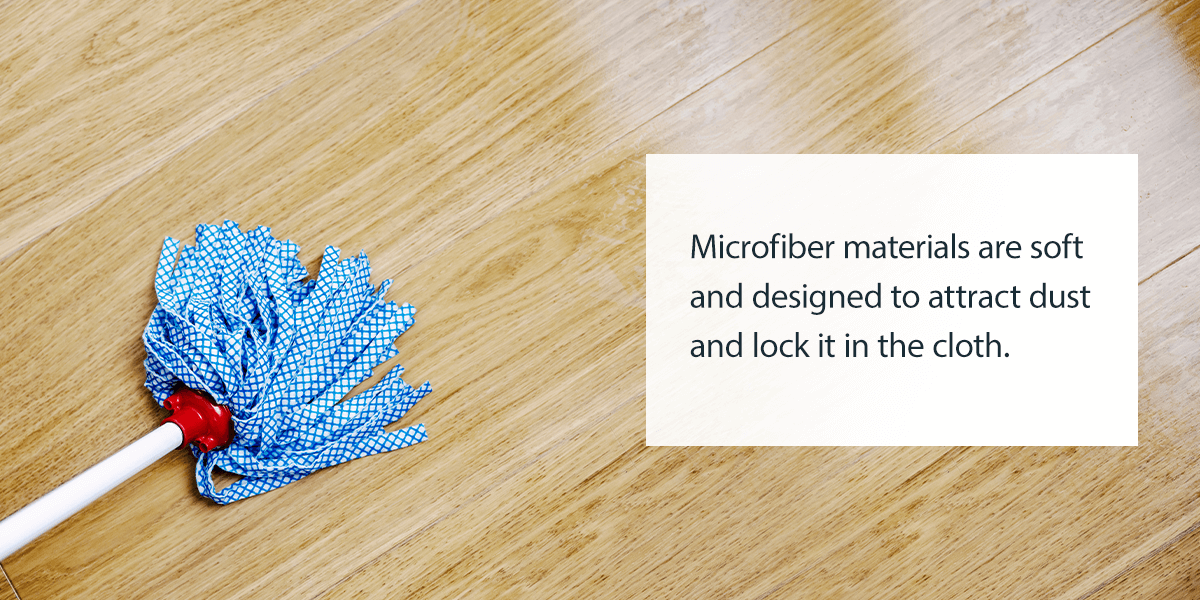 Cleaning Hardwood Floors With a Vacuum
Using a vacuum cleaner can provide the following benefits:
Decreases allergies: HEPA filters can trap even fine particles. Specialized filters will reduce dust on your floors.
Less effort: Vacuums can get the job done quickly and easily.
Sucks up the dirt: Other cleaning forms could push fine dirt particles around.
If you use a vacuum on your wood floor, make sure to use a hard surface setting that keeps the beater bar from touching your floors. This is important to ensure your floors are not damaged.
Using one of these methods will help mitigate dusty floors. However, combining methods will ensure your floors are sparkling and dust-free. Before cleaning your floors, refer to your floor's warranty to ensure you use the right materials.
Tips for Dusting Wood Floors
1. Use More Than One Method
As mentioned, you may wish to sweep the floors to remove larger debris and then use a microfiber duster to pick up more debris. A vacuum with an attachment can also help you get into the spaces sweeping can miss.
2. Always Save Floors for Last
If you dust a room, start with the ceiling fans and work your way down. You can dust all the dirt and grime off counters and shelves and let it naturally float to the floor. Once everything has landed and settled, you can vacuum or sweep it all up.
3. Start in the Far Corner of a Room
Think about the entrance to the room and start cleaning in the opposite corner. As you clean, make your way toward the entrance. This way, you can remove dust without introducing new dust as you work across the room.
4. Look for Spots Where Dust May Get Trapped
Dust can hide behind furniture or in between pieces of decor. It also tends to float underneath couches or beds. Change your tool for the right situation to remove all the dust from your floor. Be sure to clean the entire floor surface, even if you need to move items around.
5. Avoid Potentially Damaging Cleaning Products
You should always check your flooring warranty before cleaning your floors. However, in general, you'll likely want to avoid cleaning your floors with vinegar, soap-based cleaners, steam cleaners and wax. Look for a cleaner that will not dull your floors or leave behind a residue. You may use a spray cleaner that you can wipe away with a mop or microfiber cloth. Again, make sure to check your warranty before using any cleaning products.
6. Limit Dust Buildup
You can use the following strategies to defend your hardwood floors against dust buildup:
Set a maintenance schedule and stick to it so that cleaning is more manageable.
Place rugs in high-traffic areas and ask visitors to remove their shoes before entering your home.
Change vacuum filters frequently.
Keeping wood floors clean is a breeze, and as you dust your floors, you'll develop your own habits and favorite routine.
Are You Worried About Dust?
The right floors can help you clean your home by offering a hypoallergenic or easy-to-clean surface. 50 Floor can handle the entire flooring process for you, from helping you choose the right options to save you money during ordering to installing your new solid hardwood floors.
Book a no-cost, in-home consultation with 50 Floor today if you need new floors.