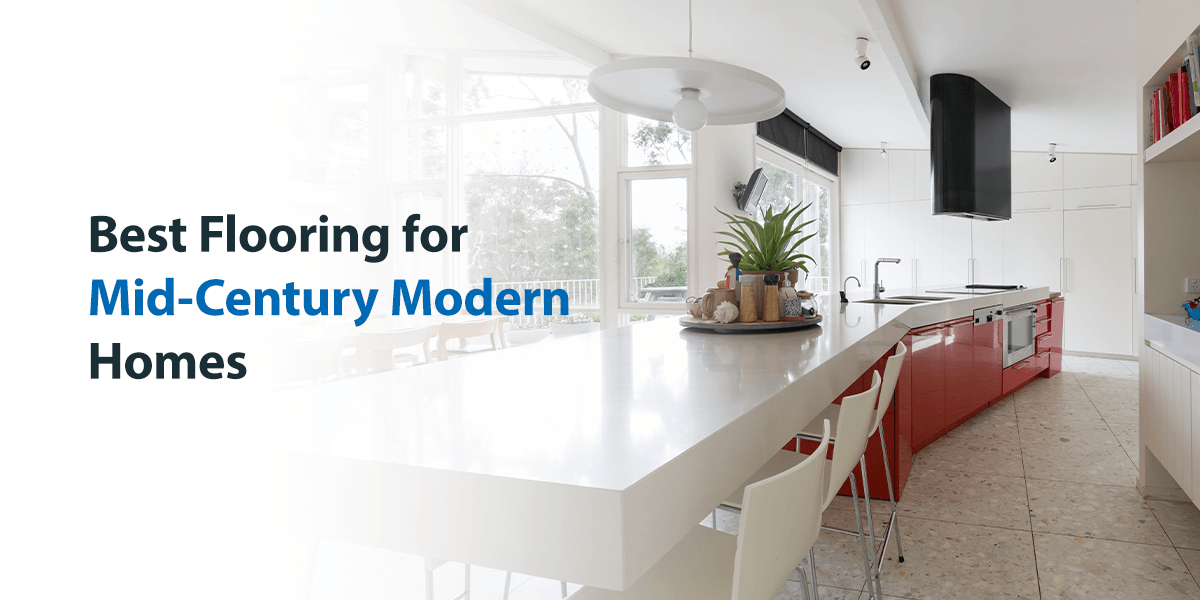 If you enjoy simple, minimalist interior design with splashes of color and texture, you're likely drawn to mid-century modern homes. Combining sleek, modern elements with warm, traditional and natural features, this home design style appeals to a wide variety of homeowners and designers.
If you're looking to replicate the mid-century modern look in your own home, we've got you covered. Read on to explore styling tips and ideas for modern mid-century floors!
What Is Mid-Century Modern Style?
Incorporating a mid-century modern style in your home decor is an effective way to make your space look unique and modern. Inspired by the German Bauhaus style, the mid-century modern home design was the most popular choice for homes between the 1950s and '60s. This era marks a transition from traditional to modern urban design styles.
This functional style emphasizes minimal ornamentation, clean lines and modern looks. It also experiments with textures, so minimalist chrome furniture can pair with a fuzzy carpet. Likewise, velvety soft furnishings might complement a concrete urban floor, adding color and dimension.
The mid-century modern design style emphasizes a connection between indoor and outdoor spaces. It uses warm, intricate woods like walnut and rosewood and earthy accent tones like avocado, mustard and chartreuse to achieve this. Sliding doors and windows are common in mid-century modern homes, with little to no coverage to reinforce the harmony of indoor and outdoor living.
These elements help the interior feel fresher and more modern. Due to its aesthetic and practical appeal, you'll find features from this period in many of today's homes.
Mid-Century Modern Flooring Options
Since mid-century interior design doesn't involve a lot of extra decor, your flooring will play a significant role in the overall look of each room. The right type and color will blend beautifully with your modern furniture and accessories.
Look for floors with lighter, warmer tones to reflect the color palette and overall aesthetic. Geometric patterns also work well with this style. With those elements in mind, here are some mid-century flooring options to consider.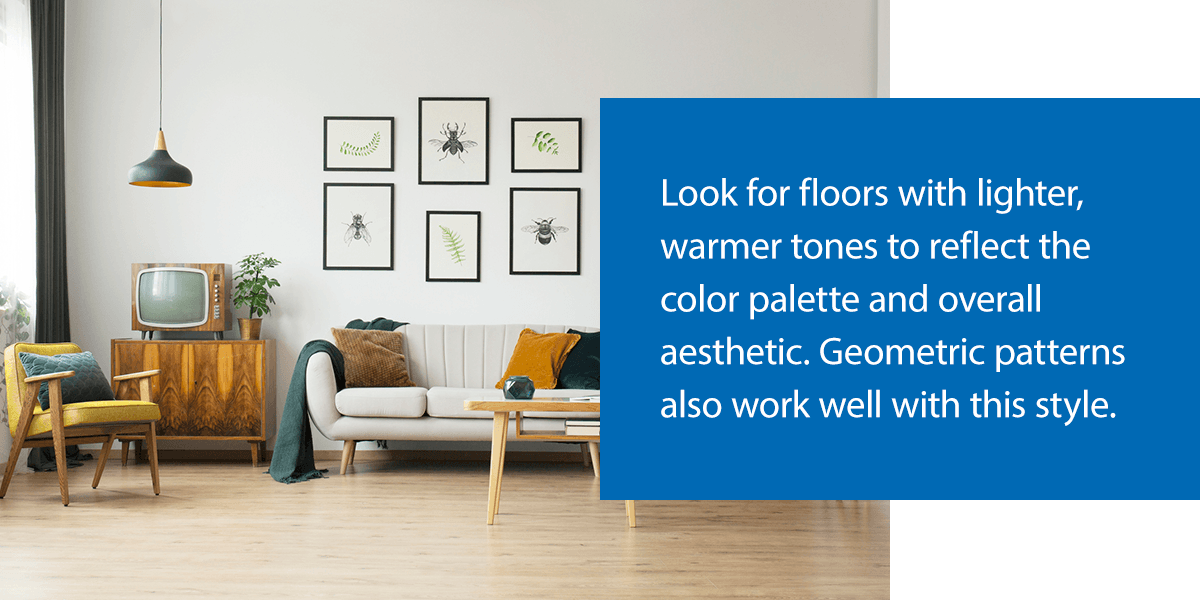 1. Hardwood
Hardwood flooring was the go-to for many homes built in the 1930s through the 1960s, so naturally, this option pairs wonderfully with mid-century aesthetics.
Warm and light wood flooring with straight grains and smooth textures offers a classic mid-century look. If solid hardwood isn't in the budget, consider waterproof laminate, luxury vinyl plank or engineered hardwood, which can provide an authentic hardwood look for a lower price.
Pros:
Easy to clean and maintain
Added home value
Many styles and colors
Cons:
Sensitive to moisture and humidity
Can be more expensive than other flooring types
View Hardwood Flooring Options
2. Tile
Many mid-20th century homes had large tile floors with geometric designs like hexagons. Consider concrete- or stone-look tile, both of which speak to mid-century aesthetics. Black and white tile in a classic checker style or octagon dot can give your bathroom or kitchen a wonderful mid-century modern look.
Pros:
Resistant to water, stains and scratches
More affordable than hardwood
Many styles and colors
Cons:
Hard-to-clean grout lines
Adds weight to your flooring
Slippery, especially when wet
3. Carpet
Carpet flooring also stole the show during the mid-century era. Plush textures, contrasting or bright colors or a cut-and-loop texture can help create a modern look. Geometric design in carpeting was a 1960s staple, so this may be a style to embrace. Warm, neutral carpet colors also achieve a mid-century look.
Pros:
Soft, plush and comfortable
Less expensive to install than hardwood and tile
Many styles and colors
Cons:
Difficult to clean
Holds dust and other allergens
4. Terrazzo
Popular in the 1960s, terrazzo tiles were made with glass and stone pieces in cement, creating a speckled look. You can achieve the same look with luxury vinyl tile today. This material can also create slate-style floors, which trended in the 1960s, as well.
Pros:
Exceptionally long-lasting
Unique beauty and elegance
Cons:
Slippery
One of the most expensive flooring options available
Flooring to Avoid for Mid-Century Modern Style
The below flooring types are stylish choices for a home interior. However, they may not be the best options if you want your space to be as authentically mid-century modern as possible. Here are two types of flooring we recommend avoiding for your mid-century modern home:
Dark flooring: The mid-century modern style emphasizes bright, warm and airy tones. Therefore, gray or black tiles, wood or carpeting may not be the best option. Dark, dramatic hues can blend nicely with lighter ones — such as black and white tile flooring or a multicolored carpet — but plain dark flooring won't likely achieve the mid-century modern look on its own.
Coarse, curved-grain hardwood: Mid-century modern hardwood flooring typically features smooth surfaces and straight grains. That said, you may want to steer away from hardwood with coarse, distressed textures and curly grain patterns, like birch and hickory. Look for subtle grain patterns instead.
Mid-Century Modern Flooring Inspiration
Need some inspiration for your mid-century modern flooring? Check out some of our favorite ideas below!
1. Oak Flooring
White oak hardwood features yellowish-brown undertones and subtle graining that essentially blend into the background, making it a simple yet timeless choice for mid-century modern interiors. Likewise, red oak features light grain patterns and reddish undertones, providing a warm, natural look for your space.
2. Concrete-Look Tiles
It doesn't get simpler than polished concrete. This flooring adds a neutral backdrop to the room, making it ideal for mid-century modern tile flooring. Versatility is a glowing benefit of this option — concrete goes with nearly anything, so your flooring can remain the same if you ever decide to change your interior style.
Typically, homeowners pull up their flooring to reveal the concrete subfloor underneath, then sand and polish it. If you don't have a concrete subfloor to polish, it's easy to find concrete-look tile flooring. Materials like ceramic and porcelain can mimic concrete.
3. Pattern Carpet
Carpet flooring adds plushness and warmth to any interior, making it another great option for a mid-century modern home. Pattern carpet can be an excellent choice, as you can find it in a range of playful colors, geometrics and creative textures.
Just keep in mind that if you ever wish to change up your room's look, this carpet may not always blend well with new decor. That's why some people opt for wood or tiles, then add a colorful area rug to achieve the best of both worlds.
Get the Perfect Mid-Century Flooring From 50 Floor
If you want the look of mid-century flooring for your space but with modern floors that meet current building and safety codes, 50 Floor can help. We offer a range of stunning mid-century modern flooring options and can assist you with advice, installation and more, allowing you to enjoy incredible designs on your budget.
Schedule an in-home consultation with 50 Floor and our flooring professionals will bring samples to your home, allowing you to find the perfect floor for your desired look!