As interior design has evolved over the centuries, new styles have developed to accommodate every possible floor plan and preference. As a result, there are many different interior design styles to understand and appreciate.
Interior design makes a house feel like a home. You can find designing tricks that help your style shine through and make your home match your vision.
19 Interior Design Styles Defined
As you embark on your mission to personalize your home, the number of options can feel overwhelming. Interior design education will translate your dreams into reality. Here's our helpful guide to choosing your interior design style!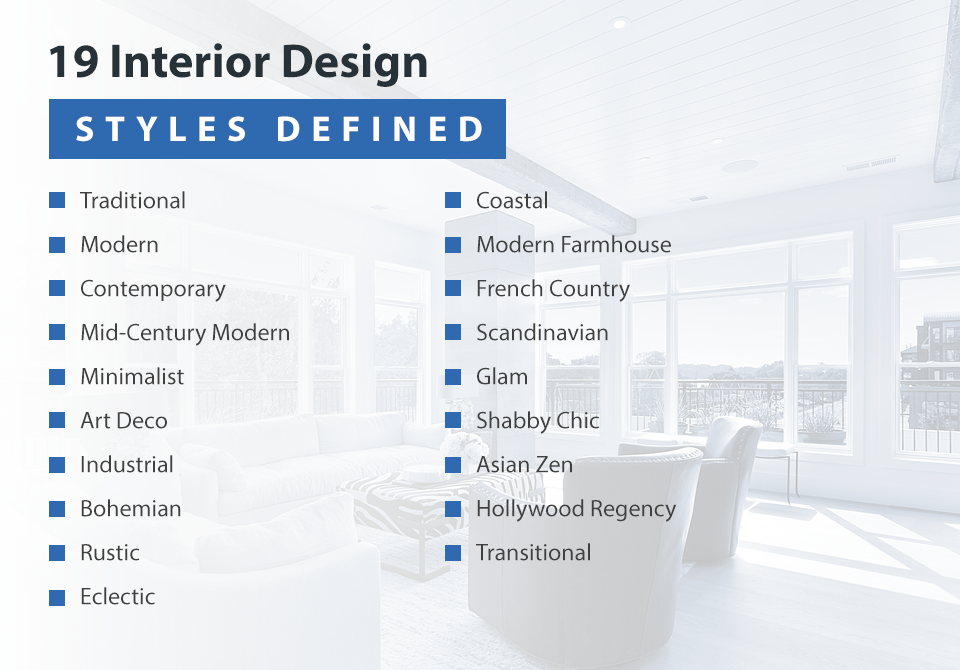 1. Traditional Interior Design Style
The traditional interior design style is one of the best-known concepts. This style began in 18th- and 19th-century England and France, and little has changed since then, despite its continued popularity. European decor heavily influences design trends around the world.
Traditional interior design often incorporates one or two brightly colored pieces — like a painting, rug or flowers — that make a statement and naturally draw attention. Otherwise, a consistent and neutral color palette is a staple in traditional design.
Traditional design features highly detailed, dark-wooded tables and chairs. It's typical to find textures like silk, velvet or linen in the upholstery or on the windows. Ornate patterns also add texture to a room. The traditional design is typically structured and symmetrical, including intentional layering for depth.
2. Modern Interior Design Style
The modern design style, also referred to more specifically as urban modern, began to develop in the early to mid-20th century. Modern interior design draws inspiration from Scandinavian and mid-century modern design styles, featuring some similar characteristics.
Many designers use metal, chrome and glass in a modern design. The furniture's lines are clean, typically with smooth surfaces. Square shapes and forms characterize this design style, which can sometimes make it feel much cooler. There are limited embellishments, and intentional pops of color may help brighten a room. The accents are usually in a single piece of furniture or art hung on the wall.
Modern interior design uses minimal pieces of decor in modern interior design. Instead of scattering small knickknacks around a room, leaving surfaces empty keeps a space more neutral and sleek.
3. Contemporary Interior Design Style
Many people confuse contemporary and modern design styles because of their similarities. However, unlike the modern design style, which refers to inspirations from a specific period, the contemporary design style is ever-changing. The style will continue to evolve throughout the 21st century.
The contemporary design style borrows features from other times and styles, creating a versatile space. Like the modern design style, it also emphasizes simplicity. Clean lines are characteristic of this style, often accentuated by exposed furniture legs and tabletops. Reflective materials like metal and glass are common in the contemporary style, with an open layout that makes rooms feel lighter, airier and open.
Warm neutrals are typical of the contemporary design style. Textured fabrics, art pieces and molding on walls add depth to a room with otherwise limited depth.
4. Mid-Century Modern Interior Design Style
The mid-century modern design style draws from themes popular in the 1950s and '60s. This period marks a transition from traditional to urban modern design styles. You can still find features and furniture from this period in homes today, a testament to its practicality and attractive characteristics.
The mid-century style encourages a connection between indoor and outdoor spaces. To emphasize this, it typically features warm woods like rosewood and walnut with detailing and styling. Accent colors are also earthy, such as mustard yellow, chartreuse or avocado.
Sliding doors and windows are typical in this style, and they often have little to no coverage to reinforce the coexistence of indoor and outdoor living. These kinds of features help any room feel fresher and more modern, explaining why it remains popular today.
5. Minimalist Interior Design Style
Though contemporary design favors minimal decor, the minimalist interior design style relies primarily on the idea that less is more. The style draws inspiration from Japanese design. Simplicity is at the forefront of this design style, with a focus on functionality. Pieces in a minimalist design almost always serve a practical purpose, in addition to being decor.
Furniture often doubles as a place for hidden storage, such as hollow coffee tables with flip-up lids. Intentional use of space is a staple characteristic of minimalist design, so discreet storage is a must. Clean lines and simple geometric shapes emphasize minimalist design's simplicity. Layering is limited, as are extra objects that don't serve a specific purpose. As expected, minimalist designs rely on neutral colors. The only color pops you may find are with primary colors that stand out against the grays, blacks and browns.
6. Art Deco Interior Design Style
Unlike the limited decor of minimalist design style, art deco interior design is opulent and glamorous. Its chic design comes from France and was popular in the United States from the 1910s to the 1940s. The Industrial Revolution significantly influenced this style's development, which is why metal is a popular material choice.
Pointed edges and jagged corners are iconic hallmarks of the art deco style. Unlike minimalist design, unusual shapes are typical. Rounded, oversized furniture — especially sofas and armoires — characterize this design choice. Colorful wallpapers, patterned textiles, velvet and leather add opulence and elegance. Patterned flooring, whether as a carpet, rugs or hardwood, also creates an optical illusion of eye-catching features.
7. Industrial Interior Design Style
The industrial interior design style is an outgrowth of the population spike at the end of the Second Industrial Revolution. After many factories closed, real estate developers converted the vacant buildings to residential housing. Because of the buildings' history, the industrial design style arrived to accommodate the cement and exposed pipes that characterized these spaces.
Industrial design primarily uses a neutral color scheme that complements unfinished metals and raw wood. Spacious areas once used to house large machinery remain open. Textured blankets and rugs can warm up a room from the cooler architecture. Metal artwork reinforces the manufacturing motif.
8. Bohemian Interior Design Style
The bohemian interior design style — often shortened to boho — is gaining popularity for its eclectic features. Boho interior design emphasizes mixing cultures and unique artistic expressions. The boho style often includes showcasing a wide range of trinkets as decor.
Unconventional materials like bamboo and rattan characterize the boho design style. Bright colors and bold patterns juxtapose and saturate a room. An emphasis on nature is also part of the boho aesthetic. Animal-print textiles and various plants draw on this exotic theme. Designers who embrace the boho style often choose furniture individually, instead of as a matched set. The unconventional mixing, matching and implementation of pieces in the boho design set this style apart from the others.
9. Rustic Interior Design Style
The rustic interior design style draws inspiration from the Romantic movement in Europe. Like the mid-century design style, rustic interior design connects indoor and outdoor living. However, it also includes industrial features and has a farmhouse appeal. Many living rooms with rustic designs have a fireplace as a central feature.
Industrial features of the rustic style add a level of sophistication. Furniture with exposed metal legs and light fixtures naturally incorporate these characteristics. The industrial elements offer sharper lines, and bathtubs or furniture juxtapose them with softer edges. Fabrics and textures make or break the rustic design style. Soften a rustic design's harder edges with animal hide-inspired blankets, tapestries or upholstery.
10. Eclectic Interior Design Style
Eclectic interior design is like a more refined version of the high-energy boho style. While it also features a collection of items on display, these pieces have a more carefully selected, cohesive appearance. The eclectic design incorporates old and new for a meeting of interesting decor and furniture.
Eclectic design styles have a more neutral color palette with a few accent colors worked into the decor and furniture. Limiting accent colors allows for more intentional layering that balances different elements. Complementary pieces have bold textures and patterns that offer a blend between utility and focal points. Art and decor come from a wide array of styles that come together for a collected look from many different cultures.
11. Coastal Interior Design Style
Even if you don't live on the coast or in a beach home, you can still integrate the coastal interior design style into your home. This design style is not the same as a nautical theme, which features decor like seashells and anchors. The coastal design style is bright and breezy, thanks to its color palette. Pairing various shades of white with beige mimics the sand, and blues and greens take inspiration from the water and natural wildlife.
Natural lighting also helps make the inside of your home feel like an extension of the surrounding environment. Sheer window treatments permit sunlight into your house, as they don't obstruct the rays. Whitewashed wood and wicker are common furniture materials to avoid darker tones that can darken a room. Decor such as glass vases, striped wallpaper and abstract paintings incorporating shades of blue and green are excellent contributions to a coastal design style.
12. Modern Farmhouse Interior Design Style
The modern farmhouse interior design style has gained popularity because of how simple it is to repurpose old decor or tables as new, intentionally selected pieces. In a modern farmhouse interior, you will find many resemblances to a traditional farmhouse, modernized with more rustic or industrial features like metal. This design style often features an open concept floor plan that makes a room feel larger. Shiplap on the walls or ceiling and wide-tiled flooring are typical for this style.
Most color palettes in modern farmhouse interiors rely on neutrals, but a wide range of materials offer sophisticated and dynamic options. Raw wood pairs beautifully with mixed metals, such as gold and nickel. A contrasting black and white won't harshly juxtapose with a transitioning color from a natural material. For an extra pop of color, you should lean toward deep, rich, natural shades of navy, green or orange.
13. French Country Interior Design Style
The French country interior design style combines elements from other interior design styles, such as shabby chic, farmhouse and traditional. The pieces come together to create a sophisticated blend of furniture and art. The French country style is a timeless, mature design with specifically chosen decor.
The French country design style features colorful textiles that stand out in an otherwise muted color theme. Layered, distressed linens are a frequent choice for designers, as they give a room depth without overpowering it with color. Opulent lighting makes a home feel royal. Those with exposed beams incorporate the rustic feel of the French country design style.
For a genuine French country experience, splashes of modern features accentuate the timelessness of your older pieces. Unique shelving and a small area with bright colors are staples of French country design.
14. Scandinavian Interior Design Style
The Scandinavian interior design style emphasizes simplicity without being fully minimalistic. Scandinavian interiors are increasingly popular for their focus on organic tones. These designs rely heavily on gray and off-white tones. Scandinavian design accentuates subtler colors and textures, making even simple pieces a focal point.
Woods are relaxed and ashy, often paired with white walls. Textiles — especially window treatments, rugs, blankets and upholstery — often take center stage. Layered fabrics and textures are cozy, an essential element of the Scandinavian design style. The Scandinavian design's organic characteristics set it apart from its sister styles. It often incorporates plants and mixes warm-toned metals like copper for earthy color palettes. Glass furniture and mirrors are central decorating features in the Scandinavian design style.
15. Glam Interior Design Style
The glam interior design style, also referred to as Hollywood glam, is a chic design trend that takes inspiration from art deco and mid-century modern. It has roots all the way back from the 1930s, Hollywood's golden age. As you might expect, this design style is opulent and eye-catching.
The Hollywood glam style features stark, neutral black-and-white color contrasts for a design that stands out. Outside this neutral palette, there are limited additions of color, giving this design a highly polished, sophisticated aesthetic. The decor is minimal, but impactful details make the style look more elevated and avoid clutter.
Textures characterize this design. Smooth, sleek leather, suede and velvet are characteristic upholstery materials. Jewel-toned colors make these fabrics look posh and high-class.
16. Shabby Chic Interior Design Style
The shabby chic interior design style dates back to the 18th century, and has since evolved into a leading option for people who love all things vintage. Because so many families passed heirloom furniture from one generation to the next, vintage furniture plays a central role in the shabby chic design. This style allows decorators to put their touch on vintage pieces to fit their needs.
Older furniture gives a lived-in feel, and this style emphasizes timeless comfort. This design style typically relies on white as a neutral and has a light color palette. Whitewashed floors and walls make rooms feel elegant and bright. Muted floral patterns offer texture, which is common in decorative pillows. Designers bring in rustic elements, like distressed paint, and juxtapose them with accents like glamorous lighting.
17. Asian Zen Interior Design Style
The Asian philosophy of feng shui proposes that energy forces from different shapes harmonize individuals with their surrounding environment. This philosophy is prominent in the Asian Zen interior design style, with its roots in contemporary design. Asian Zen design style emphasizes harmony and tranquility in the home.
Asian Zen interior design incorporates sleek lines and interesting shapes. Decorators generally prefer more rounded shapes over sharp, cutting squares or rectangles. Rather than the hard lines of doors or walls, designers typically choose curtain walls and doorless walk-throughs to naturally divide large spaces. This design style maintains a strictly neutral color palette with shades drawn directly and exclusively from nature.
Houseplants such as succulents and art featuring rounded shapes are excellent additions for decor in the Asian Zen interior design style. References to nature reinforce the calm, serene atmosphere of a room designed in this style.
18. Hollywood Regency Interior Design Style
The Hollywood Regency interior design style dates back to the 1930s, Hollywood's golden age. This design style blends art deco and mid-century modern characteristics for a glamorous, sophisticated style. Like the art deco design, Hollywood Regency features bright colors and bold patterns, but they don't saturate a room in the same way. A few splashes of brilliant colors make the room feel more high-energy. Contrasting these bright, jewel-like colors with stark black and white creates contrast.
This design style's lines are clean but not harsh or exceptionally rounded. The shapes and types of furniture used have a lot in common with the mid-century modern design. Open floor plans allow a host to entertain more people and center the room on the guests, instead of the furnishings. Luxurious fabrics like velvet and silk add the glamorous features other design styles might ignore.
19. Transitional Interior Design Style
The transitional interior design style is one of the most popular styles today. The transitional design blends traditional and contemporary designs for a more achievable and modern style. One of its most identifiable features is the combination of rounded and clean lines. Curving lines on furniture contrast with the sharp corners on area rugs or tables.
The transitional design style uses traditional furnishings mixed with modern elements like patterned area rugs and interesting textiles. Throw pillows, window furnishings and blankets give a room a life that traditional styles avoid. This style also combines light and dark woods for more dynamic contrasts.
Finish Any Decor With High-Quality Flooring
If this interior design styles 101 course has inspired you to redecorate your home, what better place to start than with professionally installed floors? With help from a trained flooring expert, you can complement any look. Instead of trying to take on such a significant undertaking by yourself, why not shop at home with someone who has years of experience?
At 50 Floor, our flooring professionals offer free in-home consultations and competitive pricing. Let us provide our expert insight into the latest flooring trends and the advantages of each material. To learn more, please fill out our convenient online contact form. Schedule an appointment to get a quote for installing new floors in your home!