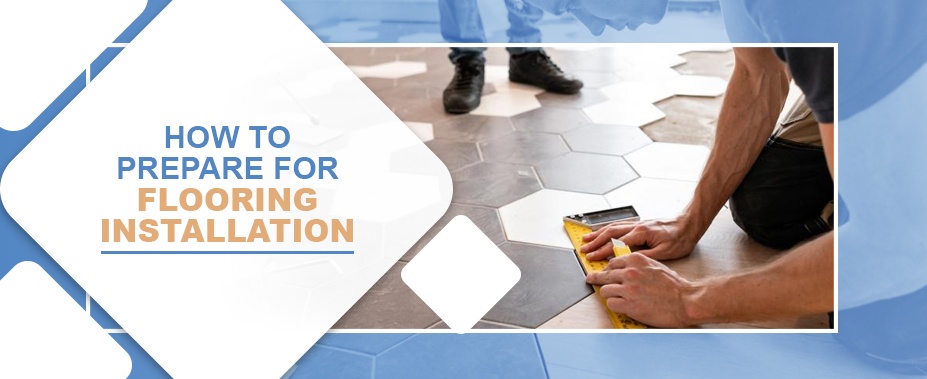 Congratulations! You've purchased a beautiful new hardwood, carpet, laminate or vinyl floor for your home. Since you've already had an in-home consultation with 50 Floor, you know exactly how your new floor is going to look.
Before you can enjoy your redesigned room, you have to get it professionally installed. While there's not much to do, taking the proper steps to prepare is essential. Properly preparing for flooring installation will help the installation process go quickly and smoothly and ensure you're ready for the floor of your dreams.
What Should I Expect With a New Flooring Installation?
Once you've decided on and purchased your new floor, you'll find a time that works for both you and the installers to come to your house. Most installations don't take more than a day. As long as you adequately prepare, the room won't be out of commission for too long.
Your best resource in this process is 50 Floor. Be sure to ask us questions, so you know precisely what to do before flooring installation. We are there to help guide you through this process, so don't be afraid to lean on us for help.
Depending on the flooring you've selected, you'll probably have to move everything out of the room before installation day. You can do this in one of three ways:
Hire the flooring company to move it
Hire external movers
Move it yourself
For carpet installation, you'll need everything out of the room, since it's laid all at once. However, for hardwood, laminate and vinyl, it's possible to install it one section at a time, so you might be able to move furniture around as you go.
You also need to prepare yourself and your family for extended periods of loud noises or strong odors, depending on the type of flooring.
Installing new floors isn't always easy or pleasant, but it's a process that most homeowners will go through at some point. To help you prepare, we've compiled a list of tips to help get you through it.
Tips to Prepare for Flooring Installation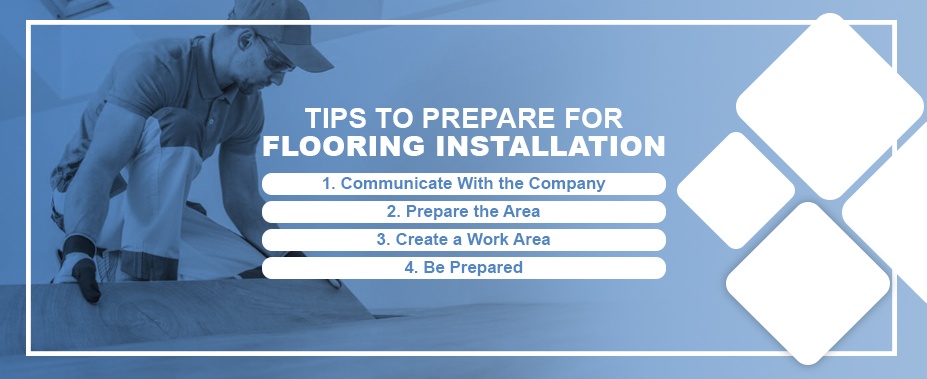 1. Communicate With the Company
When you get your floors professionally installed, you're dealing with people who have gone through the process countless times before. No question is too small — we're the experts, so don't be afraid to ask questions!
After you've made your purchase, we'll send you information to review about how to prepare for new floors. Make sure you read it thoroughly several days before your scheduled appointment so that you have time to ask questions.
You'll also want to decide whether or not you'd like us to move the furniture for you. You'll want to make this decision long before installation day comes. If you're planning on moving the furniture yourself or hiring external movers, please let us know so we can plan accordingly.
2. Prepare the Area
The most important part of prepping your floor for installation is preparing the space. Prepping the floor is the key to a successful installation. To prepare the space, you'll need to:
Clear the floor and walls:

 

In most cases, you'll need to clear everything off the installation area. In addition to everything on the floor, you'll also need to remove anything from the adjacent walls. Paintings and drapes can fall off walls during the process, and dust can ruin any nearby fabric.

 

If desired, 50 Floor will move any large furniture upon arrival, but it must be clear of any trinkets or objects beforehand. Also, a

nything professionally built, like large cabinets, need to be professionally taken down — the 50 Floor team will not move these items during installation.

Create a designated area for furniture:

 

If you're planning to let us move the furniture for you, please create a designated space for us to put it. If we need to move any oversized pieces of furniture through a specific doorway, make sure the passage is large enough.

 

If your home has limited space, consider renting a storage pod.

Clean the area:

 

It's essential to make sure the installation area is clean before the process starts. Any

 

closets

 in the room must also be cleared out. Even if they can close, dust and debris will find its way in and ruin the clothes.

Keep out children and pets:

 

It's incredibly important to keep any children or pets away from the installation area. Consider it a construction zone while the technicians are working. For most installation processes,

 

floor installers wear protective ear and eye gear,

 so any untrained persons, especially children, should stay clear of the work zone.

Clear tricky appliances:

 

50 Floor will not move dishwashers. If there's a dishwasher in the room, you'll need to hire a plumber to come and move it beforehand.
3. Create a Work Area
Ideally, the 50 Floor team would like an additional designated work area, preferably a cleared-out garage. Be aware that bad weather conditions may force us to reschedule if there's no covered workspace available.
4. Be Prepared
Being prepared is the best defense against unforeseeable setbacks.
Sometimes old plumbing lines and sinks can leak during the flooring installation, especially if we're working near a kitchen or bathroom. To prepare for this, make sure you have a trustworthy plumber's number ready.
It's also smart to prepare for any setbacks in scheduling. The time we provide for arrival is an estimation. Someone needs to be there when we arrive and when we are leaving.
Ready to Get Started?
50 Floor offers a flooring service like no other. We allow our customers to see our full range of flooring options in their own home with a trained flooring expert. Why imagine what your floor will look like in your home when you can see it for real? 50 Floor offers a free in-home consultation, competitive prices and unmatched convenience.
We take the headache out of installing new floors with our friendly customer service and professional team. Once you've picked out your new floors, make an appointment and follow the tips in this article to ensure the best experience possible.
Now that you're well-versed in how to prepare for new floors, schedule your appointment today!