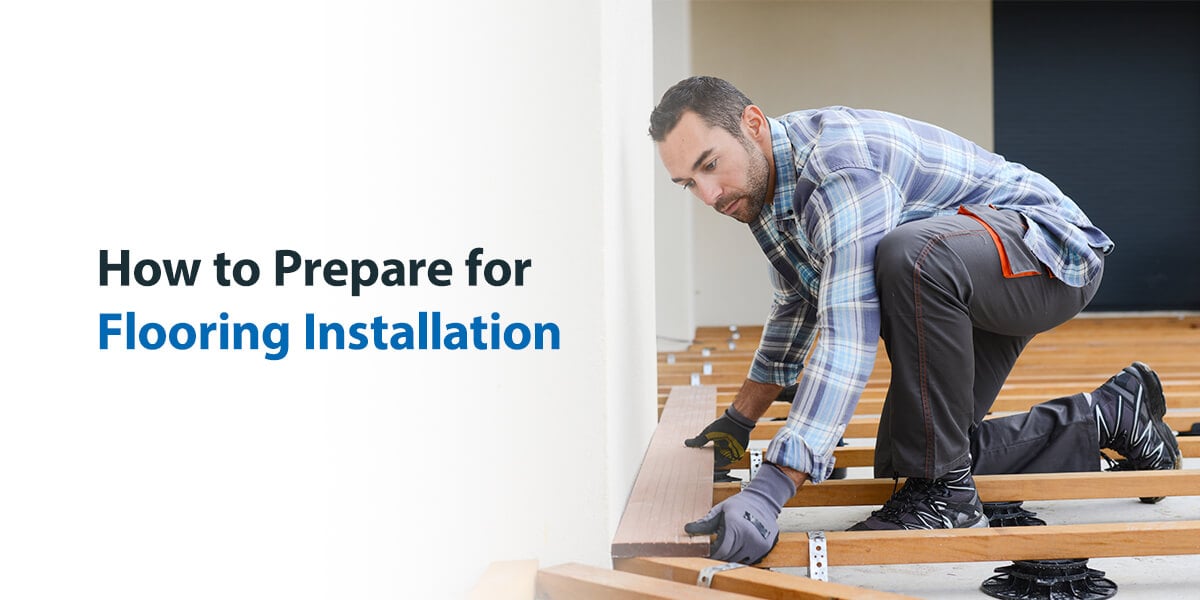 Congratulations on purchasing gorgeous new flooring from 50 Floor! There's nothing like beautiful new hardwood, carpet, laminate or vinyl flooring to refresh your home's interior. While you're probably busy choosing new furniture and decor, preparing for your flooring installation is also important.
Before you can enjoy your redesigned room, you must have your flooring professionally installed. Planning for your installation date will help the process go quickly and smoothly. The preparations are simple and will ensure you're ready for the floor of your dreams!
Flooring and Carpet Installation
What to Expect on Installation Day
Once you've set up a flooring installation appointment, what can you expect from the installation day?
The installers will call you 30 minutes before they arrive.
Once they've arrived, you should confirm the rooms and flooring product with the installers to ensure everything is correct. Then, you'll pay for the service.
After confirmation, you'll receive an installation timeline, so you know when to expect a completed project.
Installers will begin installing your new floors.
Once installation is complete, you'll fill out a completion form. You'll also receive a pamphlet with care and maintenance information for your new floors.
What Should I Expect With a New Flooring Installation?
Now that you've chosen your new floor and set an installation date, you're nearing the finish line! All you have to do is prepare your floor for installation.
When installation day arrives, our team of professional installers will show up to perform the job. They strive to make the flooring installation process as hassle-free as possible while providing top-notch craftsmanship. Here's what you can expect:
Clearing the room: Before installation, you should clear out the space, removing any knickknacks, china, books or objects that might interfere with installation. Our team will remove large furniture pieces from a room — excluding more oversized items like pool tables, wheelchair lifts, grand pianos and water beds — so you'll have to clear everything else yourself.
Removing the existing floor: The team will remove any existing floor and examine the condition of your sub-floors. If it looks good, they'll proceed with the installation. If they find an issue, management will talk to you about the problems encountered and what additional costs and repairs might be needed.
Installing new floors: The installers will apply any padding or lining required with the flooring you've chosen. Then, they'll add the new flooring on top.
Making noise: The installation process can be loud. Prepare yourself and your family for this temporary inconvenience.
Cleaning up: The crew will clean up any mess they've made, so your home looks the same as when they arrived — except with gorgeous new floors!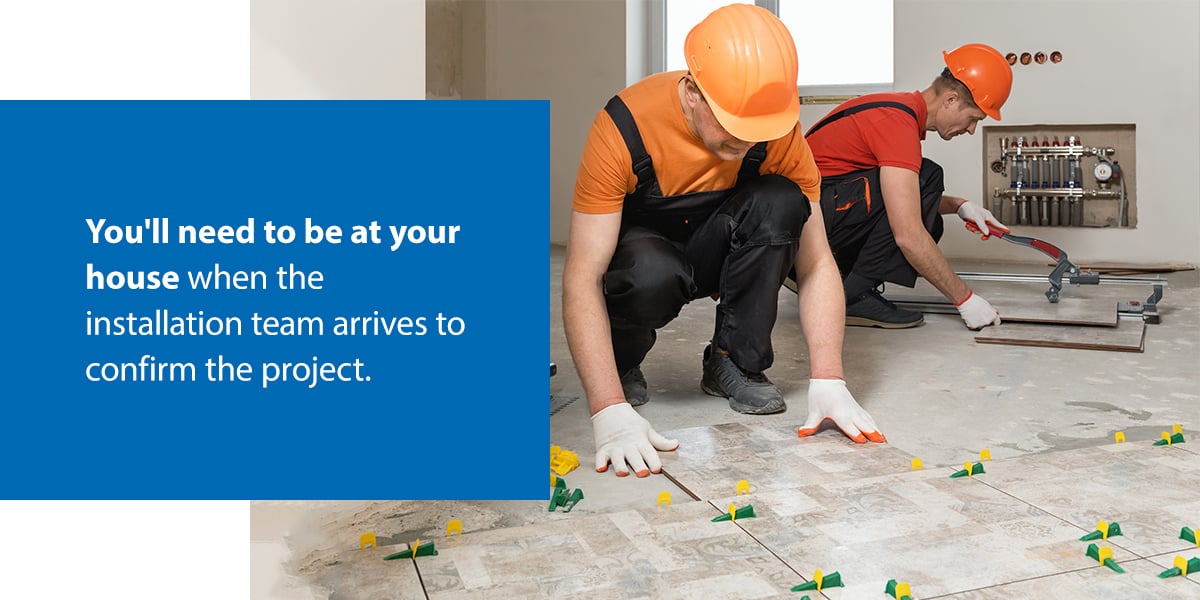 Who Needs to Be at the House for Flooring Installation?
You'll need to be at your house when the installation team arrives to confirm the project. Once you've reviewed the flooring materials, verified the rooms they'll be working on and paid, you can decide whether you'd like to stay during the installation or leave to run errands. You'll get a rough timeline from the team so you know when to return for job completion paperwork.
How Long Will My Flooring Installation Take?
The exact timeframe for installation will depend on your existing floors, your new floors and any surprises the team discovers. Hardwood refinishing will take slightly longer, and tile might need extra drying time before grout installation.
The amount of flooring coming out will also affect installation time. If you have carpet, installers can rip it out reasonably quickly. However, if you need tile or glued-down hardwood removed, that will take longer, increasing the total project time.
Finally, the amount of furniture workers need to remove in each room will increase project time. If the team moves several large items per room and they're working on multiple rooms, that may increase the project timeline.
General Tips to Prepare for Flooring Installation
Here are some tips and tricks to make your installation day a breeze:
1. Communicate With Our Team
When you get your floors professionally installed, you're dealing with people who have gone through the process countless times before. No question is too small — we're the experts, so don't be afraid to ask questions!
After you've made your purchase, we'll send you information to review about how to prepare for new floor installation. Make sure you read it thoroughly several days before your scheduled appointment so that you have time to ask questions.
You'll also want to decide whether or not you'd like us to move the furniture for you. You'll want to make this decision long before installation day comes. If you're planning to move the furniture yourself or hire external movers, please let us know in advance.
2. Prepare the Area
The most important part of prepping your floor for installation is clearing the space. While you don't have to empty the entire room, you should remove as much as possible to ensure a speedy installation. Follow these steps:
Choose a temporary storage area: If you're only getting new floors in one room, you can move your belongings to another room until it's finished. However, if you're getting new floors throughout the entire house, consider storing your items in the garage or renting a temporary storage unit.
Clear the floor: Remove as much as you can from the room before installation day. It helps the installation go faster and ensures that none of your delicate items are damaged. Take out any furniture that is light enough to carry. Clear off any remaining objects and empty the drawers.
Strip the walls: While it may seem like overkill to clear everything from your walls, it's necessary to preserve your decor. Paintings may get bumped or fall off the walls, and dust can ruin nearby fabrics like curtains or tapestries. Strip the walls to prevent any accidents — you're better off safe than sorry.
Empty any closets: Don't forget to clear out any closets or cupboards in the room. Dust from the installation process may seep in and ruin the contents inside.
Clear tricky appliances: If you plan to remove built-in cabinets, you should have them removed ahead of time. You should also clear any electronics or breakables from the area before installation day to protect them.
Keep out children and pets: Keeping children and pets away from the installation area is crucial. Consider it a construction zone while the technicians are working. For most installation processes, floor installers wear protective ear and eye gear that may prevent them from noticing unexpected guests. Any untrained persons, especially children, should stay clear of the work zone.
Measure the doorway: If we need to move any oversized pieces of furniture through a specific doorway, make sure the passage is large enough beforehand.
Let us do the rest: Our crew will handle your largest belongings once they arrive on-site. Just let us know ahead of time so we can plan accordingly.
3. Create a Work Area
Ideally, the 50 Floor team would like an additional designated work area, preferably a cleared-out garage. Be aware that poor weather conditions may force us to reschedule if there's no covered workspace available.
4. Be Prepared
Being prepared is the best defense against unforeseeable setbacks.
Sometimes old plumbing lines and sinks can leak during the flooring installation, especially if we're working near a kitchen or bathroom. Make sure you have a trustworthy plumber's number ready just in case.
It's also wise to prepare for any setbacks in scheduling. Our estimated arrival time is subject to minor delays. Clear your schedule as much as possible to prevent any stressful timing conflicts on installation day.
Contact 50 Floor With Any Questions About Your Upcoming Installation
50 Floor offers a flooring installation like no other. We take away the headache of installing new floors with our friendly customer service and professional team. We make it easy to transform your home with very little effort. By following these tips, you're sure to have the most convenient and stress-free installation possible.
Reach out anytime with questions on how to prepare for your upcoming installation!