When you're remodeling your kitchen, you have a lot to consider. However, one question is essential to answer — should you install flooring before cabinets? The answer depends on what flooring you choose and what you want for future kitchen projects. Find the flooring you want below and see whether you should install cabinets or flooring first.
Should Hardwood Floors or Cabinets Be Installed First?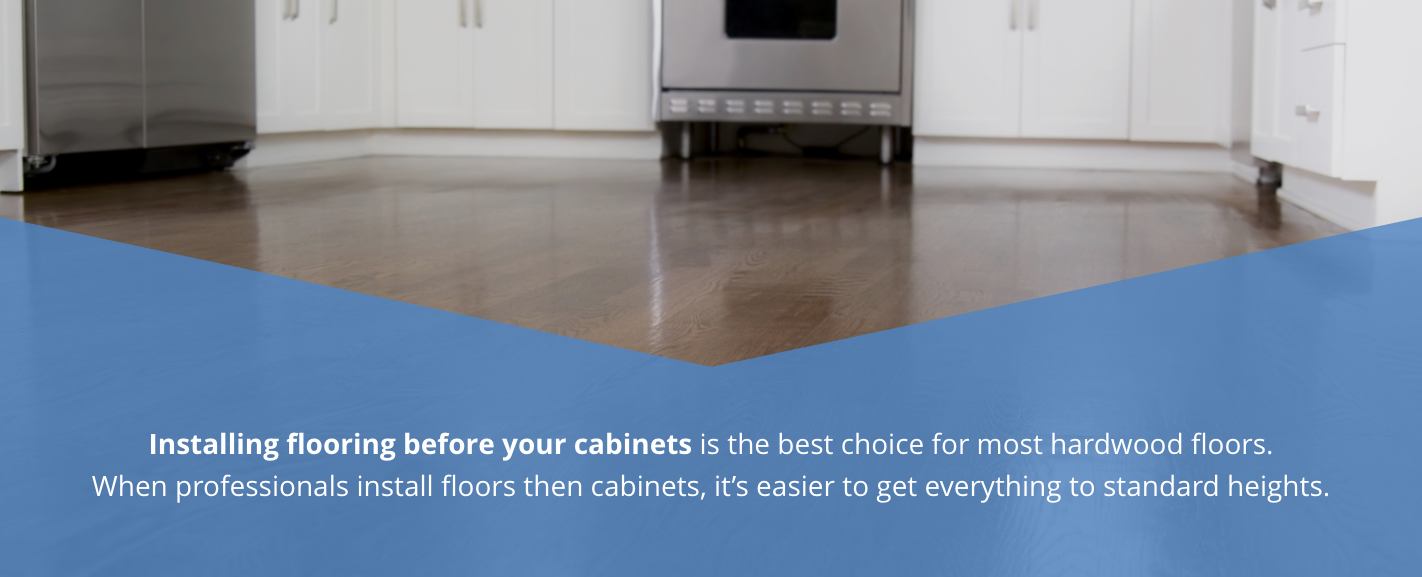 Installing flooring before your cabinets is the best choice for most hardwood floors. When professionals install floors then cabinets, it's easier to get everything to standard heights. It's also a safer installation process for your cabinets since you won't risk any damage to them as professionals install the floors.
Make a timeline for your kitchen remodel and include time for the hardwood installation. You will also need time to apply two coats of polyurethane or another finish to help protect your new hardwood floors during the cabinet installation process. Then use temporary surface protection as professionals finish your kitchen.
Do You Install Tile Floors or Cabinets First?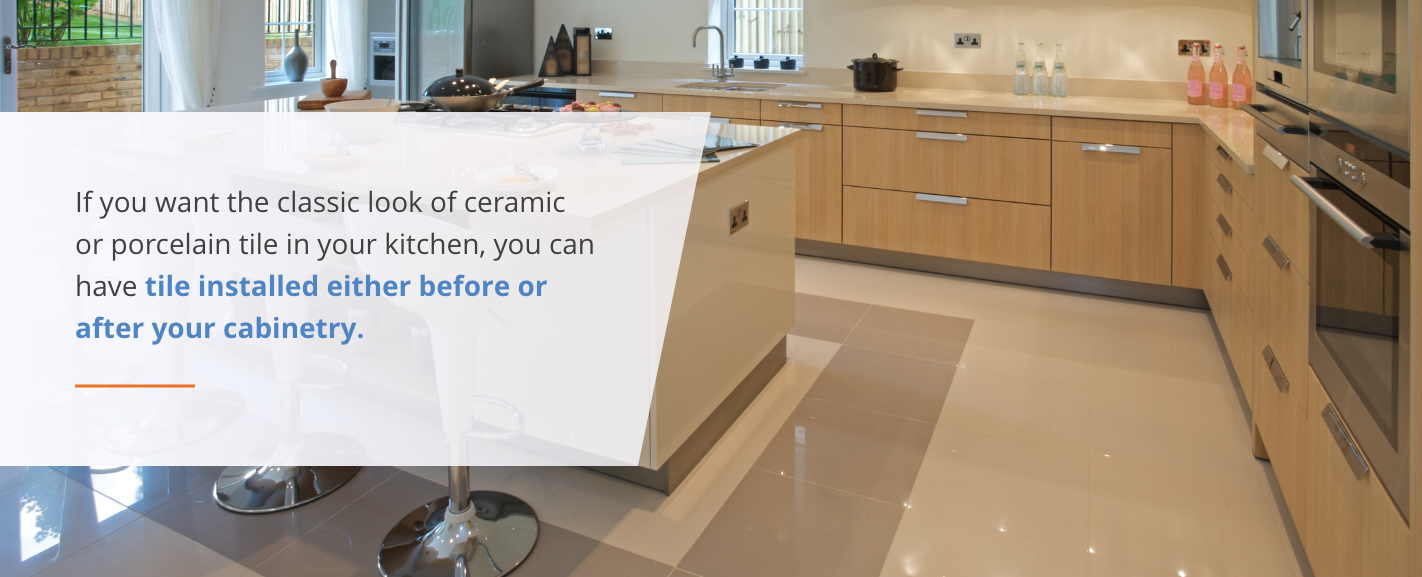 If you want the classic look of ceramic or porcelain tile in your kitchen, you can have tile installed either before or after your cabinetry. With tile going in before the cabinets, you need more square feet of tile, but the installation process will be easier on an unobstructed surface. You also get flexibility if you decide to get a new cabinetry layout later but keep your tile floors.
Installing tile after your cabinets means you don't need as much flooring material. Installers will cut tiles and detail areas around your cabinets, though. With a tile installation around your cabinets, you may not have as much flexibility with your cabinet layout later on. You do, however, get flexibility with your flooring and cut down on the risk of cabinet installers damaging your tile floor.
Can you Put Cabinets on a Floating Floor?
Floating floors consist of tongue and groove pieces that snap together. They come in laminate, engineered hardwood and luxury vinyl options, and even some natural wood floors and tiles come in floating styles. The floating style differs from traditional hardwood or tile floors where professionals nail, staple or glue down each plank. Because of that installation process, cabinets should go in before floating floors.
Cabinets, especially with heavy stone countertops, could damage your floating floors. These types of floors also shift, expand, contract and settle after installation, causing the cabinets on top of them to move.
Get New Kitchen Flooring From 50 Floor
If you're preparing for a kitchen remodel or just want new floors in your home, look no further than 50 Floor. During your at-home flooring appointment, our professionals will answer any questions you have about the installation process and if you should install flooring or cabinets first. You'll get to see floor samples in your kitchen and determine what looks best with the lighting and the rest of your home.
Schedule an at-home flooring consultation today and see how 50 Floor will help transform your home.