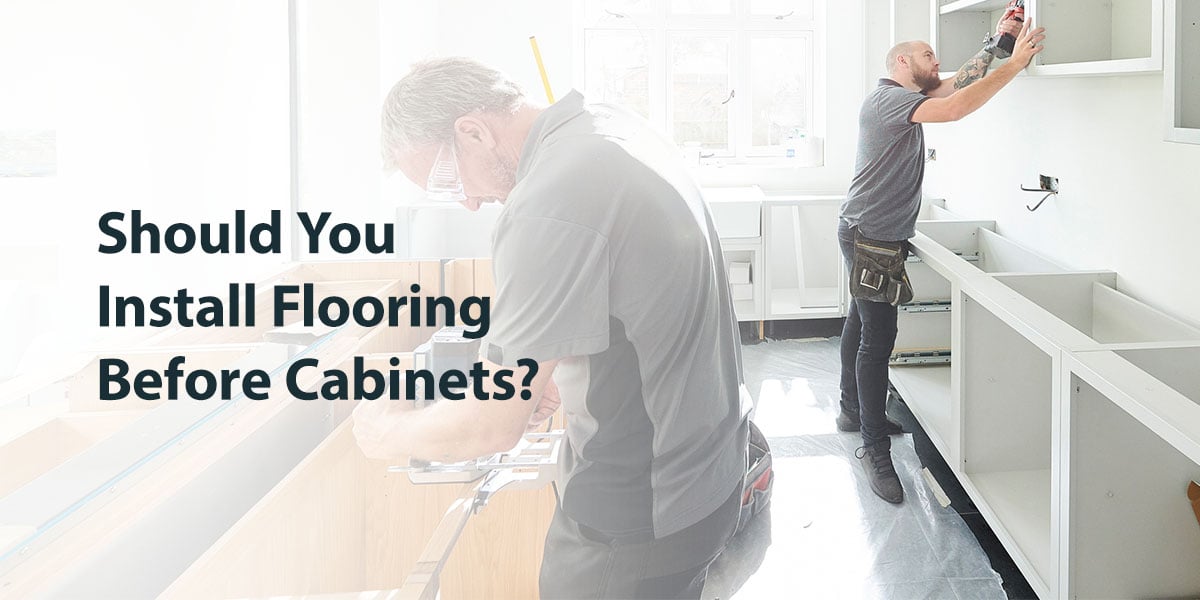 When you're remodeling your kitchen, you have a lot to consider. One question is essential to answer — should you install flooring before cabinets? The answer depends on what flooring you choose and what you want for future kitchen projects. Find the flooring you want below and see whether you should install cabinets or flooring first.
Cabinets or Flooring First? Factors to Consider
Unless you're a contractor or a home improvement industry professional, you're probably unsure if you should install your flooring before or after cabinets. To help you get started, consider the following factors before starting your home renovation.
The Flooring Material
The type of flooring material you choose can impact the order of your renovation. We recommend installing hardwood flooring first, while it's OK to install tile after installing your cabinets. When you choose a flooring material, your flooring provider or contractor will provide you with more insights.
Painting or Other Renovations
If part of your kitchen renovation involves painting, you may want to consider having your floors installed later. Why? Well, it's impossible to ruin your new floors with paint if your floors haven't been installed yet. If you're also planning to bring in new appliances or you have other big renovation plans in store, installing new flooring near the end of the process can protect your floor from any scratches or other damage that may occur during the renovation process.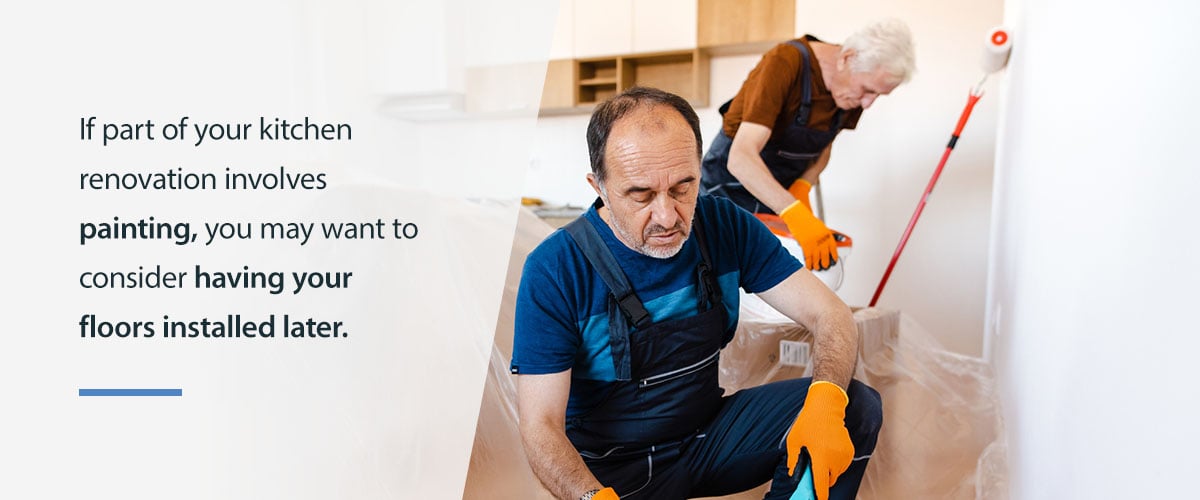 Future Remodels
If you think you might want to remodel your space again later down the road, installing flooring first is a step that can make that future process easier. When flooring is installed after cabinetry, it has to be cut to fit the space. If you ever change your cabinetry layout or design, you may be missing finished flooring in some areas.
Pros and Cons of Installing Cabinets First
Should cabinets be installed before flooring? Before committing to installing your cabinets first, take a look at some of the pros and cons.
Pros of Installing Cabinets First
If you choose to install cabinets first, you can expect the following benefits:
Save on flooring material: Since your cabinets are installed before your floors, flooring can only be placed in areas not covered by cabinetry. Instead of paying for the full floor to be installed, you're only paying for what's visible.
Shorter flooring installation process: In addition to using less flooring material, you'll also reduce the time needed to install your new floors. The less material that needs to be installed the quicker the process.
Floors remain protected: You can't damage your floors if they are not installed. You can feel relaxed knowing that no matter what happens during the remodeling process, your floors will not take any damage from painting, moving furniture or other renovation processes.
Cons of Installing Cabinets First
While installing cabinets first has several benefits, there are also a few downsides, including:
Defined layout: When you install flooring after cabinetry, your floors will be cut and installed to fit your specific layout. If you ever decide to change your kitchen in the future, you'll have to follow the same layout you currently have or fill the empty spaces your old cabinets left on the ground.
More expensive: While this method of installation uses less flooring material, the price may actually be higher. Since your floor is placed around your cabinets, there is more unique cutting and fitting required to fit your unique space.
Pros and Cons of Installing Flooring First
Installing flooring first also comes with benefits and drawbacks.
Pros of Installing Flooring First
The advantages of installing new flooring first include:
Uniform floor installation: When you install flooring first, your flooring will cover the entire room since cabinets and other appliances are not in the way. This makes it easier to rearrange your space in the future because your flooring will continue throughout the entire room.
Proper cabinet and appliance height: Sometimes, an appliance or cabinet may be at an awkward or wrong height which makes it more difficult to use. Flooring, when installed first, can be used to add extra height under any improperly sized appliances or cabinets.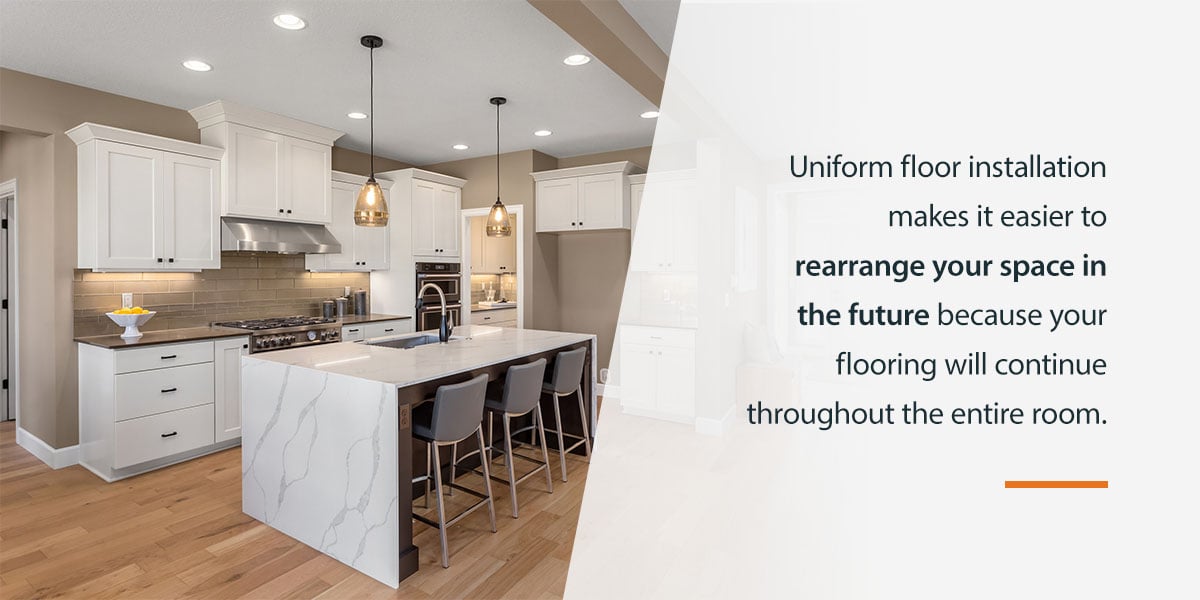 Cons of Installing Flooring First
On the other hand, installing flooring first can lead to issues such as:
Moving floors: Flooring can go under cabinets. However, some materials, like wood flooring, are known to contract and expand due to humidity and temperature changes. Extra consideration needs to be taken when installing this type of flooring because it can potentially lead to shifting cabinets.
Potential damage: When your floors are in place early in the remodeling process, you'll have to take extra precautions to prevent any scratches, dents, staining or other damage.
Should Hardwood Floors or Cabinets Be Installed First?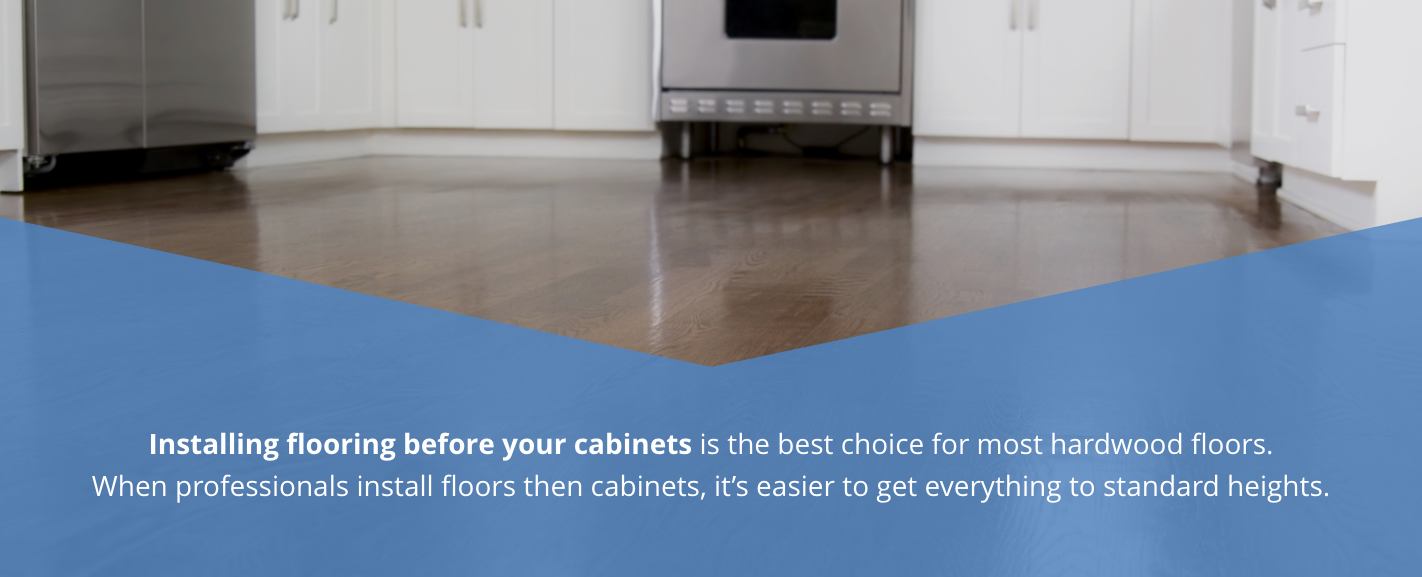 For most styles of hardwood floors, it is recommended that you install your flooring before your cabinets. When professionals install floors before cabinets, achieving standard heights is easier. This is also a much safer installation process for your cabinets since you won't risk any damage to them while your floors are installed.
Make a timeline for your kitchen remodel and include time for the hardwood installation. You will also need time to apply two coats of polyurethane or another finish to help protect your new hardwood floors during the cabinet installation process. Then use temporary surface protection as professionals finish your kitchen.
Do You Install Tile Floors or Cabinets First?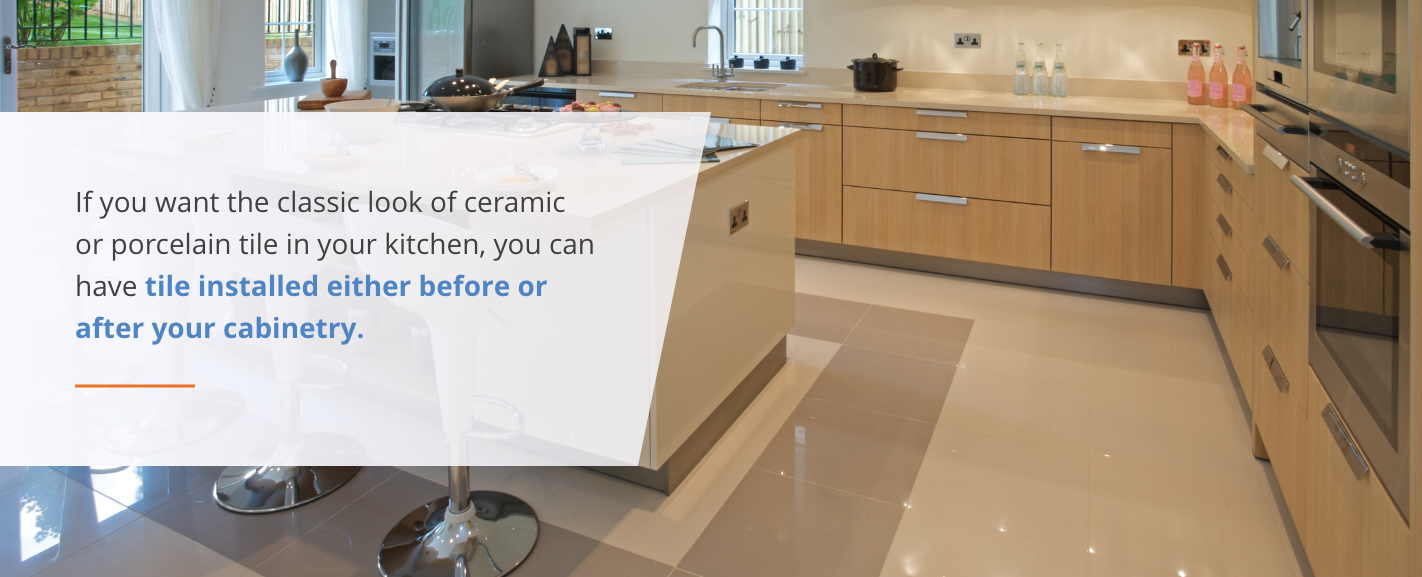 If you want the classic look of ceramic or porcelain tile in your kitchen, you can have tile installed either before or after your cabinetry. With tile going in before the cabinets, you need more square feet of tile, but the installation process will be easier on an unobstructed surface. You also get flexibility if you decide to get a new cabinetry layout later but keep your tile floors.
Installing tile after your cabinets means you don't need as much flooring material. Installers will cut tiles and detail areas around your cabinets, though. With a tile installation around your cabinets, you may not have as much flexibility with your cabinet layout later on. You do, however, get flexibility with your flooring and cut down on the risk of cabinet installers damaging your tile floor.
Can You Put Cabinets on a Floating Floor?
Floating floors are a convenient option that consists of tongue-and-groove pieces that snap together before being nailed or glued down. They come in laminate, engineered hardwood and luxury vinyl options, and even some natural wood floors and tiles come in floating styles. With floating-style floors, you can avoid the traditional process for hardwood or tile floors, where professionals nail, staple or glue down each plank.
Because of this installation process, its recommended cabinets go in before floating floors. Cabinets, especially those with heavy stone countertops, could damage your floating floors. These types of floors also shift, expand, contract and settle after installation, causing the cabinets on top of them to move.
Get New Kitchen Flooring From 50 Floor
If you're preparing for a kitchen remodel or just want new floors in your home, look no further than 50 Floor. During your at-home flooring appointment, our professionals will answer any questions you have about the installation process and if you should install flooring or cabinets first. You'll get to see floor samples in your kitchen and determine what looks best with the lighting and the rest of your home. Schedule an at-home flooring consultation today and see how 50 Floor will help transform your home.