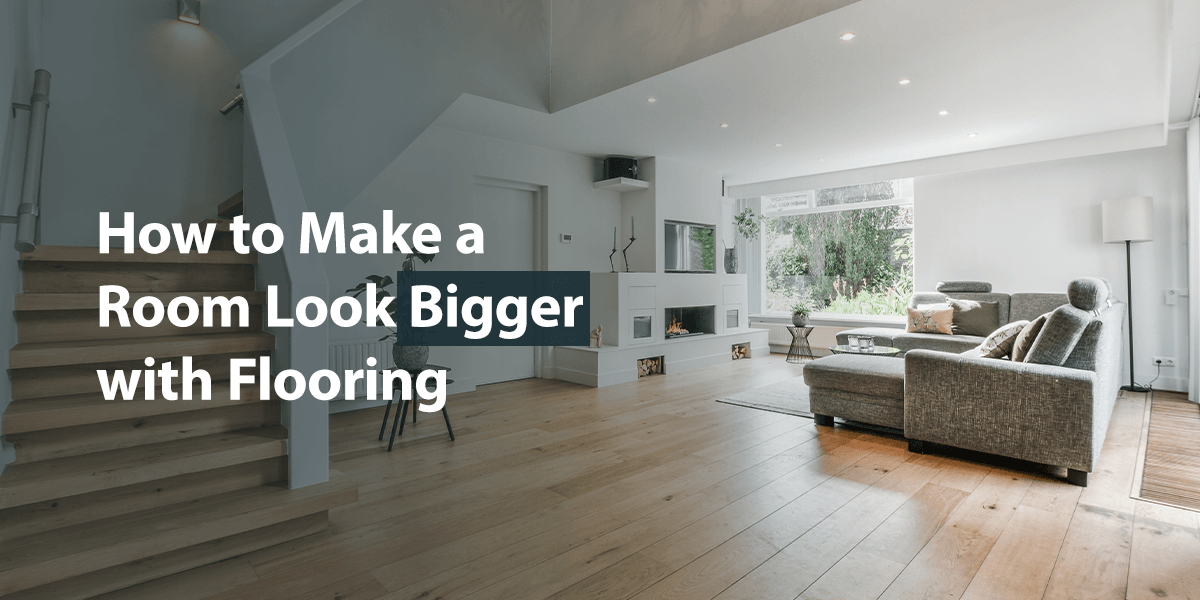 Practically every household talks about "that room," the one in need of a little more real estate. Unless you're ready to bump out a closet and commit to a full renovation, you probably just want your tiny room to appear less cramped and feel larger. Lucky for you, flooring can be one of your best allies in the battle to help a small room seem cozy but ample. In fact, the right type of floor or floor color can make a room bigger, at least from a visual perspective.
Flooring Tips to Make a Small Room Look Bigger
Even though you will always know the basic dimensions of your little room, you can use some proven methods to seemingly bump out the walls without ever picking up a hammer. For instance, a smallish bedroom will always look grander when outfitted with just a few pieces of furniture instead of a full suite. Light-colored and bright-colored walls also tend to promote a sense of greater space. Where does flooring come into the picture? Well, if you sparsely decorate the room with furnishings, your floors will be more noticeable. This allows you to get more mileage from the optical illusions your floor's texture, type and shade create. Here are a few ways you can think about and utilize floors when covering small spaces.
Use Wider Planks
Thinking about using a product like hardwood or laminate in your small room? Though you might gravitate toward thinner planks or strips, revisit your initial plans. Wide plank flooring can make a room look bigger.
Since wider flooring takes up more space, there are fewer seams on your floor, making the space feel less crowded and overall bigger. They can also be more affordable because you need fewer of them.
Choose Larger Tiles to Provide Depth
A newly popular type of flooring is luxury vinyl tile (LVT). Whether you are sold on LVT or another type of tiled hard flooring or carpet, always pick bigger tiles. Many people make the misstep of choosing tiny tiles in their intimately sized rooms, which only emphasizes how small the space is. With small tiles, our eyes are drawn to the grout lines, forcing us to notice the size of the floor. Wider tiles make the room feel less busy, which can then make your room feel more spacious.
Leave Visible Floor Space
When you add new flooring to a room to help make it look bigger, the flooring needs to do it's job — don't cover it up with too much furniture or decor. A room with lots of items can feel crowded, cramped and small, even if the room is large.
Keep floor items to a minimum to create the illusion of more space. If you need additional decor or storage, try wall-hanging options to keep the floor area clear.
What Types of Flooring Make a Room Look Bigger?
When you want to make a small room feel bigger, some flooring options get the job done better than others:
Carpet
Truly lean into the cozy feel of a smaller room when you use carpet. Cozy does not have to mean small! A lighter-colored cream or taupe carpet can brighten up a room and make it feel more spacious and airy. Or, pair a darker-colored carpet with lighter-colored walls and ceilings to make the room feel taller.
By using plush carpet and warm and inviting furniture and decor, you can overlook the size of the room and see it as a comfortable, homey place.
Tile
Bigger tiles can create the illusion of more space, which makes them a great option for making a room look and feel bigger. Seeing bigger tiles tricks the mind into thinking there is a lot of space to fit these flooring materials. Tiles are especially great for small bathrooms due to their ability to withstand moisture and humidity.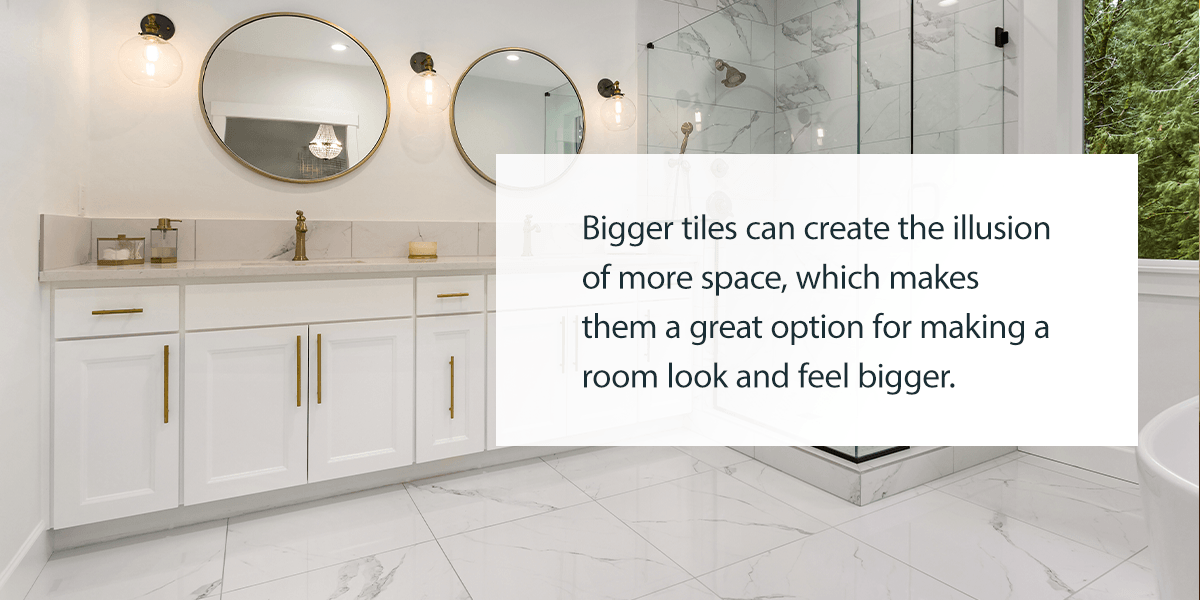 Wood
Wood can bring depth and texture to even the smallest rooms. It can also make rooms look bigger if the same wood flooring is used throughout the home. When you use the same flooring, it creates continuity, and all of the rooms in your home feel like they seamlessly flow into the next.
Wood flooring on its own also increases the resale value of your home. So, when you use hardwood flooring to make a room look bigger, you're ultimately improving your home's value in two different ways.
What Color Flooring Makes a Room Look Larger?
After picking the type of flooring and style you want, you get to move on to the fun part — picking the right color flooring to make your small room look bigger. Keep the following information in mind when choosing your flooring color:
Do Dark Colors Make a Room Look Smaller?
Surprisingly, dark flooring colors, including deep brown plush carpeting and dark simulated woods, can be beneficial in rooms with limited space. Unlike dark walls, the combination of deep coloring on floors and light-colored walls and ceilings make the ceiling appear higher and elevate the entire room. Additionally, the contrast between the dark floors and light walls pulls the eyes upward, focusing on the room's brightness.
Do Light Floors Make a Room Look Bigger?
Light color flooring tends to brighten up a space and make it feel larger. Easily modernize a small room and add freshness and light by incorporating bright, creamy floor tones. Make this room even more attractive and inviting by snagging plenty of natural light through the windows or skylights. Consider adding warm artificial lighting for an extra cozy touch.
Pair this light flooring with other neutral design elements, such as furniture and decor, to keep the room feeling comfortable and spacious.
The Importance of Uniformity
In general, no matter what color you decide upon, consider making it uniform around the room. Mixing different types of flooring can make the space feel too busy, which ultimately makes it feel smaller. Keeping the flooring consistent, especially between rooms, can help tighter rooms feel more open. Uniform flooring creates a smooth flow that helps the space feel airy and open.
Avoid Multi-Colored Flooring
A snug room does not have the real estate to accommodate multi-colored carpet tiles unless they flow into an overarching eclectic or whimsical design. Keeping things simple in smaller rooms is always recommended because it makes the space feel less crowded and more open and inviting. If you're looking to add color to your room, do so through an accent wall, wall art and other decorative touches that draw the eyes upward.
Transform Your Small Space to Make It Appear Larger
Excited at the prospect of transforming your small room? 50 Floor offers a wide variety of beautiful, quality flooring for every room and design style. Our friendly and experienced team will help you explore the wide world of flooring choices for all your spaces during a free in-home consultation. We'll discuss different materials, pricing and financing options so you can confidently make an informed decision.
Schedule a time to meet with a 50 Floor representative in the comfort of your home and see how different flooring options will look in your space.