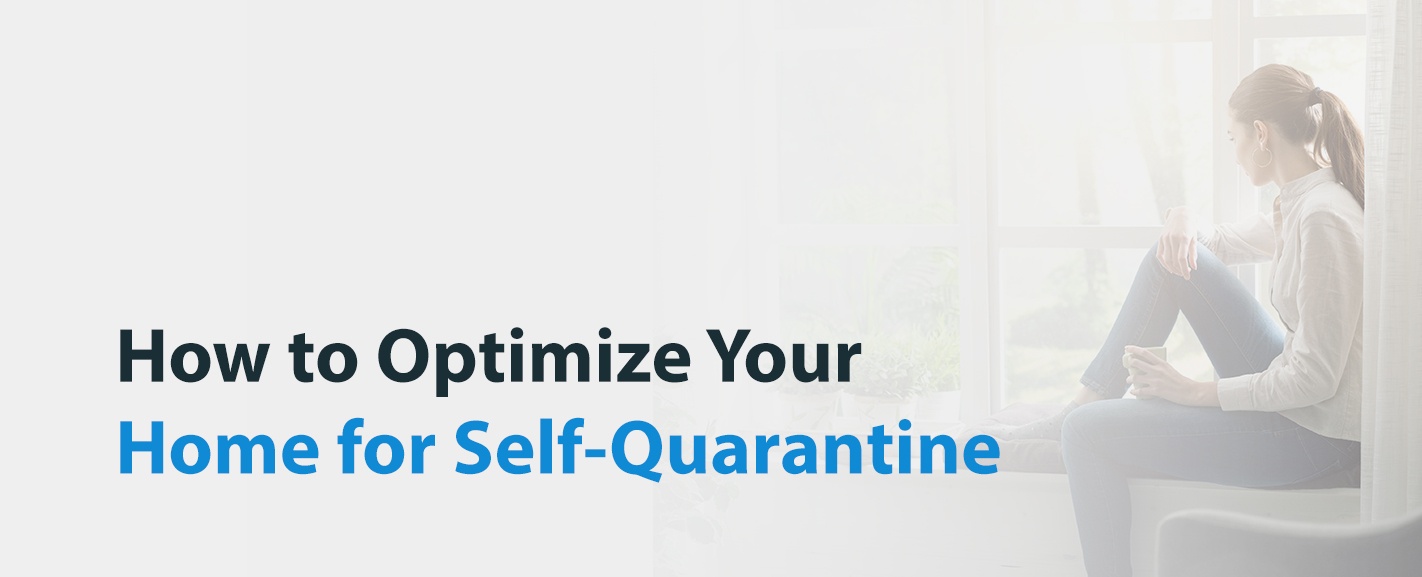 Your living space might be perfect for relaxing after a long day of work, but now that you and your family are staying home, you may feel cramped. Since you have some extra downtime, whether you're alone or you have a full house, use this guide to maximize your home for self-quarantine.
1. Split Your Living Space Into Zones
If you have a small house or a one-bedroom apartment, you may feel trapped in your limited space. While you're in quarantine, designate zones with the following tips.
Creating a daily routine:

Before you think about how you want to organize your living space, you should think of what you want to accomplish each day. Developing a regular schedule helps you decorate, but it also helps you stay calm during these uncertain times. You could schedule downtime throughout the day, but make sure you also allow time to get work done or clean around the house.
Considering the natural flow of your day: After you've created a schedule, walk through your space and figure out how to organize it, so you can accomplish the items on your to-do list. For instance, maybe you'll roll out of bed and make your way to your couch, where you'll enjoy a morning coffee while enjoying the weather outside. Create a rhythm in your floor plan that makes it easier to stick to your daily routine.
Repurposing the furniture:

Your furniture will be the primary tool you use to define the zones in your house. Set up cozy chairs where you want to relax or a desk where you need to do work. If you have kids at home, you could also designate a space for them to play or read while you're working.
2. Open Your Living Space
Open up your cramped room or tiny house to optimize your home for self-quarantine. You've probably stocked up on food and toilet paper, so you have limited room as it is. Follow some of these tips for creating additional space in your home.
Be smart with your storage: Use windowsills, multi-functional furniture and other nooks and crannies to store your valuables. While you can put cleaning supplies or books pretty much anywhere, create space for your food that isn't vulnerable to pests.
Declutter: In a small house with limited storage, you can learn to live with fewer items in your home. Now that you've got some free time, go through your living space and get rid of all your broken and unused items.
Rearrange the furniture:

While you can't go out and buy new furniture right now, you can free up space with strategic placement of the pieces you already have. Try moving your bed toward the wall to open up more space in the bedroom. You could also rearrange the lamps and rugs in your house.
3. Set Boundaries for Your Work Area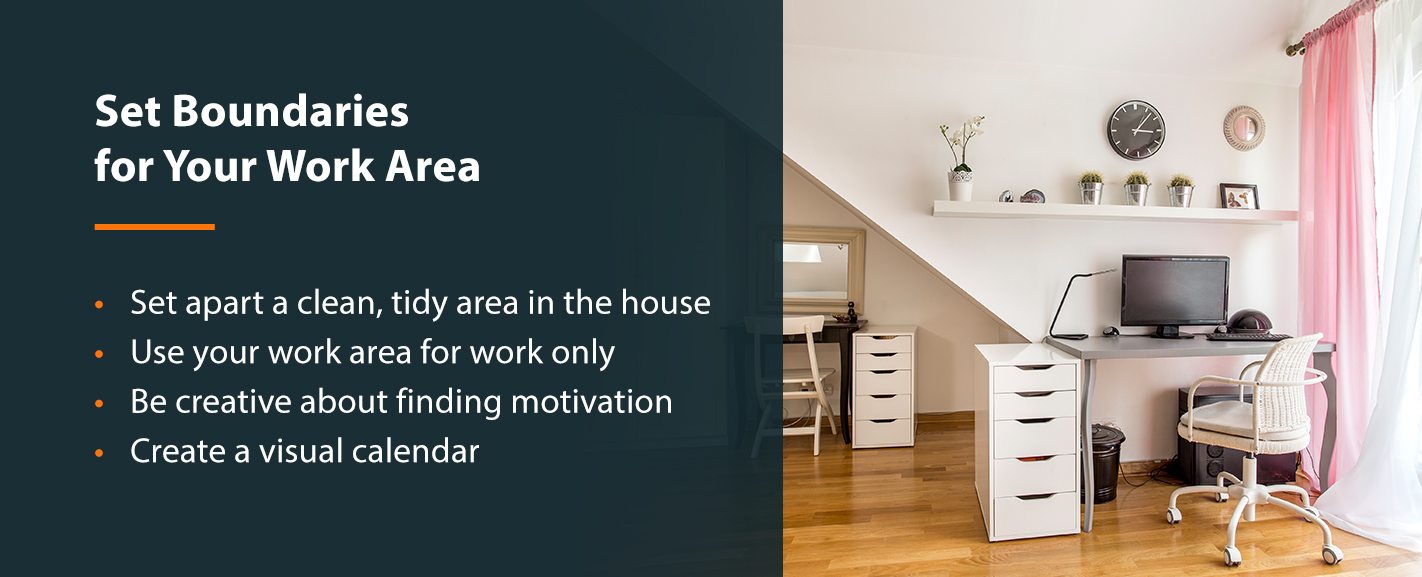 If you're having difficulty finding a work-life balance, create a work zone to prepare you for your job each day. Follow these steps for setting up boundaries around your workday.
Set apart a clean, tidy area in the house:

You need a visual atmosphere to get in the mood to work, whether you have a home office or an unused space in your apartment. Decorate this area with wall art and natural light to keep you motivated.
Use your work area for work only: When you start your job in the morning, go to your home office or the spot you designated in your living space. After you finish work for the day, don't return to your office space until the next day.
Be creative about finding motivation: If your office space is also your dining table or bed, you could establish a physical cue for when it's time to start your workday, like opening the window or turning on a desk lamp. When you finish work, shut the window and put your desk lamp out of sight.
Create a visual calendar:

A calendar will help you and your family stay on track during the day. Write down your tasks at the beginning of the week and refer to them each day to hold yourself accountable.
4. Use Vertical Space to Store Items
You might not have a lot of storage options in a small apartment, but now's your time to be creative. To make the most out of your closets and walls, use vertical storage, such as the following.
Magnetic wall strips for knives or screws
Shelves for books or nonperishable foods
Tack boards for garden tools or office supplies
Coat racks for coats or clothes
Wall hooks for purses or keys
5. Bring in More Natural Light
Spending time away from other people could negatively affect your mood, so if you live alone, having a view of the outside could help you feel happier throughout the day. Bring more natural light into your house with these ideas.
Changing your window treatments: If you have heavy or dark curtains, change them out for lighter ones.
Cleaning your windows: Clear windows bring in much more light than windows with dirt or grime on them.
Hanging a mirror:

Reflect the sunlight from a nearby window or glass door with a mirror on the opposite wall.
Cleaning your floors:

Clean the deep stains

from your light-colored floors to reflect natural light into the room.

*Be sure to follow your warranty instructions.
6. Paint and Decorate With Bright Colors
If you don't have a lot of natural light, you can create artificial light in your home with cheerful colors. Here are some ideas for including bright colors in your decor by using items you already have in your home.
Drape a colorful blanket over a dark couch.
Change the color

of your hardwood floors with a colored finish.
Add a bright rug to

your dark floors

to create a contrasting color.
If you can't change out your dark-colored carpeting or get new furniture at the store, you can paint the room a fun color instead. Order paint and rollers from your local hardware store and take a day out to change the color of your walls. You could also bring out your creative side by painting a bright picture to hang on the wall.
7. Create a Workout Routine and Space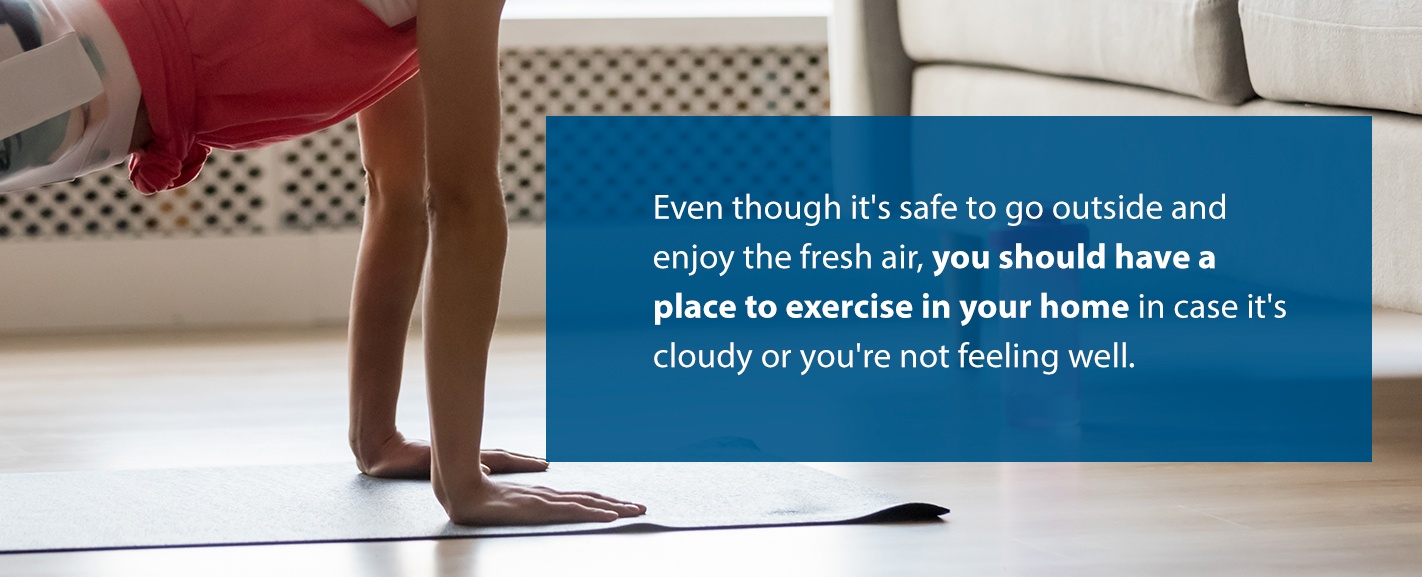 Working out can be a way for you to practice self-care while you're stuck inside the house. Even though it's safe to go outside and enjoy the fresh air, you should have a place to exercise in your home in case it's cloudy or you're not feeling well. Establishing a workout space in your home provides the following benefits.
Replace the gym:

Even if you have a gym membership, you can't go to this densely populated area without risking exposure to the coronavirus. Create a space in your living space to work out, so you can safely maintain your health.
Maintaining a routine: Sticking to a schedule throughout the day is beneficial for your immune system and stress levels. Pick a time of day to complete your exercise routine and stick to it.
Boost your mood:

Exercising releases hormones into your bloodstream that make you feel happier and help you sleep better at night.
Schedule an Appointment With 50 Floor
If you think a new floor would optimize your home for self-quarantine, you could explore our flooring options without exposing yourself to large crowds. During a consultation, a representative from our team will come to your house and show you flooring samples, so you can make your decision in the comfort of your home. Schedule an appointment with 50 Floor today to upgrade the flooring in your house.