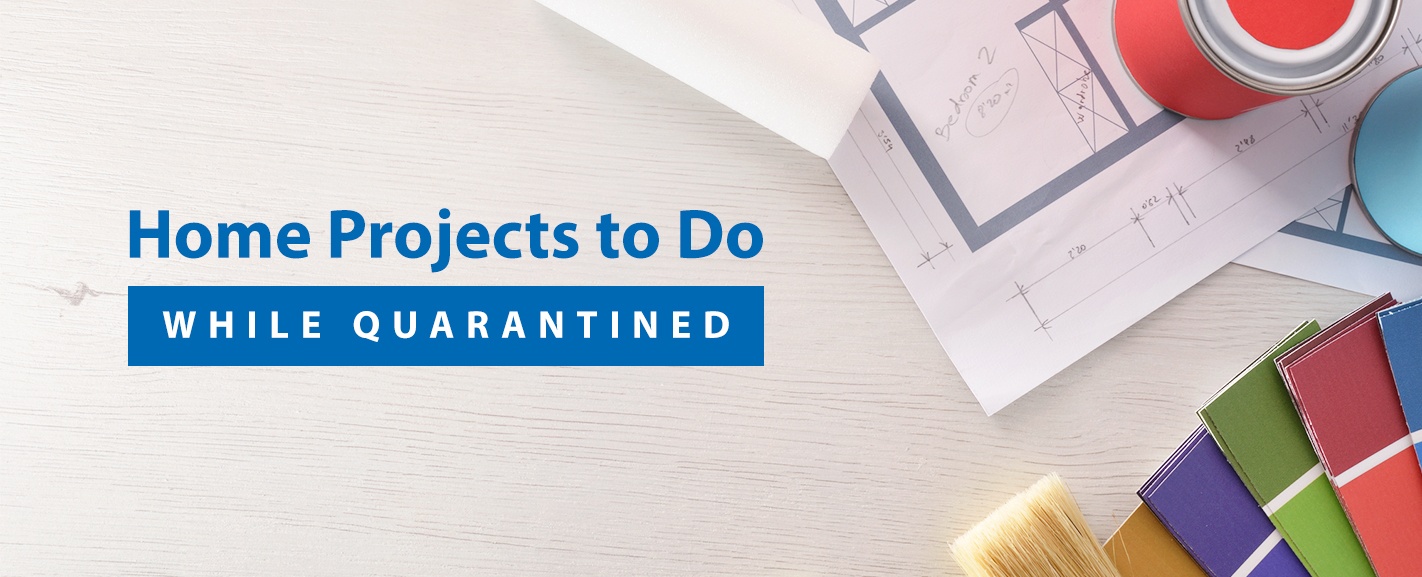 As you're getting restless from staying home for a couple of months, you may be thinking of tackling some easy home projects while you have the extra time. Here are some suggestions for DIY home projects to do while you're in quarantine.
1. Rearrange the Items in Each Room
While you can't run to the store and get new decorations, you could use what you have to make your space look brand new. Here are some suggestions for rearranging your house while in quarantine:
Change up the layout of your furniture:

Move your couch, chairs or rugs around to give your rooms a fresh appearance. You might even find a couple of lost items that made their way into the cushions or under chairs.
Use the fine dinnerware:

Now that you're spending more time with family, every meal is a special occasion. Bring out the fine china and make memories with the loved ones in your household.

Reorganize your bookshelves: If you're a book lover, you might organize your bookshelves by title, author's name or literary theme. For a fresh aesthetic appeal, rearrange your books by color or size.
2. Deep Clean the House
Gather your disinfectants and take this time in quarantine to deep clean your living space. Wipe down or vacuum the areas that you usually don't have time to touch, such as:
HVAC vents:

The ductwork in your HVAC system could accumulate dust as you use them. Wipe these vents with a dry microfiber cloth or vacuum them using the brush attachment.
Under the bed: Move your bedroom furniture, clear the clutter and sweep or vacuum the floors.
Bathroom cabinets and drawers:

After daily use, the drawers in your bathroom might have toothpaste stains or loose hair ties. Empty your bathroom storage space, clean the surfaces and throw out expired or unused products.
3. Organize Your Storage Areas
Organizing your storage areas is one of the easiest home projects while quarantined. Now that you're home, you have plenty of time to go through the whole house and change up your organization system. Here are some ideas:
Declutter the closets: The closets are where you throw random clutter to get it out of sight. Go through all your closets and put the items where they belong. Consider donating the things you haven't used in a while to help out those in need.
Pick up your shoes: You may tend to throw your shoes or jackets in the entryway after a long day of work. Put these items out of sight, and try to think of a new system for taking off your shoes and putting them somewhere.
Create labels:

If you have storage containers that you're not using, organize your items that don't have a home. Make fun, colorful labels to tell you what's in each container.
4. Update the Walls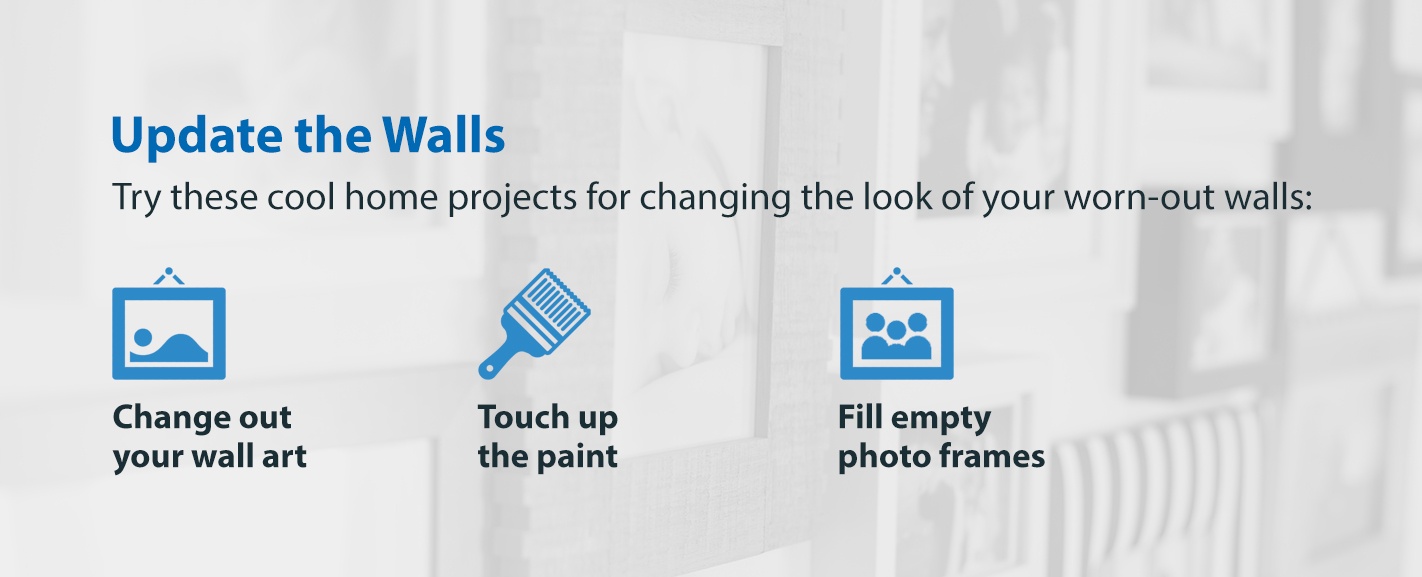 As you look into a room, you'll notice that the walls make up a significant portion of your living space. Try these cool home projects for changing the look of your worn-out walls:
Change out your wall art: As you take your wall hangings down and clean them, think about changing out some of them. Try hanging them in a different room, or save them to give as a gift.
Touch up the paint:

If you have chips or holes in the walls, fill in the gaps and apply a fresh coat of paint. You could even try changing the color of a room with the extra paint.
Fill empty photo frames: You may have decorative picture frames you received as a gift, but you couldn't find pictures to put in them. Find creative ways to fill them with fun memories.
5. Inspect Your Lighting
The right lighting can affect the mood of a room, so check your lighting for dust and burnt-out bulbs. You could improve the lighting and energy efficiency in your house by:
Replacing burnt-out bulbs: If any light bulbs have burnt out, think about upgrading the replacements to more energy-efficient ones.
Dust the lamps: Debris around your lampshades could affect the quality of your lighting. Unplug your lamps and wait for the light bulbs to cool before you wipe them down with a dry microfiber cloth.
Clean the curtains: The curtains bring in or keep out natural light, but they could get dirty. Read the tag on your curtains to find out whether you could put them in the washing machine and hang them to dry.
6. Clean the Kitchen
Even though the kitchen is one of the most used areas in the house, you can easily neglect cleaning every part of it. Here are some tips for cleaning your cooking area:
Freshen up your wooden utensils:

To keep your wooden boards and utensils from warping and cracking, clean them and dry them. Soak them overnight in a food-grade oil, like beeswax or walnut oil.
Clean your small appliances:

You might have a habit of cleaning out your refrigerator or other appliances, but you might neglect to clean the small appliances, such as the coffee maker and the toaster oven. After shaking out crumbs into the garbage can, clean the appliances by hand with mild detergent.
Reorganize cabinets and drawers: Like your bathroom, the storage space in your kitchen probably has collected some stains and crumbs use over the years. Empty your cabinets and drawers, cleaning them and throwing out expired food or broken utensils.
7. Straighten Up the Yard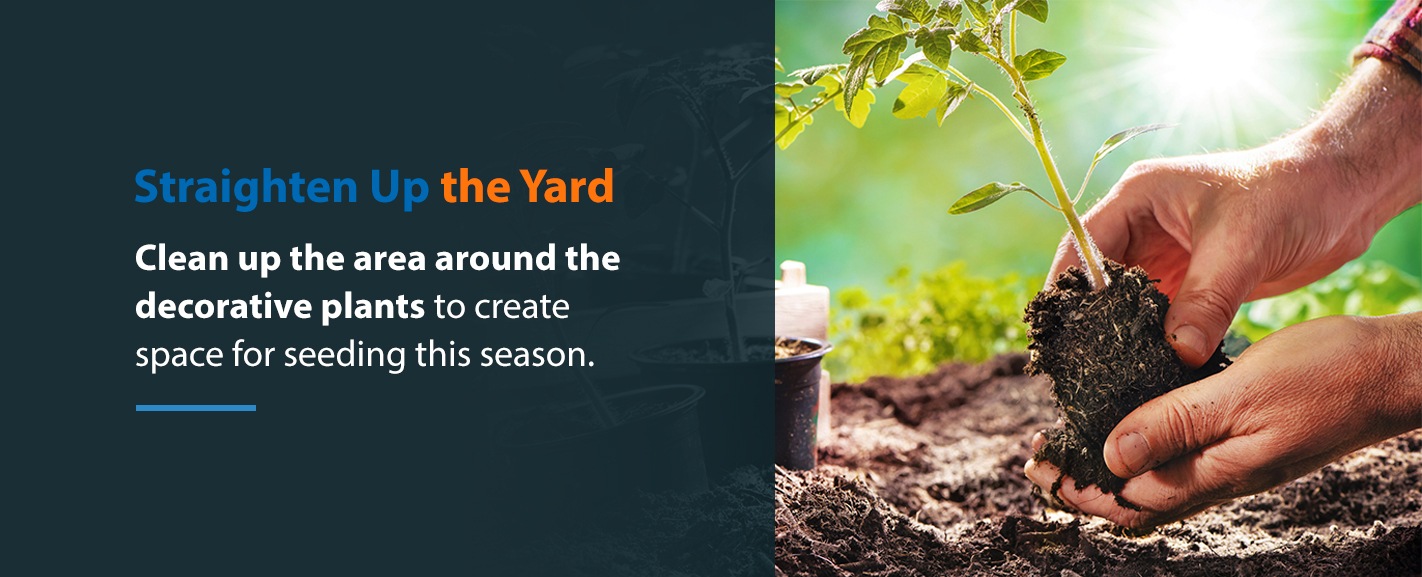 Now that the weather is getting nicer outside, you could complete some of these do-at-home projects in your backyard:
Freshen up your backyard for the spring:

After neglecting your living space all winter, sweep the debris from the patio and balcony. If you have a larger yard, get rid of the branches or leaves that fell during harsh winds and snow and trim back your trees. Clean up the area around the decorative plants to create space for seeding this season.
Get your planters ready:

Clean out your empty planters and inspect them for holes. Save a trip to the grocery store by creating an edible garden in your backyard.
Wipe down the outdoor furniture:

After sitting in storage or out on the lawn, your outdoor furniture has probably accumulated dirt. Use a mild oil-based soap mixed with water to clean wicker and wood furniture. With your other furniture, you could use dishwashing liquid diluted in warm water. Throw your patio cushions in the washing machine or wipe them down with a wet cloth.
8. Dust and Sweep Your Floors
Dust and debris could wear down your flooring, sticking to your carpeting or discoloring your wooden floors. Here are some easy home projects for cleaning your floors:
Hardwood floors:

Get rid of the dust

on your wood floors with a broom, a microfiber mop or vacuum. When using a vacuum, use the hard surface setting to prevent damage to the floors.
Laminate floors:

When cleaning laminate floors, use a dry broom or a vacuum on the hard surface setting. Steam cleaners or wet mops could damage the material.
Vinyl floors:

To protect the color and integrity of vinyl floors, sweep or vacuum the floors, and wipe up dirt that won't come off with a mop dampened with warm water.
Carpeting:

Vacuuming will remove the surface dirt from your carpeting, but you should also use a specialized carpet cleaner to remove dirt stuck in the fibers.
Schedule an Appointment With 50 Floor
After cleaning the floors, you might decide you need to replace them. You don't have to leave the house to buy new flooring for your living space. We'll send a representative to your house to provide a free in-home estimate for new floor installation. Schedule an appointment with our team now if you're in one of our areas.