Table of Contents
---
As a homeowner, you know that the type of flooring you choose is extremely important. A laminate floor that accentuates your wall colors, resists stains and provides long-lasting durability can transform your dining room. An equally important consideration in this process is the flooring installation method you choose. Proper installation is foundational to help your flooring perform well, and some installation methods are easier than others.
Traditional installation involves fastening flooring directly into a subfloor. This method requires time-consuming labor, and it can make it difficult to remove flooring when you want something new. Floating floors offer a convenient alternative installation method. Instead of attaching to subfloors, floating floors interlock like puzzle pieces.
How Does a Floating Floor Work?
Floating a floor involves laying materials on top of a subfloor and attaching the planks or tiles together. Most floated floors achieve this with tongue and groove joints that lock the material sides together.
Whether you install yourself or call a professional, the assembly includes the following:
Begin with flooring materials that have a manufactured locking system. Consult a flooring professional for advice on what flooring type and style may work best for your project.
Next, you can select a type of underlayment. Underlayment is a thin sheet of foam or other material that serves as a cushion between the subfloor and flooring. Additional benefits of underlayment include sound dampening and preventing moisture from reaching the subfloor.
Place the underlayment in the installation area and cut it so that there are several inches of excess up the wall sides.
Lay tongue and groove flooring on top of the underlayment one plank at a time. Secure each piece and fill rows until you reach a stopping point.
Measure and cut ending planks and affix them into place. As you install, mind baseboards and door thresholds to ensure the transitions are even and there are no gaps.
When the area is completely covered, you can trim down the excess underlayment and enjoy your new floor.
If you choose to lay a floating floor yourself, you can save money on labor costs. However, a floated floor will likely have fewer professional labor costs than a traditional floor installation due to its simplicity. If you install yourself, make sure to always follow manufacturer instructions. If this installation fits well with your flooring goals, there are several types of flooring materials you can choose from.
What Types of Flooring Materials Can Be Floated?
The key requirement for floating a floor is using materials with an interlocking design. This rules out carpet and sheet vinyl but leaves several desirable flooring materials. Though some floating floor materials require glue for installation, many incorporate a design that allows for secure locking without adhesive.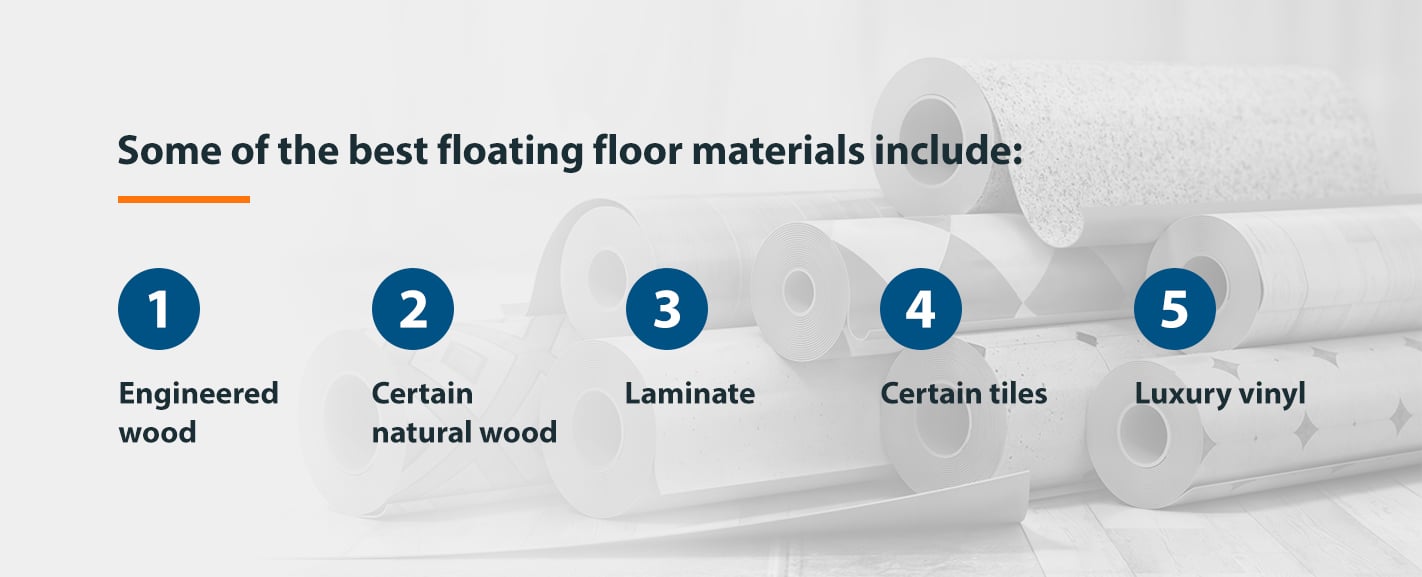 Some of the best materials that can be used for floating a floor include:
Luxury vinyl: Luxury vinyl imitates the look of wood planks with the moisture-resisting benefits of vinyl. With an interlocking plank design, luxury vinyl can float on top of your subfloor and serve as a cost-effective alternative to natural wood or tile.
Pros and Cons of Floating Floors
Choosing a floating installation over a traditional installation offers several pros, including:
Versatility: Your subfloor material isn't an issue for a floating installation. Whether your subfloor is plywood or concrete, a floating floor installs quickly and easily. You can also float over existing vinyl, tile or hardwood floors.
Cost-effectiveness: Because you don't have to remove existing flooring, you can eliminate the need for time-consuming and costly floor removal.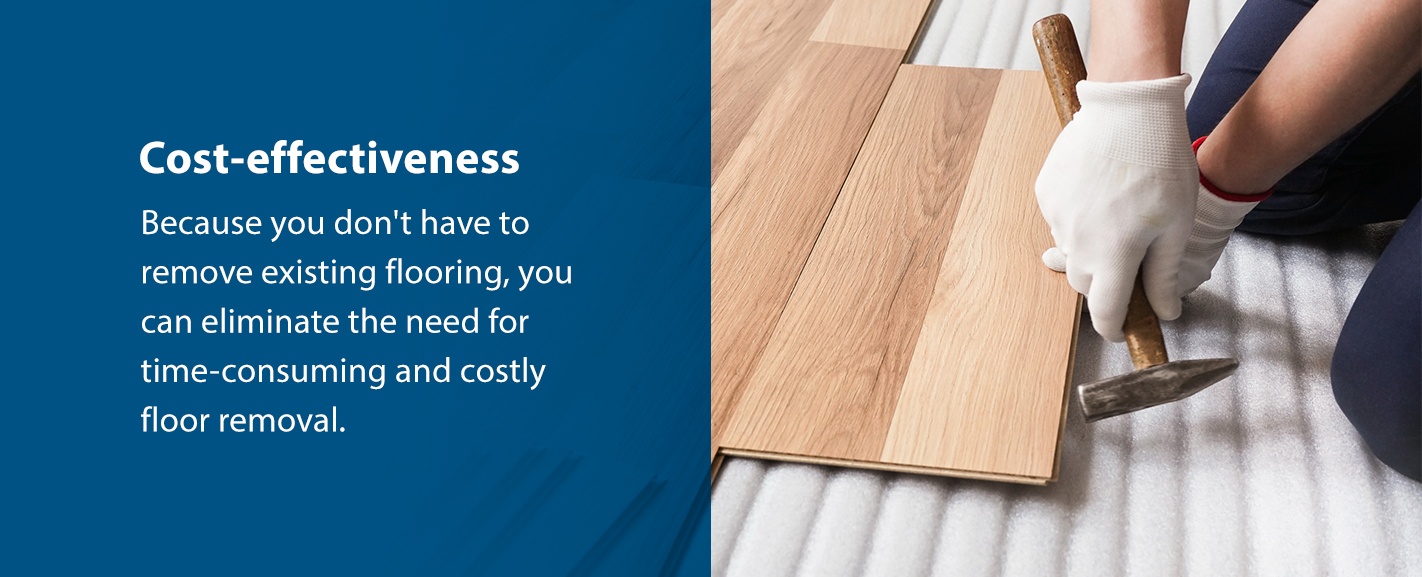 Quick installation: The interlocking floating system requires less assembly time, which is convenient for DIY or professional installation.
Simple installation: Unlike the traditional method, floating flooring installations do not require many specialized tools or skills. If you wanted to, you could install this flooring on your own and save money on labor.
No adhesives: A tongue and groove design eliminates the need to purchase and use flooring adhesives. This can lower the cost of your project and reduce the need for post-installation ventilation.
Easy replacements: If a specific plank warps or experiences damage, you can remove it and replace it with minimal hassle. Though quality flooring and proper care can help prevent the need for replacement, floating materials make it easy to switch out individual planks.
Flexibility: In areas where humidity is a concern, floating flooring can provide vital space for materials to expand and contract.
In addition to its many advantages, there may be a few cons to floating a floor:
Potential for noise: Some materials may produce a hollow sound when floated without proper underlayment. To avoid noise issues with a floated floor, it may be worthwhile to invest in a soundproofing underlayment. Another way to reduce noise is to choose a wider plank size.
Potential for wear: Materials made for floating installation can be thinner and designed not to be sanded. This could cause increased wear in extremely high-traffic areas. If you want to float your floor, it may be beneficial to choose a thick material and ensure the installation area doesn't have excessive foot traffic.
Though it is helpful to weigh the pros and cons of a floating installation, one of the most beneficial ways to decide if it may work for you is to talk to a flooring professional.
Find Quality Floor Materials at 50 Floor
Floating floors combine quality flooring with convenient installation to produce efficient results you love. At 50 Floor, we take care to provide this same convenience and quality. We offer a free, in-home appointment so you can browse flooring samples from the comfort of your home. Choose from a variety of floor designs and compare samples with your decor and lighting.
Our experts are equipped to help you make an informed decision from flooring style to installation type. For competitive prices and quality customer service, schedule your free consultation today!