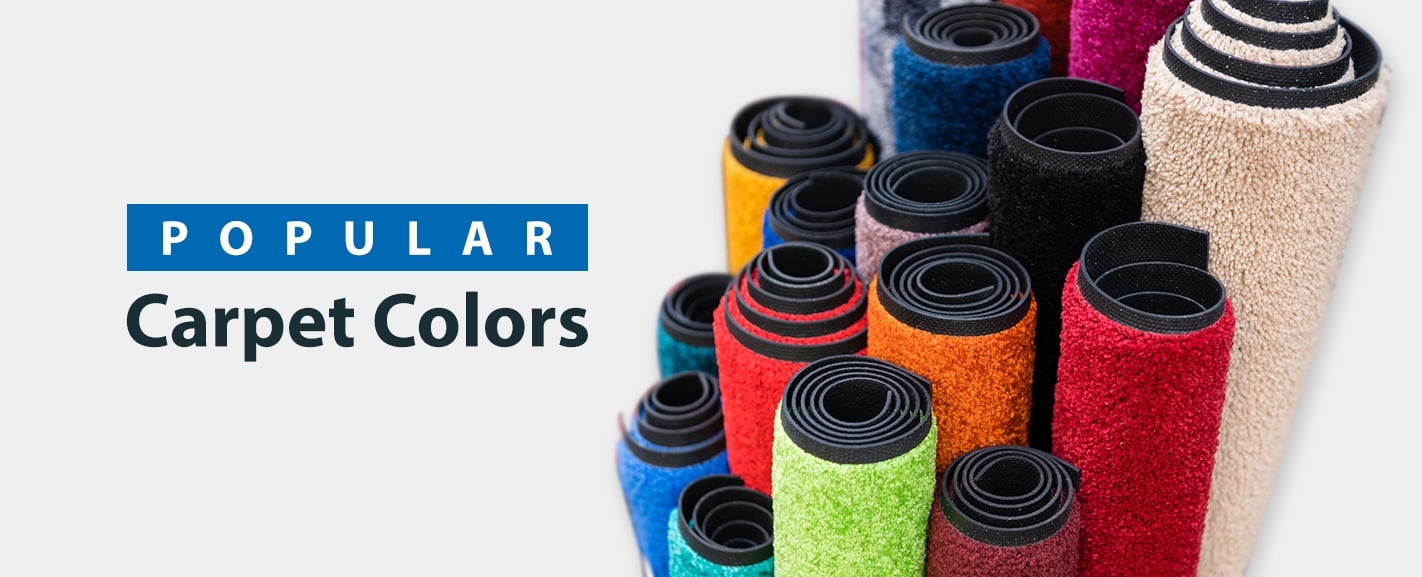 Choosing a carpet color may feel like stepping into an ice cream shop on a hot day and experiencing simultaneous joy and apprehension at seeing the mile-long menu. Choices can be both exciting and daunting when your options are limitless — especially when you want to enjoy that choice every day!
Carpet comes in what feels like endless color, texture and style variations. Color plays a crucial role in your carpet's appearance and contribution to your home, and these high stakes can make it difficult to narrow down your favorites. A great way to begin your search for new carpet is to take a look at popular color options. Though your tastes may differ from popular preferences, exploring common options may help you define your color goals.
Different Carpet Tones and Textures
A few elements that influence carpet color are its tone and texture. Take note of the carpet types and colors you find yourself gravitating toward within these categories to help narrow your search.
Tones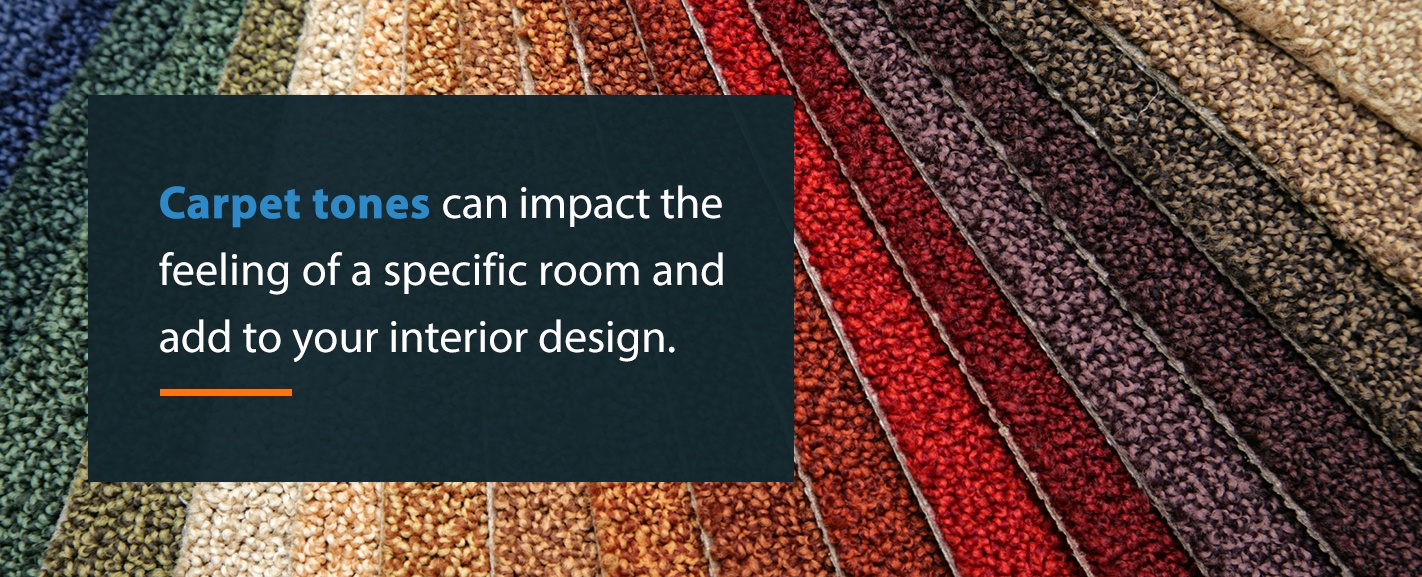 Carpet tones can impact the feeling of a specific room and add to your interior design. Here are some different tonal categories to look for:
Warm-toned carpet: Warm tones encompass red, yellow and orange color variations. These colors tend to be stimulating and energizing, which could add life to a room with little light or color.
Cool-toned carpet: Cool tones include blue, green and purple color variations. These colors have a calming and focusing effect, which can be great for rooms where you'll primarily rest and relax.
Earth-toned carpet: Earth tones channel neutrals commonly found in nature. This includes a wide array of beige, gray and brown color variations. Earth tones are extremely versatile and work well with a variety of color palettes to create a balanced room.
Bold-toned carpet: Carpet achieves bold tones with single standout colors, striking patterns or combinations of colors. These tones make an eye-catching and unique statement in any room.
Textures
The way you pair texture with your carpet color can affect the way that color is perceived in different lighting. These popular textured carpet colors can add unique variety to your home:
Cut and loop carpet: A cut and loop carpet uses a combination of cut and uncut carpet fibers to create patterned texture variations. These patterns could be monochromatic and subtle or multi-colored and eye-catching.
Ribbed carpet: A ribbed carpet uses thin parallel lines to add dimension to a single color. This texture affects the way the light catches a carpet, making it versatile and different without incorporating several colors.
Popular Carpet Colors
Within the common carpet tones and textures, certain colors have become prevalent favorites. Consider some of these different popular carpet color styles while you browse samples:
Evolving neutrals: Beige has long been a popular carpet color for its versatility. It can open up a room and make it appear spacious, and it matches a variety of decorating styles. Some opt for a classic plush pile, and others apply a modern take with textured jute. Whichever you prefer, beige is a canvas of potential in any room.
Blues: Though blue isn't a true neutral, it is one of the few colors that can blend well with a host of color palates. Its cool nature matches a variety of neutral furniture and adds a calm touch to any room. Deep navy is a common choice, although lighter shades of blue appear quite often. If you want to add color to a room with an adaptable color scheme, blue may work well for you.
Grays: Gray has made a resurgence recently as a common neutral. Like beige, gray offers a world of decorating opportunity. Whether you prefer darker charcoal or light gray, this color adds a sleek, contemporary feel to your rooms.
Bold colors: Bright colors add life to a monochromatic or colorless room. If your furniture and decor channel the same neutral colors, choosing a bold colored or patterned carpet could add some much-needed variety. Popular bold colors include coral and warm oranges.
Tips for Choosing the Right Carpet Color
Though trends may help you define your taste, the best carpet color for you will ultimately be one that matches your preferences, lifestyle and home. Here are some tips to help you select the perfect carpet color:
1. Consider Your Current Room Colors
Striking a balance between room colors and carpet color is an important consideration. To take stock of existing colors, survey the room you'll be adding new carpet to.
Take note of the colors in these elements:
Wall paint
Furniture pieces
Decor, plants and art pieces
Throw blankets
Pillows
Appliances
If you notice lots of color among these room furnishings, you may want to opt for a neutral carpet. A beige, gray or blue could complement the existing colors and style you have. If you notice many of your room furnishings have a neutral color, you may be able to liven up your room with a patterned, textured or colored carpet.
2. Think About the 80/20 Rule
Apartment Therapy recommends an 80/20 approach for decorating with color. If you stick to 80% neutral colors and accent with 20% strong colors, your rooms will look balanced and memorable. You can easily apply this principle by using the color inventory recommended in the first tip.
Another important factor in this rule is the amount of carpet you're planning to install. In a large room covered entirely with carpet, the carpet will play an influential role in the room's color design. There's no need to get technical about breaking down exact percentages between colors and neutrals — simply strive for a balance where strong colors do not overpower your room.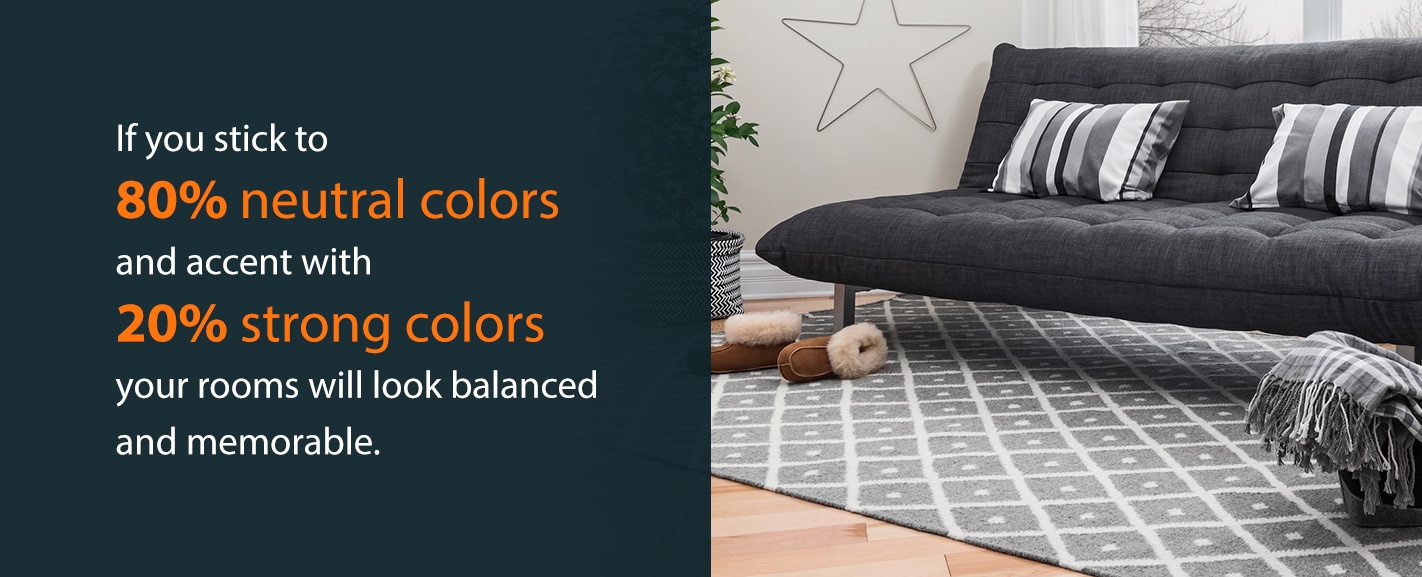 3. See Carpet Samples in Your Light
Lighting adds another layer of complexity to your carpet selection. A carpet color you love in a well-lit store may not give off the same color under natural and accent light. To make sure your carpet selection looks stunning in all situations, it is crucial to see it in your home.
For maximum color accuracy, think about these details:
What time of day will you use the newly carpeted room the most?
What kind of light do you use during that time of day?
Does artificial light change the carpet color?
Make sure you can see your carpet sample in the lighting you will use most to ensure it lives up to your expectations.
See Your Carpet Color in Your Home Before You Purchase
If you're still uncertain what carpet color will work best for you home, you're not alone. Our 50 Floor experts can help guide you through the selection process with a free, in-home consultation. We'll bring carpet sample colors to you so you can browse in the comfort of your home and see the carpet in your lighting.
Our experts can answer your important questions about carpet color, pile, texture and more. For high-quality products, unparalleled service and fantastic prices, schedule your free appointment today.