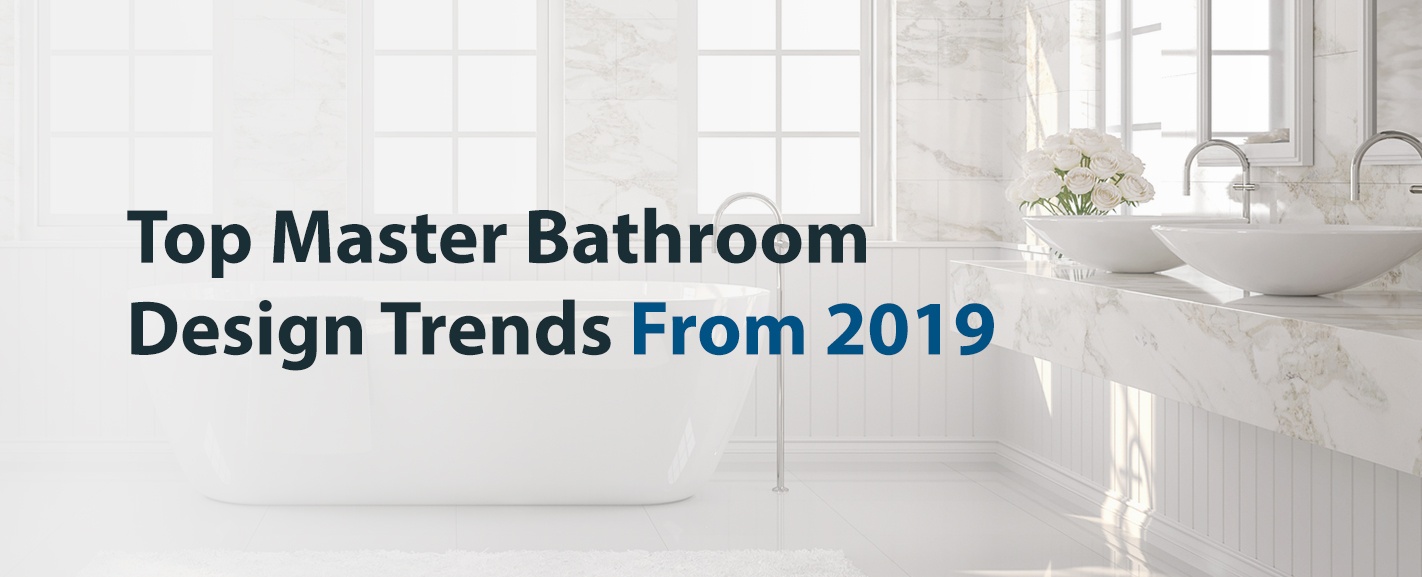 It's where you get ready for your day, and where you unwind at the end of your day — and as one of the most important rooms of the house, bathrooms are also the most popular to remodel. From simple upgrades and DIY projects to luxurious touches and large-scale renovations, bathroom re-designs were hot in 2019, recently surpassing kitchen remodels as the top pick for homeowners. This past year saw lots of exciting trends in bathroom design, so if you're looking to upgrade your bathroom, check out these inspiring upgrades for ideas on everything from fixtures and technology to the trendiest colors and materials. Here are our favorite bathroom design trends in 2019:
Vessel Sinks
Bathroom sinks leave a lot of room for creative styles and bold, artistic statements. The vessel sink trend has been going strong for a few years now and isn't going anywhere just yet. Instead of sitting flush with the vanity top, or with just a small lip, vessel sinks sit above the countertop, appearing like a bowl sitting on the counter. They can be a nod to old-fashioned basins, or give a striking, modern look to any bathroom. These sinks are sure to be a focal point with their bold look. They are also easy to install and easy to clean, making them a great bathroom upgrade.
Vessel sinks are available in a wide range of colors and styles from a simple white bowl to more creative color combinations, and alternative materials like metal, glass and bamboo. You can also find a variety of shapes — round, oval, squarish, asymmetric designs or natural shapes like giant leaves. One of the best features of this trend is that since they are easier to install than more traditional sinks, you could easily change the bowl later on for a different shape or color to give another quick bathroom update.
Marble
Marble, marble everywhere! This trend was a big part of 2019 bathroom redesigns, showing up in a variety of uses. With its porous nature, marble quickly absorbs water and is an ideal material to use in bathrooms. Marble gives a classic, timeless look that can be used in more traditional or modern settings. This year, we saw the versatile material used in everything from showers to sinks and vanities as well as flooring and complete wall treatments. Large slabs of statement marble in shades of white and gray were especially popular.
Adding in marble features gives any bathroom a luxe quality and is especially suited for master bathroom design. The veining in marble can make it look as if you have high-end abstract art on a bathroom wall, making an elegant statement. However, huge pieces of marble can be quite pricey. To get this trend in a more budget-friendly way, use smaller marble tiles or accents, or get a similar look from quartz, granite or porcelain tiles.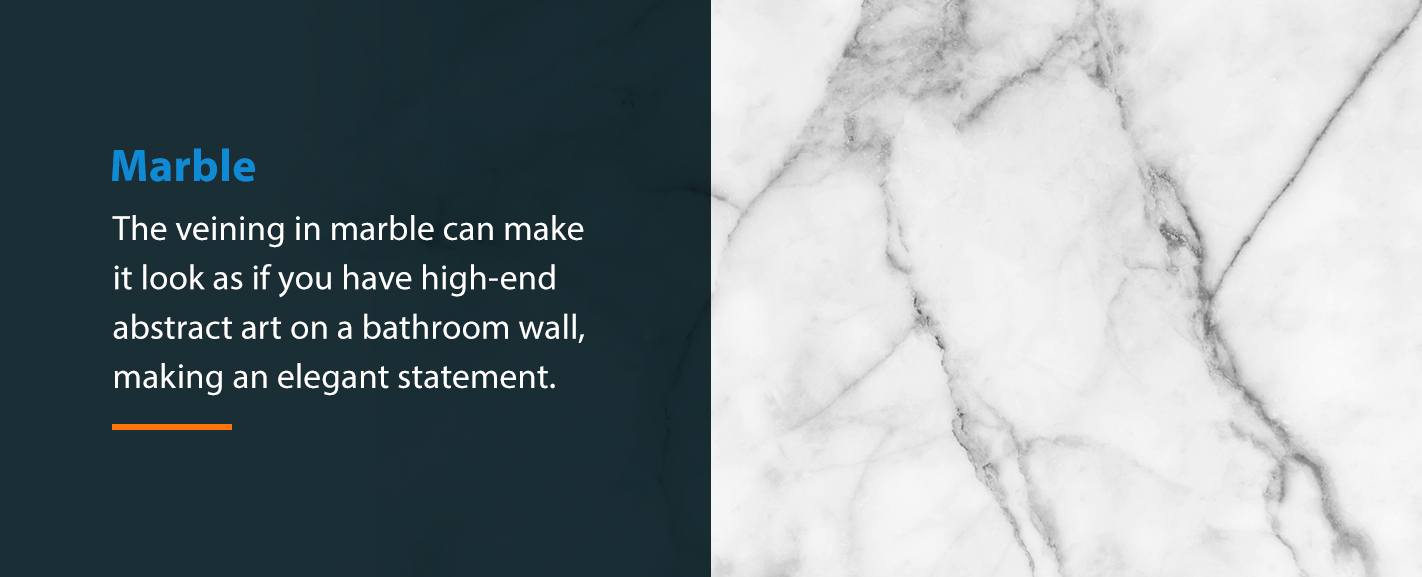 Open-Concept Bathrooms
One of the more interesting trends from 2019 is the open-concept bathroom, in which a master bathroom blends seamlessly into the bedroom suite. While combining the bathroom and bedroom may sound strange to some, the concept works quite well for creating relaxing bathrooms and making it easier to get ready in the mornings. This interesting trend was first seen in luxury hotels but is now catching on for residential master suites.
With open-concept bathrooms, the toilet is still generally in its own room for privacy reasons, but the possibilities are endless for the rest of the bathroom fixtures. The bathtub or shower can be right in the bedroom, or perhaps just a vanity and sink are in the bedroom — ideal for couples who need to get ready at the same time. The bathroom can be completely open to the bedroom or have alternatives to enclosed walls, like large sliding doors, half walls or glass dividers to organize the space.
Homeowners with open-concept bathrooms report that they enjoy bathing or showering in the open air, as the bathroom feels more expansive and luxurious. It's also better for ventilation, and the steam clears much more quickly — meaning no waiting to use the mirrors. Opening up the floor plan allows for more interesting shower designs and large garden style or clawfoot tubs, adding in architectural and design appeal to both the bedroom and bathroom. The concept transforms the master suite into a relaxing retreat where the homeowner feels pampered.
Seamless Showers
Closely related to the open-concept bathroom trend is the seamless shower idea. Most stand-alone showers have a lip or dam that prevents water from seeping out into the rest of the room, but many new designs do away with this dam completely, creating a more modern look and making the shower easier than ever to get in and out of. These showers need to have a slightly sloped floor or a hidden drainage system to work properly and keep water contained, but the result is beautifully chic.
Seamless shower designs can use the same flooring throughout the whole bathroom, giving the illusion of a larger space. These showers tend to also be much easier to clean and keep clean. The dam-less shower design also lends itself well to floor-to-ceiling glass enclosures that open up the space even more and add to the sleek, modern beauty of the room. The dramatic look of floor-to-ceiling glass panels ensures a truly custom design and luxurious feel to a master bathroom.
Tech-y Toilets
Technology is becoming increasingly integrated into just about every facet of our homes, and the toilet is no exception. To seriously up the luxury factor of the master bathroom design, homeowners today are installing new toilets with interesting technologically advanced features. The details can vary from model to model but can include all sorts of amazing innovations such as motion sensors that can open and close the seat and lid completely hands-free.
Other technological toilets use voice commands or wireless remotes to control the various options and features. They can also come with heated seats, ambient lighting and automatic nightlights, seats with bidets, dryers, deodorizers, overflow protection and self-cleaning modes. These smart toilets provide the ultimate in convenience and cleanliness, as well as sleek design. Sculptural and unique-looking, these advanced toilets can be a focal point in any bathroom. Install one of these, and you may never go back to a regular toilet again.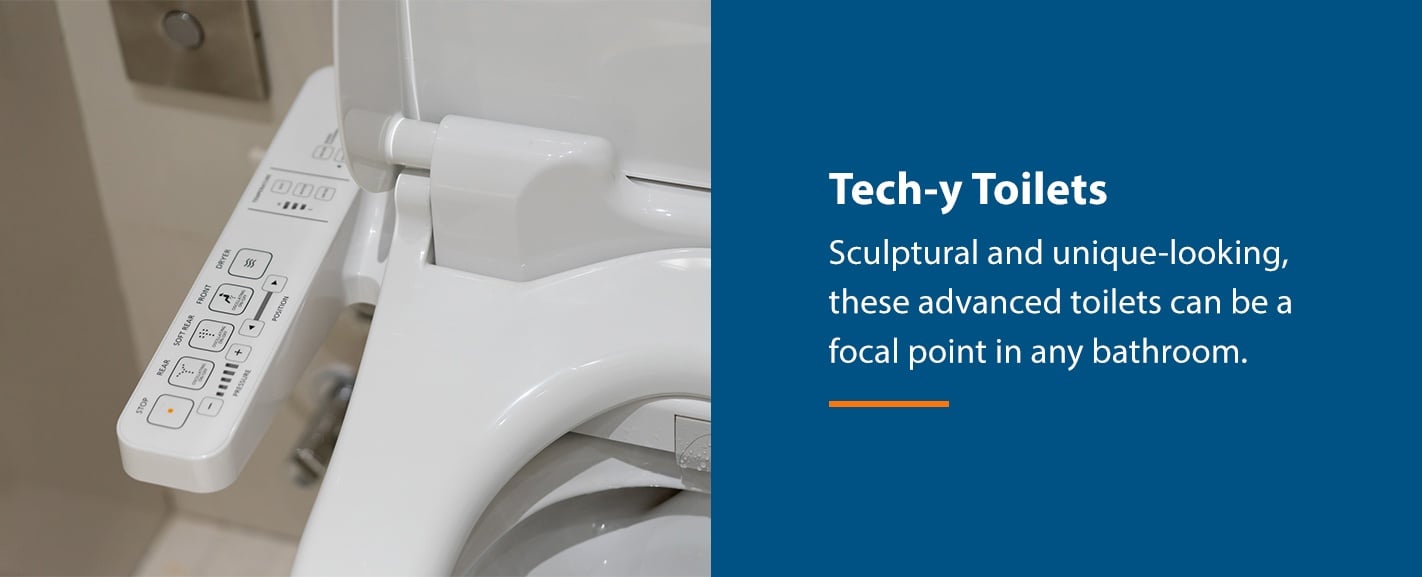 Custom Lighting
Many homeowners upgraded their bathroom lighting in 2019, going for unique-looking choices, technological advances and custom touches. Dimmers and multiple lighting options are ideal so you can set the mood in your bathroom — to have bright, focused lighting for getting ready in the morning, and low, relaxing lights for an evening bath or shower.
This year saw lots of environmentally-friendly LED lighting, as well as lights showing up in unexpected places — luxurious bathtubs with color-changing lights, nightlights under wall-mounted toilets or on the backs of toilets, toe-kick lighting underneath cabinets and lights inside shampoo niches or other interesting spots. Also popular in 2019 in bathroom lighting was more decorative pieces like pendant lights and chandeliers, adding a hint of luxury and artistic interest to any bathroom.
Statement Walls and Art
More than ever, bathroom redesigns are being infused with character and creative flair. Given the sometimes basic nature of bathrooms and a lack of windows, especially in smaller bathrooms, they make a great blank canvas to make a bold statement and play around with color and pattern. Bold colors for paint, whole slabs of marble on the walls and unique wallpaper patterns were all big in 2019.
And if bold color on all the walls is too much, you can opt for a statement wall — one wall of bolder paint colors or patterned wallpaper, with the other walls in a coordinating neutral. This is a great way to add a pop of fun color without overwhelming the space, and the trend was huge in 2019. Another way to use this trend is with hangable artwork instead of a full wall of color. Bold statement art pieces were popular and add tons of personal style to a master bath.
If you decide to use statement art in your bathroom, just remember that moisture can be an issue in bathrooms, so you don't want to hang priceless original artworks here. But framed posters and prints are perfect, and you can find artwork to fit any style preference and color scheme. These are also super easy to switch out for quick re-designs or seasonal changes.
Black and Gray Accents
While bold colorful statement pieces were a big 2019 bathroom trend, for more neutral designs, black and gray reigned supreme. Gray was especially popular for wall paint colors as well as cabinets. Black is great as an accent color and was especially popular in matte finishes. We saw black in accent walls, cabinets and in handles, pulls and plumbing fixtures.
Neutral colors like black and gray help to keep your room design looking timeless, so you won't need to update every time the trends change. Artwork and other fixtures can be easily changed when you've already got a neutral palette of blacks and grays. These colors also give a professional spa look to a bathroom, ensuring luxurious relaxing. So, whether you go all neutral with your blacks and grays, or use them as accent colors with other, more bold pops of color, you're sure to have a sophisticated, on-trend master bath where you'll feel pampered.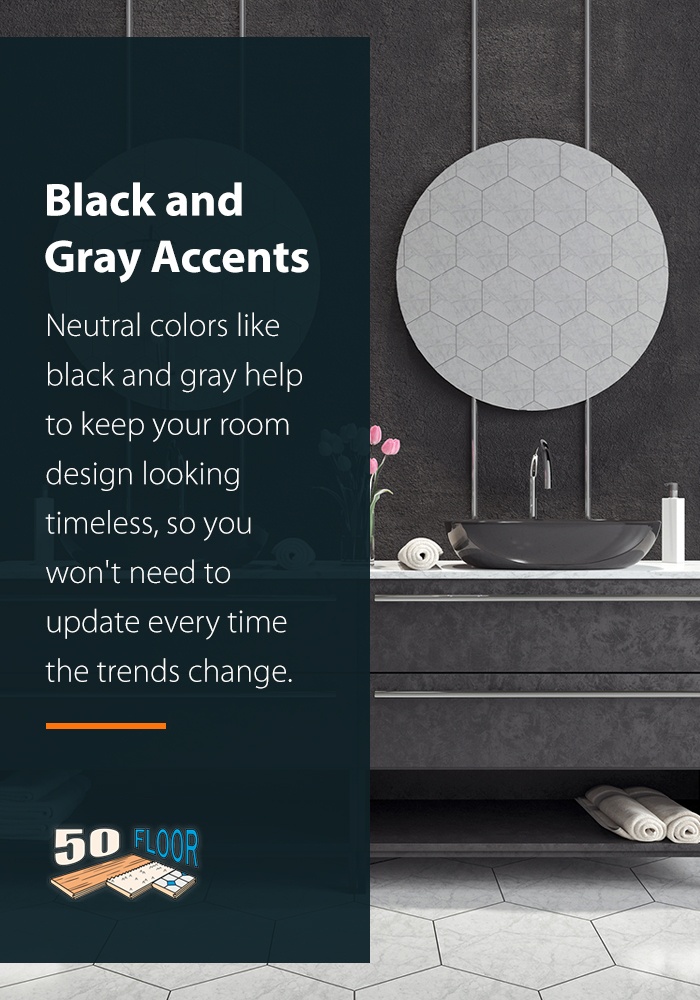 Spa Features
Who wouldn't want their bathroom to feel like a spa? This year was full of unique and interesting bathroom upgrades to give your master bath the ultimate spa treatment. Homeowners are increasingly interested in special touches that make their personal bathrooms more relaxing and inspiring, much like the spas visited on vacations for pampering treatments.
The spa inspiration trend can be used in everything from design elements to technological elements that give a luxurious feel. Spa-inspired touches abound in adjustable, therapeutic lighting, cascading showers and deeper free-standing baths and lots of other unique elements that help homeowners feel relaxed. The idea with these spa-like features is to make the space more theatrical and all about the experience, and less like a simple, utilitarian space.
Radiant Heat Flooring
Heated floors have increased in popularity over the past few years, and recent technology allows this luxury to be installed easily and more affordably than ever before. With radiant heat flooring, electric panels or hot water pipes run right under the flooring to heat the room. This technology is especially comforting in areas where the temperatures can be chilly. Stepping onto a warm floor after a bath or shower is a sumptuous touch that will make any bathroom more cozy and spa-like. Radiant heat works best with tile floors because the tile conducts the heat best, but it can be used with a variety of flooring styles.
Wood-Look Tile Floors
Hardwood flooring is huge right now — the look and feel of hardwood flooring add tons of character to a home. But, because of the high humidity in bathrooms, real hardwood flooring is generally not recommended for these rooms. However, you can easily find porcelain tiles that look just like hardwood floors to achieve the look you want. Tile flooring that looks like wood was a huge bathroom interior design trend in 2019, and we predict will continue to be popular for years to come.
New technology in printing and manufacturing means that these tiles can be made affordably and more realistic looking — you won't even know it's not real wood! The tiles look great in bathrooms and are easy to clean and take care of. These tiles can be found in a wide variety of colors and styles to match any décor style. Some homeowners choose to match the floor tiles to the walls or other elements in the room or to use contrasting colors. Depending on the different wood grains, colors and finishes of the tiles can create a more modern look or a more rustic one, so you can truly get the custom bathroom look you want. Tiles in gray and whitewashed looks were most popular in 2019.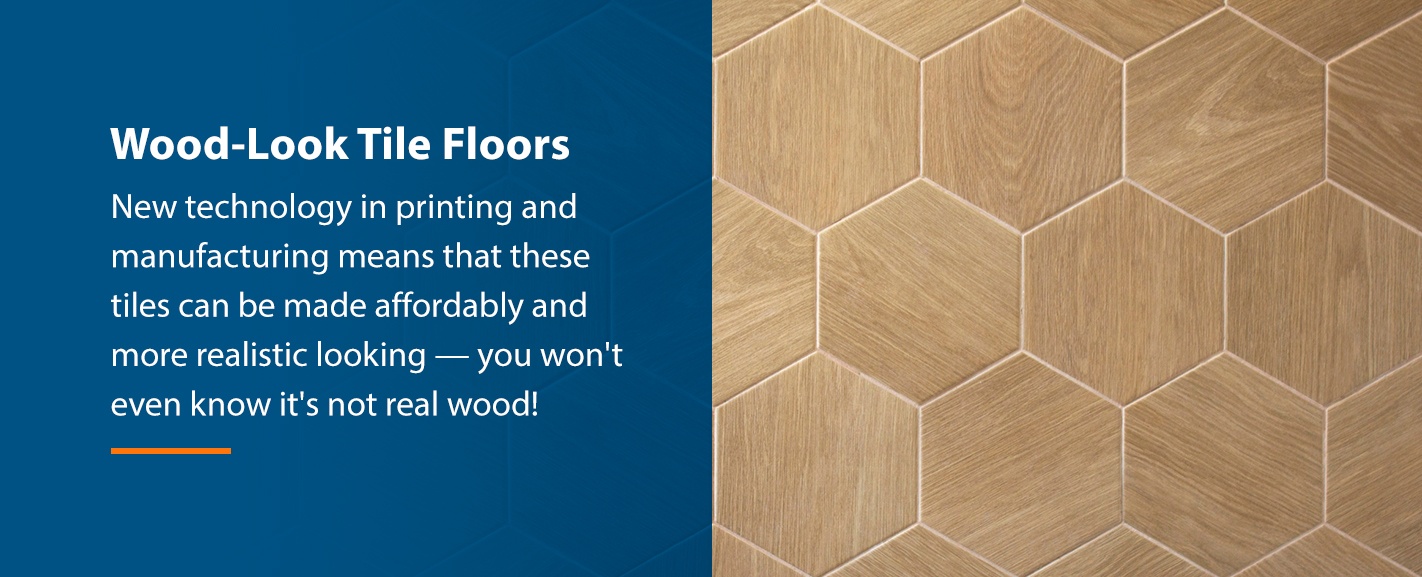 Schedule Your Free In-Home Consultation From 50 Floor
If you're feeling inspired by these master bathroom design trends and are ready to take your own bathroom up a notch with new upgrades, consider starting with flooring. 50 Floor makes it easy, affordable and convenient to shop for new flooring for your home. We bring the flooring options to you, so you can shop from the comfort of home. During your free consultation, we can also answer any questions you may have, help you choose the right flooring for your home and arrange installation. Let our professional team help you update your master bath with gorgeous new flooring. Start by scheduling your appointment today for a free consultation.