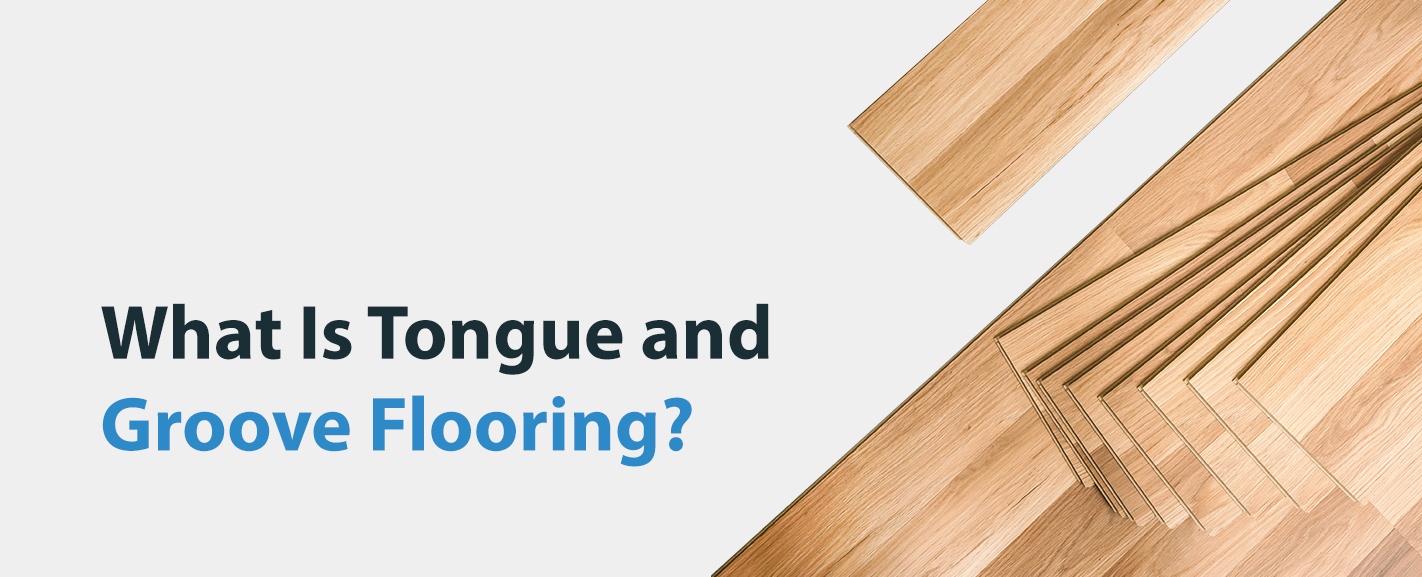 Hardwood has always been a classy way to dress up your floors. Unfortunately, hardwood flooring can often be expensive or difficult to install. That's why many homeowners are turning to tongue and groove wood flooring as an affordable way to achieve that sophisticated hardwood look.
If you've been wanting to take your old, worn-out flooring from drab to fab but haven't been able to find the time or money, tongue and groove flooring might just be your flooring fix. Keep reading to find out what exactly tongue and groove flooring is, the pros and cons of using it and how to install it in your home.
What Is Tongue and Groove Flooring?
The term tongue and groove refers to the technique of fitting similar objects together by aligning their edges and joining them to make a single flat surface. This method of connecting pieces is particularly strong and effective because it interlocks the original two flat planks into one seamless piece.
Constructing with tongue and groove works by using boards that have one side with a protruding ridge, the tongue, and a groove along the entire length of the board's opposite side. By lining up the ridge side of a board with the groove side of another board and attaching them, a snug seam is created. The shorter width sides of the boards also have small ridges and grooves so that all of the pieces used in a project can be completely interconnected.
Although tongue and groove can apply to other types of floors, it is a staple of a good hardwood floor. When constructed by gluing together tongue and groove boards, hardwood floors are smooth and free of nails, making them both visually appealing and safe to walk on barefoot. Two different types of hardwood can be used for tongue and groove flooring — solid and engineered.
These are the basic differences between the two:
Solid hardwood: As its name suggests, solid hardwood is manufactured from a single piece of wood that is solid hardwood all the way through. Because solid hardwood is quite sturdy, pieces of a solid hardwood floor need to be nailed or stapled both to the floor and together to ensure they don't shift. Solid hardwood is also more prone to moving or gapping in response to humidity.

Engineered hardwood: Engineered hardwood planks consist of a layer of hardwood veneer over multiple plies of wood. This design makes engineered hardwood generally more stable than solid hardwood and possible to install with nails, staples, glue or floating. Engineered hardwood will not shift as easily as solid hardwood because it does not react to seasonal humidity as much.
Pros and Cons of Tongue and Groove Flooring
Flooring is a central and essential feature of your home. So before you commit to any kind of flooring, it's important to know both the benefits and downsides of installing it. We've put together the main pros and cons of bringing tongue and groove wood flooring into your house below.
Pros of Tongue and Groove Flooring
Check out the top reasons to install tongue and groove flooring in your house:
1. 

Well-Crafted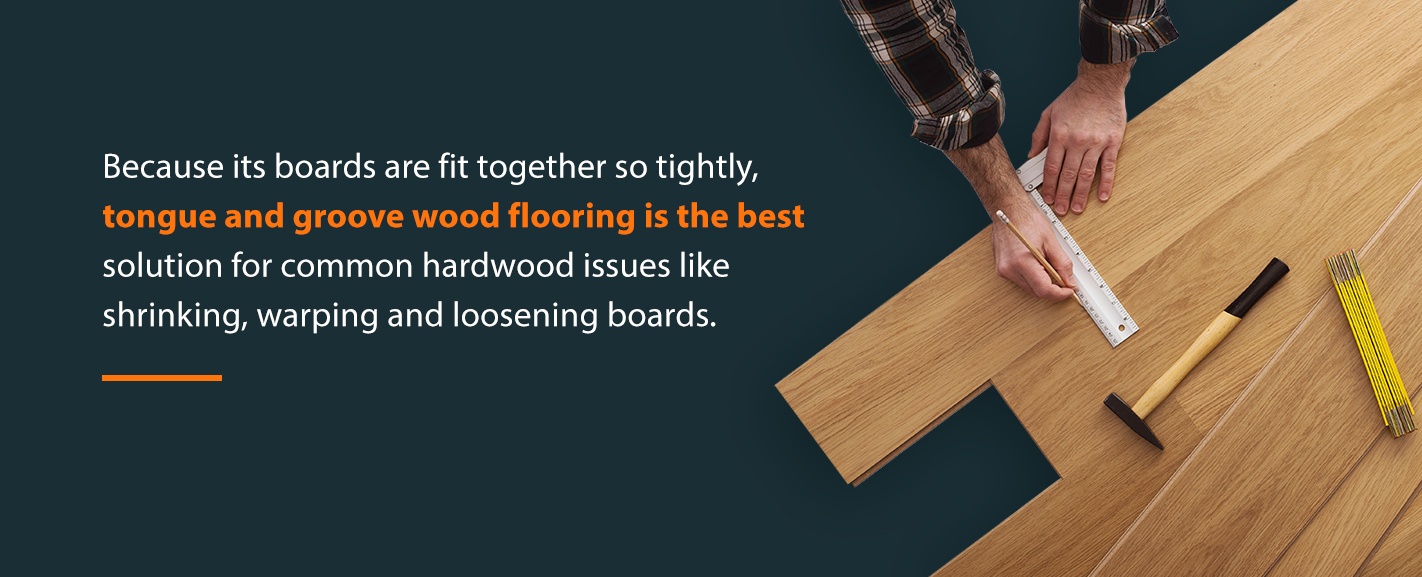 Because its boards are fit together so tightly, tongue and groove wood flooring is the best solution for common hardwood issues like shrinking, warping and loosening boards. The seams of a tongue and groove floor are so tight that when the right finish is applied, they can even be water-tight so you can install hardwood flooring in the kitchen or bathroom without fear of moisture damage.
2. 

Visual Appeal

In addition to being structurally sound, tongue and groove hardwood floors are aesthetically pleasing. Tongue and groove wood flooring is available in many designs, brands and finishes, so every homeowner is bound to find a style they like. And let's face it, a good hardwood floor is always in fashion!
3. 

Cost-Effective

Installing tongue and groove flooring can be less expensive than other types of flooring because using engineered hardwood and glue will save you from spending money on additional installation materials like a nail gun. Floating engineered hardwood is an especially inexpensive way to install tongue and groove flooring because it is a simple DIY method that does not require any special training. A floating floor simply means that the interlocking pieces are not nailed or glued to a subfloor and instead "float" above the floor, though they still need to be glued together. As a relatively easy technique, floating will save time as well by allowing your installer to complete the job quickly.
Cons of Tongue and Groove Flooring
Now that you've heard the positives, here are the potential drawbacks to tongue and groove flooring:
1. 

Inseparable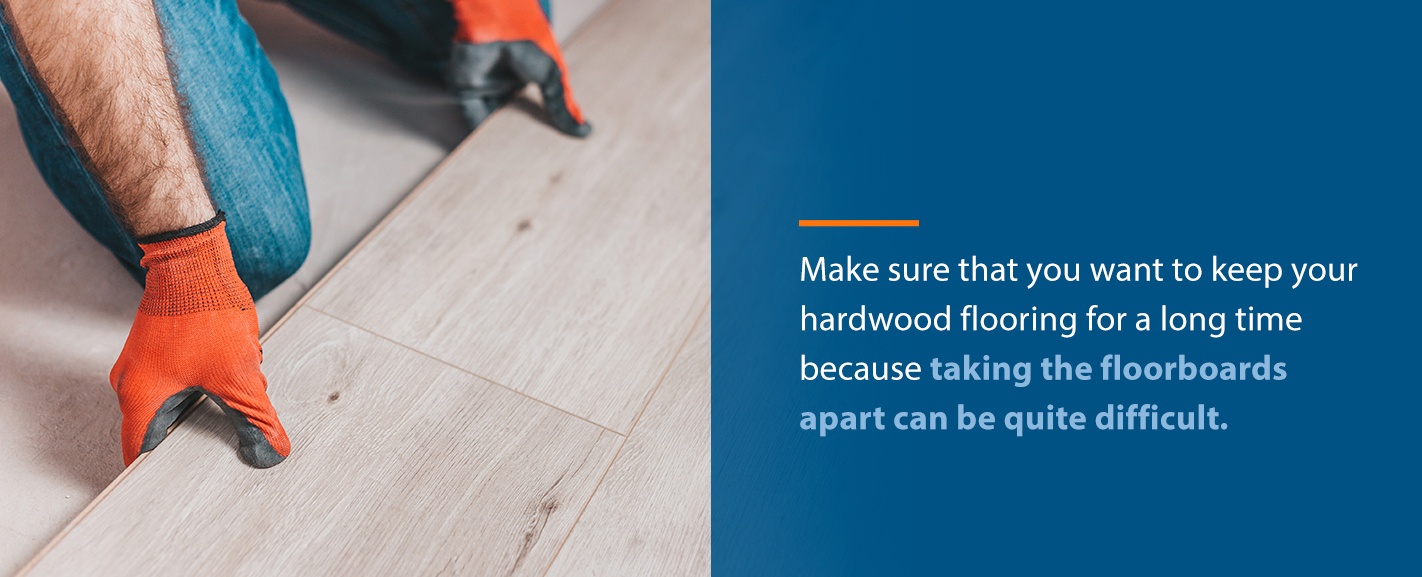 The same snug fit that makes tongue and groove wood flooring so stable also makes it challenging to repair and replace. Make sure that you want to keep your hardwood flooring for a long time because taking the floorboards apart can be quite difficult. If you have a tongue and groove style hardwood floor and need to replace or repair one of the boards in the center of the floor, you will need to break apart many of the outer boards to get to the damaged one.
2. 

Labor Intensive

Because tongue and groove flooring must be precisely aligned, the installing tongue and groove flooring can be a lengthy and tiring process. If installation ends up taking longer than anticipated, the cost of your flooring may go up. You don't necessarily have to hire a professional crew to install your tongue and groove flooring correctly, but be aware that a DIY installation will require a good amount of time and effort.
3. 

Missed Connections

If you do choose to install your tongue and groove wood flooring on your own, you may have trouble getting the tongue and groove to match up at times. Gently tapping the boards together with a soft face mallet usually helps with this issue, but it's not guaranteed to work. To save yourself a headache, you might want to get a professional to install your new hardwood floor.
How to Install Tongue and Groove Flooring
Before beginning to install tongue and groove wood flooring, decide whether you want to use a solid or engineered hardwood. Solid products will need to be nailed down while engineered hardwood tongue and groove planks require only glue to connect them.
With engineered hardwood, you can create a floating floor that's not actually attached to the base floor of your house and easily install it as a DIY project. If you choose to do a floating floor, make sure you put down an underlayment to act as a moisture barrier and prevent your hardwood pieces from expanding or contracting.
Once you're ready to start installing, place the first board with its tongue facing toward the wall in a corner of the room, leaving about a quarter-inch gap so there's room for the floor to expand and contract. Lay the second board next to it so that their shorter ends are touching and pull the second piece as close to the first as it can get. Repeat this process until you have a full first row.
If you are happy with how the pieces aligned, either nail them into place or secure them with an adhesive depending on whether you're using solid or engineered hardwood. Gluing the joints of your floating floor together will help you avoid any gaps in your hardwood. When using glue, be sure to wait for the first row is set before moving on to subsequent rows.
For the remaining rows, slide the boards together and then press the tongue firmly into the groove to secure the placement. If the boards aren't attaching easily, use a mallet to tap them until they lock into place. Once the boards are properly in place, nail the solid hardwood down or glue the engineered hardwood together. Continue this method for the rest of the rows.
Try to stagger your rows so that the seams don't line up. When you get to the end of a row, use a tape measure to get an exact measurement of what size piece to cut to fill the remaining floor space. On the last row, you might need to make long cuts to get the boards to fit, but the expansion gap should grant you enough space to slide the boards into place.
Find Your Perfect Flooring at 50 Floor
If you're interested in putting engineered hardwood floors in your home, contact 50 Floor today to schedule your free in-home consultation. We offer flooring options in a wide variety of materials and designs, all with a price match guarantee so you can know you're getting the best price possible.
The best part? You never have to leave the house! With 50 Floor, you get to shop through a wide variety of flooring styles from the comfort of your living room. Our customer service provides expert advice to guide you through the floor buying process from selection to installation.