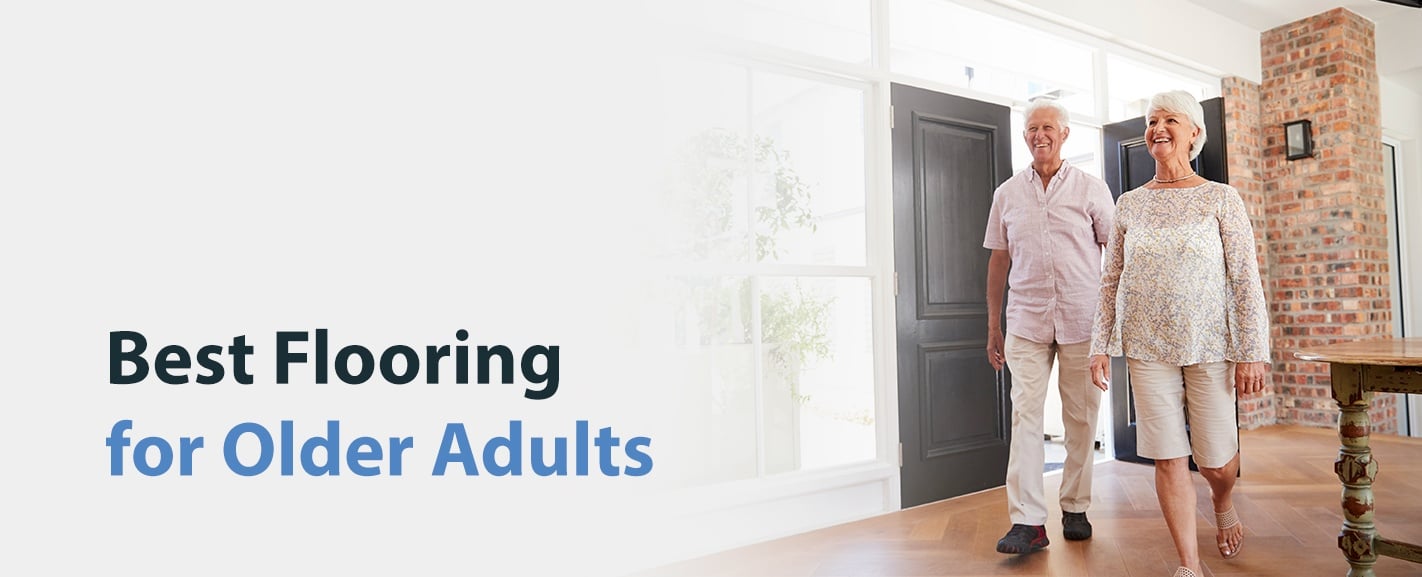 Aging in place has become a convenient option for older adults instead of packing up their belongings and moving into an apartment or nursing home. As you decide whether you'll move or stay in the home you've lived in for years, make sure you have flooring that's safe and clean for you as you age. Use this guide to explore the best flooring for older adults to help you choose one for your living space.
Factors to Consider When Choosing Flooring for Older Adults
As you look for the best type of flooring for elderly adults, choose a material with these characteristics:
Affordability: Think about how much you're willing to spend on installing new flooring. You can find a material that fits your budget without compromising on quality and durability.
Slip resistance: Try finding slip-resistant flooring to prevent injury in the future, especially in the kitchen and bathroom, where the floors are most likely to get wet. Look for material that's easy to walk on while wearing shoes or socks.
Soft landing: According to the Centers for Disease Control and Prevention (CDC), one in four adults over the age of 65 falls in their own house, resulting in broken bones or a head injury. If that happens to you, safe flooring breaks your fall and prevents further harm.
Ease of travel: The right flooring allows you to move quickly, even if you're using a wheelchair, walker or cane, or carrying around an oxygen tank. You should also keep consistent flooring throughout the house to provide a smooth transition from room to room.
Cleaning and maintenance: In your older age, you don't want to spend too much time on your spring cleaning. Try to find a flooring material that's easy to clean and doesn't require regular treatment to maintain it.
Comfort: Softer flooring puts less pressure on your joints, so you won't have as much pain as you walk. You should avoid materials that retain heat or cold because they could be uncomfortable for your feet.
Room in the house: Due to various moisture and traffic levels throughout your living space, you may want different flooring materials for each room. Consider which areas you use most, and make sure your floor material accommodates your activity and keeps you safe.
Health concerns: If you have allergies or other respiratory conditions, the dust and allergens in the air can trigger symptoms. Consider the best flooring to prevent allergies so your house can be safe and comfortable.
Best Flooring Types for Older Adults
You could use the following flooring for seniors options in your bathroom, kitchen, living room or bedroom.
1. Carpet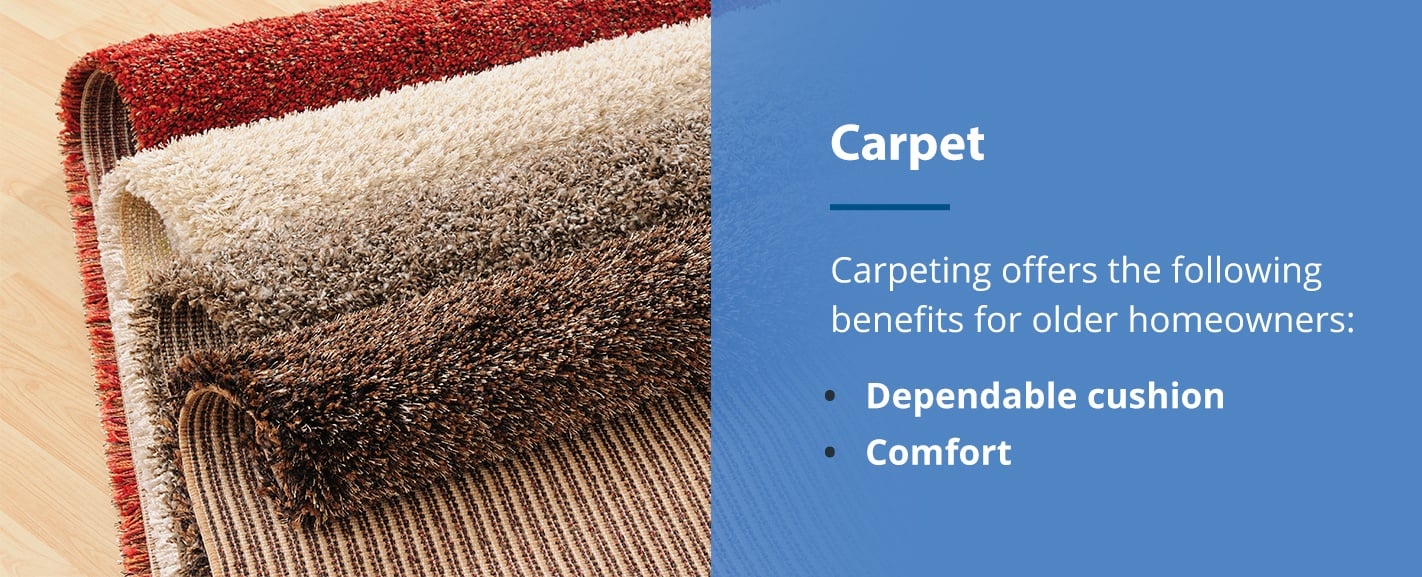 Carpeting offers the following benefits for older homeowners:
Dependable cushion: Soft, plushy carpet can provide a safe landing if you fall. Make sure you invest in a high-quality carpet pad underneath it to enhance its injury protection.
Comfort: Unlike hard flooring materials, carpeting doesn't retain cold or heat, so it won't hurt your feet in extreme temperatures. It's more pleasant to walk on carpeting on a winter morning than on a cold, hard surface.
Keep the following in mind to get the most out of the carpet throughout your house:
Get low-pile carpet: The pile of your carpeting refers to the thickness and length of the fibers. Low-pile carpet is the best carpet for elderly adults because it doesn't get caught on wheelchairs or oxygen tanks.
Develop a no-shoes rule: Carpeting fibers can trap dirt and dust, making it difficult to clean. If you suffer from allergies or other respiratory conditions, you should ask guests to take off their shoes.
It works best in the living room or bedroom: Damp carpet can develop mold if you don't clean up spills right away. Instead of installing carpeting in wet areas, like the bathroom or kitchen, you should install it in your bedroom or living room.
2. Vinyl
Vinyl is available in plank, sheet and tile form, and could be a practical flooring for your home because of these benefits:
Ease of maintenance: Vinyl flooring doesn't trap dust and other allergens, so it's easy to clean. It's also durable so you don't have to treat it regularly.
Slip resistance: Luxury Vinyl Tile (LVT) is water and stain-resistant so you won't trip on slippery floors in the kitchen or bathroom. To avoid standing water buildup, it's best to clean up spills as soon as you notice them.
Affordability: You can find vinyl materials in any price range, but it tends to one of the most affordable flooring options.
Ease of travel: Since vinyl is smooth and hard, it's easy to bring a walker or wheelchair on it. It's also more comfortable than tile because it's not as cold when you walk on it.
3. Hardwood
Hardwood flooring is aesthetically pleasing, but it also can be useful as flooring for an older adult, especially in the living room or bedroom. Here are some of the reasons why you should consider wooden floors:
Ease of cleaning: Unlike carpeting, hardwood doesn't trap dirt or allergens, and you can easily clean it with a broom or vacuum.
Long lifespan: Hardwood flooring can last several decades as long as you maintain it properly. If one of the panels breaks, you can replace it instead of installing entirely new flooring.
Ease of travel: Since wood is a hard surface, it's easy to travel with a cane, walker or wheelchair.
Slip resistance: Engineered hardwood flooring is a slip-resistant alternative to natural wood. Panels made from this material are water-resistant and easy to maintain.
4. Laminate
Homeowners enjoy low-maintenance laminate floors for older adults because:
Ease of maintenance: It's easy to clean without being pre-treated, and it doesn't trap dirt like carpet does.
Affordability: You can find a cheap laminate, but for a little extra money, you can get high-quality flooring.
Slip resistance: Waterproof laminate flooring has a coating over it that protects it from moisture and everyday wear and tear. This feature makes it easy to clean and helps prevent slips and injury.
Ease of travel: Since it's a hard surface, you can easily walk on laminate floors without worrying about your wheelchair or walker getting stuck.
Schedule an Appointment With 50 Floor to Install Flooring for Older Adults
If you're ready to install new non-slip flooring for seniors, you can explore photos of the various floors we provide to get some ideas. You can also schedule an appointment with us to come to your house and show you different floor samples, helping you make an informed decision. For more information, call us at 1-800-50-FLOOR.