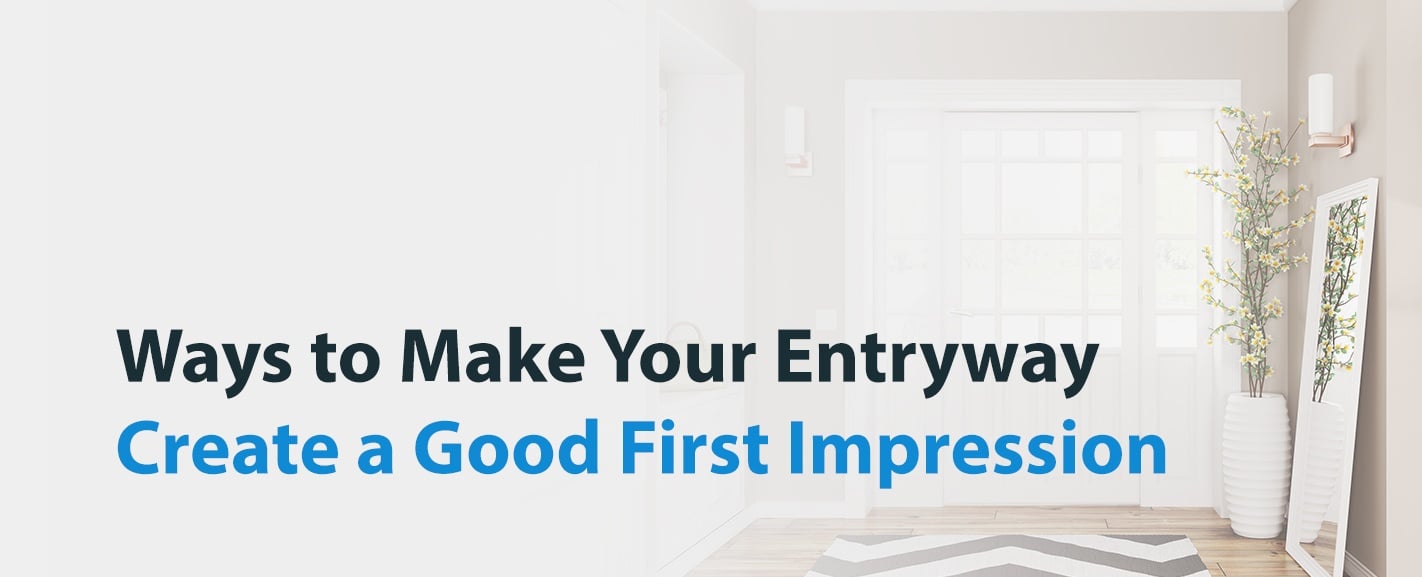 The entryway is how you welcome your guests and family members. Decorate an inviting entrance for all those who enter your home, including your loved ones who live with you. Use this home entrance interior to show off your knack for bold colors, extravagant light fixtures and innovative storage space. Use this entryway interior design guide to create the best entryway for your home.
What Makes a Great Entryway?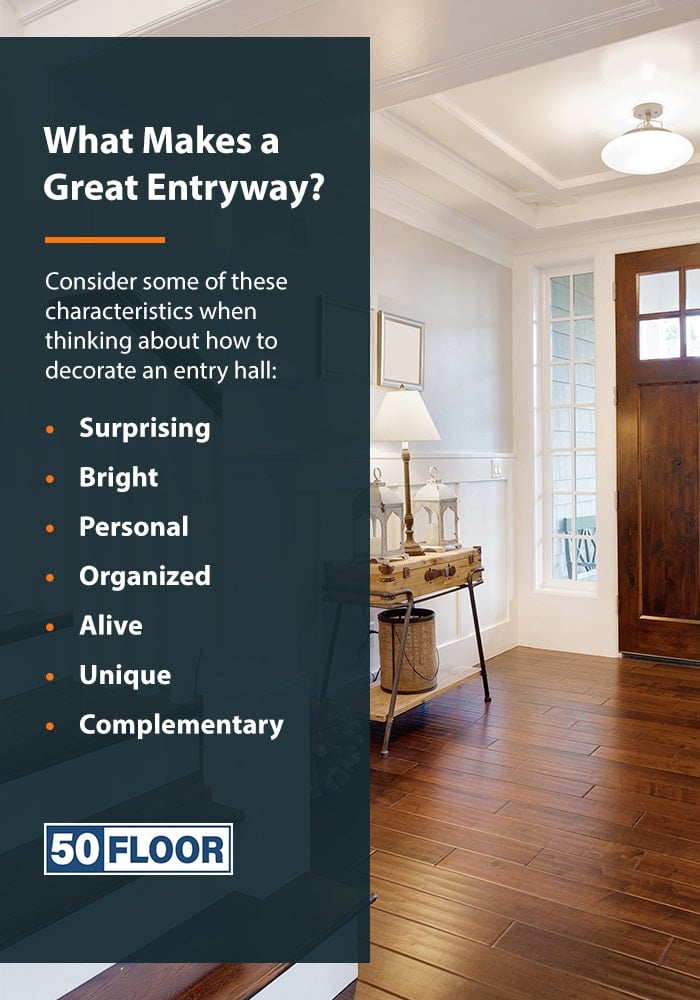 An excellent house entryway is the first impression of your home, so you can use this part of the house to create a space that's inviting and welcoming to all who enter. While you want to provide an inviting feeling for your guests, you should make this space inviting for your family and yourself. Consider some of these characteristics when thinking about how to decorate an entry hall:
Surprising: When your guests walk through the door, use entryway hallway decor that they wouldn't expect to see.
Bright: The lighting for decorating your entryway sets the stage for the rest of the house.
Personal: Even though you should impress your guests, the entryway is also part of your home, so you should include decor and photos that make you proud and comfortable in your living space.
Inviting: Your guests should feel at home when they come into your living space instead of feeling like they're intruding.
Organized: A great entryway is free of clutter and has space to put the items you carried with you inside.
Alive: Live plants complement any decor theme, so use as many plants as you want in your entryway to freshen the air and create a calming atmosphere right from the beginning.
Unique: Since the entryway is such a different part of the home, you can decorate it exactly how you want instead of trying to fit into a specific trend.
Complementary: The entryway, from the door to the wall color, should complement the style of the rest of your house to create a unifying theme.
Why Is It Important to Have an Inviting Entryway?
An inviting entryway is essential for setting the tone for the rest of your house. As a reflection of your style and personality, you should design it according to your unique taste. Besides being a launching pad for your family into the world, it's also the space that greets you after a long day of work. The entryway should also be inviting for guests who are stepping into your home for the first time.
While many homeowners ignore the entryway, it's an essential area for creating an inviting atmosphere in your living space. Since it's smaller than other areas of the home, like the kitchen or the living room, the entryway might take a back seat to those other selling points instead of getting the attention and care it deserves. However, the entryway to your home is crucial for getting to your destination on time, so you need to use this functional space well.
Along with making a more functional space for you and your family, the entryway should also be a welcoming environment for guests. People who visit your home should walk in through the door and instantly be impressed. Whether you use bold colors or wall art to catch their attention, your decor in the entryway should make them want to come inside instead of run back to their car.
13 Entryway Hallway Ideas
When you think of a grand entrance, you may believe that large entryway ideas are the only way to make a great first impression. If you have a small home, you might think that you don't have enough space for a more grand entryway. We hope that this entryway inspiration guide helps you see that you can update this area of your house with subtle, inexpensive details to make it luxurious, whatever its size. Follow these house entryway ideas for decorating your entryway.
1. Say Hello With Your Door
Your guests' very first impression of your house starts at the door. Design your exterior door well with stunning features on both sides, and include trendy doorknobs and hinges. If you have limited space in this area of your home, consider painting the door a bold color to draw attention to it.
Depending on your style, you may want to go with a natural wood door or paint it an eclectic color. You could also create an exciting contrast with a bright shade. While this part of the home should be different, make sure it complements the style of your house to complete your property's overall design.
2. Light It Up
Employ an eye-catching light fixture to bring a focal point to the entryway and add brightness to your space. You can choose from any style of lighting, such as pendant lighting, lamps and sconces. Decorative lighting, such as a large chandelier, gives your space an element of surprise that will impress your guests. A more prominent light fixture can make the entryway feel taller, so use a bold pendant or chandelier to create a memorable first impression.
Install an elegant chandelier to give a dramatic appearance, especially if you have high ceilings in the entryway. For the same effect but with a shorter room, use a pendant or a flush mount fixture. You could even use table lamps to provide height or volume, and you can easily switch them out when you're ready for a new color or design.
3. Use Creative Storage Space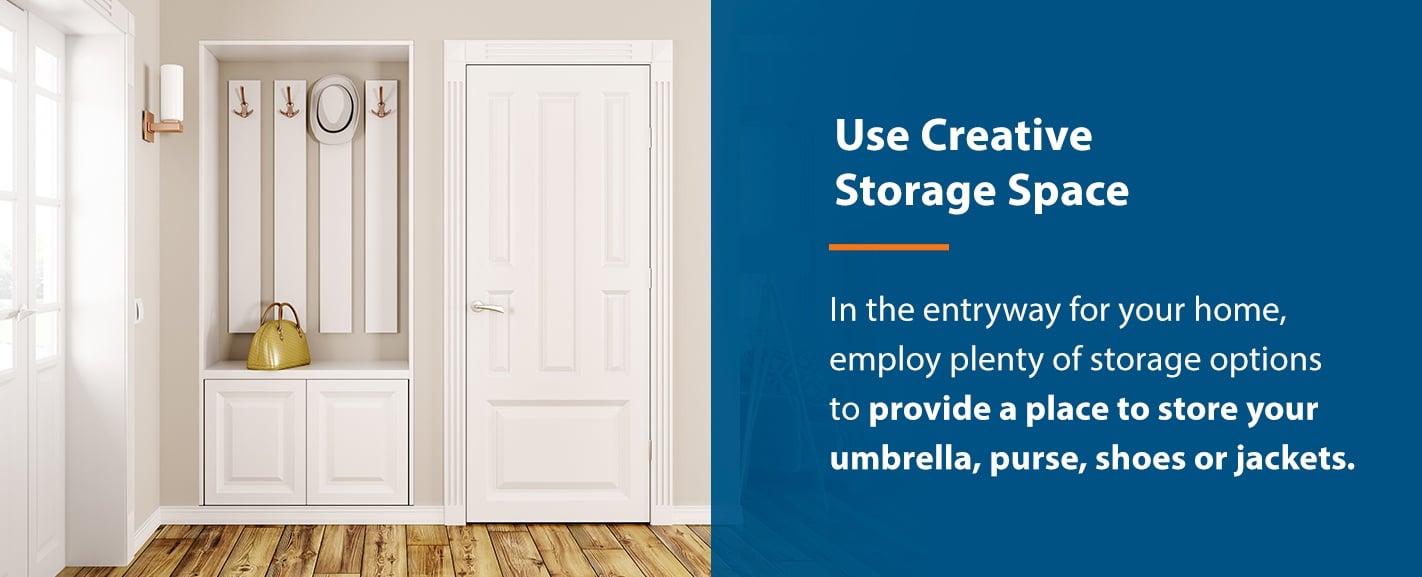 In the entryway for your home, employ plenty of storage options to provide a place to store your umbrella, purse, shoes or jackets. You should store items in your entryway that you'll often need, such as phone chargers and ice scrapers, to grab them on your way out the door. If you don't have a closet in the entryway, be creative with storage benches or wicker baskets.
To make the most of your wall storage space, use racks or hooks to hang up your coats or umbrellas. A floating shelf is also a great storage idea because you can place your keys or stack the mail without taking up any floor space. Some floating shelves come with built-in hooks, or you could hang hooks under them.
4. Provide Storage Space for Your Guests
Give a designated space for guests to put their shoes and coats so they're not left awkwardly holding onto their items. That way, they feel welcome in your home. You could install decorative cabinets in the entryway to free up floor space and hide your guests' belongings. Cubbies can store your shoes and purse efficiently in plain sight.
5. Place a Console Table
For days when you have too much on your hands, give your entryway a stylish yet practical table to leave your keys or groceries. Decorate it with some flowers in a vase or a recycled glass bottle. Console tables come in various shapes and sizes, so you can find one to fit the square footage of your foyer. Having a small table in this part of your home prevents you from dumping your items on the couch or the floor.
6. Take a Seat
While your guests most likely aren't going to be sitting in the entryway, adding seating makes this space comfortable and convenient. Put chairs or a small bench in the entryway so you have a place to take off your shoes or sort through the mail. Design your seating with cozy, colorful pillows or cushions. You could also use a storage bench to hide away shoes and jackets.
The type of seating you use depends on the available space of your entryway. For larger foyers, put an accent chair or a love seat to add personality to the room. If you have limited square footage in this part of your home, tuck in small stools under a table for quick and comfortable seating. The wooden bench is a popular choice for entryway seating because it's low-maintenance and durable.
7. Use Bold Colors
Designing your foyer with bold colors creates an eye-catching first impression for your guests. While you can use neutrals throughout the house, an entryway is a great place to try something new. Since you don't spend a lot of time in the entryway, the red walls or colorful wallpaper will inspire you instead of overwhelming you. Using vibrant colors also allows you to define your entryway, especially if you live in an open concept home.
Take any pattern you enjoy and put it in your entryway. Use accessories or wall art to create a pop of color if you'd rather have more neutral tones throughout your entryway. Be creative in your design as you employ colors and patterns you wouldn't use throughout the rest of your home.
8. Decorate With Wall Art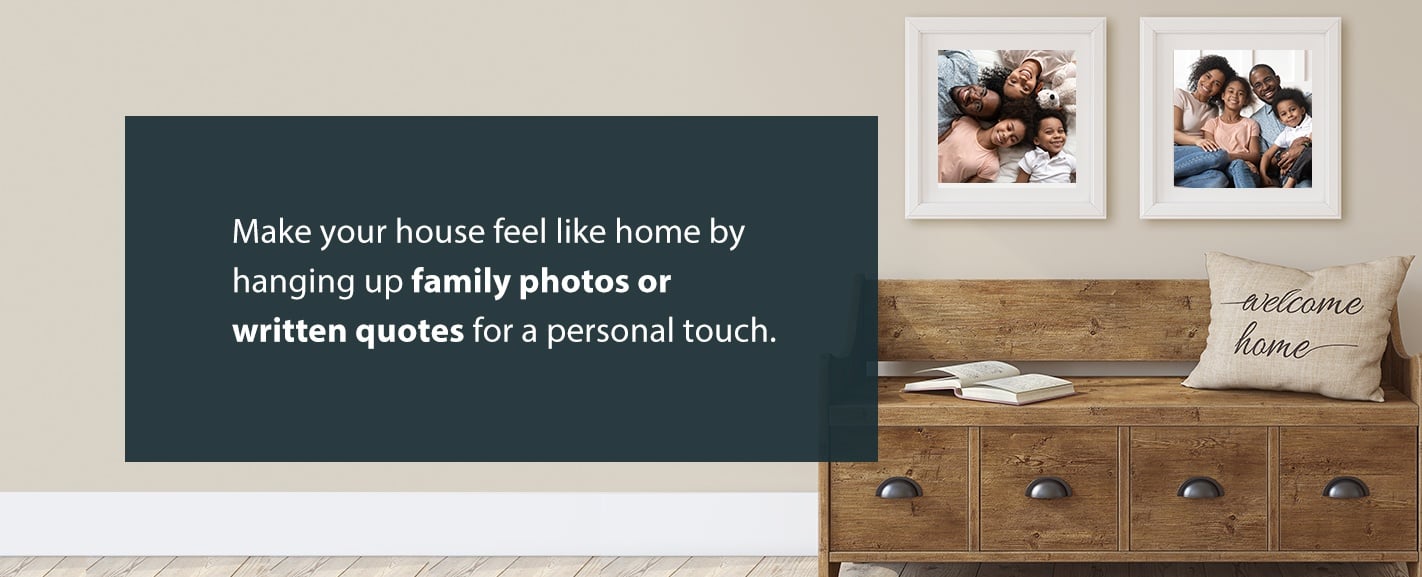 Stick pictures and quotes on the wall to complete the look of your luxurious entryway according to your unique style. Make sure you scale the art to the size of your room to leave a lasting impression in your entryway. For a budget-friendly alternative to expensive wallpaper, you can decorate with DIY wall stencils on an accent wall. Make your house feel like home by hanging up family photos or written quotes for a personal touch.
9. Design With Unique Decor
Create a personalized appearance with handmade decor or repurposed items. When you use something you already have in the house, you'll save money and resources by giving a new meaning to your belongings instead of getting rid of them. Finding an updated purpose for an item in your house is also a great DIY project to help you put your creativity to work.
The decor in your house is a way for your guests to know your style and personality better. You could use your wall space to show off your souvenirs and momentos from all the places you've visited if you like to travel. You can use any decor elements to make your entryway inviting for both you and your guests.
10. Hang Up a Mirror
A mirror is both a practical and aesthetically pleasing addition to your entryway. Use a large mirror on top of your console table to check your appearance before you walk out the door. You can even consider setting a mirror on the floor and leaning it against a wall to make the room look bigger and add a surprising element to your room.
Install a mirror on your wall to reflect the light in your house and create a more inviting atmosphere, especially if your front door has windows. Place the mirror directly across the source of light to double the brightness in your foyer.
11. Be Eco-Friendly
Keep the air fresh with greenery and eco-friendly scents. To provide an inviting smell at the starting point of your home, diffuse essential oils or light a candle. These aromas will improve air quality and make your guests more comfortable in your living space.
Use plants to create a stunning look for your entryway. The organic green leaves bring nature into your home and complement any design aesthetic you have in your entryway. Choose a colorful planter or plant stand that you can put on the floor, on a table or hang on the wall.
12. Update Your Floors
To create a memorable first impression in your home, decorate with more permanent elements, such as new flooring. For this part of the house that is often a mudroom or part of the living room, you need a moisture-resistant material so that you don't ruin the floors with mud, snow or rain.
Luxury vinyl plank (LVP) and waterproof laminate are two life-proof materials that provide an elegant space for your home and are also easier to maintain than other flooring types. Vinyl planks are available in various colors and shapes, while laminate provides you with the look of natural wood but with easier maintenance. Laminate and vinyl flooring are safe materials if people in your family have allergies.
13. Decorate Your Floors With Area Rugs
Protect your hardwood or vinyl floors in high-traffic areas with a rug. In place of a dull, worn-out welcome mat, use a luxurious area rug to welcome people into your home. An eye-catching area rug or entry runner brings a pop of color and an element of texture and design to your space.
Depending on the shape of the room, you could either use a rectangular runner or a round rug. If you're going to use an area rug to protect your floors in high-traffic areas, make sure it's easy to clean. You can choose from a variety of colors and patterns for your area rug, and you can easily switch it out if you ever want a change.
Schedule an Appointment With 50 Floor to Create an Inviting Entryway
If you're ready to create a grand entryway in your home, we'll help you update your floors to give this part of your home a welcoming first impression. When you work with our team at 50 Floor, we bring the materials to your house, so you don't ha
ve to visit a showroom to pick out what you want.
To schedule an appointment with us today, fill out a contact form. For more information about our products and services, call 1-877-50-FLOOR to speak with one of our representatives.