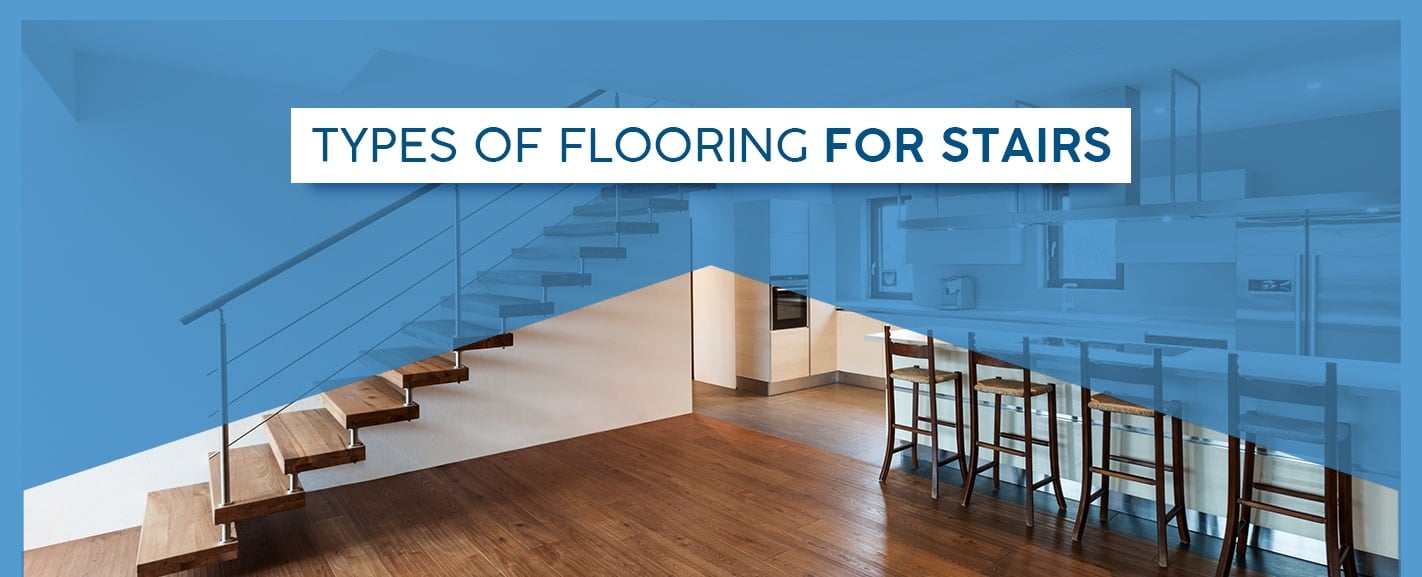 If your home has more than one story, you likely use your stairs on a daily basis. When was the last time you considered the flooring choices for this high-traffic area? Flooring for your stairs transforms your home and can even improve safety in your household.
There are several flooring options for stairs, but what flooring is best for your stairs will depend on a few different factors like your design style, your budget and your household's needs. Your stairs are likely used every day, so it's worth investing in this space to create a truly beautiful and comfortable staircase.
How to Choose Flooring for Stairs
When it comes to choosing the best flooring for stairs, there are a few factors you'll need to consider. Some of these factors include the size and location of your stairs and the unique needs of your household. Other factors to consider when choosing stair flooring include: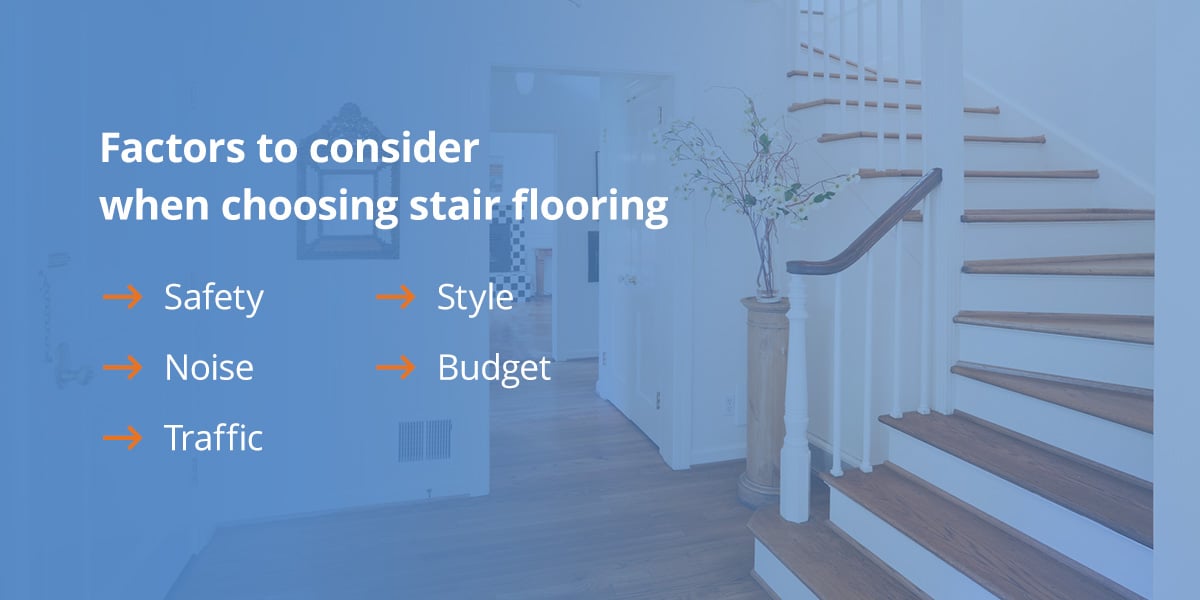 Safety: Safety should be one of the biggest factors in choosing your material. Especially for households with children or people with limited mobility, you'll want to look for surfaces that are slip-resistant or provide extra traction.
Noise: If you live in an older home or your stairs are located next to busy living areas like a living room or den, you may want to consider flooring materials that can muffle noise.
Traffic: Stairs are often high-traffic areas. With continuous use comes more frequent cleaning. Be sure to consider the maintenance and durability of the flooring material you use. Some flooring options are easier to clean and maintain than others.
Style: Your stairs play a role in your home design and decor. Consider how your flooring choices can bring your vision to life and keep your design consistent throughout your home. Wide staircases in traditional homes look beautiful in tile or wood while carpeting is ideal for a cozy den. Also, consider how your staircase flooring will look next to your current flooring on your upper and lower floors.
Budget: There is a wide range of flooring available from a variety of price points. It is possible to update your stairs without breaking the bank. Choose one of the options available within your budget.
Schedule Your In-Home Consultation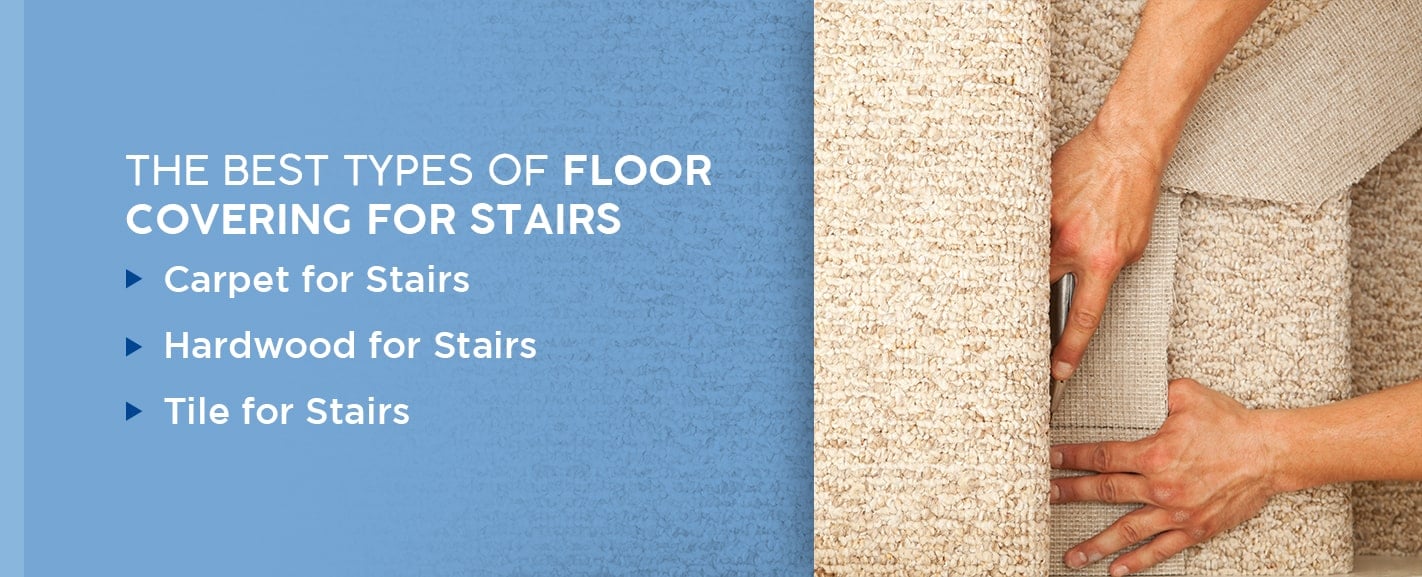 The Best Types of Floor Covering for Stairs
Refinishing your stairs can make a big impact on the aesthetic of your home. There are many staircase flooring materials for your home, and each has its own unique benefits.
Carpet for Stairs
Homes with carpeted staircases are extremely common. It is a budget-friendly option that looks great and is practical, especially for families with children.
Carpeted stairs offer more traction than hard surfaces and are softer on the feet. For homes with small children or mobility-limited residents, carpet is the best material for stairs. An accidental plunge down a carpeted staircase can be more forgiving than on staircases with other materials. For a non-slip staircase, you can choose between a fully carpeted stair or a carpet runner over a wood floor.
Carpet is available in endless styles, colors and textures, which can be matched to other areas of your home. A patterned carpet for wood stairs can add interest to your stairwell. If your steps are located in high-traffic areas, consider a more durable option in a color or pattern that hides stains. Carpets with a low pile are often long-lasting and will wrap around steps more easily than a thicker version. Our experts at 50 Floor can help you choose high-quality carpet to fit snuggly against your staircase.
Notable pros and cons of carpeting on stairs include:
Pros: Carpets are great for adding extra comfort and traction on stairs. This flooring option also minimizes noise, which is ideal for stairs in older houses and stairs that are next to living areas.
Cons: Carpeting easily collects dirt, hair and other debris, and while darker-colored carpets can hide it well, they'll still need frequent and thorough cleaning. If you tend to change your design style a lot, carpet can be harder to change to coordinate with your new style — you'll likely have to completely replace your carpet. Additionally, over time carpeting may begin to pull away or come off of the stairs.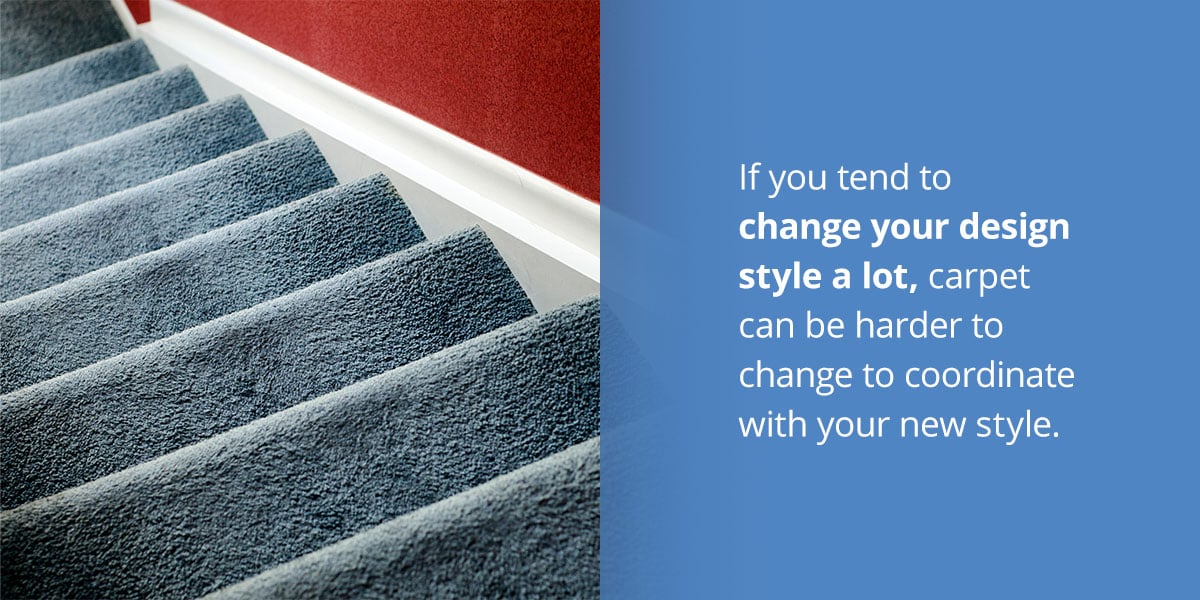 Hardwood for Stairs
Hardwood is a common alternative to carpet on stairs. It has a classic look that blends well with almost any existing floor in your home. A traditional hardwood staircase is an investment that can boost the property value of your home. Hardwood is durable and can be refinished as it ages to change the color or add a fresh coat of varnish so it looks brand new.
In addition to their outstanding appearance, hardwood stairs are simple to keep clean. Carpet fibers can trap dust and allergens that must be vacuumed out. If you would rather sweep your staircase than vacuum, hardwood is a great option. You can also have no-slip treads installed to promote safety by keeping the polished surface from being too slippery.
A few pros and cons of hardwood flooring for stairs include:
Pros: It's easier to clean hardwood stairs than other flooring options like carpet. Also, the look of hardwood flooring for stairs is more versatile and can work with several design styles such as modern, traditional, mid-century or bohemian to name a few. As a bonus, since hardwood flooring is such a popular option, it can increase your homes resale value.
Cons: Without proper additions like no-slip treads and handrails, hardwood stairs can be slippery and dangerous for some residents. Also, compared to carpet, hardwood stairs are noisier and don't provide as much comfort. However, this can be amended with the use of carpet stair runners.
View Hardwood Flooring Options
Tile for Stairs
If you're looking for a durable stair material, you'll want to consider tile. Tiles are practical because they're waterproof and easy to maintain while also adding beauty to your home. However, smooth tiles can be slippery, so it's important to use textured surface tiles for your stairs
Tiles are available in countless colors and styles. You can accent your staircase with a vibrant tile design on the risers complemented by a neutral tone on the tread. Choose tiles with a natural finish for the perfect solution to cover outdoor staircases or basement steps. A wide range of variations allow you to find the perfect tile to complement the rest of your decor.
The range of stair flooring options means you can get the right floor for your staircase that blends style and function. If you are overwhelmed by all the choices, an in-home consultation can help you visualize the options with the rest of your furnishings. The experts at 50 Floor can help you choose the perfect floor for your stairs.
The pros and cons of tile staircases include:
Pros: Tile flooring is extremely durable, so it can handle the daily wear and tear in this high-traffic area. This flooring material is also easy to clean and water resistant, making it especially great for areas that may see more dirt like basement steps.
Cons: Similar to hardwood, tiles can be slippery, especially when wet. Additionally, while the tiles themselves are easy to clean, the grout between tiles is porous and traps dirt. So, some serious scrubbing may be required to keep your staircase flooring looking brand new.
Why Avoid Laminate and Luxury Vinyl on Stairs
If you are looking for a beautiful flooring material that is extremely durable and affordable, luxury vinyl and laminate are both great options. However, these flooring options can be slippery and are not ideal for stairs.
Stairs can be a safety hazard on their own, especially for young children or individuals with impaired movement. Smooth flooring like laminate and vinyl provide the gorgeous look of wood and tile, but they lack the natural texture that provides traction. If a child runs down the stairs, they may lose their footing and take a tumble. If laminate stairs are polished with cleaner or get wet somehow, they can become as slick as ice.
At 50 Floor, we suggest using an alternative flooring that is slip-resistant for any staircase that has four or more steps. Consider covering stairs with carpet or hardwood with a textured tread to eliminate vinyl and laminate risks.
Stair Flooring Ideas
Sometimes, new flooring isn't enough, and your staircase still seems to be missing something. Stair coverings can help you add a personal touch to your stairs while protecting your beautiful new flooring.
Add Classic Tread
Stair treads are fabric pieces attached to the part of the stair you step on to increase traction and protect the staircase flooring from any scuffs, scratches or other damage. Stair treads are typically used for hardwood stairs and are available in a variety of styles, colors and designs. You can keep it simple by going for a solid-colored set or picking a pattern for added design to the space.
Decorate With a Stylish Carpet Runner
Add traction, comfort and design to your hardwood stairs by using a carpet runner. If you're not familiar with a stair carpet runner, it's similar to a carpet runner you put in a hallway. A slim, continuous carpet goes down each step and stair riser, leaving your staircase flooring exposed on each end. This allows you to display your beautiful flooring while adding extra protection and decor to the area.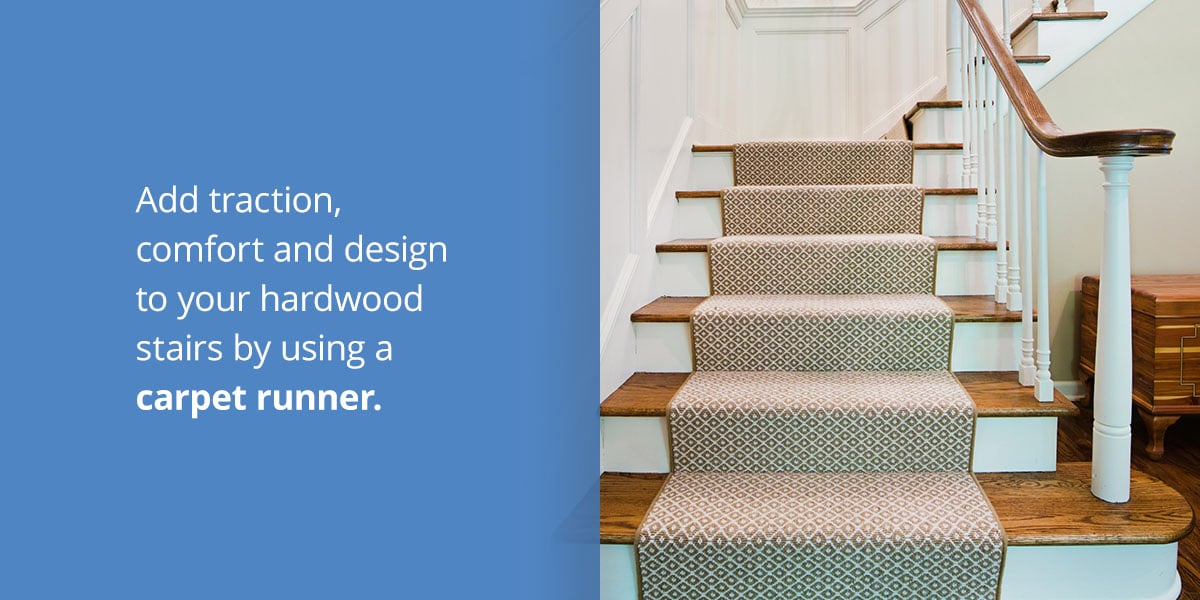 Personalize Your Stairs With Painted Stair Risers
Stair risers are a blank canvas for you to use. Use this free space to continue your home's design, add a bit of your personality or create a unique statement piece. How creative you make your stairs is up to you. Try painting all of your stair risers a new color to freshen up the look, or paint every riser a different color or a gradient or rainbow effect.
If you're feeling extra artistic, try painting a design like flowers, stars or geometric shapes to add a funky twist. If you ever change your home decor style or you get tired of your stair riser design, just simply paint over them and start again
Contact 50 Floor to Install Floor Covering Today
50 Floor offers many options so you can choose the safest and most beautiful surface for your stairs. Not an interior designer? Don't worry, our experts can provide guidance for finding the perfect flooring material and design for your unique needs. 50 Floor also saves you money and takes care of the installation, so you have more time for your busy life.
Interested in a new flooring surface for your stairs? Our team will bring flooring samples to your home to help you choose the best flooring for covering your stairs. By bringing flooring samples to you, you can see how different flooring options will actually look in your home — No more guessing how that shade of hardwood will work with your wall colors.
Contact 50 Floor today and schedule a no-cost in-home consultation with a member of our team to see how new flooring can transform your home.