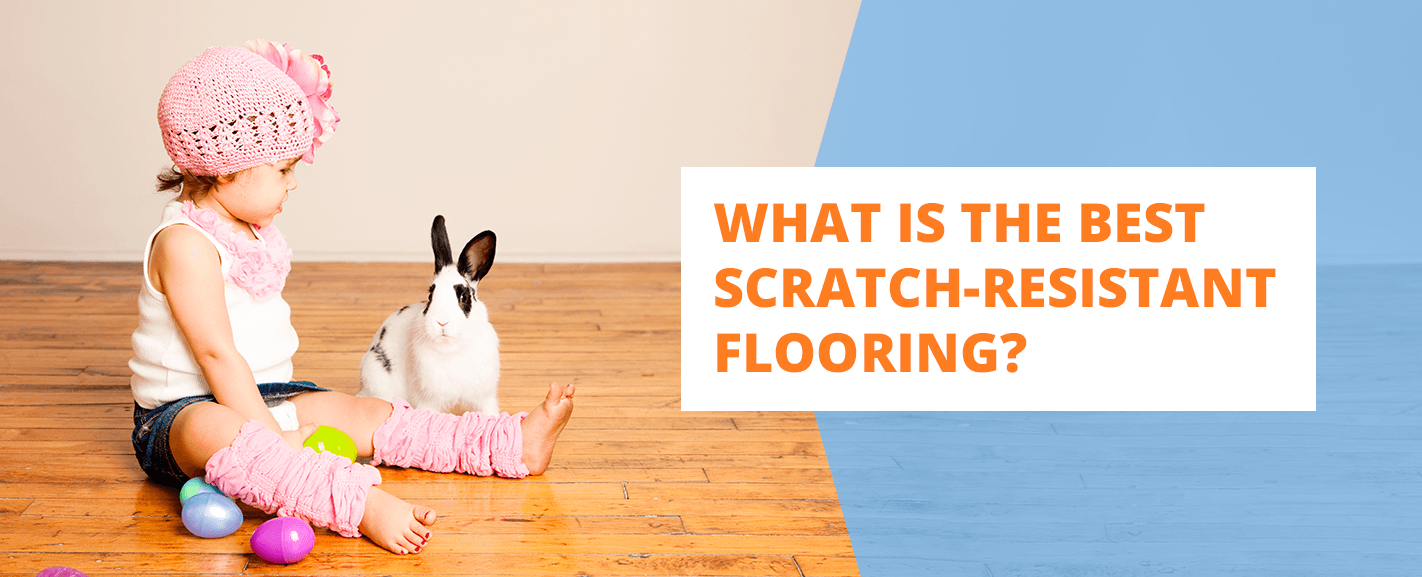 Scratches can ruin the appearance of an otherwise beautiful new floor. Thankfully, there are many gorgeous and affordable scratch-proof flooring options on the market to help you avoid this problem. Any home with pets or children can appreciate the benefits of scratch-resistant flooring. Pets might have claws, which can scratch your floors and kids' toys are often culprits of wear and tear, too.
With the right scratch-resistant flooring, you won't have to worry as much about floor damage, and you can enjoy your floors longer. From tile to vinyl to laminate, you're sure to find an option that suits your budget and desired design.
What Flooring Is the Most Scratch-Resistant?
At 50 Floor, we have several flooring solutions for anyone concerned about scratches:
Tile
Tiles made from hard materials like porcelain or ceramic are among the most scratch-resistant flooring. The strength of tile is superior to many other household flooring materials.
Ceramic tile is comprised of fired clay, making it a rugged and durable material ideal for preventing scratches and scuffs. In contrast, porcelain tile is made from a more refined clay baked at higher temperatures. As a result, it's rugged and scratch-proof. Unglazed porcelain also offers exceptional scratch resistance.
Tile flooring comes in a wide range of designs that can make a beautiful addition to almost any room. The robust material can disguise a rough subfloor, hiding imperfections that could penetrate other flooring options.
These floors look wonderful and are easy to care for. Even spills are no match for these floors, which are water-resistant and also help keep your indoor air quality healthy by resisting the buildup of allergens such as pet dander and dust. Tile floors are durable and long-lasting, so you can enjoy the look of brand-new floors for years to come.
Laminate
If you have your heart set on the look of natural wood floors but prefer a more durable option, laminate is an excellent scratch-resistant choice. Laminate achieves the classic look of wood but with the added strength and other features of synthetic materials. Four layers create sturdy laminate planks that outperform other flooring materials. The bottom layers provide stability and moisture resistance, while the top layers seal in the beautiful design.
The base layer is made from plywood or high-density fiberboard, providing strength and durability. The wear layer provides protection and water resistance to guard against damage, fading and scratches. One of the most significant advantages of laminate is that it can resemble natural wood at a fraction of the cost while providing more durability. They look so similar that people often can't tell the difference between them.
Scratch-resistant laminate flooring is also resistant to scuffs and comes in all colors and wood finishes. If you have children or pets, you may even consider choosing a textured version or adding a non-slip layer to make the top surface safer for small feet and paws. Laminate will enhance the appeal of your home and hold up to years of wear and tear.
View Laminate Flooring Options
Vinyl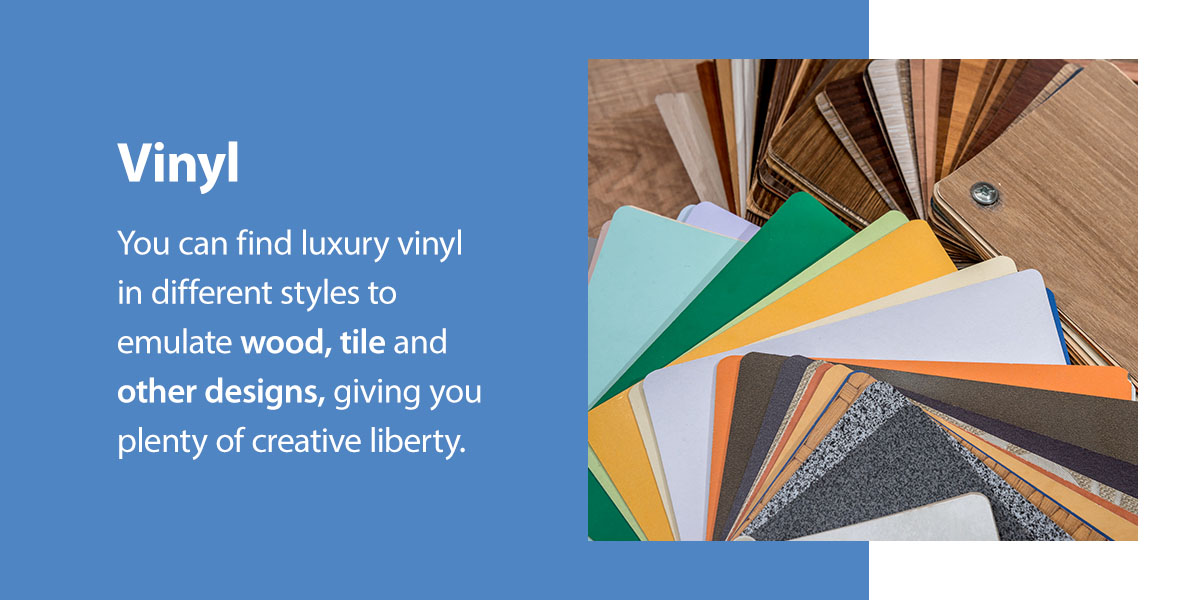 There's a reason luxury vinyl remains a popular flooring option for many homeowners. It's durable and affordable and doesn't require much maintenance. Additionally, you can find this flooring option in different styles to emulate wood, tile and other designs, giving you plenty of creative liberty.
Luxury vinyl is made of several layers of synthetic materials pressed together to create one solid sheet. These sheets are topped with two protective layers to create flooring that is resistant to scratches and water damage.
Luxury vinyl tile (LVT) is thicker and more rigid than sheet vinyl, composed of several layers for added protection from scuffs and scratches. You can install vinyl in one large sheet or cut it into individual tiles or planks. For extra insurance, look for vinyl where underlying layers are the same color as the top layer, which will disguise any minor damage. If your vinyl flooring sustains scratches, you can easily replace a few planks rather than the entire floor.
Today's vinyl is strong enough to resist scratches but soft enough to cushion feet and paws. Vinyl also absorbs sound, making it quiet and comfortable to walk on. You can place vinyl anywhere in your home, even in the bathroom, where a waterproof coating is ideal.
You may expect a hefty price tag for all of these benefits, but vinyl is affordable for almost any budget. Vinyl's combination of function and style makes it a great option for any home.
Why You Need Scratch-Resistant Flooring
Your floors get more use than any other surface in your home. Some homeowners will appreciate scratch-proof flooring more than others, including those who lead busy lifestyles, have pets or children or are hoping to make the best investment for their families.
Here's why you need scratch-resistant flooring:
Easy to Maintain
Life can be hectic, and you need to count on sturdy, scratch-resistant flooring to keep up with your busy schedule. If you are juggling work, taking care of pets or raising children, the last thing you want is to worry about delicate flooring.
A scratch-proof floor can hold up against daily wear so you can focus on what's important. When you install your new flooring, remember to check the warranty before caring for it to ensure you utilize the proper methods.
Protects Against Wear and Tear
High-quality flooring can withstand dirty sneakers, muddy paws, plastic toys and whatever the day may bring. Scratch-resistant flooring is best for active households, as it looks great and protects from daily scuffs and scratches.
Makes an Excellent Investment
Scratch-proof floors look newer for longer, making them a wise investment for any homeowner. Choosing high-quality tile, laminate or vinyl floors ensures your home looks polished. When searching for suitable options for your family's needs, you're sure to find scratch-resistant flooring for your budget that can last for years.
Fits Any Style
With the range of scratch-resistant flooring options on the market, you can appreciate several styles to suit your design preferences. Most scratch-proof materials can imitate natural wood, stone and other materials to match your aesthetic choice at a lower price.
Schedule Your In-Home Consultation
How to Choose the Right Scratch-Resistant Flooring
So, how do you decide on the right flooring for you? It's best to take into account the following factors to help you choose the best scratch-resistant flooring for your home:
Your needs: First, consider your needs before investing in new flooring. For example, if you want something easy to clean and maintain, you might opt for vinyl. If your priorities are more stylistic, opt for laminate and its designs that mimic natural materials like wood or stone. If you're searching for flooring best for daily wear and tear, you might opt for tile due to its high durability.
Your budget: It's also crucial to consider your budget when purchasing new floors. You're bound to find budget-friendly scratch-proof flooring, though there are other options on the market with their own pros and cons if you're not as concerned about the price tag.
Your design preferences: As stated, most scratch-proof flooring can mimic natural materials and come in various colors, sizes and styles. However, consider your home's design before choosing scratch-resistant flooring to ensure it complements your home's interior.
Your household: Lastly, think about your household needs to help you decide on the right flooring. For instance, there are many soundproof, scratch-resistant flooring options if you have pets or you're placing the new flooring in a playroom. Alternatively, you may need scratch-proof flooring with waterproof features. Consider the type of room you'll be installing the new flooring in and how you'd like it to function to help narrow your options.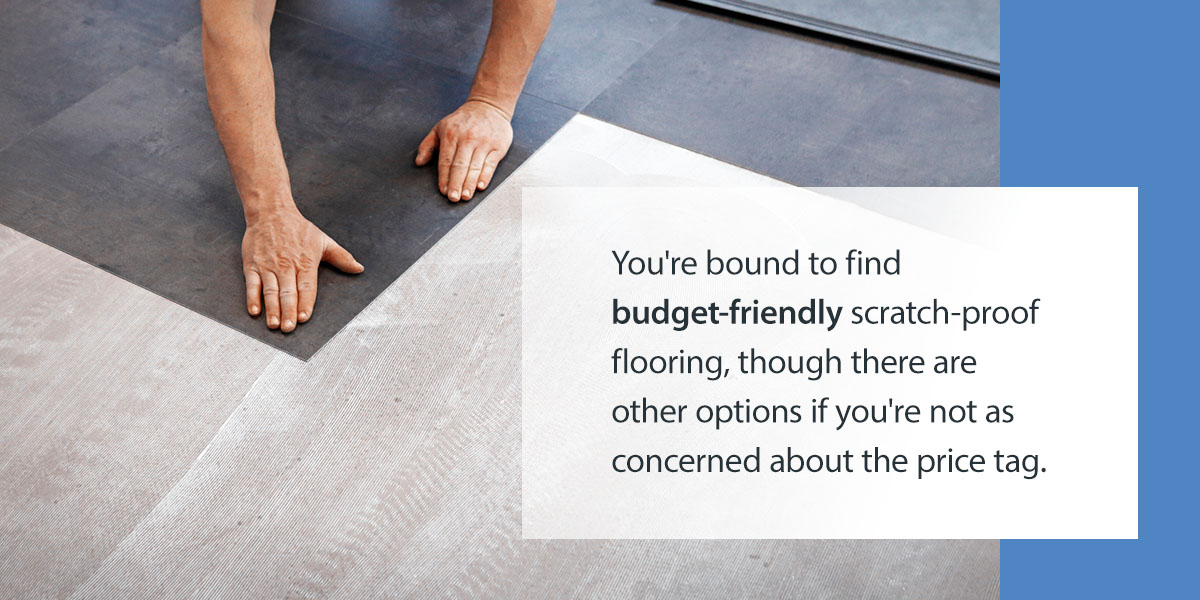 What Is the Best Scratch-Resistant Flooring for You?
While there are plenty of durable flooring options on the market, what matters most is that your floors match your needs and design preferences. 50 Floor understands that, which is why we take the time to ask about your home, floors, budget and aesthetic ideas. We ask about pets, children and floor traffic to offer the best advice that helps you find the scratch-resistant flooring that meets your needs.
Best of all, you don't have to travel all over town to get advice and beautiful, affordable and scratch-resistant floors. Schedule a free consultation with 50 Floor, and a professional will stop by your home with samples of floors for you to consider. You will save both time and money as you choose the ideal flooring for your home when you work with 50 Floor.
Contact us to get answers or schedule your appointment today!