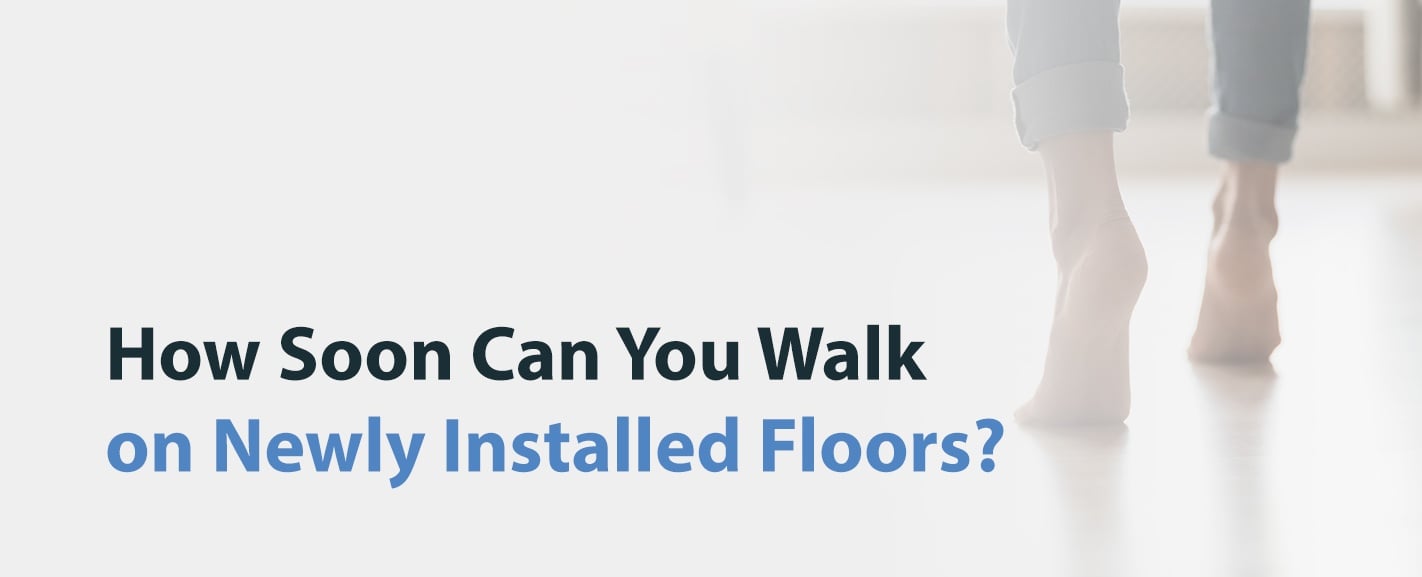 Installing brand-new flooring can increase your property's resale value and enhance its visual appeal. As you plan for your new renovation project, you should plan to be out of the house for a little while so the floor can set before you start walking on it. Heavy foot traffic on brand-new flooring material could ruin its quality and cut its lifespan short. Use this guide to discover when you could start walking on your new floors again.
How Long Before You Can Walk on New Hardwood Floors?
When you first have your hardwood flooring installed, you should wait at least a day before walking on your floors with socks. Avoid having pets play in the newly renovated room for two days, and keep heavy furniture out of the room for at least a week so the floor can cure.
The specific time you should wait before you walk on your new hardwood floors depends on several factors:
The type of finish: An oil-based or water-based polyurethane finish goes on your flooring after the specialist has installed it. Even if the floor is dry, the finish needs to cure several days to protect the hardwood panels from scuffing and scratches. A water-based polyurethane finish dries quickly, so you can walk on your floors after a few hours. However, an oil-based finish takes longer to dry, so you have to wait several days before you can walk and move furniture on it.
The indoor climate of your home: Solid hardwood floorboards need a couple of days to acclimate to the environment to make sure they expand and contract properly. If your home is too dry or you installed your flooring too quickly, the flooring could develop gaps. Be sure to wait for the recommended time to walk on your floors to prevent warping.
The flooring's wood species: Different types of wood have unique acclimation periods, so it might take some floors longer to get ready for foot traffic. Engineered hardwood flooring can resist warping from changes in temperature much better than solid hardwood flooring, so you only need to wait a day before walking on it.
How Soon Can You Walk on New Carpeting?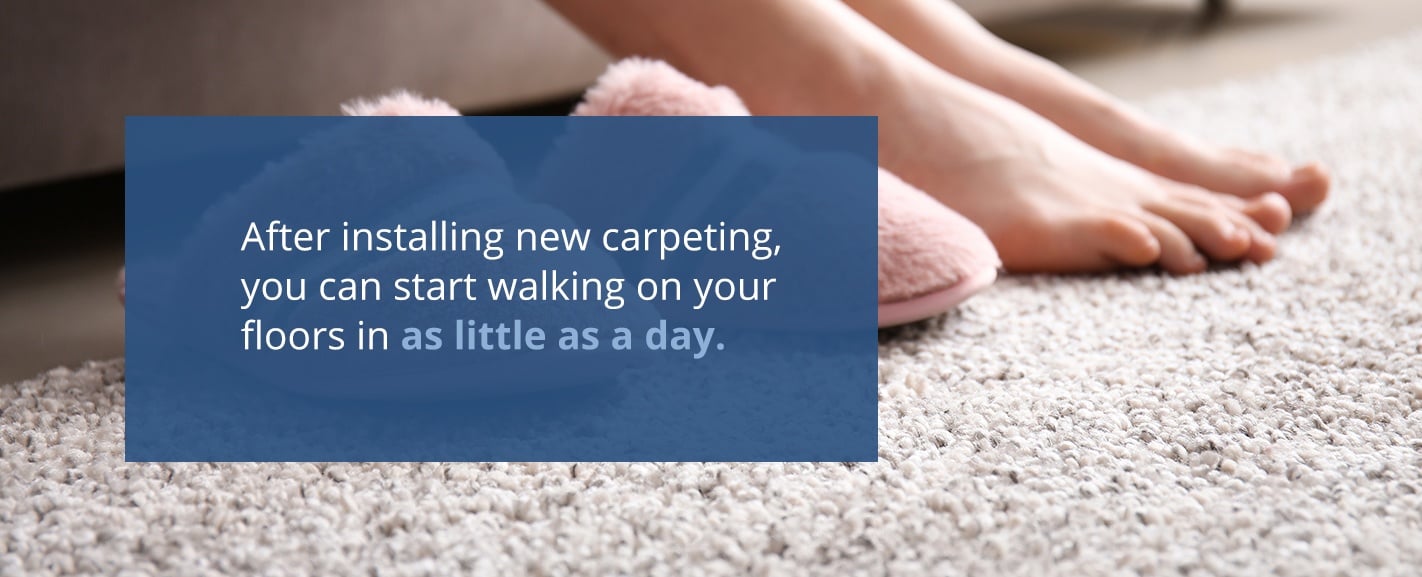 After installing new carpeting, you can start walking on your floors in as little as a day. Some manufacturers even recommend that you start walking on your carpet immediately for the following reasons:
To help the adhesive stick to the floors: If you used a full adhesion method for installing your carpeting, the glue needs time to stick to the floorboards underneath it. Pressing hard on the floor with your feet, especially after installation, will help the glue adhere better to the floors and prevent the fibers from rising off the ground.
To get the floors ready for furniture: You should still wait an extra day after you start walking on your carpets before moving in furniture, so hard furniture doesn't damage your carpet. It's best to wait until the carpeting glue has completely dried so it can withstand the dense weight of your furniture and resist permanent indentation.
View Laminate Flooring Buying Guide
How Long Before You Can Walk on Laminate Floors?
You can walk on your brand-new laminate flooring about a day after you've had it installed for the following reasons:
To make sure the floor has completely cured: Even after the laminate floor is dry, the glue also needs to be set according to its recommended time. It should take about half a day for the adhesive to cure, but you should wait a full day to make sure it's sturdy.
To make sure your floor is even: If the adhesive didn't cure before you walk on your laminate floor, the panels could sink closer to the subfloor. As a result, your floor will dry unevenly and will need a replacement. Waiting at least a day before walking on it will save you time and money on repairs.
Depending on the product's material and quality, the laminate floorboards often need to acclimate to the environment up to three days before installation. The flooring needs to get used to the environment's humidity and temperature to prevent unwanted movement.
View Tile Flooring Buying Guide
How Long Before You Can Walk on Tile?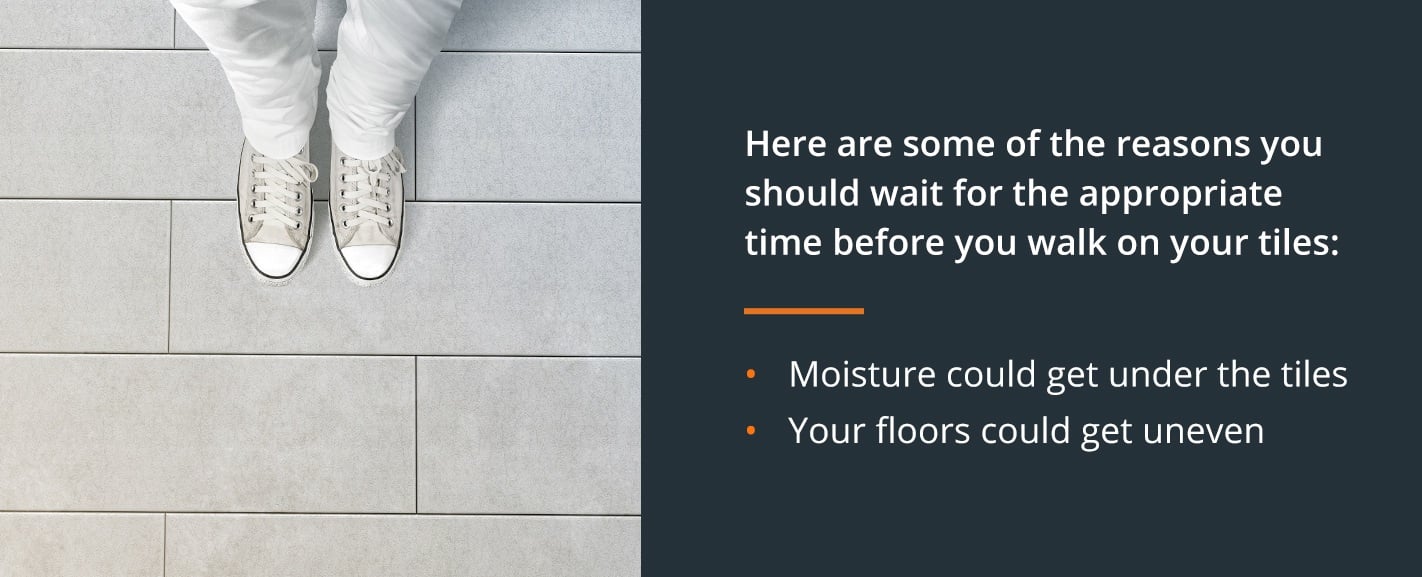 After you've installed your brand-new tile flooring, you need to wait about three days for the grout and adhesive to dry, depending on whether you use a sealer. Here are some of the reasons you should wait for the appropriate time before you walk on your tiles:
Moisture could get under the tiles: Without the correct installation, your tile won't have the proper moisture protection to accommodate your bathroom or kitchen. If you use a sealant, make sure you allow the floors to cure for the appropriate time according to the manufacturer's instructions.
Your floors could get uneven: If the grout doesn't cure properly, the tiles could become unstable when you walk on them too soon. The adhesive under your flooring needs to dry to be sturdy as you walk on it. If not, your floor will be uneven, and you'll have to replace it.
If you install the tile without a sealer, you only have to wait between three days and one week for the adhesive and grout to cure. You could also speed up the curing process by mopping the floor with clean water every day. If you want to use a sealer, you have to wait for it to dry and cure before you walk in your newly renovated room.
View Luxury Vinyl Flooring Buying Guide
How Soon Can You Walk on Vinyl Flooring?
After you've installed brand-new vinyl flooring, you should wait at least a day before walking on it because:
The seams need to cure: The adhesive under your vinyl plank or tile flooring needs at least a day to acclimate to the floor underneath it after installation. If you walk in the room before the seams have cured, you could damage the glue and uneven the floor. Along with walking, you also shouldn't mop for a few days so that moisture doesn't get underneath the panels.
It helps the flooring material last a long time: Luxury vinyl flooring can last up to 30 years with the proper maintenance. It would be best if you waited at least a day to walk on your vinyl floor so that it'll last as long as the manufacturer's claims.
Like laminate and hardwood flooring, vinyl also needs to acclimate to its environment before installation. The specialist will often lay down a piece of a vinyl plank and let it sit for three days to see how it responds to the moisture in the air and on the subfloor.
Schedule an Appointment With 50 Floor for New Flooring
If you need new flooring, you can schedule an appointment with us to come to your house and bring you flooring samples. An in-home flooring estimate allows you to test the flooring material against your furniture, paint color and design style. After you've installed your flooring, we can also provide a floor care guide to ensure your high-quality material lasts as long as it can. For more information about our products and services, please call us at 1-877-50-FLOOR.