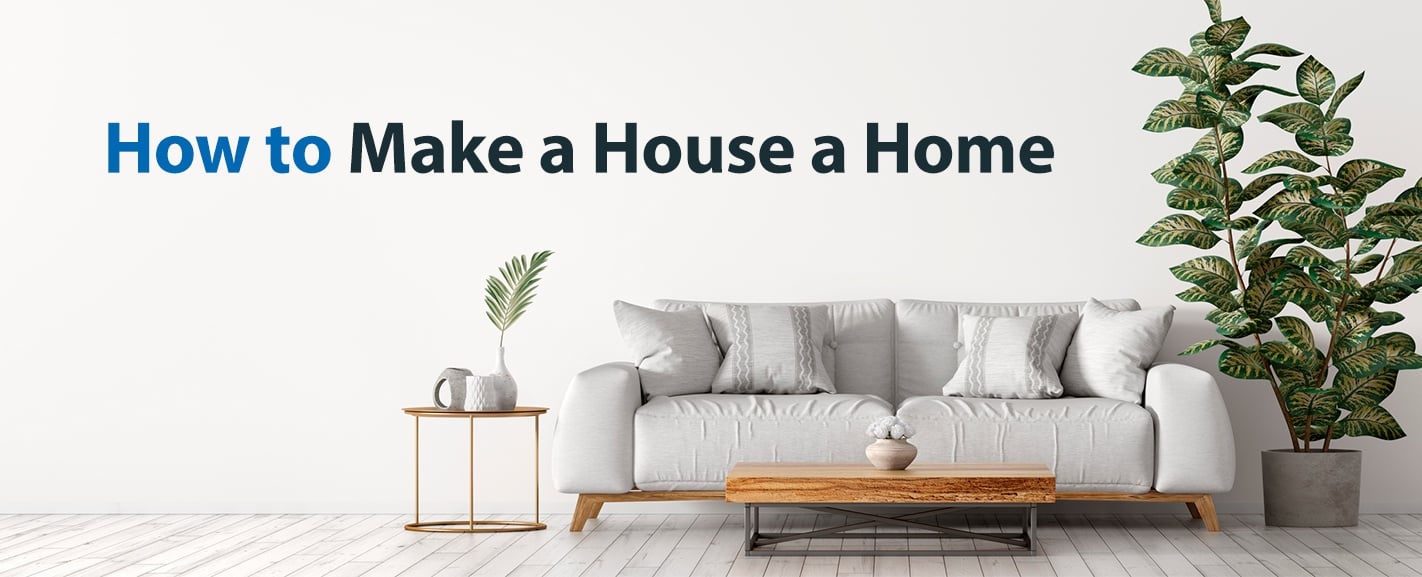 A home is a place where you can unwind at the end of a long day and truly feel like you belong. If you're living in a house, even if you own it, make personal touches to give it a homey atmosphere. While it may take some time for you to decorate and upgrade your property, check out these five tips for turning a house into a home.
1. Fill It With Things You Love
Adding some personal touches can make a house a home. Here are some ways you can have a sense of ownership over your living space:
Create a private space:

Your property won't feel like yours until you've put your mark on it. Set aside an area of the house that's just for you, where you can go at the end of a long day. Whether you use it to relax or to indulge in your favorite hobby, include books, a journal, art supplies, a comfortable chair and cozy lighting.
Decorate with personal momentos: Visual reminders of your past could bring back intimate memories of times spent with friends and family. Fill your bookshelves with your favorite books, CDs or DVDs that you enjoyed when you were younger. Your favorite media will speak to your unique personality, so put them on display to show the world who you are. You can also decorate with souvenirs from memorable trips or outings with friends.
Hang pictures of friends and family: Even if you don't live with your family members anymore, you probably have fun and exciting memories that remind you of your childhood home. Turn this house into a home by hanging up family pictures in places where you'll see them often as a tribute to help you remember that you're loved and you belong.
Create new memories: Once you move into your house, you can start making plans with your friends and family. Invite your loved ones over for dinner, a small cocktail party or Sunday brunch. Take out the camera and take new photos to hang up on your walls in the years to come.
2. Lay Down New Flooring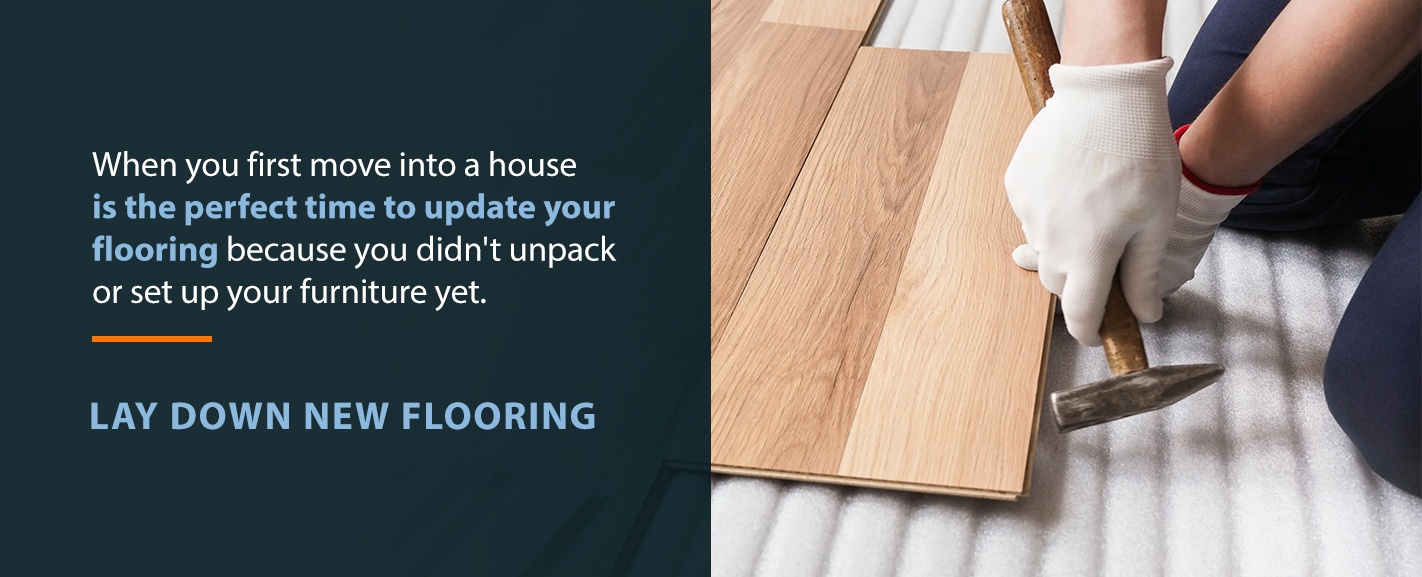 When you first move into a house is the perfect time to update your flooring because you didn't unpack or set up your furniture yet. Besides making it easier to clean, floors can also influence the atmosphere of the room. If you need new flooring, follow these tips:
Pick the right floor for your room:

Whether you want to update the bathroom, living room or master bedroom, you should choose a flooring material that enhances the aesthetic of

each of the rooms in your house

. Consider how many people will walk on it and its resistance to moisture, especially if you're going to use it in the kitchen or bathroom.

Clean your floors:

When you eventually

unpack your boxes and move furniture

, the flooring can collect dirt and develop wear and tear. As you bring your stuff into the house, put protective materials on the floor and wear disposable booties. Create a

weekly cleaning routine

for your flooring and wipe up spills immediately to prevent wear and tear.
3. Decorate With Artwork and Greenery
After you've unpacked and done minor renovations, decorating your living space will give it a personal touch. Here are some ideas for fun, eco-friendly decorations:
Add some greenery: Live plants can enhance the air quality of your home and boost your mood. Put a bouquet of flowers in a vase, or grow herbs or natural spices to use while cooking. This greenery will add color to your home and bring a smile to your face.
Fix up the whole house: While you might want to focus on the prominent parts of the house, such as the kitchen or the bathroom, show some love to the hallways. Design a beautiful coat hook for the entrance or add a fresh layer of paint to the entry door.
Hang wall art:

Decorate with framed pictures and motivational quotes that inspire joy throughout your living space. If you have enough art, you could also set up a gallery wall. Create a

DIY project

to hang on the walls.

Remember the outdoors:

Your front door can create a strong first impression on your guests and be a welcome sight when you return home at the end of the day. Put your mark on your front door with inviting colors and fun decor. Clean the front of your home by cutting your grass, trimming your hedges and picking up trash and debris.
4. Keep It Clean and Comfortable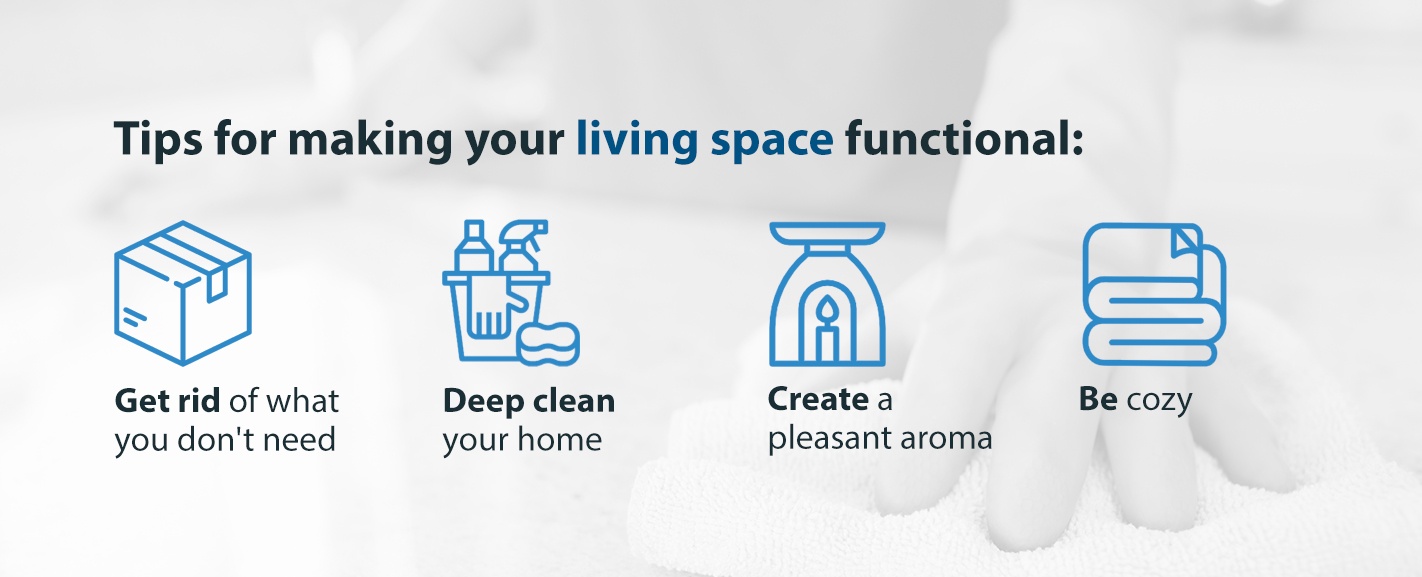 To make your house a home, you need to indulge all five of your senses. While aesthetics and style are important, it's hard to plan your living space when you don't have anywhere to put your items. Follow these tips for making your living space functional:
Deep clean your home:

When you move into a house, you should clean it to ensure no germs or mold could've formed in the house.

Disinfect your living space

, especially the HVAC vents, under the bed and in bathroom cabinets and drawers. If you want to feel truly relaxed at home, you have to keep your space clean.

Get rid of what you don't need: To give yourself control over your living space, everything in your house needs a place to go. If you unpack your boxes and realize you don't want some of your belongings, throw them out or donate them.
Create a pleasant aroma: Light a candle with your favorite scent to mask unfamiliar smells and provide a pleasing atmosphere. You can also use soap with a pleasant fragrance in the bathroom to entertain your nose.
Be cozy: To create a safe and comfortable space, surround yourself with soft blankets and fabrics. Put some new pillows on your bed, wash your bedsheets and change the bed cover. Update your towels and consider taking a relaxing bath after spending all day cleaning.
5. Brighten It Up
Bright, attractive colors could boost your mood and create a welcoming living space. To provide extra light:
Be creative with your light fixtures:

When you have the chance to buy light fixtures, you can design your room exactly how you want. Buy a table or floor lamp, or use permanent light fixtures to help you decorate your new home.

Use warm light:

While fluorescent light causes a room to feel sterile and cold, warm light can give your living space a cozy atmosphere. Put warm light bulbs in your new lamps and fixtures to calm you after a long, stressful day.
Decorate with light colors:

In your color palette, include soft pastels that reflect the light from your windows and lamps.

Lightly colored flooring

could give a small room a more spacious impression.
Hang up some mirrors:

A mirror will reflect the light throughout your room, allowing the room to look bigger. Place a mirror next to or across from a window to brighten up your living room, bedroom or hallway.
Schedule an Appointment With 50 Floor
If you need new floors, our team at 50 Floor provides an in-house experience for you to try out various flooring materials, so you know what will look the best in your new home. Our experts in our service areas can visit your house and guide you through your flooring options. For more information about turning a house into a home with brand-new floors, schedule an appointment online or call 1-877-50-FLOOR.