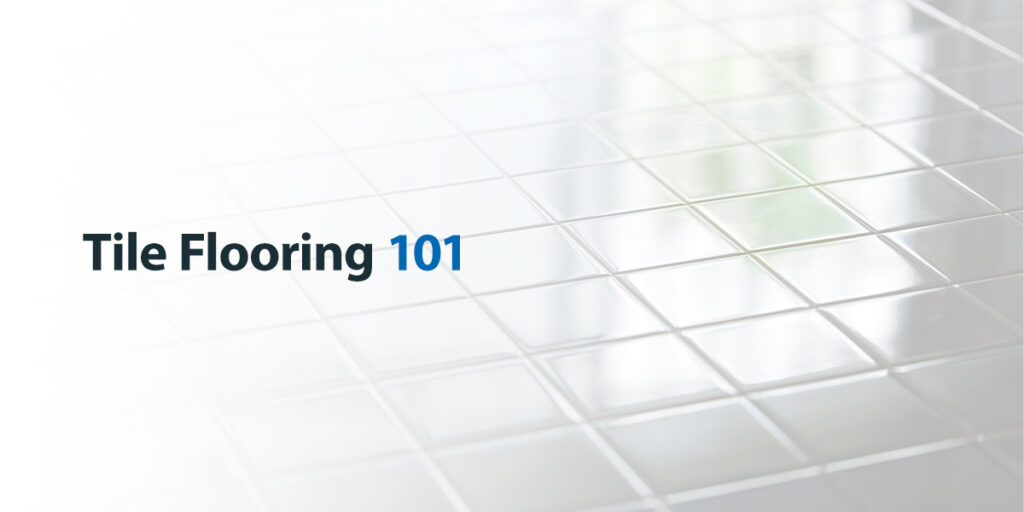 Versatile, durable and long-lasting, tile is one of the best floors for high-traffic, moisture-prone rooms. It gives any space an elegant, upscale aesthetic and the endless options allow you to customize floor patterns easily. Check out our introduction to tile floors and discover the types, maintenance level and pros and cons of tiles floors.
What Is Tile Flooring and What Is It Made of?
Tile flooring is a popular hard-surface flooring. Made from clay and synthetic materials, tile is formed by cutting them into the desired shapes, heating them in a kiln and covering them with a protective glaze or finish. Tile is typically used in bathrooms, mudrooms and laundry rooms because it's waterproof and won't warp or crack when exposed to moisture. The heating process makes tile incredibly durable — when installed correctly, it's resistant to chips, stains, scuff and dents.
Clay is one of the more common materials used to make tile flooring. Water, sand, clay, metal, stone and even glass are mixed to form the different types of tiles. Once materials are mixed and the tile is molded, it's heated to give the tiles their hardness. During installation, a layer of mortar is placed on the ground. Tiles are then attached to the mortar and leveled. Finally, grout is applied to ensure the tile edges are sealed and secure.
Features of Tile Flooring
Tile flooring is already durable and moisture-resistant, but there are additional features you can look into to get even more out of your tile. Consider getting uniquely-shaped tiles to add more dimension to your floors and make your home design stand out. Along with different design options, here are some practical features you can choose for your tile floors:
Stain-resistant
Scratch-resistant
Slip-resistant
These and other features will help your tiles resist wear and tear for a long time.

Pros and Cons of Tile Flooring
There are many advantages to tile flooring, especially when compared to vinyl flooring. Before making your flooring purchase, you should consider each material's benefits. Make sure the type of flooring you choose fits all your requirements so that you're getting a cost-effective, long-lasting floor for your home.
Let's look at some tile flooring pros and cons to help you decide if it's right for you.
Pros
There are multiple benefits to tile flooring. Its solid and damage-resistant properties make it ideal for home flooring.
Affordable: Tile, especially ceramic tile, is more affordable than other materials like hardwood. Depending on the design, size and material, you might pay more, but tile is an excellent option for most homeowners.
Easy maintenance: Tile does a good job resisting stains, so you can simply wipe up any spills with minimal effort. To maintain tiles, just sweep and mop them regularly to keep them looking clean.
Allergen-resistant: With no fibers or absorbent materials, tiles are perfect for resisting dust and allergens. Unlike carpets, they won't absorb dander and debris. This allergen resistance means tile is ideal for people with allergies.
Durable: Due to its heat treatment, tile is highly durable. It will easily stand up to years of foot traffic — it won't chip or dent easily and won't warp over time.
Water-resistant: The materials used in making and installing tiles are highly resistant to water damage. They have low absorption rates and do a great job of repelling water. This makes them perfect for moisture-heavy rooms like bathrooms, as you can get the floor wet and won't have to worry about water stains or warping.
Many options: Tile comes in dozens of colors, cuts, materials and sizes. Tile even comes in options that mimic wood or stone without the higher price tag. It's easy to find a tile that complements your home and provides the strength and support you need.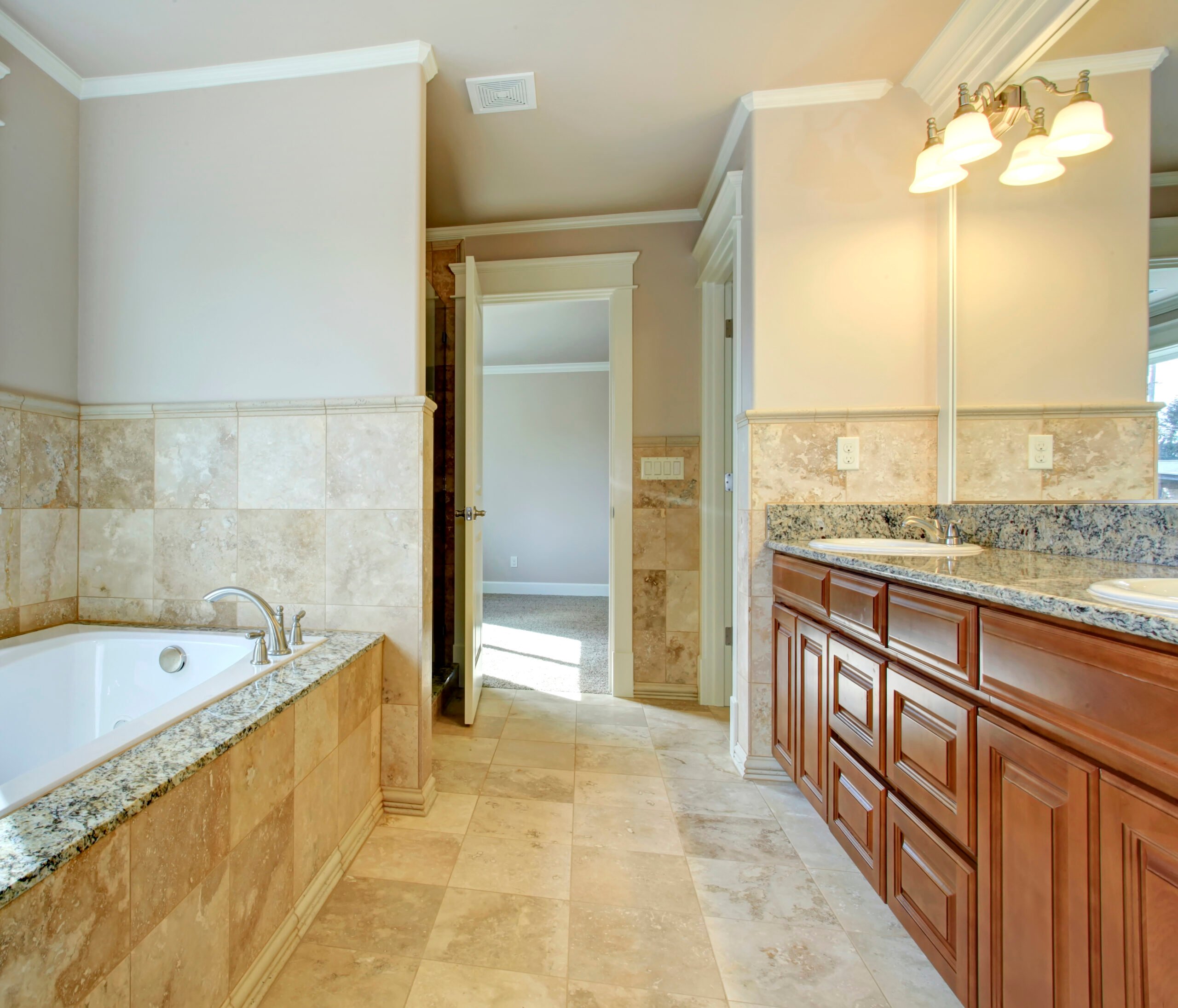 Cons
There are a few cons to tile floors that might make them less suitable for some of the rooms in your home. However, most of these drawbacks are easily worked around.
Grout maintenance: While the tiles need only a little maintenance, the grout between them will need some care — grout can trap debris, and you'll have to work harder to remove dirt from the grout. Be sure to check your warranty before tackling grout to ensure you don't void it while cleaning. Overall, you should re-grout whenever your grout looks dirty to prevent mold, bacteria and water buildup.
Slippery: The smooth, heat-treated surface of the tile makes it slippery to walk on when wet. You can get slip-resistant tiles to help avoid this issue, or you can make sure to wipe up any water before walking on the tile.
Weight: Tiles are relatively heavy and can add a lot of weight to your flooring, which can be a concern for upper levels. Check with a professional to ensure your home can withstand the weight of a whole tile floor.
Potential damage: Poor installation is one of the causes of tile floor cracking, so always get your tile installed by a reputable company to protect your floors.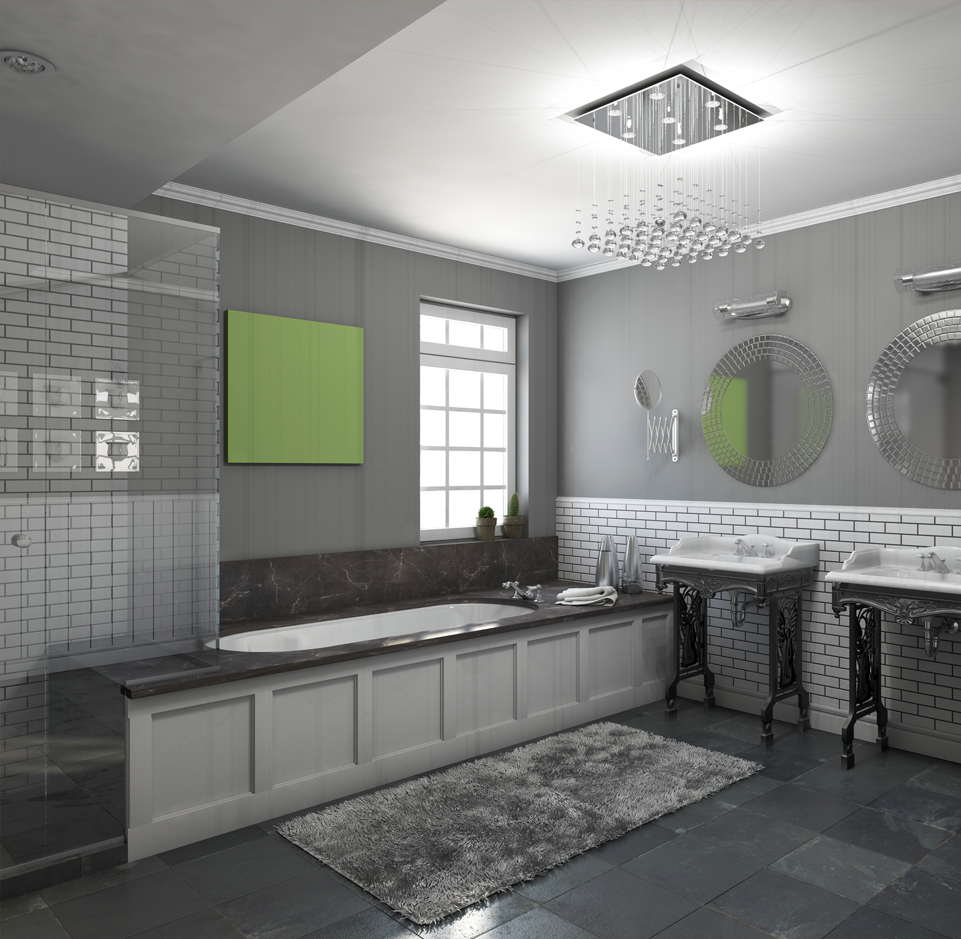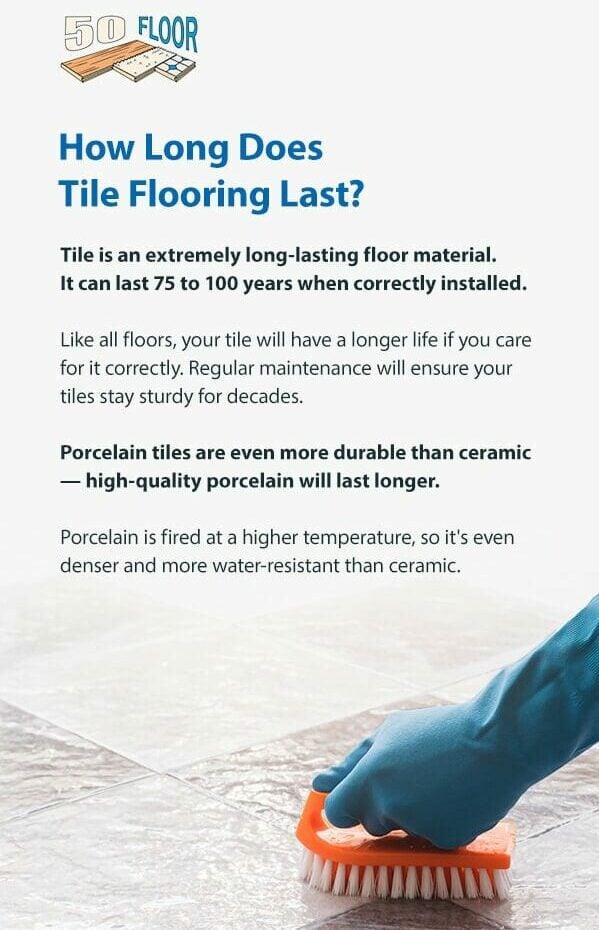 How Long Does Tile Flooring Last?
Tile is an extremely long-lasting floor material. It can last 75 to 100 years when correctly installed. Like all floors, your tile will have a longer life if you care for it correctly. Regular maintenance will ensure your tiles stay sturdy for decades.
Porcelain tiles are even more durable than ceramic — high-quality porcelain will last longer. Porcelain is fired at a higher temperature, so it's even denser and more water-resistant than ceramic. Additionally, porcelain tiles will hold their color longer than other materials when exposed to sunlight. They won't fade quickly, so you can be sure your tiles will look pristine even with sunlight shining on them.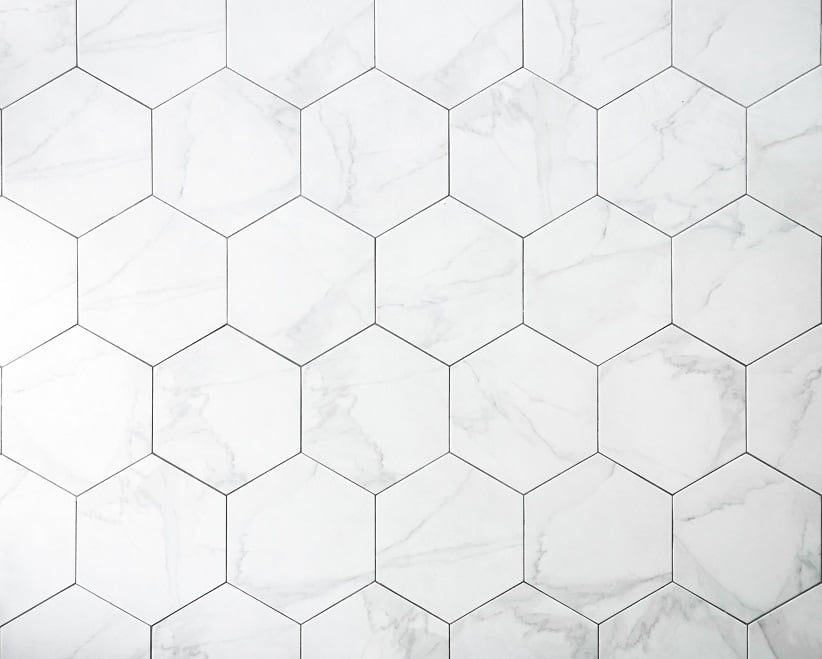 Styles of Tile Flooring
You can explore a variety of finishes, patterns, colors, sizes and more to find the best tile to suit your home.
Finishes: Customize your tile's sheen and water protection with unglazed, glazed or polished finishes. Each has its own benefits and will provide you with a different look depending on your preferences.
Patterns: Tile comes in a variety of patterns. You can make your own tile patterns by customizing different tiles, or you can choose painted tiles. Pick tiles with printed or painted designs to elevate your tile flooring or choose an understated tile pattern for a classic look.
Colors: Pick any number of attractive colors to complement your home. Play with neutrals, cool tones, warm tones and even bold colors to enhance your home's design.
Size: Mix and match the tiles' dimensions to create a dynamic, classic floor. Multiple tile sizes keep your floor pattern interesting without overwhelming the rest of the room.
Wood-look: You can get tiles that look like wood, allowing you to enjoy the timeless appeal of wood floors while still getting the waterproof durability of tile.
Stone-look: Like wood-look tile, stone-look tile mimics the natural tones and colors of stone. Tile offers a more affordable stone appearance without the higher costs.
How to Choose Tile Flooring
You'll want to choose your tile flooring carefully. Once it's installed, you don't want to find yourself regretting the style you picked. Like any home renovation project, you should carefully examine your options and find the best one for you based on budget and style.
Before picking a tile flooring, you should consider these factors.
Type: Choosing ceramic or porcelain tile will depend on your specific needs. If you want a higher-end, more durable tile, porcelain is a stylish option that comes with a higher price. Choose ceramic for a more affordable tile with a slightly shorter life span.
Size: Tile size influences how you perceive the room it's in. Use different sizes to create patterns or choose one size to make a more uniform floor. Larger tiles will make a room feel bigger, while smaller ones might be perfect for a half bathroom or laundry room.
Look: Consider the look you want for your space. Does your room have a particular style? Are cool or warm tones present? Do you want to make the room look bigger or smaller?
Features: You should also think about potential tile features. Do you want a scratch-proof, slip-resistant tile? What finish are you looking for? Getting more protective features might increase the price, though you'll improve the durability and quality of your tile.
Room: Consider the size of your room. The bigger the room, the more expensive it'll be to tile, so you might opt for ceramic tile to stay within your budget. Room use is also essential. If the intended room sees heavy traffic, sunlight and moisture, going with porcelain tile could help you get more life out of your tiles.
Budget: Your budget will influence what tile you pick. Tile flooring costs can change depending on material, size, pattern and more, so talk to your flooring company to find a quality tile within your budget. They'll help you explore different options and guide you to the best options for your home.
Additionally, you should think about the other flooring in your home. If you have laminate, you'll need to know how to pair laminate flooring with your new tiles. Pick tile in the same color family as the laminate, or go for a different neutral to blend the two styles. This way, you don't have to worry about trying to find an exact match, and your flooring will still look beautiful.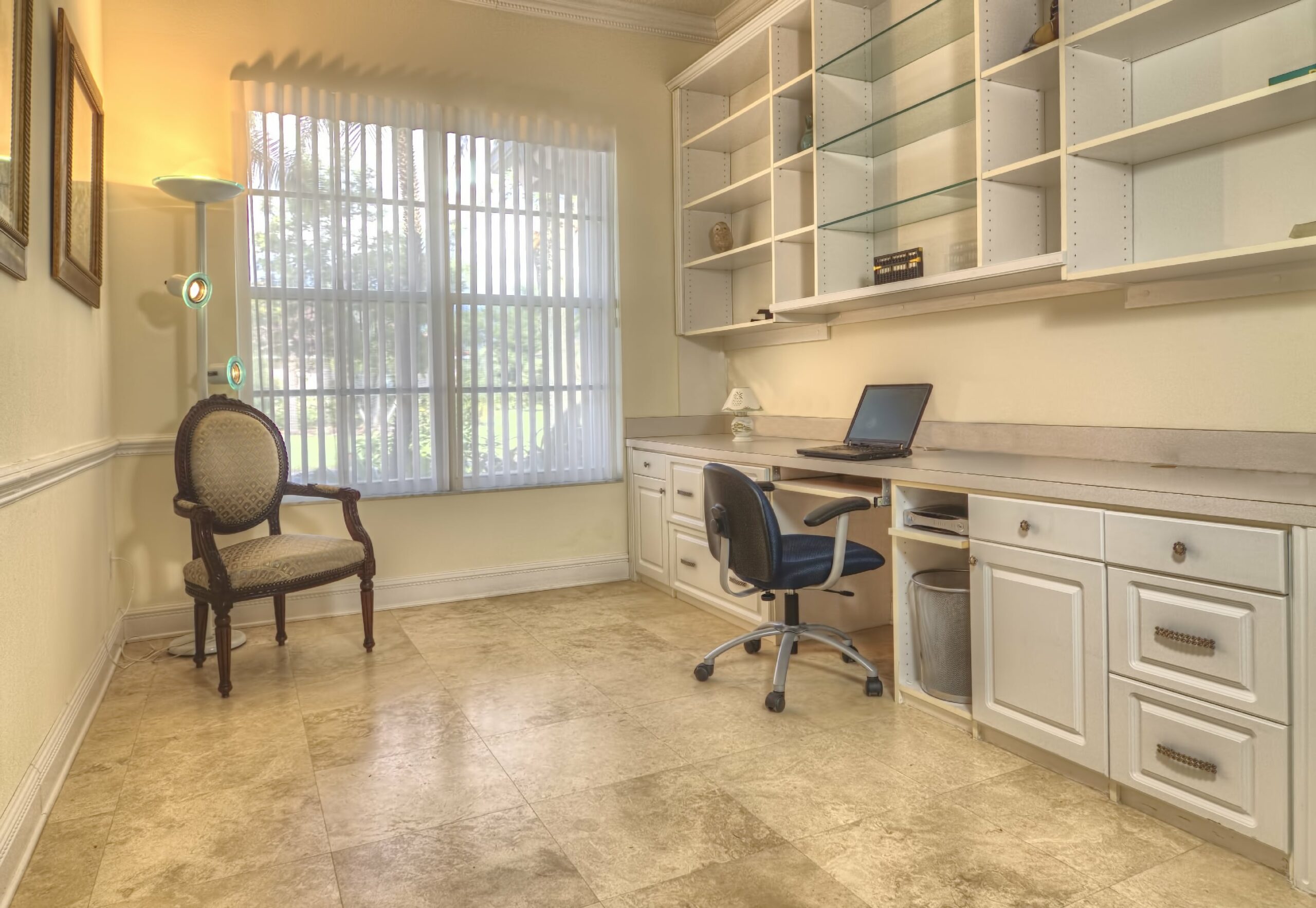 How to Install Tile Flooring
Your tiles' life span and durability depend on the material and installation. A poor installation could leave you with cracked, uneven tile floors you'll have to replace. Always choose a reputable flooring company for your tile installation to ensure you get professional, quality work.
At 50 Floor, we offer expert tile assistance and installation. Once you've selected your tile and the installation date is set, you can relax while we handle the complicated work. On installation day, our team will finalize the material, job and payment with you. They'll give you a job completion estimate, so you know what to expect from the installation.
After this, we'll get to work installing your tile floors, ensuring they're laid down securely and correctly. Once the work is complete, we'll review the final details and provide you with care information so you can maintain and enjoy your new floors.
Tile Flooring Care
The best way to increase the life of your tile floors is through proper care and maintenance. All household flooring needs to be cleaned and touched up so you don't run into more significant, expensive problems in the future.
Always refer back to your warranty before jumping into tile cleaning and care. Certain products or methods can void your warranty, which you want to avoid. Read it thoroughly before starting any cleaning to ensure you won't damage the tile.
Tile is resistant to water damage, so don't be afraid to break out your mop. Sweep the tile first to remove any loose dirt and debris. Once this is done, just take a mop or soft-bristle brush and some warm soapy water and start cleaning. Use the brush to clean the grout carefully — dirt can be hard to remove, but a little elbow grease goes a long way. Once you've finished mopping, take a dry cloth and wipe up any excess water.
Tile grout needs some touching up to keep moisture out. If you start to notice mold, lots of damage and dirt on your tile grout, it's time to re-grout. Call a professional to re-grout your tile and restore your floors to their pristine condition. If you have any cracked or damaged tiles, check your warranty. You might be able to get professional repairs or replacements for your floors.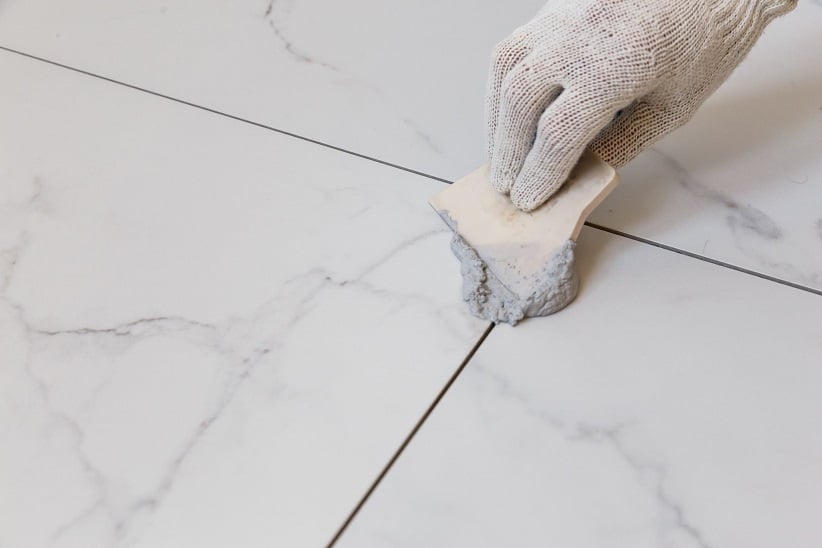 Shop 50 Floor for Tile and Installation
Now that you've got all the tile basics under your belt, it's time to start your flooring search. Talk to our team and explore 50 Floor's wide selection of high-quality flooring tiles. We'll work with you to find the tile that fits your design and budget. We even offer at-home samples, so you can see what the tile would look like in your home.
Contact us and begin your tile installation today!