Are you thinking of repainting your bedroom, living room or home office walls grey? Did you recently purchase a home with beautiful grey walls? Neutral tones including grey hues remain some of the hottest colors on the market. However, some homeowners can have a tough time envisioning which shade of carpet goes with grey walls.
Before diving into fantastic color combinations, you will want to evaluate the richness and undertones of your walls. That way, you can more confidently choose carpet colors for your grey walls that look incredible.
Defining Your Wall's Specific Grey
Like all colors, grey runs the spectrum from light to dark. A whitish, barely grey wall tends to elicit brightness and openness, whereas a dark grey wall can surround furnishings like a cozy hug. A grey that falls somewhere in the middle punctuates the space without dominating the decor or ambiance.
Greys typically fall into two palette types: warm and cool. Warm greys have a yellowish undertone, while cool greys may have a pink or blue aura. Though this distinction can be challenging to see at first, you can learn to spot the difference by holding a golden piece of paper against the grey. If the golden and grey seem to mesh well, the grey is warm.
Picking Carpet With Grey Walls
Feeling good about the grey on your walls and how you would define it? You are absolutely ready to take the next step, which is finding the right carpet to go with your grey walls.
For darker grey walls, try these options:
Cream or beige carpeting
Cream carpeting coaxes out the underlying warmth in deep grey walls, turning any living space into a harmonized area to work or play. Depending upon the style of your furniture and decor, as well as the size of the room, a cream carpet can look sophisticated or even snug with your grey walls.
Multi-toned carpeting
Because your dark grey walls take over powerfully, they may need a bolder companion to balance the look. Multi-toned carpeting can be used with either warm or cool greys, taking some of the intensity away from the walls and bringing the space into symmetry.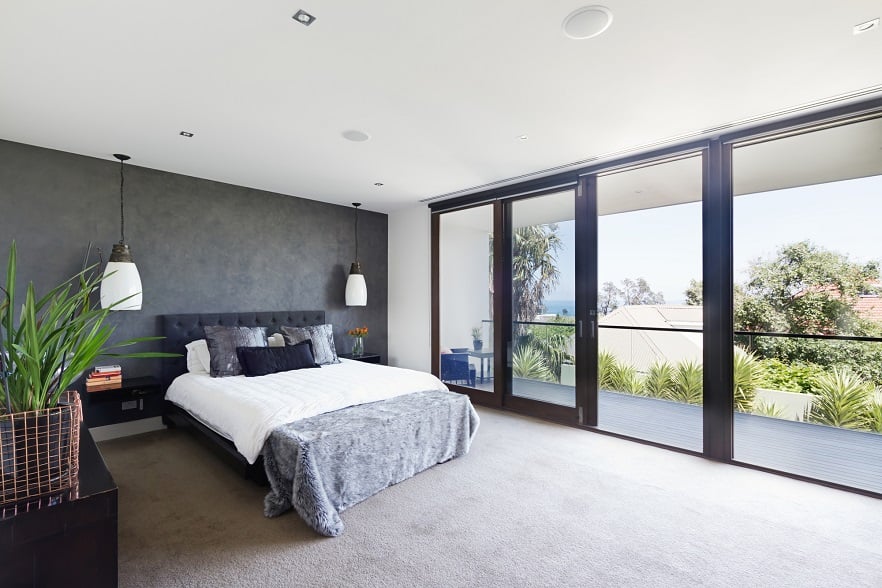 For lighter grey walls, these carpeting hues work wonders:
White and bright carpeting
Going for a more contemporary, fresh feel in your grey-walled room? Explore the wide world of crisp and slightly muted whites for carpeting possibilities. Light-on-light breathes a modern element into your home, which can be exactly what you need to modernize a property.
Mature blues
While you probably want to resist leaning toward baby blues and nearly black blues, middle-lane blues like navy and cobalt can enliven a room with grey walls. If you want a slightly beach-reminiscent or nautical vibe, blue carpet is a must!
Schedule Your In-Home Consultation
Exploring a Range of Carpet Colors for Grey Walls
Eager to get your carpet project started? You'll want to see how a swatch of carpet looks with your grey walls before making a final decision. Make this process simpler by scheduling an appointment with 50 Floor to come to your home. Your grey walls will look stunning when they partner with the right shade of carpet.