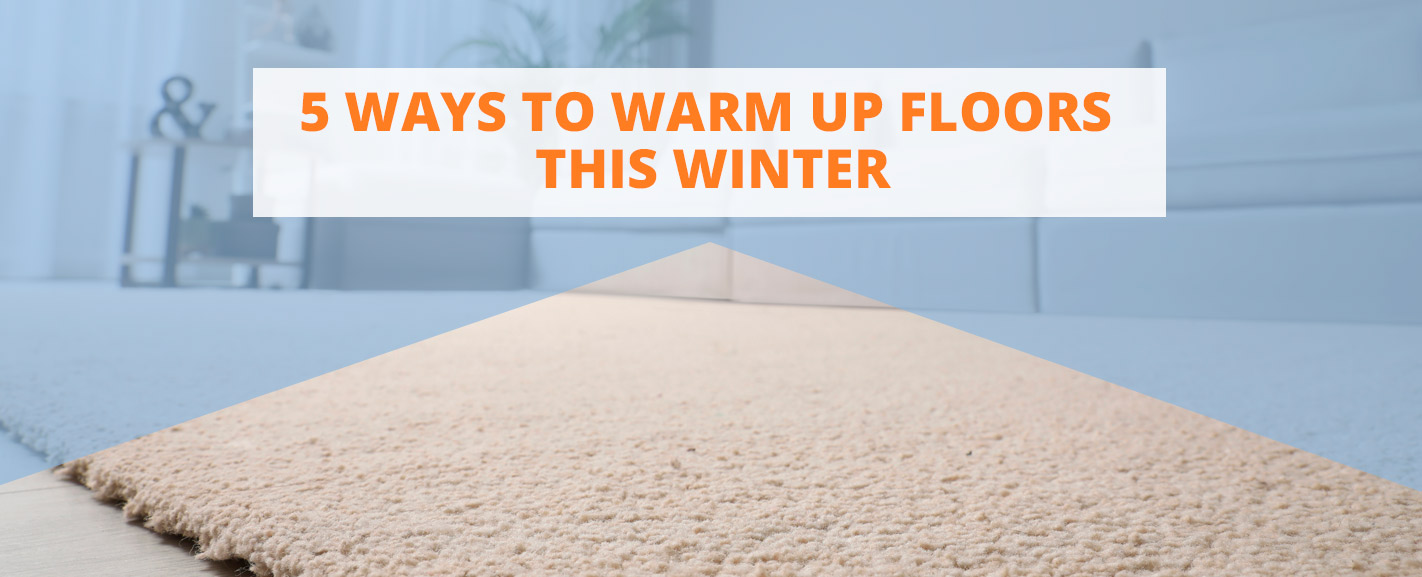 Warm floors mean happier, more comfortable residents and more manageable heating costs in the winter. Every part of your home affects how it heats and cools, including the flooring material you choose. Some materials absorb and trap heat for a cozier feeling, while others conduct heat away from the surface and provide a cooler surface.
If you're tired of waking up to a chilled bedroom or living room floor, it might be time to renovate your flooring.
Best Flooring Materials for Warmth
Carpet and luxury vinyl are two of the best flooring materials for a warm, insulated home.
Carpet
Carpet absorbs heat, meeting you with a plush, warm surface when you get out of bed in the morning. It's a poor conductor, making it easier for your body to retain heat while simultaneously muffing sounds and reducing room echo.
Carpet is also an effective insulation method. The Environmental Protection Agency estimates homeowners can save about 15% on heating and cooling costs by adding proper insulation around the home. Carpet is even more insulating when you pair it with padding or a new underlayment. Urethane padding has the highest R-value, or thermal resistance. Materials with high R-values are more insulating than those with lower R-values. Rubber carpet padding has the lowest R-value.
You can take your pick of multiple carpet types, depending on your lifestyle, design preferences, budget and other needs. Popular options include piled, looped, plush and patterned.
Keep carpet fluffy and plush underfoot by vacuuming regularly and deep cleaning throughout the year, as needed.
Luxury Vinyl
Luxury vinyl flooring is durable, long-lasting and waterproof, making it the perfect choice for rooms that need warmer flooring. However, carpet is impractical in areas like kitchens and bathrooms. It's often the most economical choice for homeowners with large flooring projects, or you can combine luxury vinyl with carpet, depending on the room you're renovating.
Luxury vinyl planks and vinyl tiles mimic the genuine materials for a fraction of the cost and significantly less care. They are easy to maintain and offer nearly endless style and color options, so you can fit them to your specifications and style.
You can often combine luxury vinyl flooring with padding for additional insulation and comfort.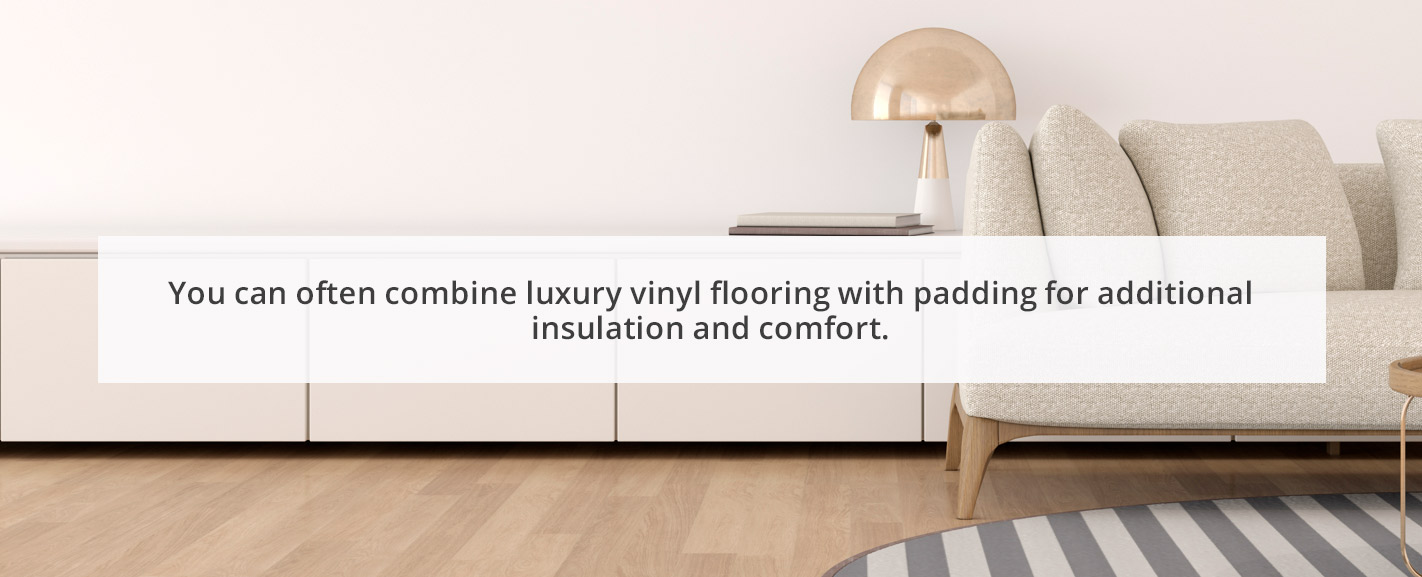 How to Warm up Your Flooring
Once you've chosen the best floors for your home, follow these tips to keep them warm and insulated.
1. Use Throw Rugs
Throw rugs can add warmth and softness to any room with hardwood, laminate, luxury vinyl or even carpet. Consider the coldest areas in your home and focus on those first. For many, this is the basement or rooms with concrete or stone flooring.
When choosing a rug, follow these tips.
Choose the right size: The larger the rug, the more insulation and warmth you can add to a room. If a single large rug is too costly or doesn't fit the room's shape or size, consider multiple smaller rugs to overlap or place strategically throughout the house.
Consider the material: Some materials are warmer and more insulating than others. Wool is heavy and thick, while cotton offers a more economical alternative.
Use a rug mat: A thermal heating mat or plush rug pad will add even more comfort and insulation to your throw rug.
Factor in your lifestyle: Choose a rug that fits your lifestyle. For example, if you have pets, you want to choose an easy-to-wash material. If style is a significant concern, look for interesting textures or patterns to make a statement.
2. Install a Radiant Heating System
Radiant heating systems use pipes full of hot water or carefully placed looping electric wires underneath flooring to create heat that rises and covers the entire floor. Some homes might also be eligible for radiant air heating.
This type of heating is prevalent with ceramic tile because of its conductive properties, but it's compatible with several flooring types, including thin carpet. Avoid excessive insulation if using a radiant heating system, as this will block some of the heat from moving up and around the floor.
One of the most significant benefits of radiant heating systems is that they're undetectable from the surface. There is no mat, padding or visible heating system to draw guests' eyes from other focal points. Instead, it's safely invisible under your floor.
It's also one of the most efficient home heating methods and could be up to 30% more energy-efficient than forced-air heating.
3. Insulate the Rest of the Home
Add thorough household insulation for warmer floors and a more comfortable home overall. Check behind each wall's outlet if you're not sure whether it already has insulation behind it.
Consider these tips:
Choose a garage door without windows.
Update weatherstripping around and under doors.
Patch any holes or leaks in the attic, foundation, walls or roof.
Add caulking around windows.
Seal around crawl space entrances, recessed lighting, air ducts and dryer vents.
Insulate near band joists.
Add insulation to floors above unheated areas, like garages, storage rooms or crawl spaces.
As you work your way through your home, don't forget to inspect and insulate the attic, basement and similar areas.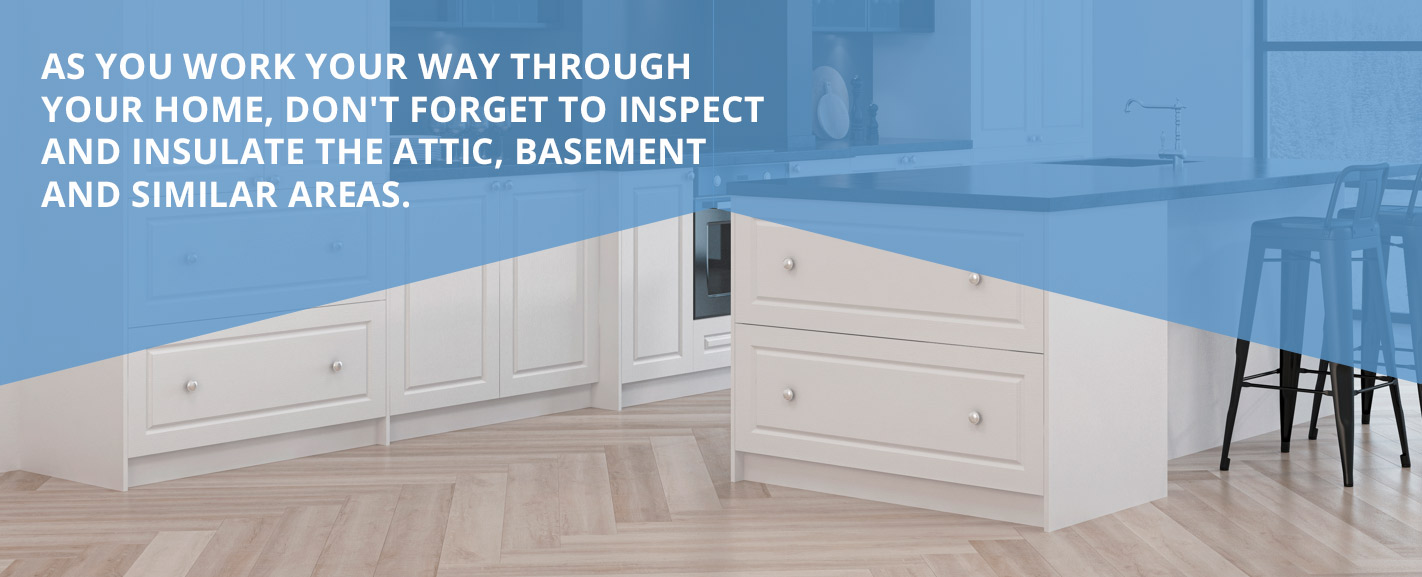 4. Shut Bedroom and Office Doors
To help minimize drafts in the rooms you use daily, consider shutting the doors to rarely used areas such as guest bedrooms.
Be careful not to restrict too much airflow throughout your home, and never eliminate heating in the winter if your pipes are prone to freezing.
5. Invest in a Smart Thermostat
A smart thermostat uses Wi-Fi to automatically set your home temperature depending on your preferences and optimal performance. You can set a custom schedule on the thermostat itself or through a connected smartphone app to turn the heat on an hour or so before you wake up, so the house will be warmer after being at a lower temperature overnight.
Smart thermostats mean you can still keep your temperature low and cost-efficient when you're away from home or asleep, and still minimize the chance of waking up to a chilled floor. Considering almost half of the average homeowner's energy costs go toward heating and cooling, this level of control will give you better control over your comfort and finances.
Contact 50 Floor to Learn More
Flooring will make your home feel more stylish and comfortable, even in the coldest winters. Contact 50 Floor today to learn more about your flooring options or schedule a free in-home flooring estimate to get started!