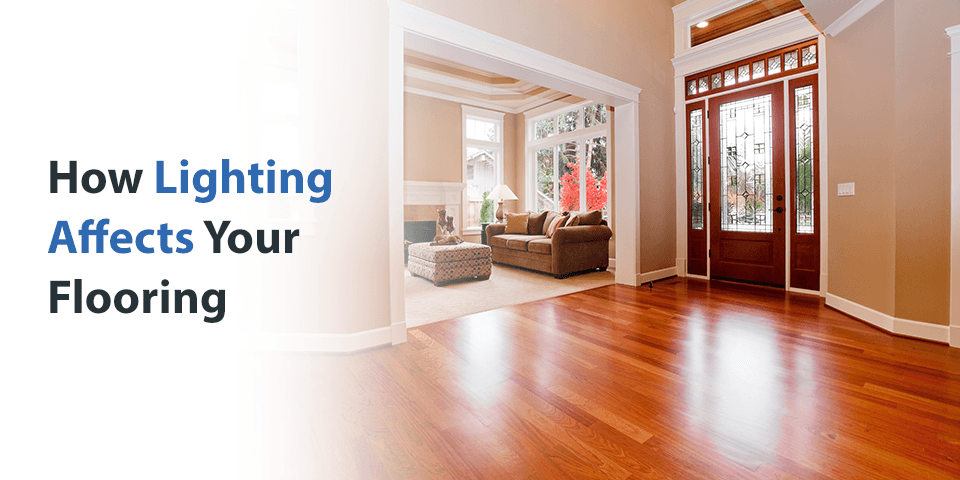 Whether for new home construction or a remodeling job, flooring and lighting may not be the first considerations that come to mind. However, both are foundational elements of home design. Choosing the right flooring and lighting for a room sets up the whole interior for harmony. It's essential to understand that a home's natural and artificial lighting affects how everything else looks, including the flooring. It may be a better idea to choose your flooring and lighting options first, and build from there. When you're shopping for new flooring, consider the natural light in your home and the artificial lighting sources you'll use. Let's examine how light impacts flooring, so you can make the right choices for a beautiful new home.
Home Lighting and Flooring
There are many different types of home lighting — from the natural light coming in through the windows to the artificial lighting in lamps, ceiling lights and other fixtures we choose. And the light in our homes is dynamic, constantly changing throughout the day. As the sun rises in the east and sets in the west, natural light floods into rooms in different areas. Sometimes, you might even choose a home with rooms facing a specific direction to maximize natural light.
The interior lighting you select can also affect how all your interior elements appear throughout the day. The types and locations of various lighting fixtures can cast different light and shadows in your home's interior, and even the lightbulbs you choose can have distinctive lighting effects. All these light sources can affect your floors' appearance throughout the day, and each home has a unique mix of natural and artificial lighting. The same flooring may look dissimilar in two different homes due to lighting types and placement.
It's also essential to note that natural and artificial light can fade some flooring over time, especially in areas with more intense sunlight. Thankfully, you can follow several tips to prevent and minimize fading.
Effects of Natural Lighting on Flooring
The sun rises in the east, and all windows facing that direction let powerful, warm sunlight into the rooms on that side of the house. The morning sun is exceptionally bright and is generally a warmer tone, often giving a yellow or orange cast across any rooms with eastern exposure. As a result, objects in these rooms may have a warmer glow in the morning.
As the sun rises in the sky outside, the light indoors evens out a bit, and the sunlight's tone turns toward a cooler, softer blue light. Flooring and other elements in the home will be at their truest color at midday with this more even, cooler-toned light. Toward evening, the sun moves closer to the horizon, bathing any western-facing rooms in more intense, warmer natural light. You may notice a more reddish glow on your flooring and decor in these rooms as the sun sets.
When you're choosing flooring, you may want to consider each room's location in your home, and in which direction the windows face. Think about when you'll likely spend the most time in that room, as understanding the natural light patterns can inform your flooring and decor choices. As you're considering samples, be sure to look at them at different times of day to see how the natural light shifts and affects the color and look of your top choices.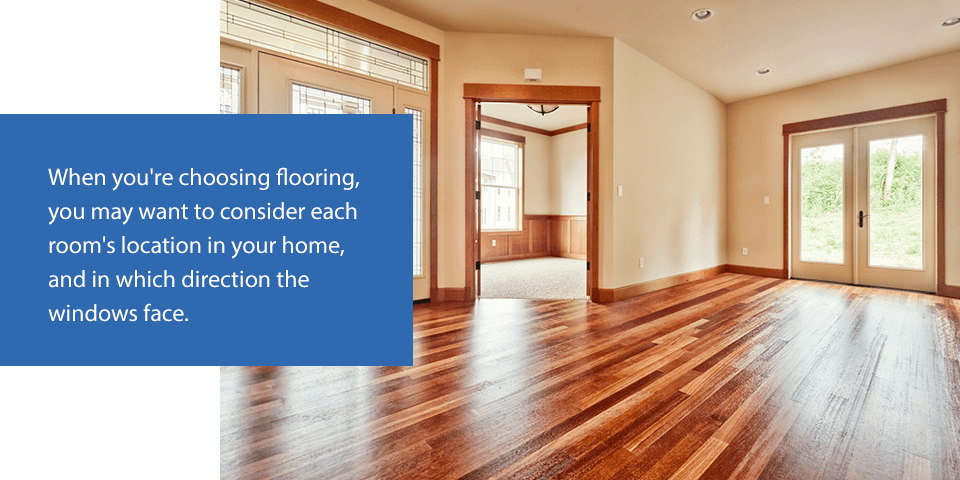 Effects of Artificial Lighting on Flooring
Today's options for indoor lighting offer a wide array of choices in every style imaginable. Whether you go with overhead lights, lamps, sconces or something else, these lighting fixtures can also dramatically affect the look of your flooring and other decorative elements.
Various lighting fixtures can focus or diffuse the light in a room. Lampshades direct more light toward the floor, while sconces and other wall fixtures usually aim the light upward, at the walls and ceiling. However, they still cast indirect light on your floors.
Your choice of light fixtures isn't the only factor. You'll also need to think about different lightbulbs. You can find lightbulbs in a dizzying array of options, and each can cast a distinctive glow or color tone in a room. Fluorescent or halogen bulbs tend to give the brightest white light, which is most flattering to an open interior color scheme. A more subdued color scheme, especially with darker wood floors, will look better with softer accent lighting and bulbs that give off a duller, warmer tone.
See Flooring in Your Home's Lighting
Now that you know more about how light affects flooring, you can make informed decisions about your new floors. It's impossible to overstate that natural and artificial light will change the way your flooring looks in your home. If you shop for flooring in a store, their lighting will be a far cry from what you have at home, and you may be disappointed to discover your choice now appears entirely different. With online shopping, factors like your screen's color temperature and the lighting conditions under which the retailer shot the photo can affect its appearance.
At 50 Floor, we believe it's essential for customers to shop for flooring from home. Not only is it far more convenient for you, but you also have the chance to see each flooring sample in your home's exact lighting conditions. We bring the shopping experience to you, saving you time and hassle. You can get expert advice and see how a wide range of flooring types match your decor and lighting. Compare different types of flooring and their appearance in the room where you want to install them. Our in-home consultations are free and friendly. Schedule your appointment today to start the process of new flooring for your home!