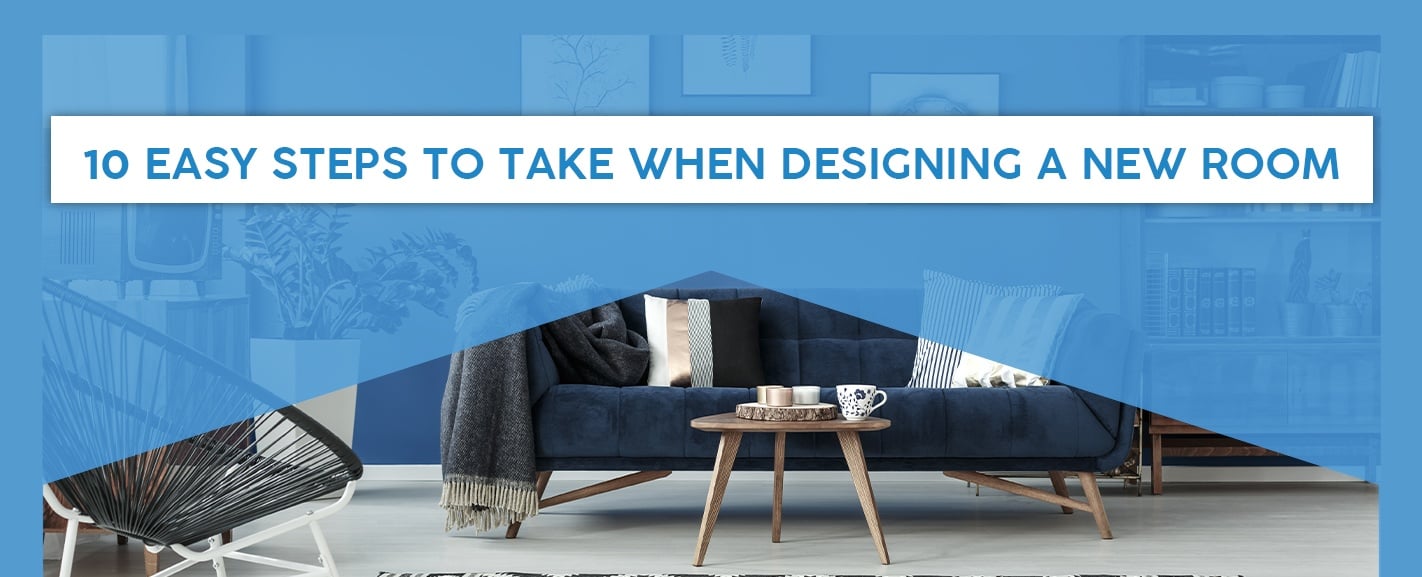 Designing a new room means making your house feel more like "home." But finding a place to start can leave you grasping for clues and ideas. Here, you'll learn how to design a room from scratch, as well as seven interior design elements to have you designing like a pro.
What Are the 7 Elements of Interior Design?
Before diving into the 10 steps of interior design, gain a better understanding of interior decorating by familiarizing yourself with the seven design elements:
1. Color
Color affects the way you feel when you step into a room. It's one of the most essential factors to consider for interior design. When designing your room, consider the size of your space and the mood you're trying to portray. Lighter and brighter colors, like yellow or lime green, make spaces feel larger and more youthful. Darker colors, like navy blue or grey, make rooms feel more sophisticated.
2. Light
Choose the right lighting to complement your room's color. There are three types of lighting to consider:
Task lighting: Task lighting offers practical illumination for tasks like hobbies and crafting.
Accent lighting: Use accent lighting when highlighting different areas of your room, like around your desk or bathroom mirror.
Mood lighting: Mood lighting refers to the ambiance of the room. Warm-toned lighting creates a mood that is more relaxing than artificial, cool-tone lighting.
3. Line
Lines help guide the eye around a room, creating a more cohesive appearance. Lines include:
Horizontal lines: Tables and other furniture, like dining room tables or dressers, create horizontal lines. Horizontal lines make rooms feel bigger and wider, making them ideal for smaller rooms.
Vertical lines: Tall furniture, like standing mirrors or armoires, create vertical lines. Vertical lines make rooms feel taller. So, if you have a shorter ceiling height, take advantage of the effects of vertical lines.
Dynamic lines: Dynamic lines have rules of their own, often zigzagged or curved. Dynamic lines create visual interest, but use them sparingly, as they can also overpower a room.
4. Space
Space refers to the room you're decorating. Think of your room as a blank canvas, which you can fill with positive or negative space.
Positive space refers to the parts of your room you fill with furniture or decor. Negative space describes the parts of your room left purposely empty. Whether you decorate with positive or negative spaces depends on the navigational flow and purpose of your room. Balance positive and negative space to avoid overcrowding.
5. Form
Form refers to the geometric or natural shape of space. Geometric shapes include squares, rectangles and triangles. They're often referred to as human-made shapes. Comparatively, natural shapes use organic or dynamic lines to recreate forms found in nature. Use form to create balance in your interior design.
6. Texture
Texture is the actual feeling of a surface. Think about different textures like faux fur or carved wood. You can feel and observe different textures, making it a great element to play with when adding visual interest and depth.
7. Pattern
Pattern is the repetition of forms, lines, colors, prints and other design elements. You often find patterns in wallpapers, bedding, upholstery and other materials. Use patterns to create layers in your interior design. But avoid using too much or too abrasive patterns, or your room can feel cluttered.
How to Design a Room in 10 Easy Steps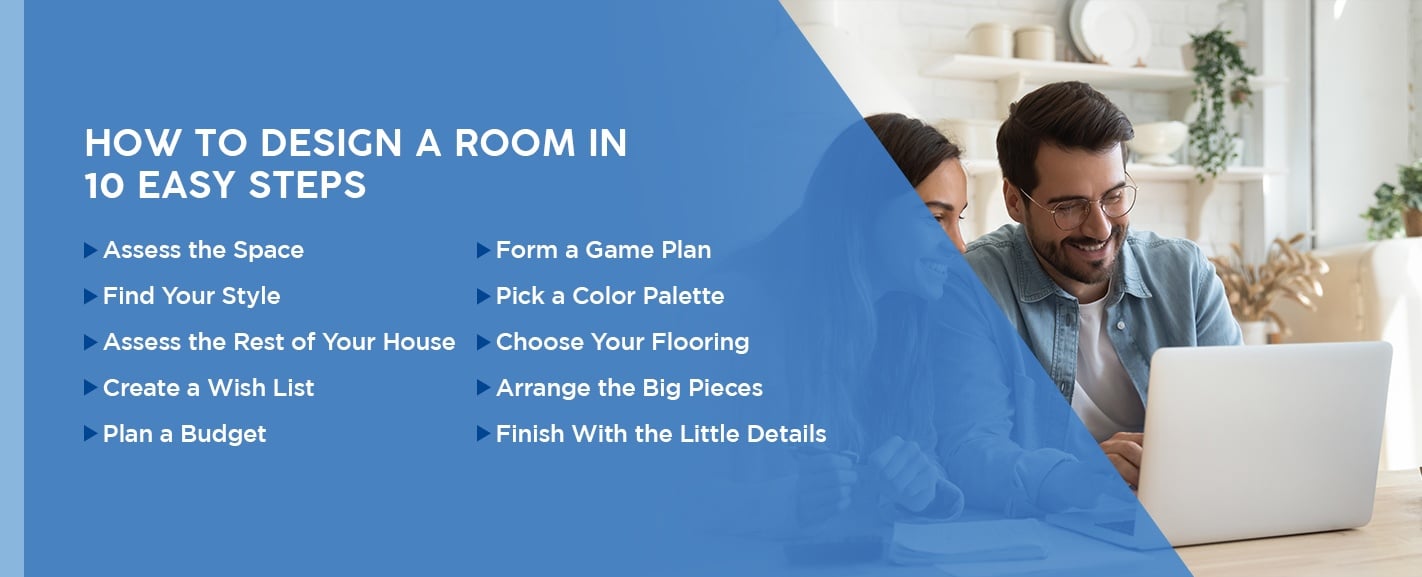 Now that you have a solid interior design foundation, consider this step-by-step guide to decorating a room:
1. Assess the Space
Your space's needs depend on the function of your room and the space itself. Think about the type of furniture you'll use regularly. If you're decorating an office, you'll likely want a desk and a bookshelf. Or, if your space is small, you may require more storage areas. Assessing your space helps you find a reliable starting point.
2. Find Your Style
Everyone has different style preferences. Find your style by choosing two or three adjectives that describe how you want your room to feel. Maybe you choose sophisticated and comfortable or youthful and beachy. Finding your style makes choosing colors, furniture and decor easier, resulting in a more cohesive room.
3. Assess the Rest of Your House
Try keeping your house cohesive. Ideally, you want your room to tell a complete story. As you or guests walk through your house, aim for the design to fall under the same adjectives throughout.
4. Create a Wish List
Now that you have an idea of how you want your room to feel, create a wish list. A wish list helps you paint a general picture of what you're looking for. Brainstorm some color palettes, which you can pick from later, as well as flooring types, furniture, decor and other room design elements.
Arrange your wishlist to include your must-have items on top and items that aren't as needed on the bottom.
5. Plan a Budget
Analyze your finances and set a reasonable budget for your room design. Start by determining a budget for your entire room. Then, revisit your wish list and match each item with a portion of that budget. It may help to start with the most costly items, as they usually make the most impact on a room.
6. Form a Game Plan
With your budget and must-haves in mind, it's time to form a game plan. A large part of your game plan is creating a reasonable time frame to complete your project. This consideration includes scheduling appointments, like floor installation and decorating days. That way, you cover all of your bases, and nothing is left forgotten. You can also work your design plans around your schedule.
7. Pick a Color Palette
Before you start shopping, pick a color palette. We know that choosing the right shade is key. The color, or colors, you choose will directly relate to the style adjectives you identified in step two. Your color palette extends to your wall color, flooring type and finishes, furniture and decor items.
8. Choose Your Flooring
Your flooring should go down first before placing your furniture or decor. Pick the type of flooring that complements your design and room's purpose — like hardwood, laminate, luxury vinyl tile or carpet — and schedule an appointment for installation. After installation, you'll be ready to start decorating.
9. Arrange the Big Pieces
When arranging the bigger pieces of furniture, consider interior design elements like space, line and form. Because the pieces are bigger, they will make the most impact on your room. Think about how you will navigate the room, which layout takes advantage of your room's space and how you can evenly space your furniture to create balance.
10. Finish With the Little Details
With your big pieces arranged, add depth to your room by filling in the little details. You might hang paintings, place decorative rugs, install curtains or place knickknacks. Take this time to strategize your lighting, too, and adding accent lighting like lamps where needed.
Get Flooring for Your Room by Scheduling an Appointment With 50 Floor Today
50 Floor is a competitive flooring company with decades of experience. We strive to provide our customers with high-quality flooring at a reasonable price. When designing a room from scratch, let 50 Floor help you find the flooring that's best for your room design.
Schedule a free in-home consultation today. Or, if you have any questions, give us a call at 1-877-503-5667.