Spring is the perfect time to renovate your home because the weather is more pleasant. Whether you're just moving into your new place or you want to remodel your existing dwelling, you can update its appearance on the outside and inside. Follow these spring remodeling ideas to find projects to invest in this season.
1. Remodel Your Kitchen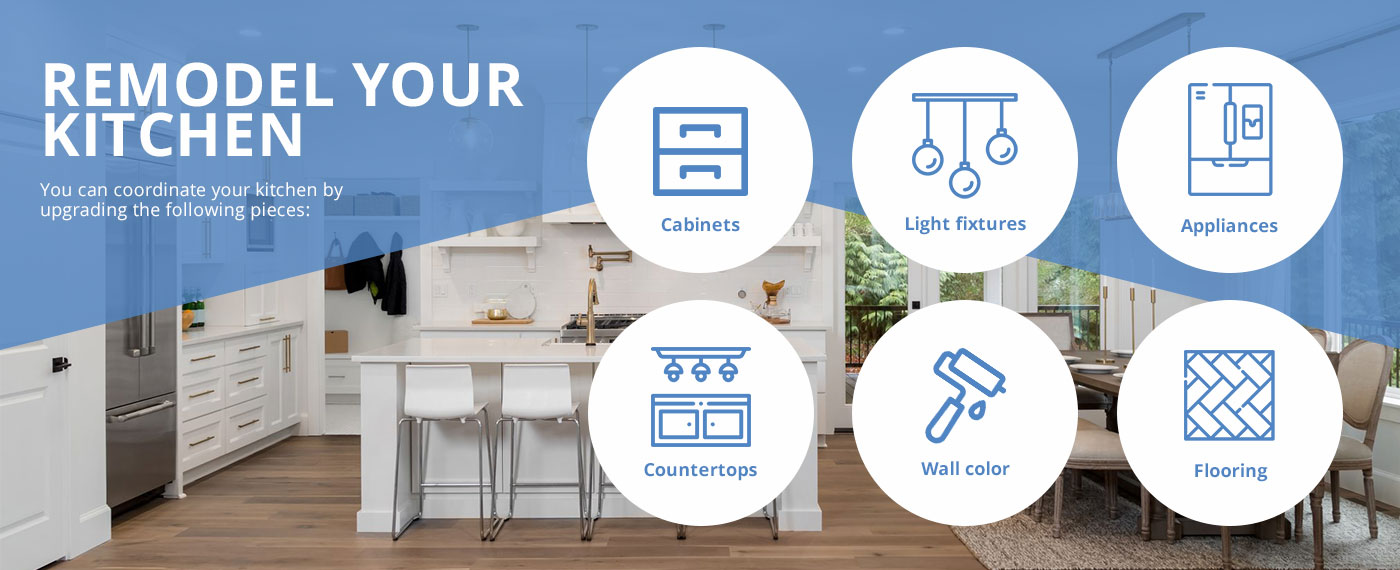 Even though renovating your kitchen seems like a costly, time-consuming process, you can make improvements based on your budget, timeline and lifestyle. Choose a theme you want to follow, whether it's a specific color palette or contemporary style. You can coordinate your kitchen by upgrading the following pieces:
Cabinets: Change your cabinetry on a budget by painting them a different color. Updating the hardware on your cabinets allows them to suit your new design better. If you have money to spend, you can invest in brand-new cabinets to transform the look of your home.
Light fixtures: Your kitchen's lighting creates a warm, welcoming atmosphere for entertaining guests and sharing delicious meals with your family. Changing out your light fixtures is a simple project that can make a big difference.
Appliances: Consider upgrading to stainless steel or matte appliances for a coherent, modern kitchen design and convenient functionality.
Countertops: You can choose from various kitchen countertop materials, such as quartz, granite or marble. These materials offer different colors and textures to match the rest of your kitchen. Keep in mind that they should also withstand the heat, moisture and activity in your cooking and dining area.
Wall color: Adding a fresh coat of paint can transform your kitchen's appearance. As you paint your cabinets, try to find a complementary color for your walls.
Flooring: Complete your kitchen design with new flooring. Tile is one of the best materials because of its durability against spills and its ease of maintenance.
2. Add or Change a Room
You may want to add a room to your living space to make a designated area for your older relatives or your independent adult child. Changing the walls throughout your property is much easier in the spring because of the warm weather. The comfortable temperatures let you keep the window open so you can spend less time waiting for the drywall compounds to dry. You can also use drywall to replace a broken wall in your bedroom or close off an open area of the house.
3. Resurface Your Asphalt Driveway
Your driveway is one of the first impressions guests have of your home. An asphalt driveway can last for decades, but it can become worn from harsh weather conditions and snow plowing in the winter over time. If your driveway needs a new look, you should get it repaved in the spring because it needs warmth to cure properly. You can even change your driveway material to pavers, cement or stamped concrete if you have room in the budget to transform the look of your property.
4. Use Vibrant, Fresh Colors in Your Design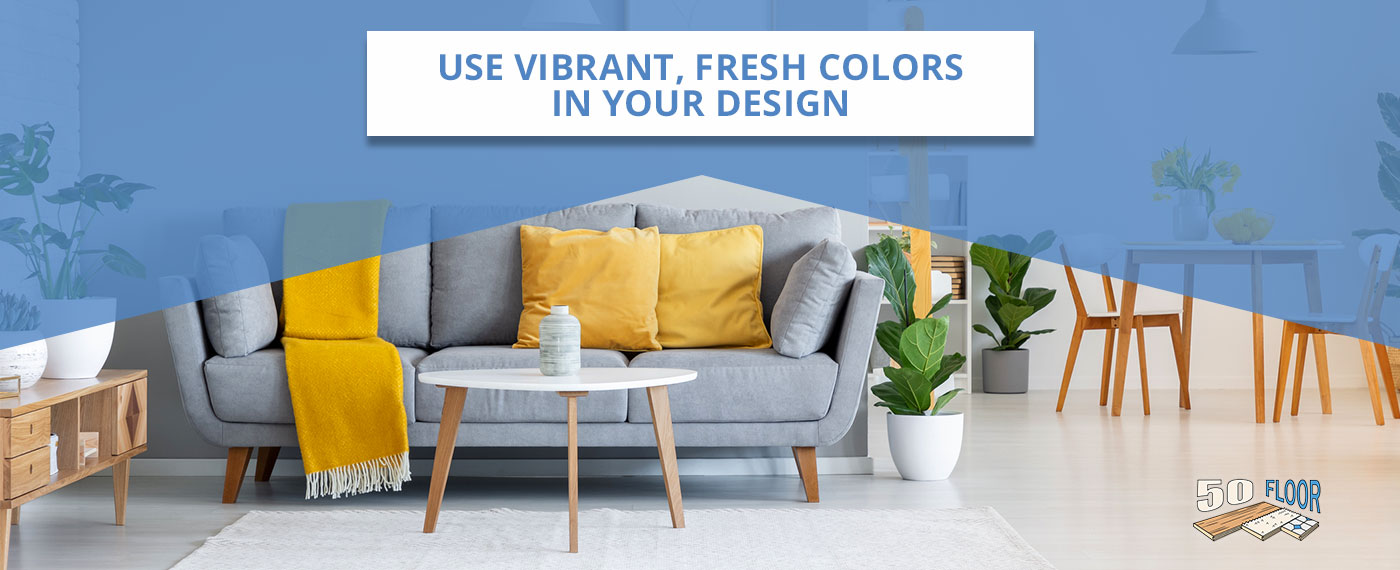 As the spring arrives and flowers come into bloom, you can use vibrant colors inside your home. Instead of renovating your walls or getting new furniture, you can easily add bright colors to your living space with colorful accent pillows, a lovely floral arrangement, area rugs and lamps. If your budget allows or you want to change the color of your living space, you can repaint your walls with spring colors. You can also use neutral colors to make your accent pieces pop.
5. Upgrade Your Window Treatments
If you're on a tight budget and you want to make some quick yet effective changes to your living space, consider changing out your window treatments. You may want to use floral prints or vibrant colors on your window treatments to prepare your home for the spring. Update your window treatments to keep the sun out in the summertime to help you save money on cooling costs. Curtains or sheer drapes can also let in natural light to create a brighter indoor space.
6. Remember to Update the Outside
The spring season is the best time to add a deck, porch or patio to your home for entertaining guests when the weather gets warmer. You can host barbecues and holiday parties outside in style. Consider which type of outdoor living space would be best for your property and make the necessary changes. You should also invest in new furniture and grilling appliances to get your house ready for the pleasant weather.
You could make minor changes to your property if you're on a tight budget. Plant some colorful flowers to welcome spring, and consider adding decorative accent pillows to your patio furniture.
7. Upgrade Your Flooring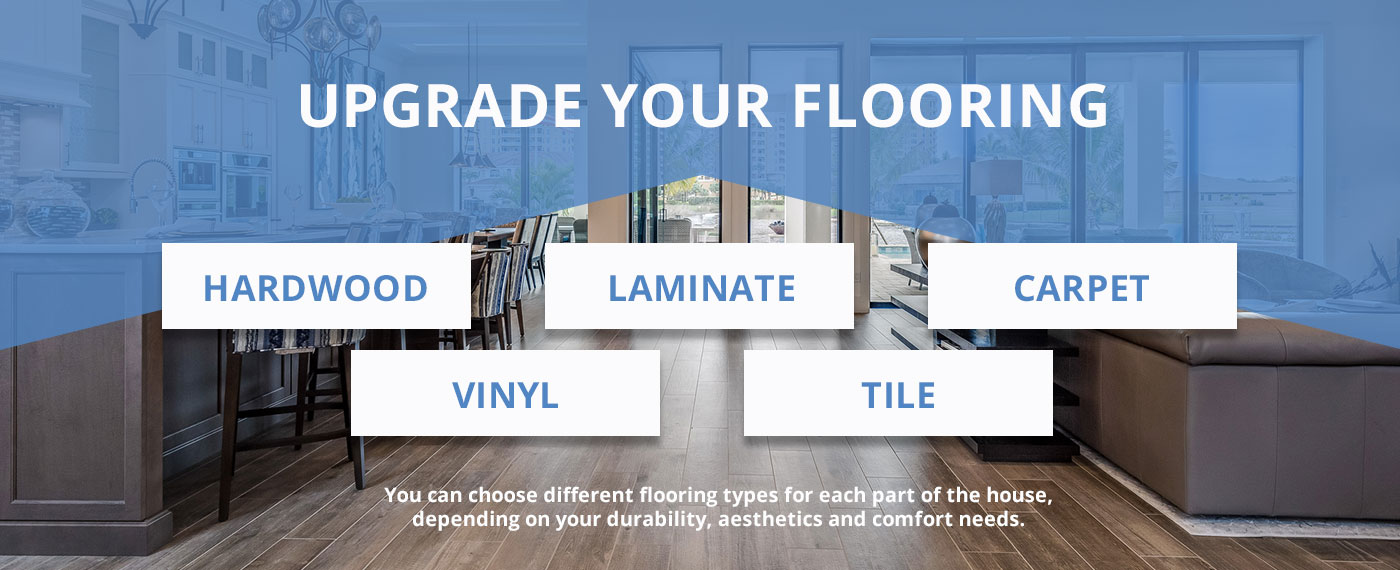 Renovating your flooring is an excellent spring home improvement project, especially if you want to invest in a material that's safe for people with allergies. New floors can completely transform the look of your living space. You can choose different flooring types for each part of the house, depending on your durability, aesthetics and comfort needs. You may also want to use the same flooring throughout your open-concept home. Consider these materials for each room:
Spring Into a New Home With 50 Floor
If new flooring is part of your spring renovation to-do list, schedule an in-home appointment with one of our flooring specialists at 50 Floor. By bringing flooring samples to your house, we'll help you find the perfect materials to get your home ready for the warmer weather. Reach out to us online to schedule your appointment, or call 1-877-50-FLOOR to get started.